Check out some other amazing loyalty programs in our Top 10 Customer Loyalty Programs of 2020 post.
There's a mantra often heard in business circles that says you should "always be optimizing."
Loyalty programs are the foundation of a complete customer retention strategy. From standard point programs, to engagement motivating VIP programs and advocate creating referrals, loyalty programs span across every industry from brands big and small, to capture (and keep) the attention of both their new and existing customers.
When you look at the best loyalty programs of 2018, you can quickly see that quite a few brands took that idea to heart. From refreshing dated programs to introducing new ones, 2018 was a year focused on driving growth for communities big and small alike.
Ready to see what outstanding loyalty looked like in 2018?
Uber's Uber Rewards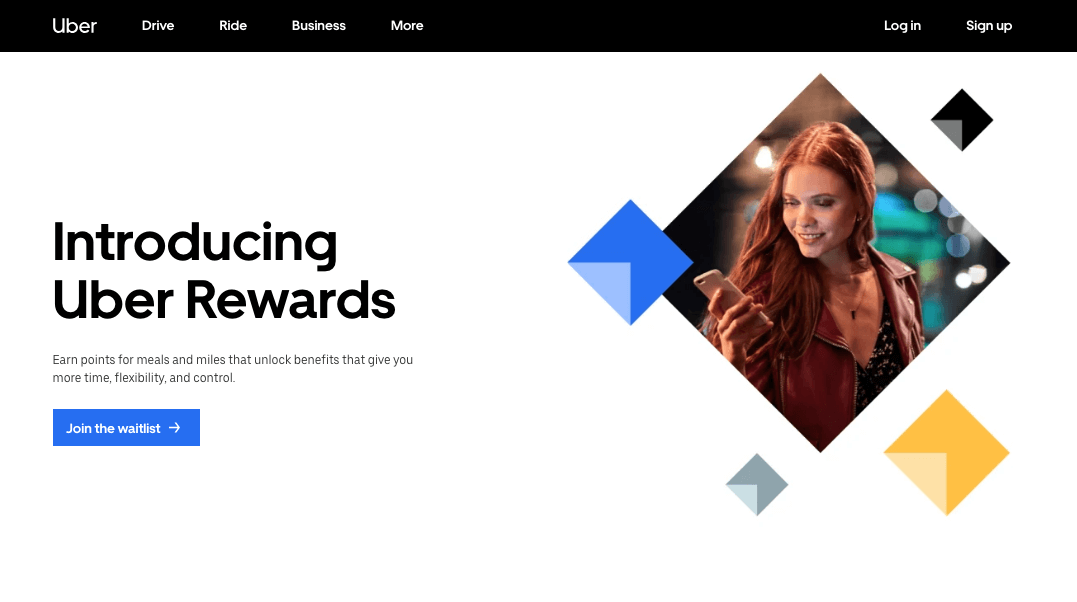 As the first big ride-sharing app to come out with a dedicated rewards program, Uber knew that their offering had to be good. After experiencing massive success with their referral-only program, it's no surprise that the introduction of Uber Rewards got a lot of buzz. Luckily for Uber it was largely positive, and for good reason!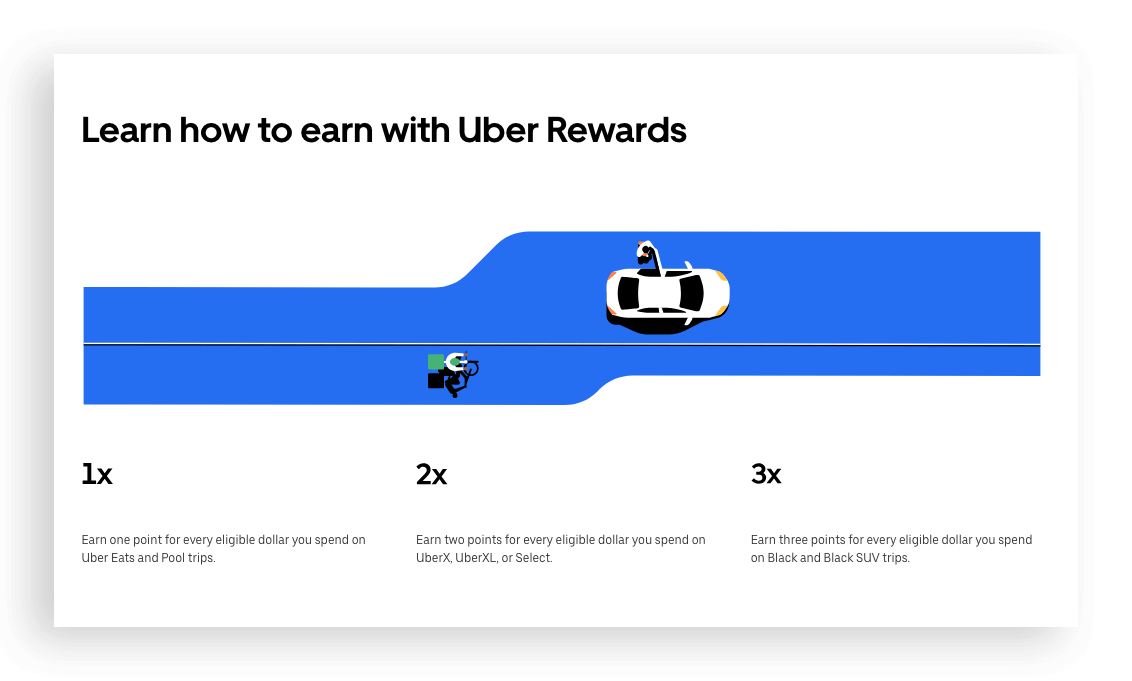 For starters, their program is beautifully explained with a dedicated page that shows customers just how easy it is to earn points. Whether they're using UberX, Pool, or Eats, riders are able to earn rewards on every interaction, making it clear that Uber's program puts their riders first.

The cherry on top is the VIP element of the Uber Rewards program. As riders move up through the Blue, Gold, Platinum, and Diamond tiers, they get access to increasingly amazing perks like complimentary upgrades to UberBlack and accelerated points earning.
These types of rewards and experiences will help keep Uber miles ahead of the competition.
Why customers love Uber Rewards:
Members earn free rides and perks for rides they're already taking.
Spikeball's SpikePoints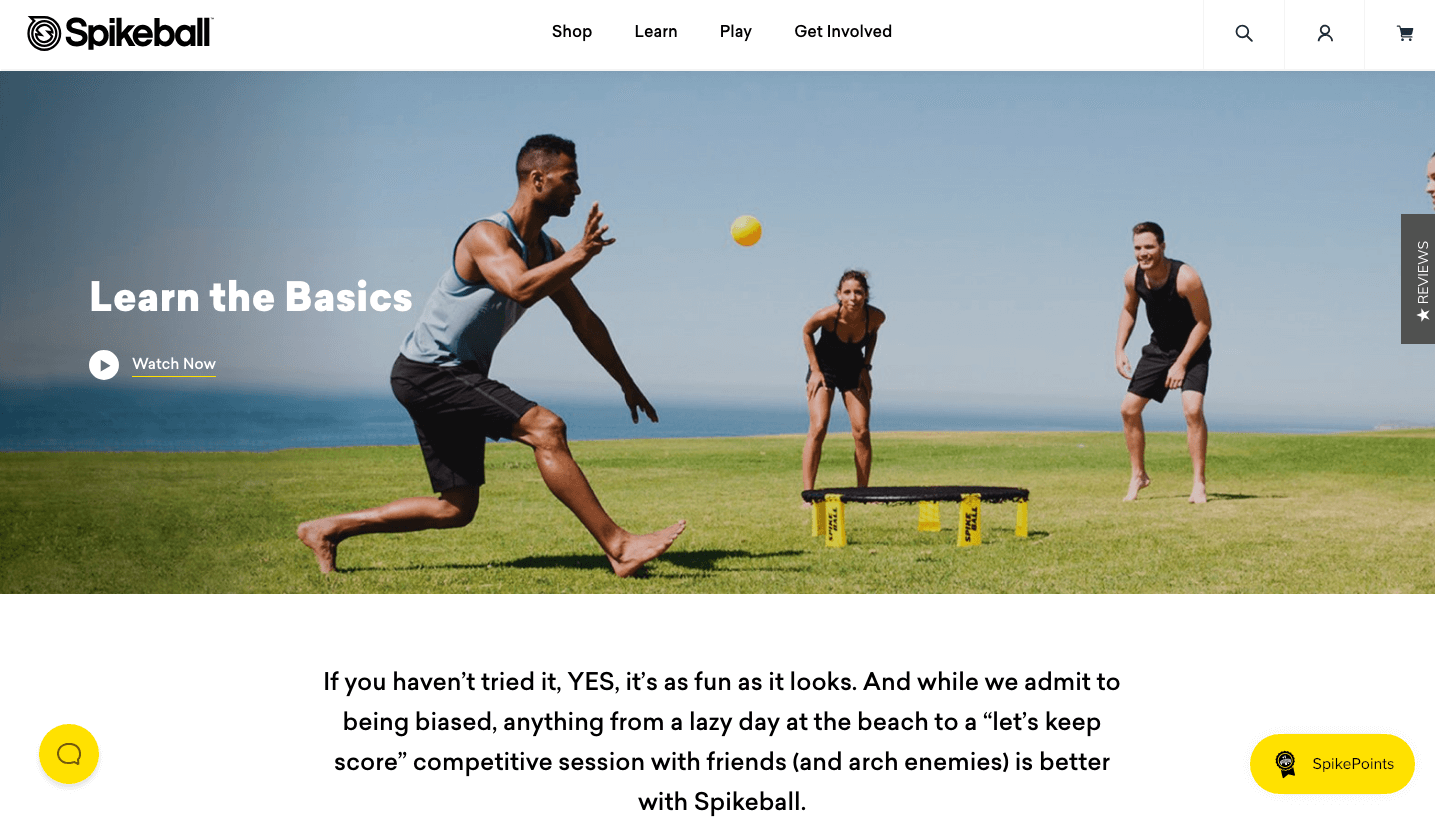 If you've never played Spikeball, you are missing out on loads of fun! After appearing on Shark Tank, the volleyball-inspired group game gained an incredible following which prompted them to consider how to more intentionally fuel their community with rewards. This led them to launch their SpikePoints program earlier this year, giving their loyal customers something else to rally behind.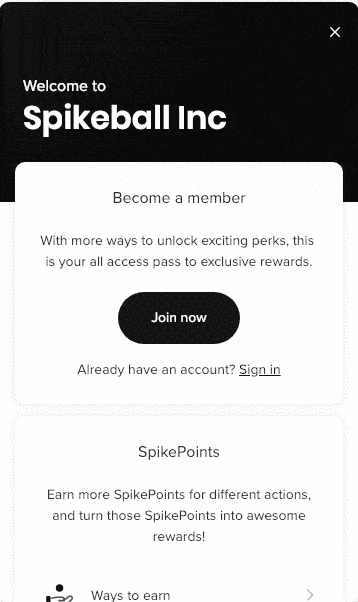 With loads of different ways to earn points and highly branded VIP tiers that recognize members as Recreational, Intermediate, or Premier, Spikeball has effectively made different earning actions more valuable.
For Premier members, not only are 5 points awarded for every dollar spent, but social shares and product reviews are worth twice as much as they are for Recreational members. By limiting this quick earning to only their diehard fans, Spikeball is able to motivate their enthusiastic members to engage more often and help them bring even more people into their fast-paced community.
Why customers love SpikePoints:
Spikeball's program members earn rewards at a rate that reflects how dedicated they are to the fast-paced sport.
SweetLegs Rewards
Even though SweetLegs only launched their rewards program a few months ago, they have already established themselves as one of the breakout programs of the year. Right from the get go, they knew they wanted to offer a program that was sweet for every single one of their customers. Whether you buy a pair of leggings every few months, or buy in bulk as a SweetLegs distributor, they made it valuable for everyone to become a member of their community.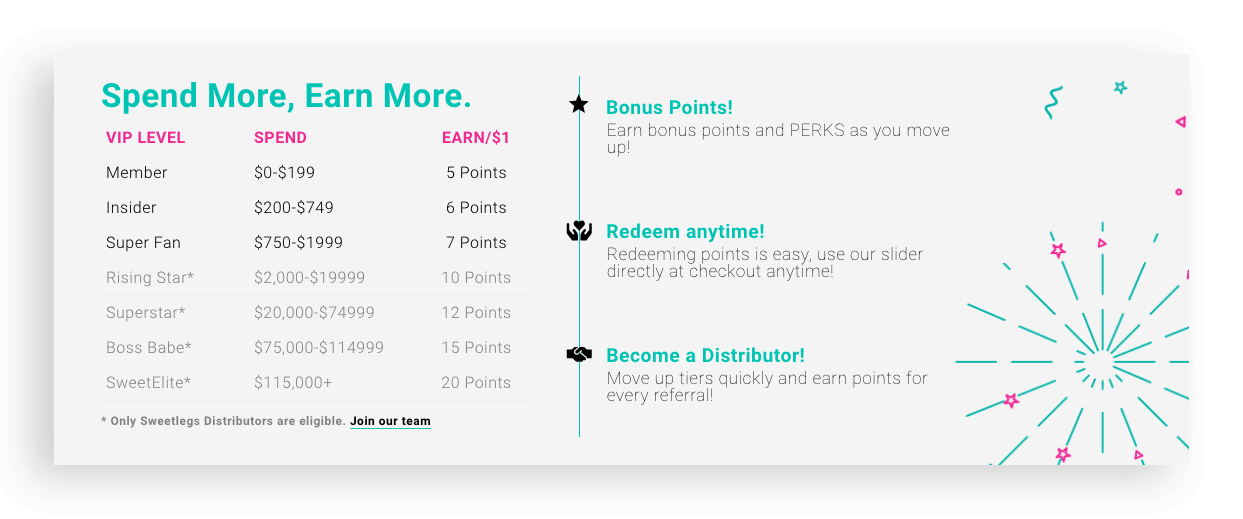 They achieved this with one of the most unique VIP strategies that I've ever seen! With 3 tiers for "normal" customers, and 4 additional, exclusive tiers just for their army of distributors, members earn awesome swag as they move up through the ranks. The real prize is at their top tier, though, where SweetElite distributors can earn an exclusive, all expenses paid getaway!
Why customers love SweetLegs Rewards
Moving up through their VIP tiers earns members awesome swag whether they're periodic purchasers or devoted distributors.
Nordstrom's Nordy Club
Anyone who was a member of Nordstrom's original Nordstrom Rewards program should be overjoyed that it got a facelift. . While the relaunch of the program itself (now called the Nordy Club) might not be groundbreaking, it is head over heels a better experience for Nordstrom's loyal shopping community.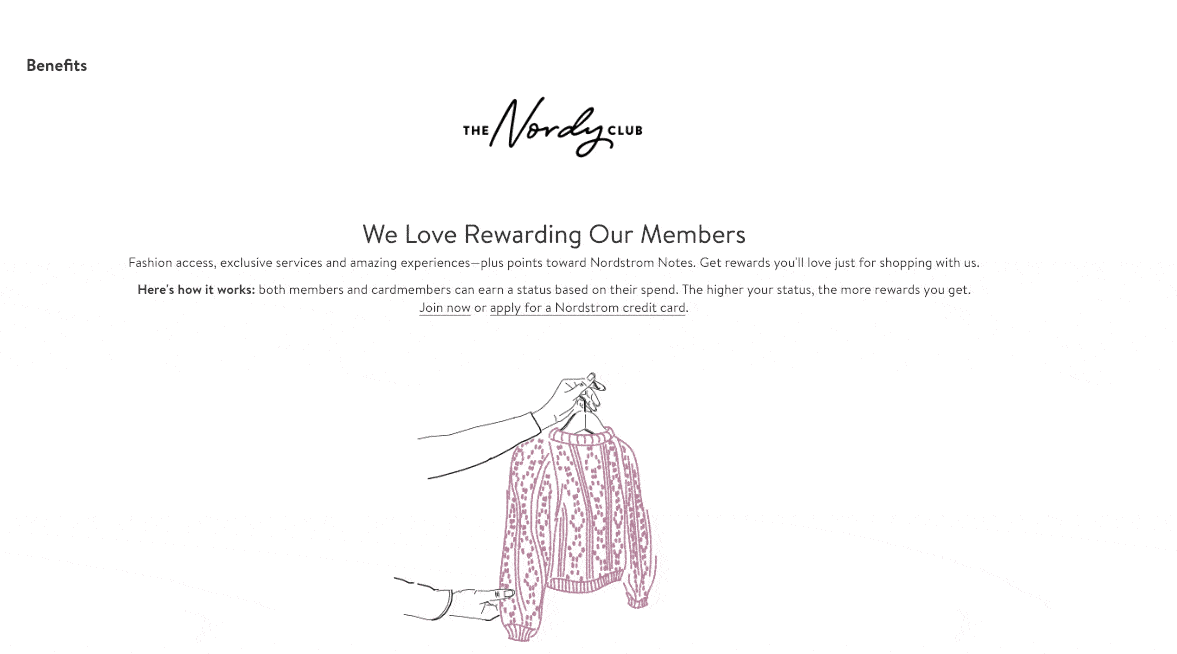 The biggest change is how easy it is to understand the program.   This was one of our biggest issues with the old program, and something we highly recommended they reassess.  Members can now, easily see all the value they get as they move up through the VIP program on one concise explainer page, making the program easier to understand and exciting to join.
With perks like early access to sales and members-only access to new brands and discounts, the Nordy Club is clearly delivering value. However, the real benefit comes from all of the experiential rewards they offer. Free alterations, free curbside pickup and access to beauty and style workshops are only a few of the incredible perks members can earn in the Nordy Club.
As a luxury department store, Nordstrom needs to show customers why they should shop with them rather than getting the same item from a competitor. By providing such incredible benefits to program members, they can keep them coming back again and again without having to rely on tactics like discounts that cut into their bottom line.
Why customers love the new Nordy Club:
Perks rather than points make it  head over heels more rewarding than the previous program.
Click and Grow's Click and Grow Rewards
The team here at Smile really loves Click and Grow. Not only do we love their rewards program and mission to empower people to grow their own food sustainably, but we also can't get enough of their product. Seriously, over a dozen of us have already purchased their modular smart gardens — I even got one for my wife for Christmas!
Alright, enough gushing. Lettuce explain what makes their rewards program pod-sitively rewarding.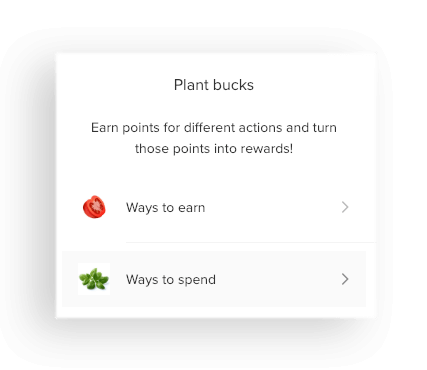 One of the things I personally love the most about Click and Grow's program is how great it looks. With cute little icons for things like the way to earn and spend points, they've made it a joy to be part of the program and earn Plant Bucks.
The program doesn't just look great, though. It's also incredibly rewarding for their customers,  especially when you look at the referral portion of the program. Friends who receive a referral get a 10% off coupon while the sender gets an incredibly generous $20 discount on their next order. With this type of value up for grabs, it's easy to convince their members to join them in promoting sustainability and fresh food. Now that's what I call letting love grow!
Why customers love Click and Grow Rewards:
Inviting others to join the community of local fresh food growers is super rewarding, making it easy sprout plenty of referral discounts.
Chipotle's Chipotle Rewards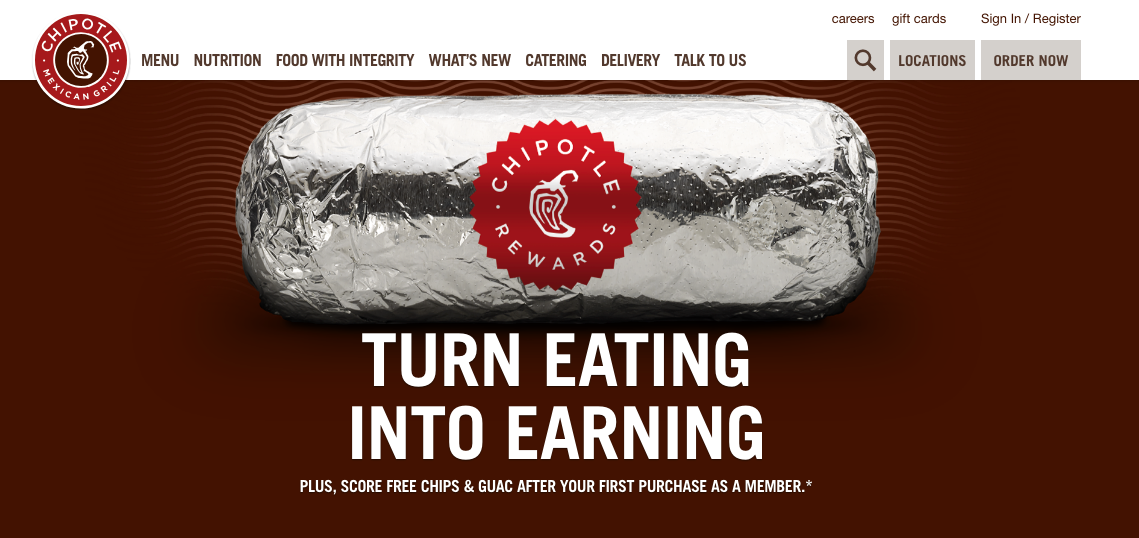 Another relaunched program we're excited about from this past year was the re-introduction of a rewards program from Chipotle. Compared to the last rewards program they launched, the number one biggest benefit of the new program is that it's long term. With their old model, the program only existed for 3 months which meant that if you missed the burrito boat, you missed the burrito benefits.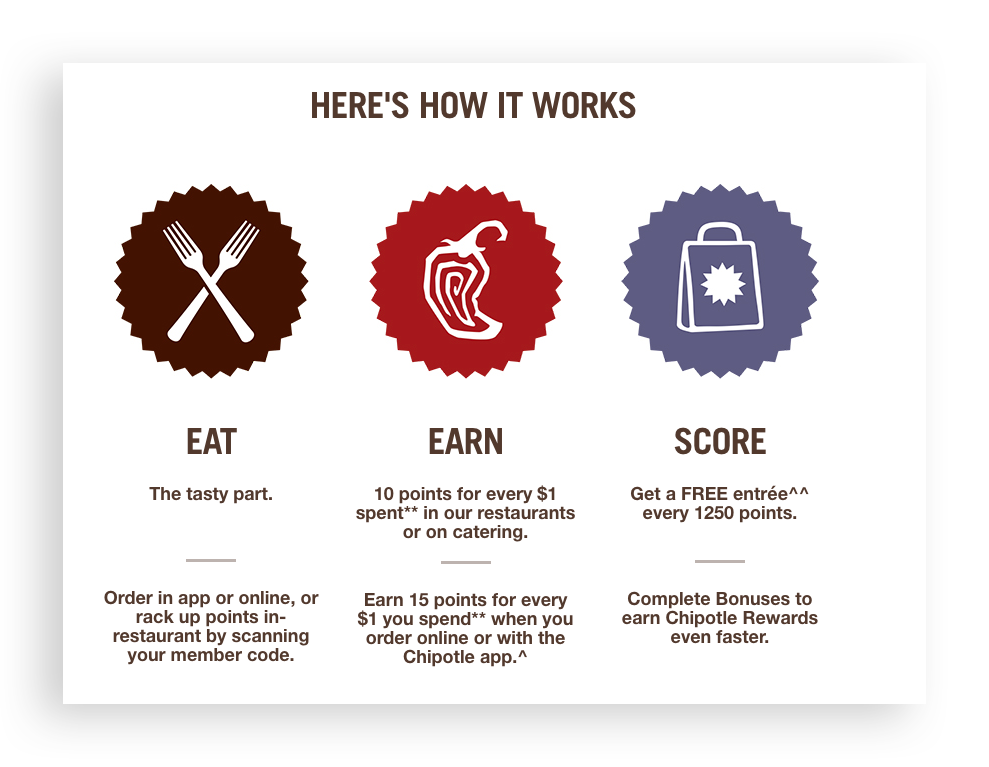 The biggest strength of this program, however, is how easy it is to understand. The last thing you want to do when you're hungry is think too hard about anything other than food, which is why Chipotle focused the program around the simple concept of "Turning Eating Into Rewards". With eating and earning as the only goals, the new program is easy to understand and offers eaters points for each dollar spent. They've even sweetened the deal by offering 50% more points for orders placed online or in the Chipotle app, encouraging their community to get connected in other ways.
With all that deliciousness in mind, it equates to members earning a free entree for every $84 online. That leaves us with only one question: is the guac still extra?
Why customers love the new Chipotle Rewards:
Who doesn't love free burritos?!
MyChelle's Clean Beauty Club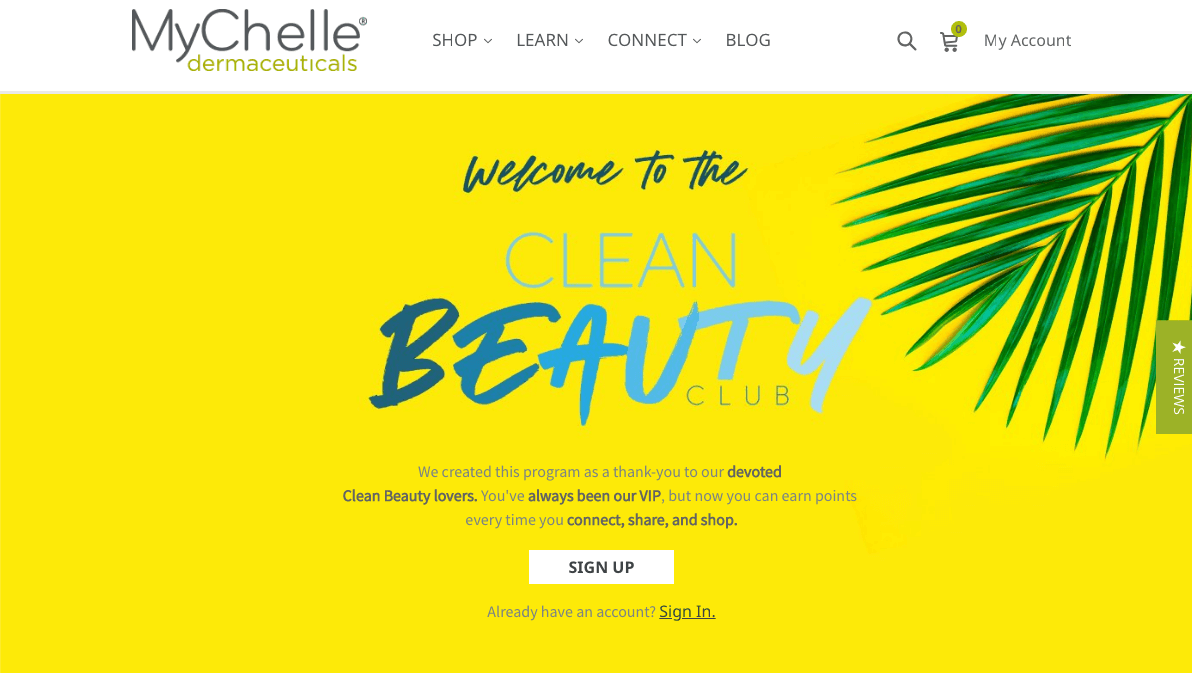 If you're looking for any sort of skin care products, MyChelle should be the first place you look, especially now that they've launched the Clean Beauty Club! As a member of their program, you get both great products and great rewards — the perfect combination!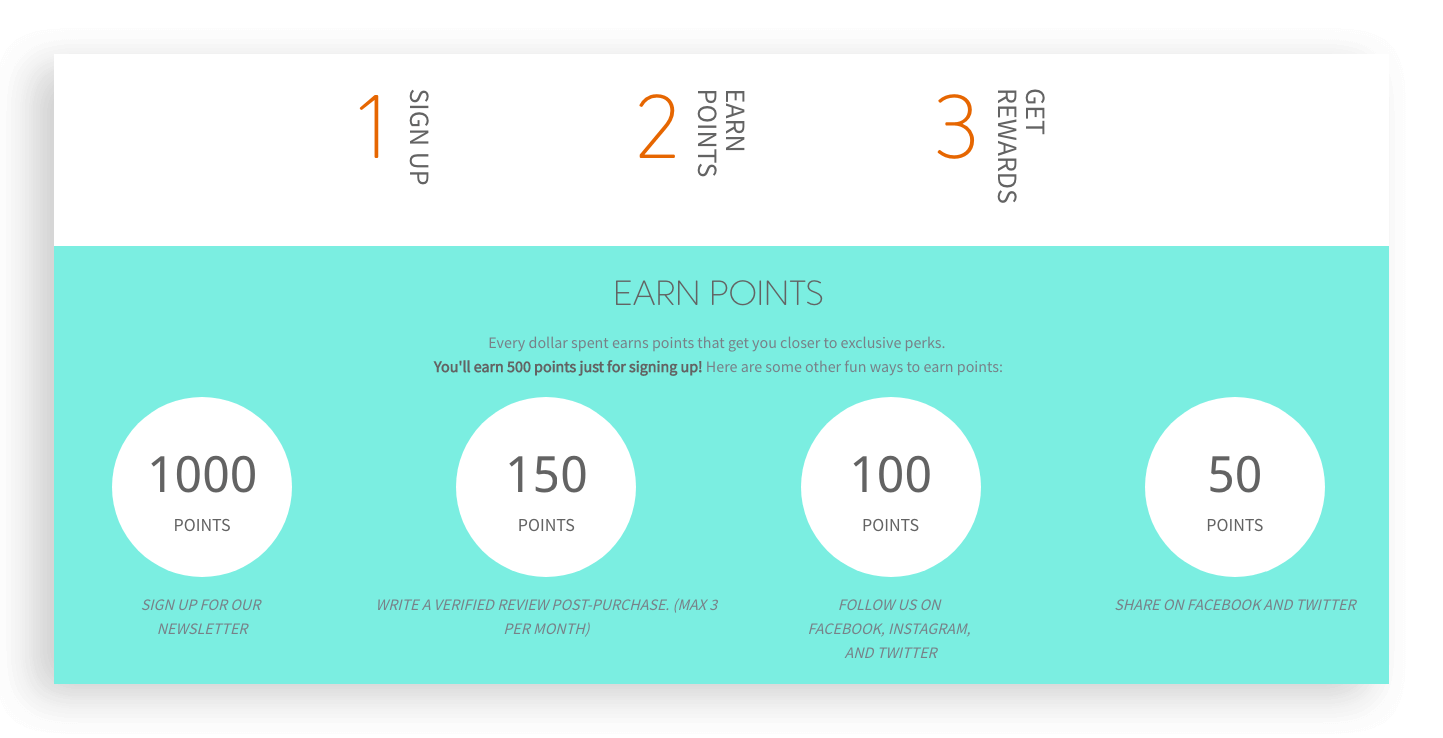 Their program has everything you'd expect from a standard rewards program, but the special sauce (or serum) that makes their program great is the incredible value that members get just for deciding to join.
Not only do new members get a welcome points bonus of 500 points, but they can also earn a whopping 1,000 more points simply for signing up for their newsletter. That's $15 dollars worth of discounts from points just for joining and registering for the newsletter!
While trying a new beauty brand can be a gamble, early rewards like these lower the barrier to entry for shoppers that need a little extra encouragement to take the leap of faith for better skin.
Why customers love Clean Beauty Club
Blemish free value up front makes it obvious why customers need to be part of the club.
MudLOVE's Wishing Well Rewards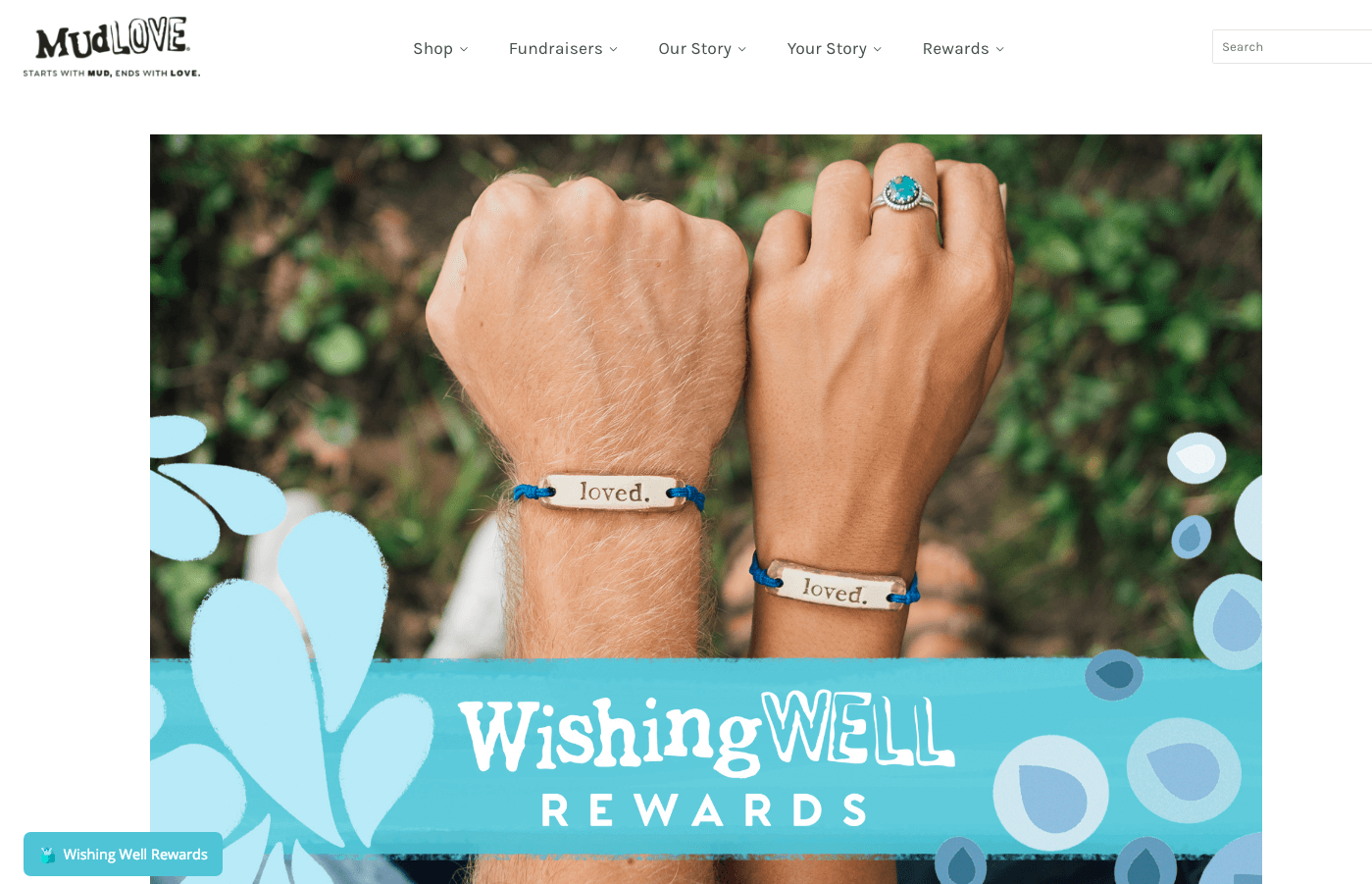 MudLOVE is one of those brands that just makes you feel good. From their beautifully crafted jewelry and ceramics to the inspiring messages of love, peace, and joy they promote, MudLOVE wants to make their customers feel good about the decisions they make.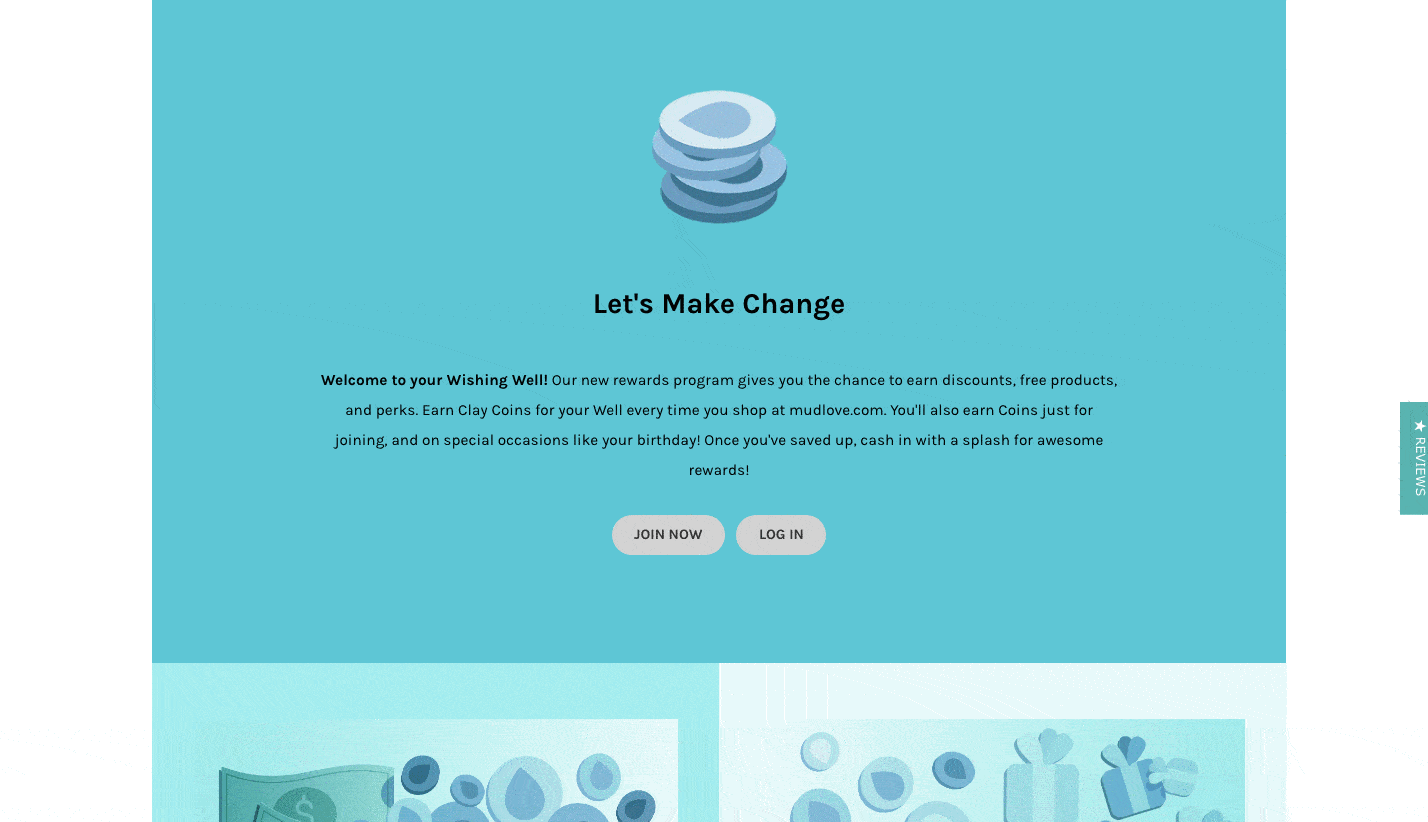 As you might have guessed, their Wishing Well Rewards program is no exception. One of the first things you notice about Wishing Well Rewards is that it's so easy to understand. That's because MudLOVE have built an incredible explainer page that shows off the value of their program without over complicating the visuals.
This makes it easy for members to join and start earning n Clay Coins as they work their way through the delightfully on-brand Ripple, Splash, and Wave VIP tiers. These tier names are a great example of how to keep VIP tier names on brand, since MudLOVE makes a donation to Water for Good with every purchase. As a non profit that drills wells for communities in need, this association is just one more way MudLOVE makes their customers feel good about their membership in their community.
Why customer love Wishing Well Rewards:
Members get flooded with awesome perks while their purchases have a ripple effect on a global scale.
Teased programs we're still looking forward to
There are a couple other reward programs that we were hoping to add to this list but aren't actually open to the public yet. Even though they were publicized throughout the year, neither have actually launched. However, we're not going to let that stop us! We're including the following 2 programs because we're really looking forward to what they bring to the table, and can't wait to see what they deliver once they finally go live.
Lyft's Lift Rewards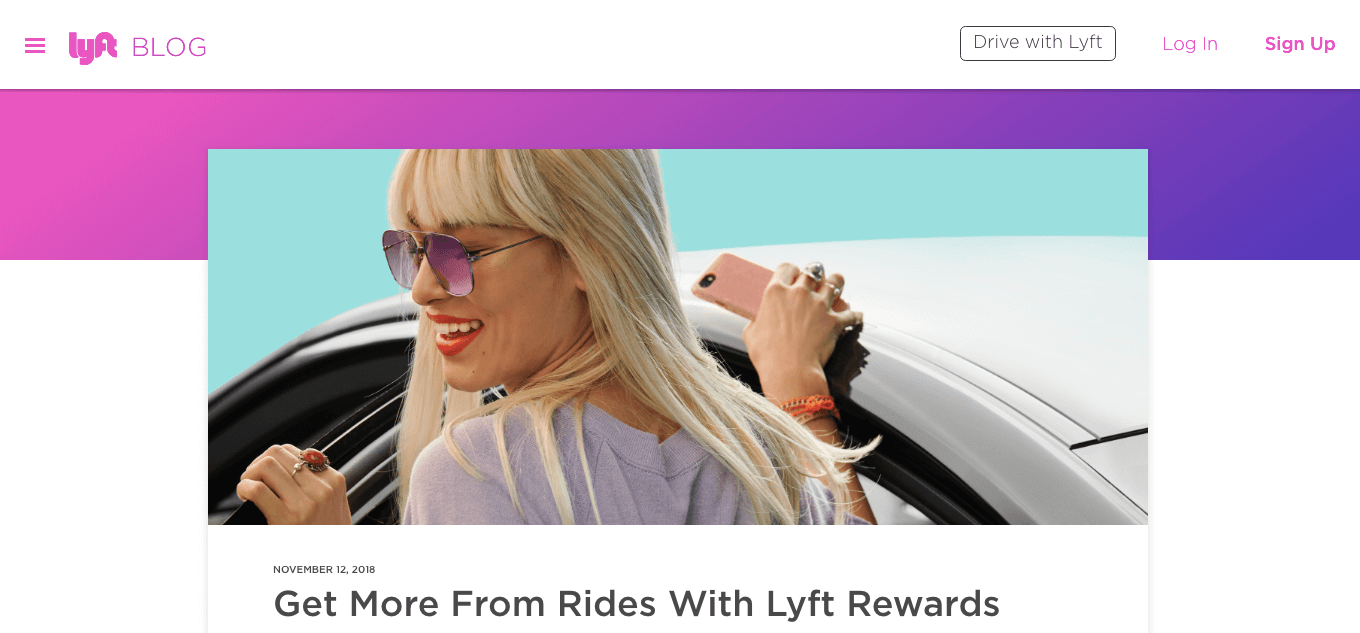 In response to Uber's introduction of their rider rewards program, Lyft announced they they would be unveiling their own program this year as well. Appropriately called Lyft Rewards, the car service published a blog post detailing the ins and outs of the new program and indicated that it would start rolling out in December. However, as of this writing, we've yet to see another press release announcing that it is actually live.
What we do know from the details they shared in November is that the program will be structured in a very similar fashion to Uber Rewards. With Lyft Rewards, you will be able to earn points and perks like free upgrades and discounts on future rides every time you use the Lyft app to get around. While this earning model might sound identical to Uber's, we're really excited about the emphasis on any time you use the app. In theory, that means you can also earn points for using Lyft's scooter ride system, putting an interesting twist on the classic ride sharing rewards model!
What we're looking forward to from Lyft Rewards:
Earning points for scooting around on Lyft's signature purple scooters.
RBC and WestJet's Ampli Rewards

This past summer, RBC and Westjet announced that they were going to introduce an all new rewards program in 2018. The program, which will be called Ampli, is yet to be seen but there are hopes that the new program will bring some perks that other Canadian airline reward programs are currently missing.
Among these features, RBC's press release mentioned that the new program "is a fundamental shift in the business model," although how that will be done is not well defined.
We do know that there will be rewards from third party merchants, flexible rewards (whatever that means!), and point bonuses for members who use RBC cards or fly with WestJet. Just how valuable these rewards will be still remains up in the air.
What we're looking forward to from Ampli Rewards
Finding out what makes this program an industry disruptor.