Repeat customers are critical to your brand's long-term success, and build the backbone of your revenue source by bringing in almost 40% of your store's revenue. With Facebook and Google ads becoming less effective and even more expensive, it's no secret that customer loyalty is important!
A VIP program is a fantastic tool that helps you build a brand that engages these valuable repeat purchasers. Not only does it allow you to track who your best customers are, but it also allows you to incentivize them to come back again with attractive rewards and perks.
Here are 5 ways that a VIP program is able to engage your valuable customers.
1. VIP Tiers Are Highly Motivating
There's a theory in psychology known as the consistency principle which states that people will always try to maintain a consistent image of themselves. This is because a change of status is often perceived as being negative.
By increasing the perks and benefits as customers move from tier to tier, VIP programs create a highly motivational environment that encourages customers to maintain their status in your program in order to maintain their elite status with your brand. As more purchases push customers closer to your VIP program's highest level, customers become even more protective of their status, increasing their chances of staying engaged with your brand long-term.
Gamification is a huge factor in this motivation process. By incorporating elements of gamification, VIP tiers keep each customer's status highly visible, motivating them to continue earning points within your rewards program. Features like progress bars are used in many games because of their ability to visually show players where they currently stand and how far away they are from reaching their next checkpoint. In a VIP program, this idea helps motivate customers to make more purchases to help them achieve and preserve a higher rank.
The rewards customers can earn is another powerful motivator in a VIP program. Offering a variety of different rewards at each level helps customers imagine what it's like to be part of your brand's elite community, inspiring them to earn more so that they can redeem more.
This motivator is most effective when it's clearly displayed for new and returning members to see. Building a dedicated program explainer page gives you the perfect place to highlight the additional value your program offers and helps customers envision how to earn them.

Esther shows off their Silver, Gold, and Platinum levels on their program's explainer page, highlighting the increasingly prestigious rewards. With more points earned per dollar spent, Esther's VIP members can easily understand the value of moving up through the program, and will engage more often in order to redeem points for amazing transactional rewards.
2. VIP Programs Make Your Brand Feel Exclusive
VIP programs are effective in keeping customers engaged because they simultaneously retain your best customers and motivate your lower tiers to join the elite. The best VIP programs only give the top 5-10% of customers access to the best rewards, making the brand feel exclusive. Entry level rewards such as discounts and free shipping are open to all customers, but special events are reserved for the most loyal. This transition from transactional to experiential rewards as you move up through each tier is done deliberately to ensure customers stay engaged.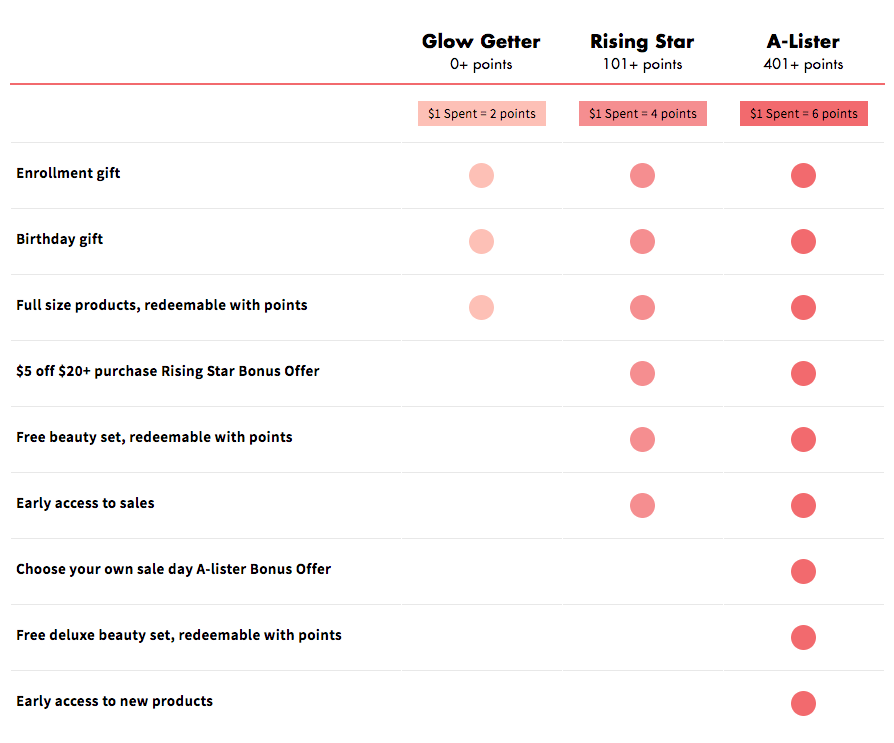 e.l.f. does a fantastic job of highlighting each of their tiers' exclusive perks. By displaying each level's benefits side-by-side, customers can see everything they stand to gain by moving up through the program. This also helps keep their top spenders engaged by reminding them of how valuable their benefits are.
Although customers in lower tiers still receive valuable benefits, they are highly motivated to achieve "A-Lister" status because of the allure of exclusivity associated with it. Offering perks such as early access to new products, free deluxe beauty sets, and "choose your own sale days" creates a super high switching cost built on the status these rewards represent. With all of this special treatment, any A-Lister would have a hard time shopping with a competitor!
3. They Give Customers a Unique Shopping Experience
Whether you like it or not, customers are always comparing you to your competitors. That makes your customer experience extremely important. Since a customer's decision to shop with you is largely based on how much they like your brand, offering a unique, branded shopping experience makes the decision to choose your that much easier.
Adding a VIP program to your existing marketing strategy allows you to offer brand-specific rewards that show your customers you understand who they are and what they want from your store. These rewards should be tailored to the products you sell, and build on your brand's existing appeal.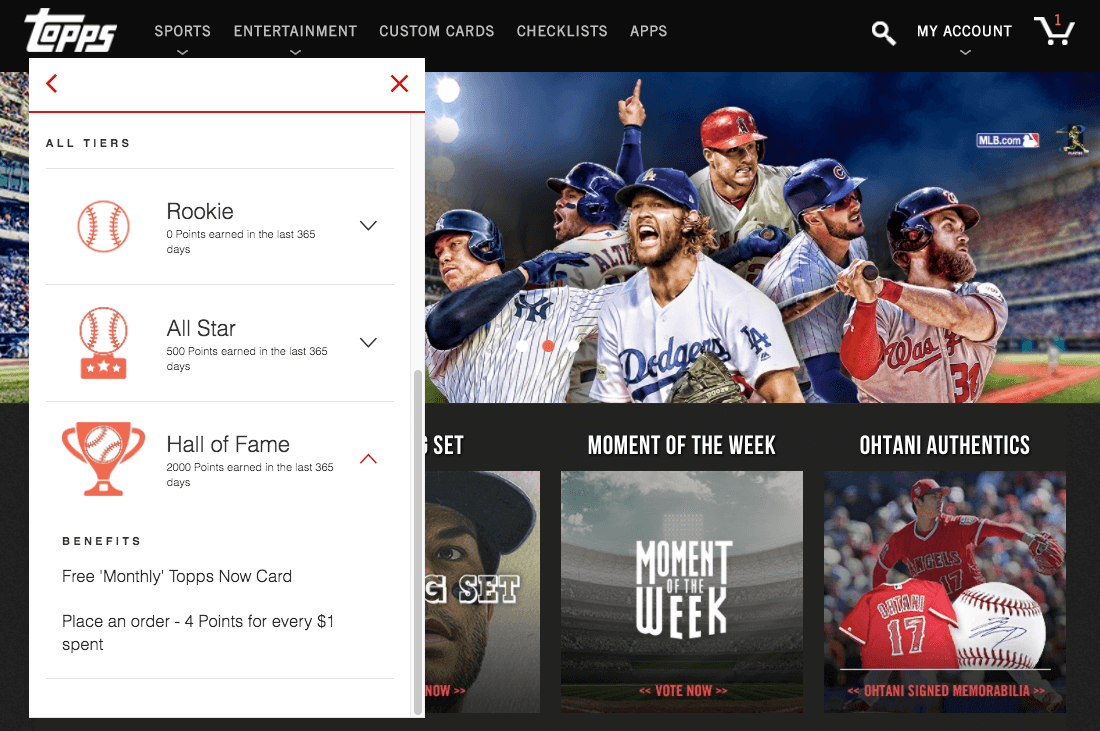 Topps clearly understands their customer and leverages their VIP program to offer free baseball cards to "All Star" and "Hall of Fame" customers. As a sports memorabilia brand, this reward not only makes sense but also is clearly related to the interests of their target market. Although this gift would not be effective for a cosmetics brand, Topps is able to create a desire to engage and offer real value by appealing directly to sports enthusiast customers.
Offering tailored rewards helps make a customer's decision to choose your brand over a competitor's that much easier. Customers are looking for the best shopping experience, and implementing a VIP program allows you to achieve that.
4. They Allow You to Create an Emotional Connection with Customers
Building VIP tiers into your business makes it easy for you to offer a number of experiential rewards to your most loyal customers. These perks create an emotional connection with your best customers that help them feel appreciated and valued, which is something transactional rewards simply can't do. The difference between handing a coupon to a customer and allowing them to experience an event is how memorable it will be. Hosting a private dinner for your VIPs creates a memory that lasts a lifetime, whereas the enjoyment of saving $5 on a purchase is fleeting.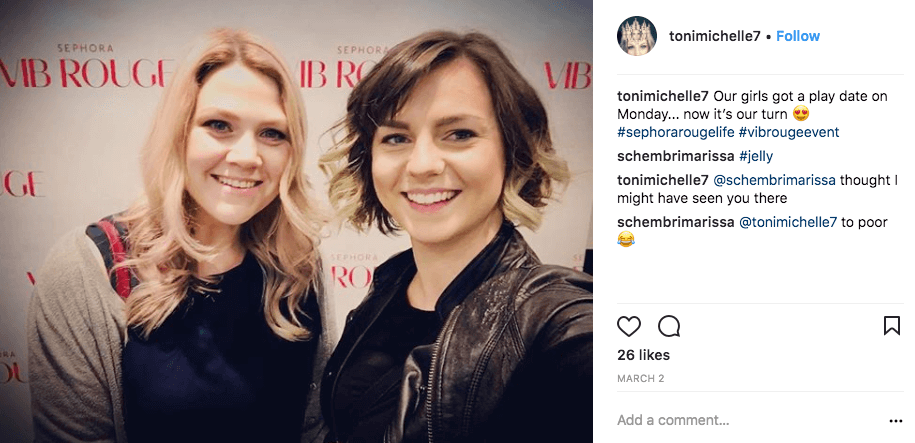 Sephora is the global leader in hosting events that build deep and emotional connections with their customers. By hosting exclusive events for top tier VIB Rouge customers, they are able to humanize their brand through their rewards program. Rather than simply seeing a logo, customers begin to feel the sense of community attached to Sephora's brand image.
This emotional connection ensures that whenever a VIB Rouge member needs new mascara, they won't consider any brand other than Sephora. As an added bonus, these highly engaged customers will usually try to convince their entire friend group that Sephora is the place to shop for cosmetics. In this way, the value from an engaged customer shows up in your books as a repeat customer that is loyal to and profitable for your business.
5. VIP Tiers Take Your Customer Retention to the Next Level
If you already run a loyalty points program, VIP tiers make a fantastic addition because of their ability to add even more incentive for earning points. Every time a customer makes a purchase, shares your brand on social media, or reviews a product, they are earning valuable points that brings them closer to the next tier in your VIP program.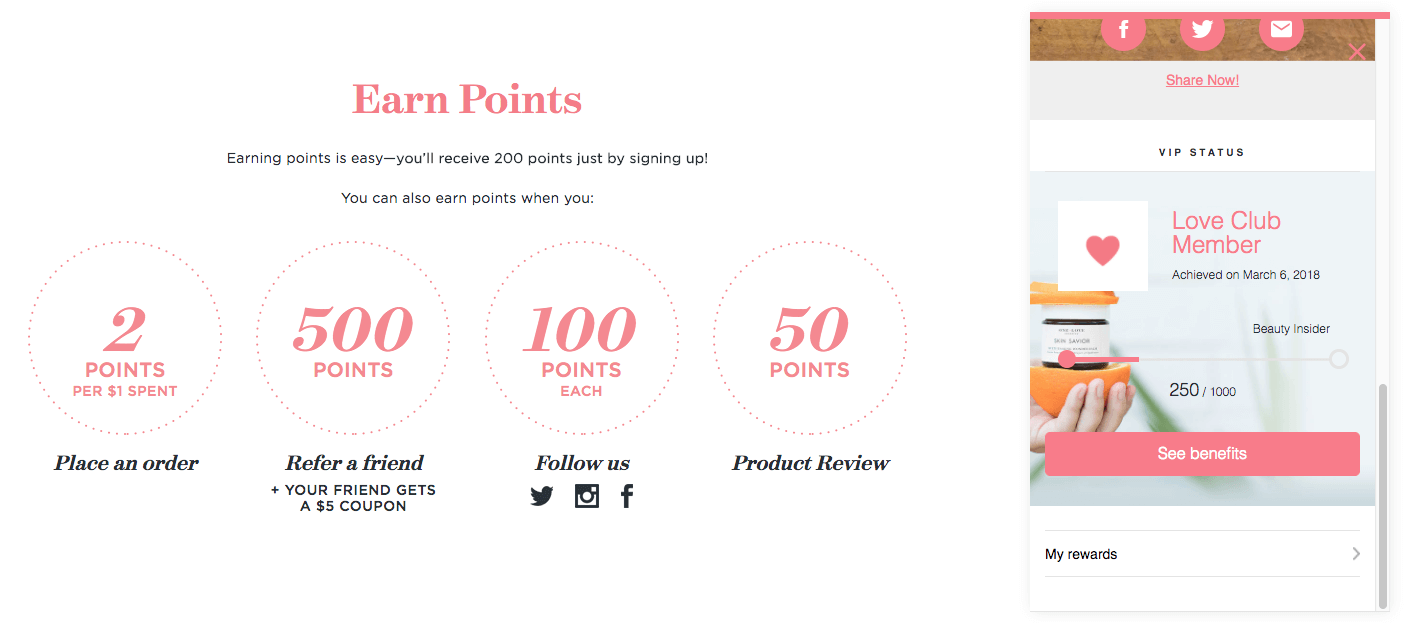 Just by creating an account in One Love Organics' rewards program I received 200 points that can be spent on store discounts and moves me closer to the "Beauty Insider" tier. Now I'm more motivated than ever to engage with OLO on social media to continue my progress and unlock prestigious rewards.
63% of customers believe that a broad range of benefits and rewards are the most important part of a rewards program. Making your program more exciting by adding VIP tiers convinces new customers to join your program, but more importantly it gets your existing customers to stay engaged over time.
Whether you already have a loyalty points program or not, a VIP program has many benefits that can increase how loyal your customers are. Tiers engage your customers because they add motivation, exclusivity, personalization, emotions, and excitement to your brand. The best part is that they can be easily integrated into any marketing strategy to make it even more effective!