Sephora is widely regarded as one of the best brand communities in the world. With their Beauty Insider and VIB Rouge reward programs, they've built an international community of customers who all value luxury cosmetics experiences. As a result, they've been held up as an example of what an effective loyalty program looks like.
"Our aim is to continuously adapt and grow our Beauty Insider program as clients' needs and wants evolve. We are on a multi-year journey focused on raising the bar on client excitement and engagement in a prestigious beauty loyalty program."
Allegra Stanley (VP of Loyalty, Sephora)
However, in August 2018 they announced a number of significant program changes that would impact virtually every aspect of their world-class experience. While many of these changes were requested by their customers, there has been a lot of backlash that clearly indicates a negative impact on Sephora's best brand advocates.
The changes made to Sephora's rewards program have had a negative impact on their ability to motivate customers to strive for Rouge status.
With many changes already in place and several more expected throughout the year, Sephora's program revamp has significantly damaged the foundation of their brand community. By negatively impacting their top tier experiences, they have made it more difficult to motivate customers to strive for the VIB and Rouge levels, handicapping their ability to grow their community even further.
In order to understand what this looks like, let's look at each of their biggest program changes and examine what it means for their brand community.
Change 1: More points per dollar, but less valuable rewards
One of the easiest ways for a VIP program to deliver more value is by increasing how many points members earn per dollar spent. Many other successful beauty programs (including Ulta's Ultamate Rewards and Smashbox's SmashCash) were already using a similar model, making Sephora's decision to adopt a similar structure unsurprising.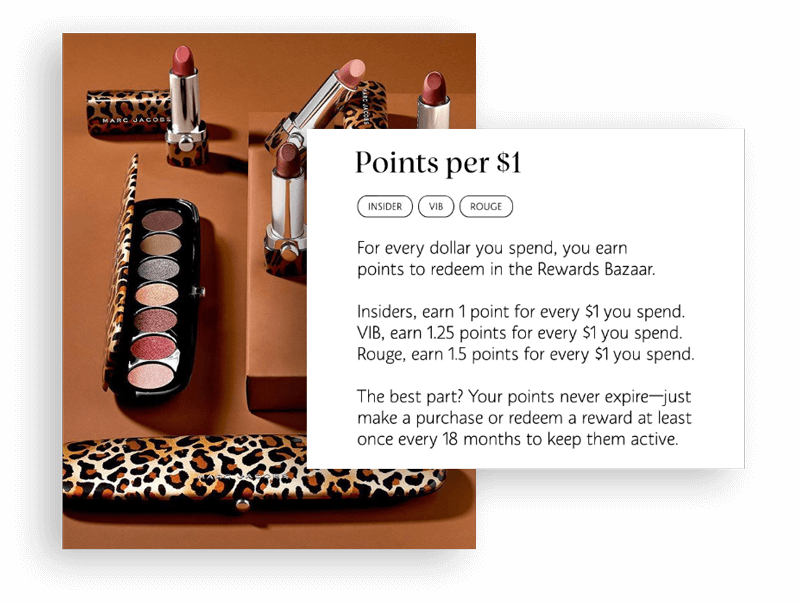 With the new Beauty Insider and VIB Rouge structure, VIB members are now able to earn 1.25 points for every $1 spent, while Rouge members earn points at an even faster rate of 1.5 per dollar spent.
At first, this looks like a valuable addition to Sephora's rewards program. After all, it gives their best brand advocates even more back for what they spend, right?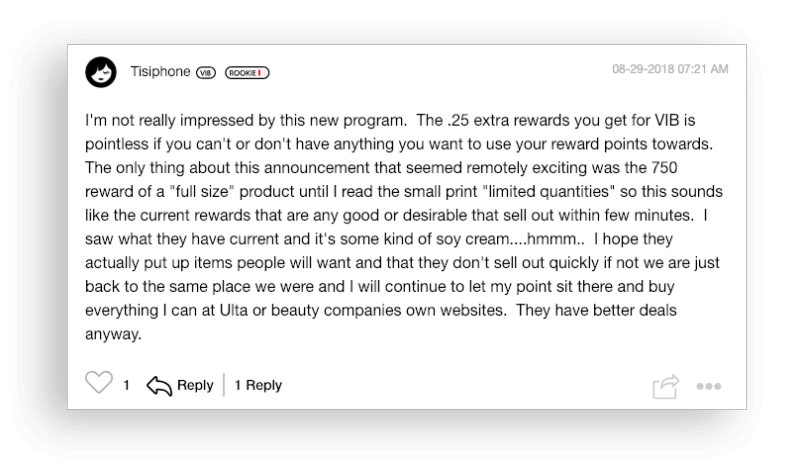 Unfortunately, a quick search online returned lots of negative feedback all saying the same thing: the rewards are simply not worth it. Even though Sephora proudly boasts a selection of full size product rewards available exclusively for their best customers, these members seem less than thrilled with the quality of the products themselves and have reported significant limited quantities for these new rewards.
Without valuable rewards to support it, accelerated points earning is nothing more than a program gimmick.
These types of frustrations quickly add up to create an extremely demotivating rewards experience. Without rewards their customers actually want, this program change becomes just another annoyance as opposed to a significant benefit and will not be a good enough reason for their best customers to stay loyal over time.
Change 2: More rewards for Beauty Insiders, less exclusivity for VIB and Rouge
When customers know they can choose their own rewards, they're much more likely to pursue them because they become infinitely more personal. That's why Sephora built the Rewards Bazaar.
"More rewards [and] more choices at every rewards moment."
Andrea Zaretsky (Senior VP of CRM and Loyalty, Sephora)
Open to members of every tier of their program, the Rewards Bazaar is where customers can redeem their points for a wide variety of experiences and rewards. Depending on which tier they were in different transactional and experiential rewards were available, creating a clear distinction between the benefits of being one of their most loyal customers.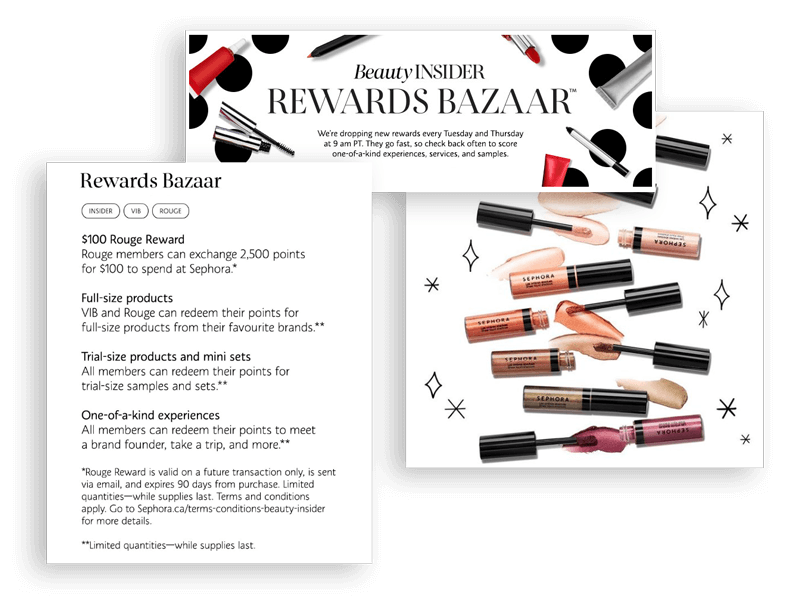 With the new program changes, the Rewards Bazaar has received an influx of almost 5 times as many rewards and given Beauty Insider members access to more in-store beauty services and classes that were previously only available to VIB and higher.
Much like the accelerated points structure, this looks fantastic until you consider what this means for Sephora's brand advocates. One of Sephora's greatest assets has always been their ability to deliver a luxury VIP experience to their best customers. By making more of these exclusive benefits available to all customers, they're cheapening the value of being a VIB or Rouge member, making it infinitely less desirable.
Offering top tier benefits to every customer makes VIP status significantly less valuable, reducing the program's exclusivity.
Not only that, but opening these exclusive experiences up to the masses will stall their community growth as more customers become satisfied with the benefits at a lower tier. More customers will likely join their rewards program, but why would they work harder to achieve Rouge when they can get an incredible experience as a Beauty Insider?
With more options available to Beauty Insiders, there is less incentive to strive for VIB or Rouge status.
While it's admirable to want to deliver a great experience to every customer, in the end their attempt to appeal to more customers cheapens their greatest community attraction: exclusivity.
Change 3: Rouge Rewards create a facade of exclusive value
Rouge Rewards are another new perk added to the Bazaar and are only available to members who have achieved Rouge status. For 2,500 points, customers can redeem a $100 coupon that they can use on their next purchase.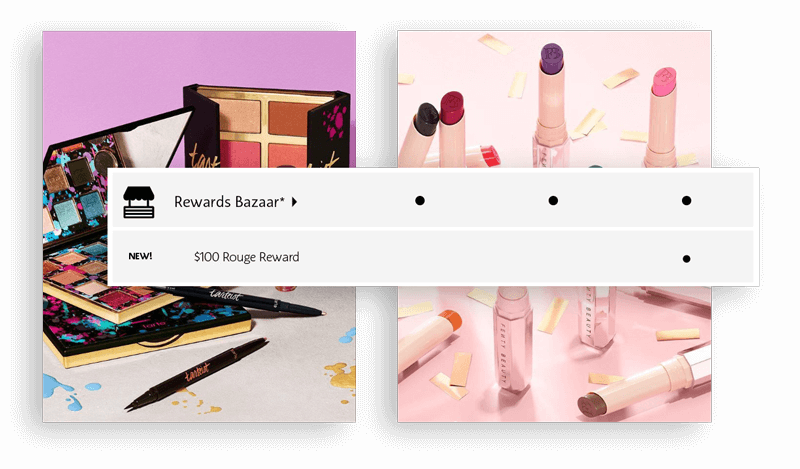 At a glance this looks like great value that might counteract some of the frustrations caused by the new Beauty Insider Rewards, but once again it is deceiving.
As one of the the most valuable rewards offered, Sephora has limited the number available in the Rewards Bazaar at any time. They've also restricted their availability even further by only releasing them on Tuesdays and Thursdays.
Adding so many conditions to these luxury rewards decreases the appeal for customers who have already invested so much in the brand.
To top it off, these rewards cannot be combined with other offers and have a relatively quick expiration date of 90 days. While it's not uncommon to restrict customers to one reward per transaction, this reward is being promoted as a gift card — a perk that traditionally can be used like cash and combined with other offers. These conditions make it difficult for customers to redeem their Rouge Rewards for higher value items they might really want, and restrict them to products that don't really feel like rewards.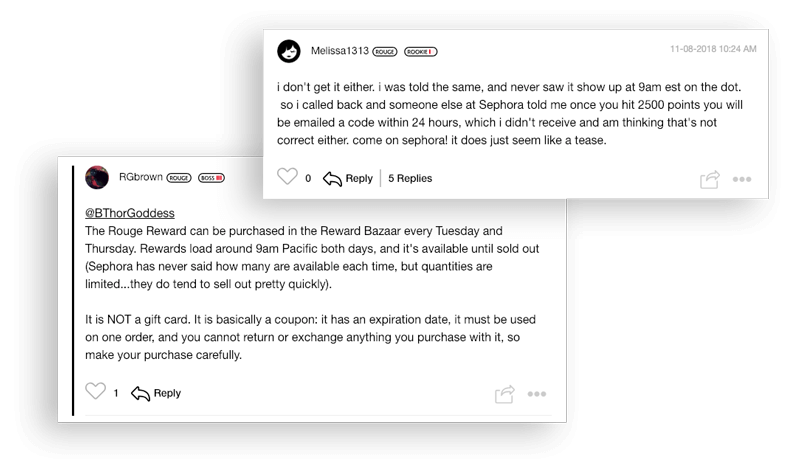 By requiring their members to be glued to the Rewards Bazaar every week in order to actually get what they're after, Sephora has turned their rewards into a lottery instead of something truly valuable customers want to experience. In these ways, they're cheapening the feeling of being appreciated and creating a highly transactional experience directly at odds with Sephora's previous VIP experience.
Change 4: New birthday perks don't feel like a gift
Sephora's birthday rewards are arguably one of their loyalty program's best perks. Every year, members look forward to a small bonus gift on their birthday, with VIB and Rouge members getting to choose between two different products.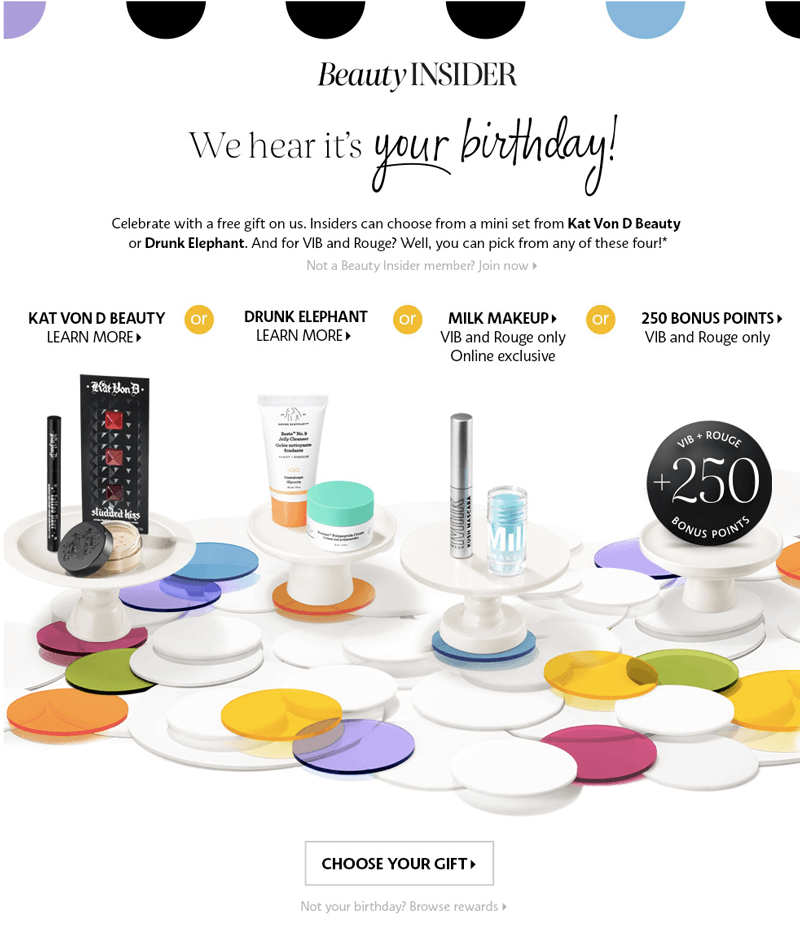 With Sephora's new program changes, this delightful reward changes dramatically — especially for VIB and Rouge customers. Much like the additions to the Rewards Bazaar, Beauty Insider members will now be given the same products as upper tier members, skyrocketing them into a rewards "price point" they didn't actually pay for.
More importantly, VIB and Rouge members now lose this automatic perk by being forced to choose between a free product or 250 bonus reward points. Even with the addition of several exclusive free product rewards, these changes are catastrophic for top tier members. As Sephora's most loyal customers, they should be treated to additional benefits, not forced to choose between them.
These changes — regardless of how big they are — makes customers feel like they're being robbed of benefits they had in the past, damaging the way they see their role in Sephora's brand community. These negative associations and feelings will stop them from sharing their positive experiences with others, and force new customers to think twice before joining.
Change 5: No more Custom Makeovers
Until now, Sephora's greatest strength has been delivering a personalized beauty experience. From their Beauty Profiles to their special events and marketing messages, Sephora's community was built on exclusive events and emotional connections.
Their custom makeovers perk was a huge contributing factor. By allowing customers to come in and have their face made up by one of their qualified beauty professionals, Sephora created intense moments of joy for their members and provided opportunities for their staff to build one-on-one relationships with the customers they had the pleasure of helping.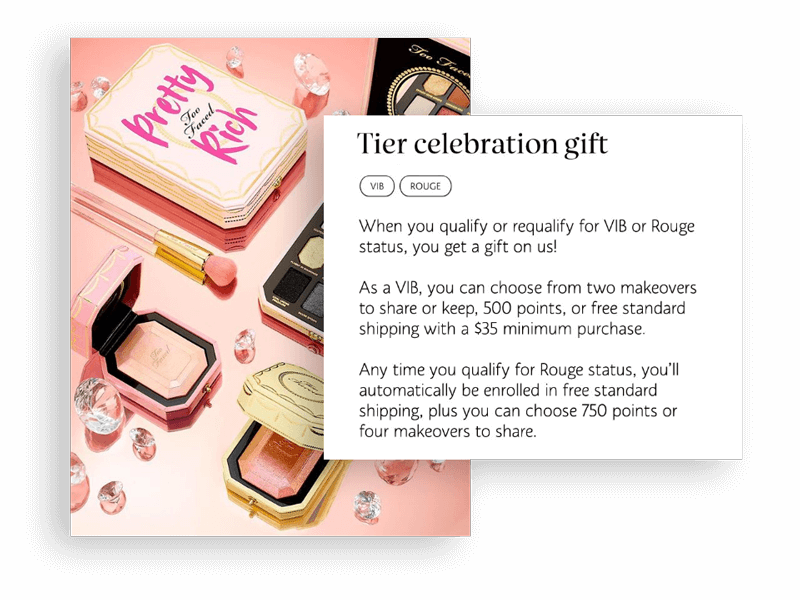 This is what makes this program change so devastating. As of January 2019, VIB and Rouge members can no longer experience this level of luxury. Instead, any Sephora member who is or becomes a VIB or Rouge member can choose from one of three benefits for the rest of the year:
A one-time gift of bonus points (750 for Rouge, 500 for VIB)
Shareable makeovers (4 for Rouge, 2 for VIB)
Free shipping for a year (2 day flash for Rouge, free over $35 for VIB)
While members still have the option to share a makeover experience with others, it's no longer a permanent part of their community experience or an exclusive luxury perk for top tier members. Instead, they need to choose between that and a number of transactional rewards, making this the final nail in Sephora's emotional connections' coffin.
Without custom makeovers Sephora's brand community is no different from that of their competitors, and no number of half-baked member perks is going to change that.
Sephora's program changes prove that customer feedback is a double-edged sword
The ripple effect of Sephora's Beauty Insider and VIB Rouge changes is an excellent example of why you need to properly consider the implications of customer feedback before incorporating it into your brand community.
Customer feedback should never overrule the integrity of what makes your brand community special.
While listening to feedback is important for understanding how your members feel about your community, it should never be exchanged for the integrity of what makes your community unique. The reality is that your customers' motivations are constantly changing, and as a result they don't always know what they want or what is actually best for their experience with your brand. It's your job to maintain what you've built with a community experience that supports why your customers chose you in the first place.

Sephora's greatest strengths were always building emotional relationships, encouraging customer connections, and delivering a luxury experience. With the changes they made to the Beauty Insider and VIB Rouge programs, they are no longer able to truly support these foundational elements, fracturing their community experience at its core.
For the first time, the negative social proof for Sephora's program might outweigh the positive, and hopefully it's now not hard to understand why.