Whether you're a self-proclaimed "gearhead" or not, chances are you've heard of AutoZone.  As an auto parts and services retailer, AutoZone has done a fantastic job of building a name for itself.  With a committed, passionate customer base, they have established themselves as the place for many car junkies looking to improve their hot wheels.
In an effort to reward their best customers for their enthusiastic and ongoing business, AutoZone started their AutoZone Rewards program.  The program was the perfect opportunity to publicly thank their existing customers and hopefully win over some new ones. However, the question is whether AutoZone Rewards deserves first place or still needs to have its oil changed.
Let's find out!
How AutoZone Supercharges Their Program
Designed with a couple key concepts in mind, it's easy to see why AutoZone Rewards is off to the races.
AutoZone Rewards is Easy to Understand
A rewards program is only as effective as it is easy to understand.  If customers can't figure out what the program does or how it works, they won't be motivated to participate.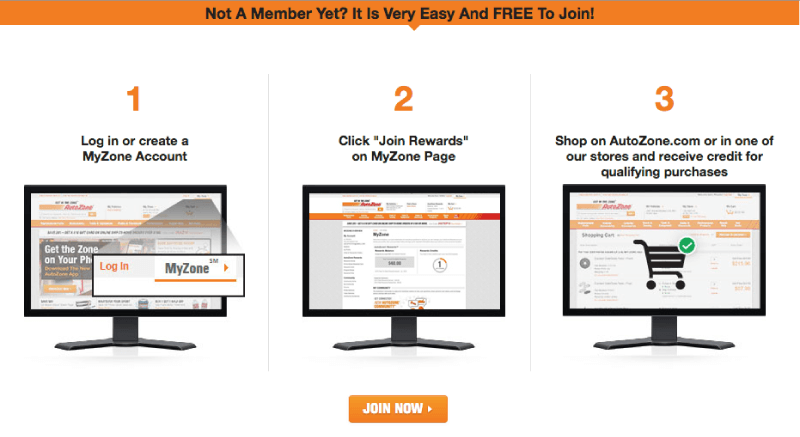 No need to worry about that with AutoZone! They have put together a program-specific page to explain how it works with a good balance of text and visuals that keep it easy to scan and understand.

They also made sure that the value of joining is the first thing new and returning members see.  In big orange letters, the page announces that customers can earn a $20 credit after making 5 purchases of $20 or more. Not only is this 20% return on investment super attractive, but its placement at the top of the page also indicates that value is the program's top priority.
On top of that, AutoZone has made sure that their rewards program is visually connected to the rest of their site.  Through colors, fonts, and feel, the car specialists seem to understand that your rewards program should be a cohesive part of your overall brand experience - not an afterthought.
AutoZone Rewards is Highly Visual
In addition to being easy to understand, a good rewards program also needs to be easy to find.  Otherwise, how can customers get engaged?
AutoZone has made their program very visible by including links in their navigation bar, header, and footer of every page.  With bold lettering and clear copy, each call-to-action encourages customers to click to find out more and discover the value of participating in the AutoZone Rewards program.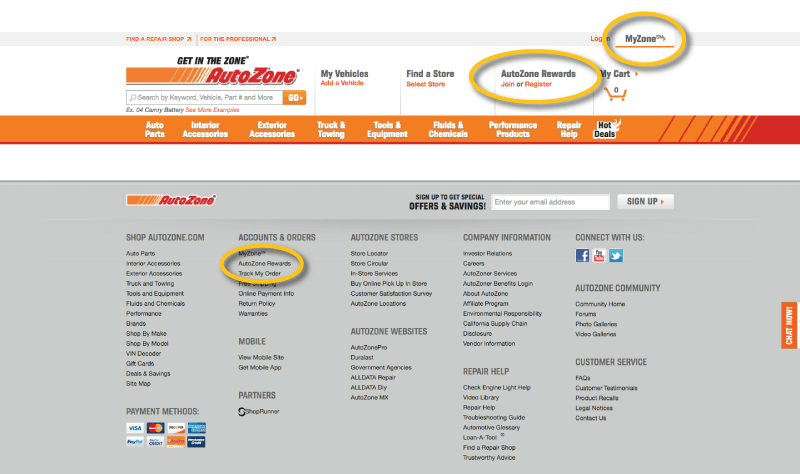 With these 3 touchpoints, customers can easily find, explore, and engage with the program no matter where they are on the site.  With so many ways to engage with AutoZone Rewards at every touchpoint in the online customer journey, shoppers are still bound to view the program as relevant, accessible, and valuable every time they visit the site.
AutoZone Rewards Builds Community by Making Rewards Fun
One of the biggest reasons customers join reward programs is because they're fun.  It's enjoyable to earn and redeem rewards, and programs that emphasize that positive interaction are always more appealing to customers.
AutoZone has taken the time to develop a marketing strategy that focuses on building a face and persona for the program.  Take this ad, for example:
Through a combination of humour and "real people", they've built a community-based narrative around their rewards program that looks warm, inviting, and fun!  By showing AutoZone associates and other customers encouraging the member to redeem rewards, they create a desire to be included that will push customers to join their rewards program.
AutoZone Rewards has become a community of people who care for their cars and want to help others do the same, evident by their reputation as a company "for car people, by car people".   This emotional connection is what keeps customers excited and engaged, no matter how often they visit an AutoZone location.
Where AutoZone Needs a Tune-Up
Even the best race cars need their tires changed every once in a while.  In spite of its fantastic features, there are still a few areas AutoZone should take a closer look at.
The Difference Between Credits and Rewards is Unclear
When it comes to explanations, I'm someone who puts a lot of value on clarity, particularly in regards to reward programs.  With so many brands to choose from, I want to know in clear-cut terms that joining a rewards program is going to benefit me and how big that benefit is going to be.
Using more than one term for describing rewards can easily
confuse and frustrate
customers who are new to the program.
Unfortunately, AutoZone has a different priority.  As I was reading through their FAQ section, I noticed that they used both the word "Rewards" and "Credits" when referring to the perks of joining AutoZone Rewards.  Intrigued, I kept reading in an effort to find out if there was a difference between them, but was not able to find a definitive answer. Even a Google search and my refined internet sleuthing skills turned up nothing, leaving me to wonder if there's actually a difference between them and if so what those differences are.
Offering more than one type of reward makes a program
more appealing
to a wider demographic of customers.
This type of confusion is a huge red flag for a rewards program.  The word "rewards" seems to imply that customers can earn more than $20 credits - if that's the case, customers should know that and be able to find that information easily.  For customers like myself who don't invest a lot of time into their vehicles, being able to earn different types of rewards would make the program more appealing and, as a result, open it up to a wider demographic of customers who don't necessarily care about saving money on windshield wiper fluid.
A discrepancy like this can make a very bad first impression and, ultimately, lead to massive customer confusion and disappointment if not corrected.

Ambiguous Rewards Expiry Windows
One of the biggest frustrations customers can have with a rewards program is rewards expiration.  Nobody likes to earn rewards only to have them taken away, especially if they don't know the expiration date is coming.
Even though retailers like AutoZone have the right to set their rewards to expire, there's a proper way to do that. However, it doesn't look like AutoZone has taken our advice.  As I was digging for more information on the difference between credits and rewards, I discovered another discouraging piece of information: AutoZone Rewards has not one but two different expiration periods.  Any credits left unredeemed after three months are considered null and void, and any rewards not redeemed within 365 days are no longer valid.

With this piece of information, my frustration reached a peak.  Not only do I not know the difference between the different perks I can earn in the program, but I also need to keep track of the different expiration dates in order to take full advantage of them.
Unclear reward expiration dates
can have a significant impact on a rewards program's engagement rates.
As someone who's not very interested in cars, there's no way I'll be able to make enough purchases to earn a $20 credit, much less spend it in three months.  This makes the reward virtually useless for me, giving me no real reason to participate in the program.
It turns out I'm not the only person frustrated by this program structure.  AutoZone was actually taken to court over their expiration dates, indicating that other customers aren't impressed, either.
AutoZone Rewards Relies on a Physical Card
As a rewards specialist, this is undoubtedly the most annoying thing about the AutoZone Rewards program.  Customers can earn rewards without having the card with them, but must either have the physical card or download an app to redeem rewards in-store.
Customers no longer carry loyalty cards with them, making a physical card
inconvenient and discouraging.
In a day and age where everything is going mobile, it's unacceptable to expect customers to carry a card.  Most customers are no longer conditioned to carry a rewards card with them, making it a greater inconvenience than it is valuable.  The app workaround also raises questions of why they bother handing out a physical card in the first place. Without the card, the redemption process is made even more complicated and time-consuming, creating a frustrating experience.
Complicating the redemption process makes it feel like they don't want customers to earn rewards in the first place, which could prompt some customers to not want to earn them at all.  This dissatisfaction has the power to tank their engagement rates, making this one small issue that can escalate quickly.
AutoZone Rewards is Off to the Races
As you can tell from this case study, I think AutoZone Rewards has a lot of work to do.  Between the need for a physical card, disjointed expiration dates, and unclear difference between program perks, there are a lot of reasons for customers to jump ship or decide that the program "isn't for them."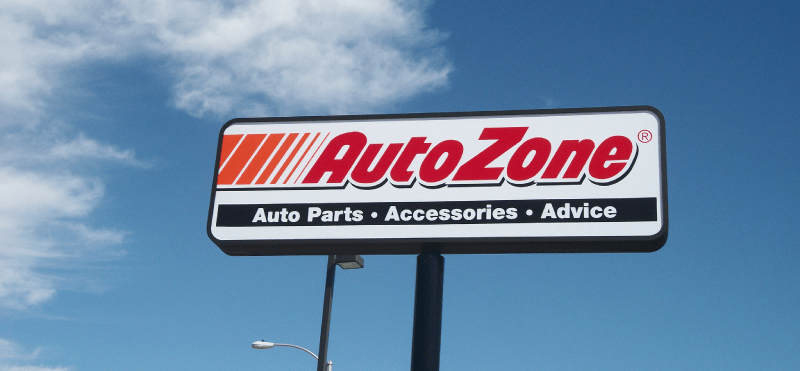 However, don't write AutoZone off just yet.  The ultimate test for whether a rewards program is truly successful is how their loyal customers react to it, and it seems that gearheads have enjoyed participating in this program since it was first introduced a number of years ago.  With a clear ROI and community-like atmosphere, AutoZone Rewards is the perfect complement to their customer experience for any car fanatic.