When I was a kid there were at least three movie rental places within a five minute drive of my house and at least four stores that specialized in selling DVDs, CDs, and video game paraphernalia.  Now, video rental stores are all but extinct, and more and more similar retailers are closing their doors forever.

Despite retail's changing climate, Best Buy continues to thrive.  As one of the few remaining big box technology and entertainment stores, Best Buy has had to continuously adapt to changing consumer and marketing trends.  Part of this evolution has involved the development of their Reward Zone loyalty program – a program with both a cool name (because anything with a "z" in it is automatically cool in my books) and real value for their customers.
Don't believe me?  Not to worry, I can prove it.
Checking Out the Positives
Reward Zone is free to join and offers its members points per dollar they spend.  On top of the dollars-for-points rewards, members are also given exclusive access to store promotions and special events, packing a lot of value into a small blue and yellow card.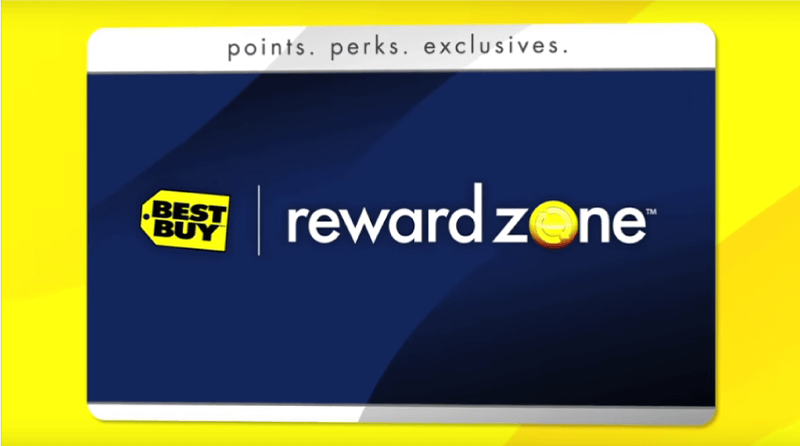 While these offers are highly attractive to many customers, they're not actually what stood out to me as I explored the program in full.  This may come as a shock, but I think you'll agree that the following features are just as good, if not better.
1.  Easy Earning
As I mentioned earlier, Reward Zone is built around the dollars-for-points model.  This basically means that for every dollar you spend, you're rewarded one point.  These points can be cashed in later for Reward Certificates that can be redeemed for dollars off of a purchase.

Right now, this probably doesn't sound that spectacular because most programs operate this way.  Best Buy takes this one step further, however, and allows customers to earn points on gift card purchases, too.
As someone who worked in retail for many years and was often met with complaints about loyalty programs and gift cards, this is huge.  Now customers can continue to earn points for every dollar they spend – no matter what form that purchase takes.  This alleviates a common customer frustration without compromising the integrity of their program or products, providing incomparable value and increased customer satisfaction.

By keeping it simple, Best Buy increases their customers' understanding of the program and their desire to participate.  They understand that a rewards system should be easy, and have the fan base to prove it.
2. Onboarding Process
When I first signed up for Reward Zone I was twelve years old.  I was given a bright blue card with my member number on it, and proudly carried it around in my wallet because it made me feel cool.  Thirteen years later, Best Buy has migrated their program online, allowing their customers to sign up either online or in-store as they work to create an omnichannel customer experience.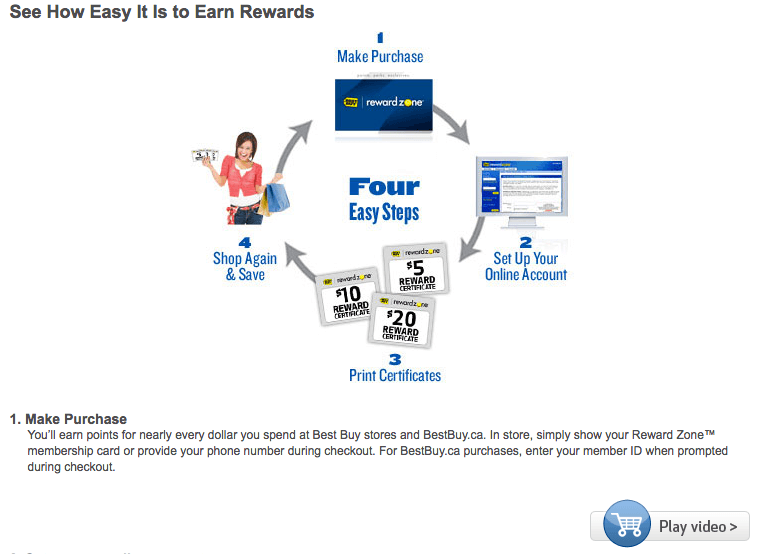 I am super impressed with Reward Zone's onboarding process.  Not only do they provide a well-organized infographic to explain how to enroll, but they also provide written instructions with links to instructional videos.  Some might consider this a bit excessive for a process that only requires two steps, however I see this as exceptional attention to customer needs and preferences.  Clearly explaining your program is going to make it more attractive to customers looking to join, resulting in happier loyal members.
3. Gamers Club
Due to the fact that a large number of Best Buy's customers are purchasing video games and gaming accessories, the company created Gamers Club.  Once a Reward Zone member has joined Gamers Club, they can receive two times the reward points for every dollar they spend on new and used games and equipment.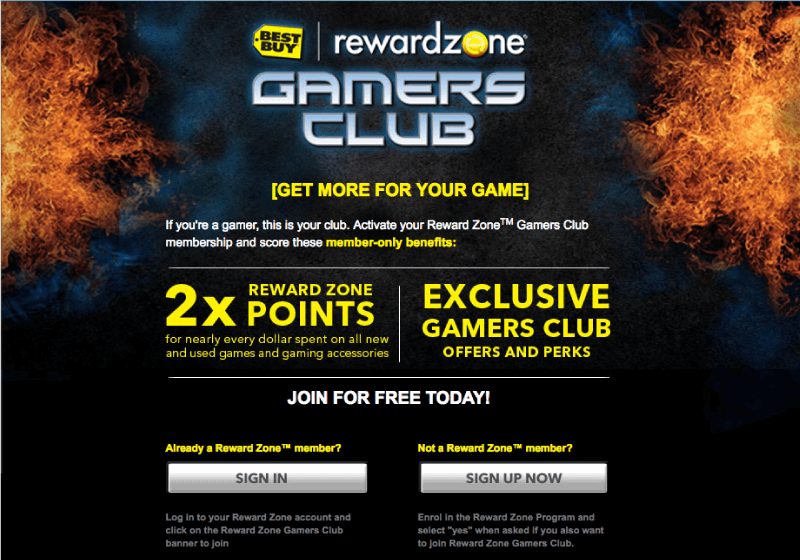 This is what I call "Reward Zone Inception" because it's basically a loyalty program within a loyalty program.  The Gamers Club branding is distinctive enough to make it feel exclusive but can still be easily linked to Reward Zone.  With flames immediately bringing franchises like World of Warcraft to mind, the design illustrate Best Buy's extensive knowledge of their products and the culture surrounding them.

It's also another great example of Best Buy understanding and providing for their customers' needs.  Offering bonus reward on both new and used products allows customers of varying financial positions to participate, while everyone receives immediate value on top of the other preexisting rewards that they are already privy to.
Feeling Out the Negatives
It's clear that Best Buy is doing a lot of things right with Reward Zone, but it's not all sunshine and roses.
1. Poor Website
When designing your online store, it's important to understand what your customers need from your website.  The same considerations need to be taken when designing your loyalty program and explainer page.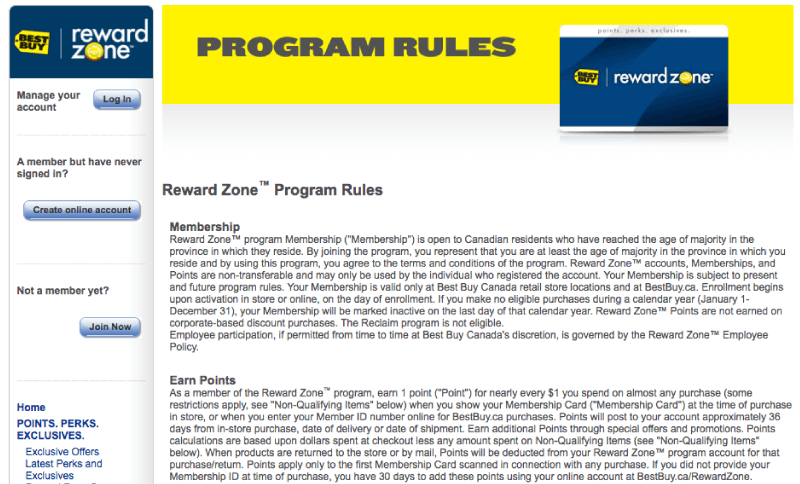 One of the first things I noticed after logging on to the Reward Zone website was the design.  With oodles of text on each page in a very small font with few images to break it up, my brain was quickly overloaded by the sheer volume of information being presented.
Some of their best features – like their explainer page – were also difficult to find in the poorly spaced navigation bar, leaving the whole design feeling clunky.  With influential companies like Apple changing aesthetic expectations, the Reward Zone website was made to seem disjointed and underdeveloped.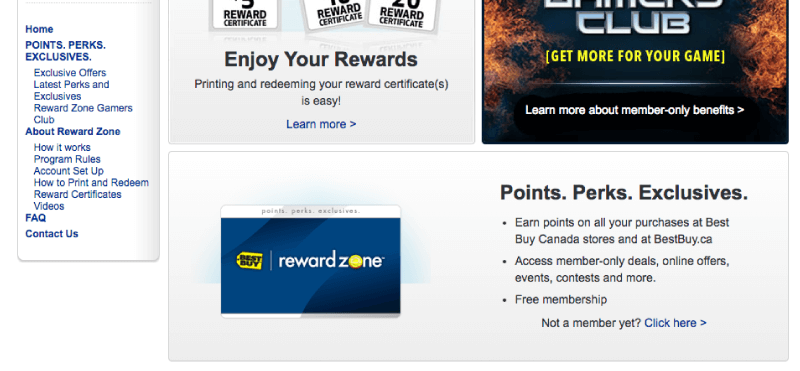 No matter how simple your loyalty program is, it's still very important to make your program visually appealing. Many customers still make decisions based purely on what they see, and a poorly designed website can have a very negative impact on customer satisfaction.
2. Program Expiry
While attending university, my financial situation changed to the point where I was rarely spending money on myself.  Since graduation I've once again found myself in a position to be spending money for fun, and hoped to grow my Disney movie collection by picking up a few from Best Buy.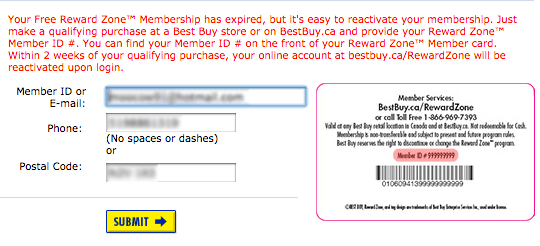 You can imagine my frustration when I went to make a purchase online with my Reward Zone membership and was told that my account had expired.  These frustrations continued when I discovered that it could only be renewed once I made another purchase, and even then could take two weeks to reactivate.
This is a pretty big issue.  One of the biggest appeals of online shopping is the immediacy it offers: instant payment, instant checkout, instant browsing.  Making your customers wait for a service which is supposed to be instantaneous is a huge turn-off.  Nobody wants to wait for something they can get immediately somewhere else.
3. Inconvenience
While it was inconvenient for me to renew my membership, it was even more inconvenient to redeem my points.  In order for members to redeem rewards, they must print off a paper certificate and present it to an employee in-store.

This was by far the most disappointing feature of the program for several reasons.  Firstly, it isn't environmentally friendly which, in today's culture, is very concerning.  Many customers are becoming more aware of the impact their daily routines have on the environment, and being told they have to increase their carbon footprint to redeem a reward is not a good incentive to join a loyalty program.

This also disrupts Best Buys' omnichannel experience.  Instead of developing an app that allows customers to redeem rewards online, they are asked to remove themselves from the digital experience in favour of one that does not necessarily suit their lifestyle or shopping preferences.  These types of considerations are key to maintaining a high customer participation rate providing an excellent customer experience.
Summing It All Up
Best Buy's Reward Zone leaves me with very strong positive and negative feelings.  While I struggle to understand why the program membership expires and doesn't allow for online reward redemption, I am very impressed with the onboarding process and their ability to accommodate their customers' interests with the Gamers Club program.

Overall, Reward Zone is living proof that all loyalty programs are capable of pleasing their customers while continuing to improve.  After all, nobody's perfect!