What would your business strategy look like if you didn't have access to any sort of customer data? It would be nothing short of shooting in the dark or chatting (with users) blindly. In short, without understanding your user's key data touchpoints such as demographics, preferences, lifestyles, purchase behaviors, among other things, your brand  would be lost in a sea of sameness.
Let the Customer Experience (CX) numbers speak for themselves: around 65% of respondents in a survey claimed that "Improving data analysis capabilities to better understand customer experience requirements has been identified as an important internal prerequisite for CX success."
But perhaps Rob Tarkoff, EVP of Oracle CX, sums up the importance of leveraging customer data to deliver a seamless customer experience the best:
"First-party and third-party data are foundational to CX, and the ability to tie everything together across the customer journey."
So let's look at the top 4 ways in which brands - big and small - are extracting insightful data and using it to the customers, as well as their own, advantage.
1. Deliver real-time CX with live chat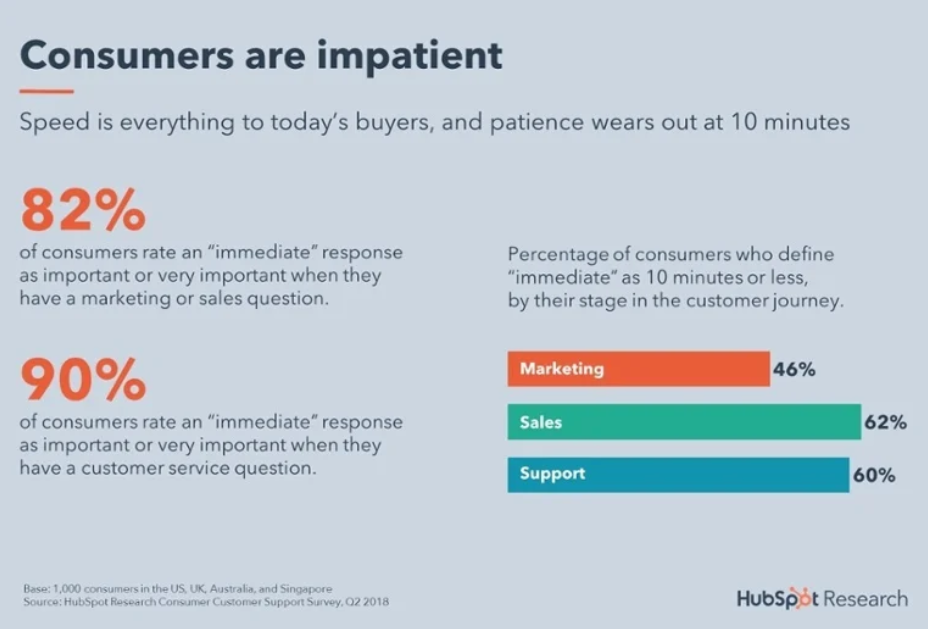 Over the years, live chat has emerged as a must-have for businesses rather than being a nice to have feature. And why not? There are plenty of reasons pertaining to how live chat software allows brands to reach customers, proactively and instantly.

Here are some real-life examples of businesses using live chat to better connect with customers and offer a stellar customer experience:
Ruffwear allows users to input 'helpful' information such as dogs' paw measurement so that the agents can deliver a customized service: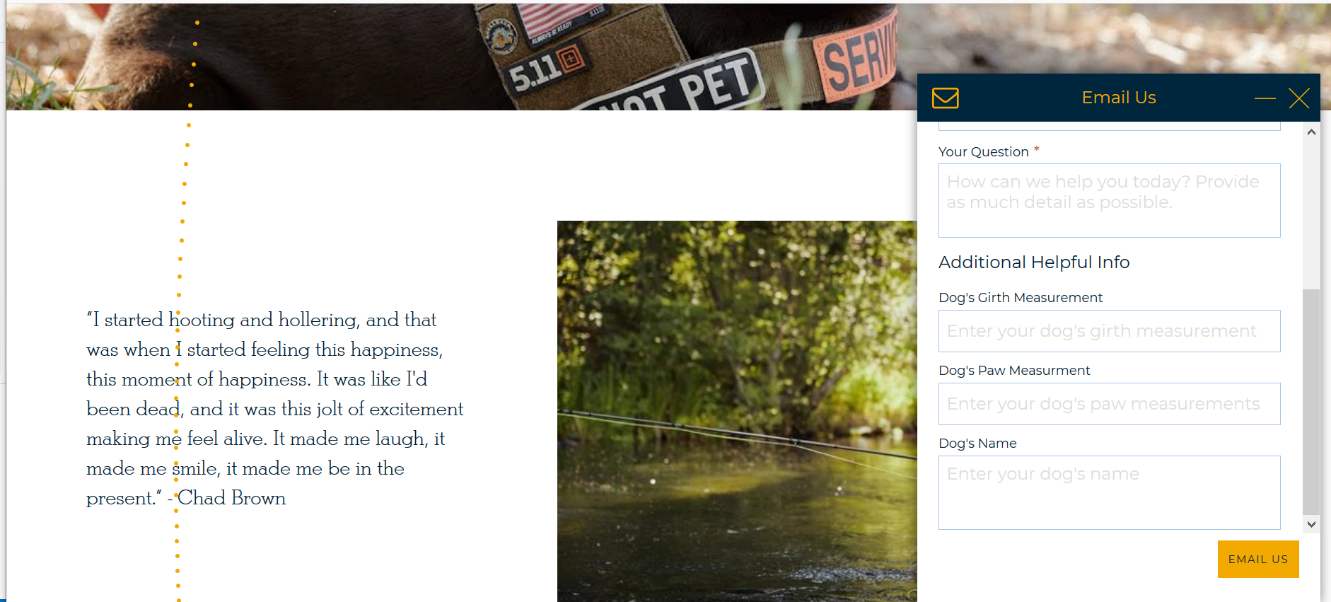 Wego offers a premeditated list of queries the readers may have via live chat, so they can directly click on the link and get the answers, without wasting any time. Pro-activeness at its best, if you ask us.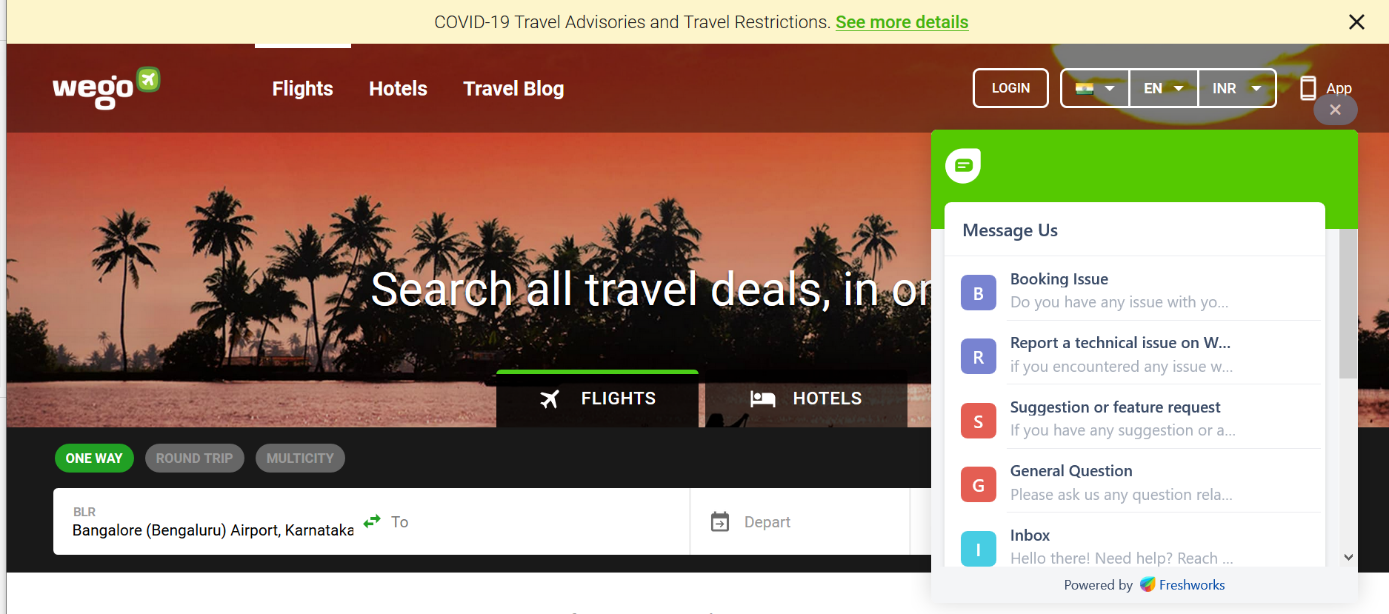 Key takeaway:
Live chat allows brands to connect with customers in real-time, 24x7x365. Plus, your brand can extract useful points from the live chat interactions to build a rock-solid and comprehensive customer profile so that future interactions are context-based and relevant. This gives way to faster query resolution and boosts customer happiness.
2. Create personalized recommendations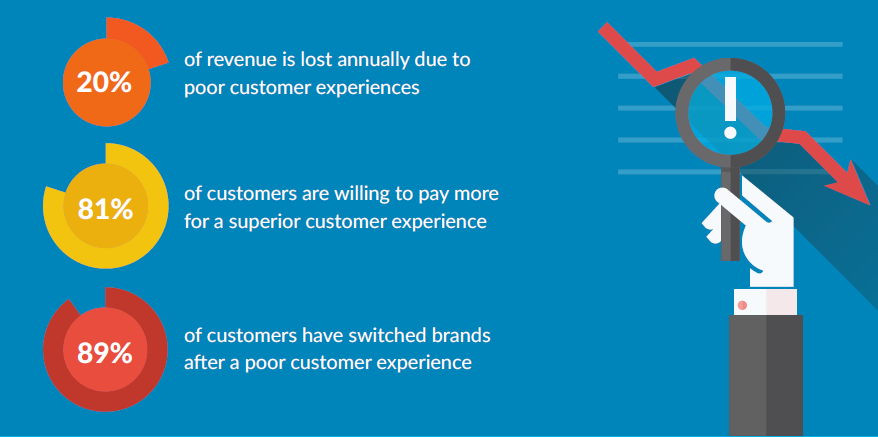 According to research by Accenture - two-thirds of customers will share personal information with brands, but only in exchange for some kind of value.
To put it in more direct terms - by value, we mean tailor-made experiences. The informed customer of today expects brands to deliver highly-personal experiences while anticipating the user's needs and offering relevant suggestions.
"The top reason why customers switch brands is that they feel unappreciated."

Let's look at Grammarly as an example. The brand analyzes all the available data (extracted from the user) and delivers weekly reports. You can think of these as actionable insights that allow users to focus on their writing technique. This brilliant (and masked) up-selling strategy allows users to view their progress and work on improvement areas, while the brand can focus on nudging users to upgrade and keep leveraging the benefits: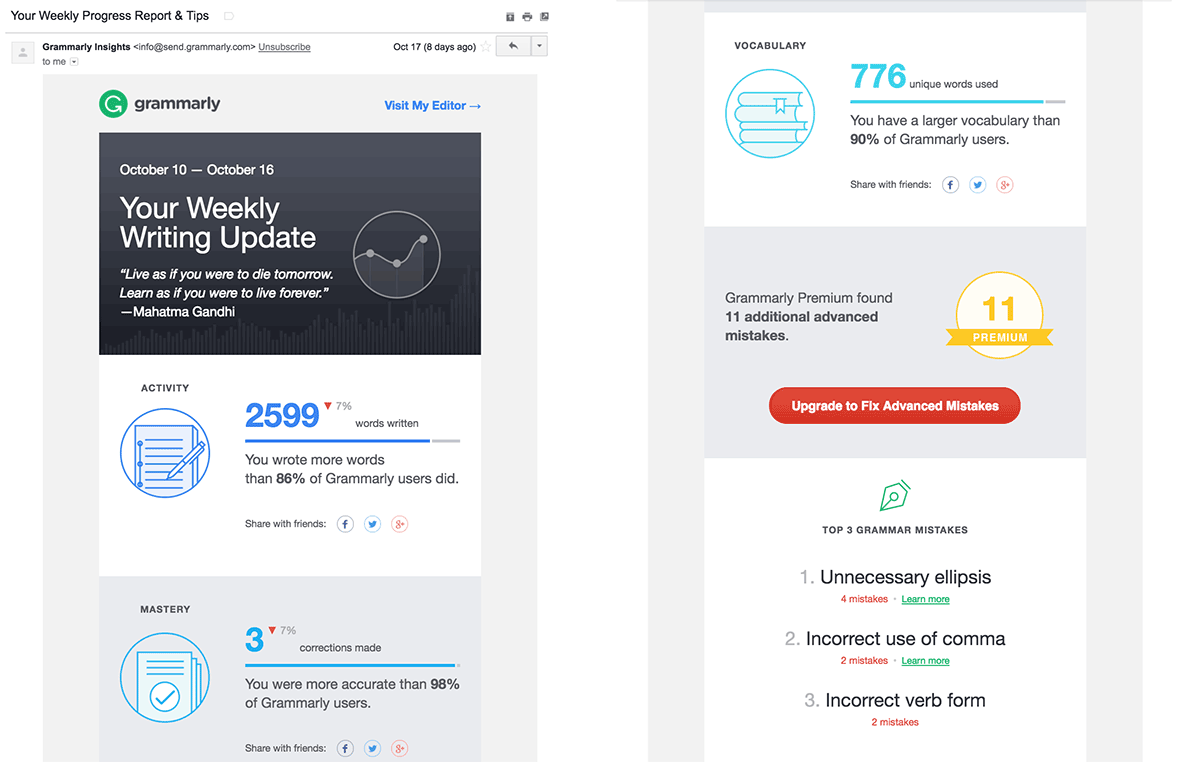 Another interesting example is Easyjet's hyper-personalized marketing campaign, which made effective use of data and put customers at the heart of their marketing strategy. Below is a social media ad the company rolled out for its 20th anniversary. As you can see, the brand highlighted its customers and their travels with Easyjet over the last twenty years in an emotional and super-personalized way: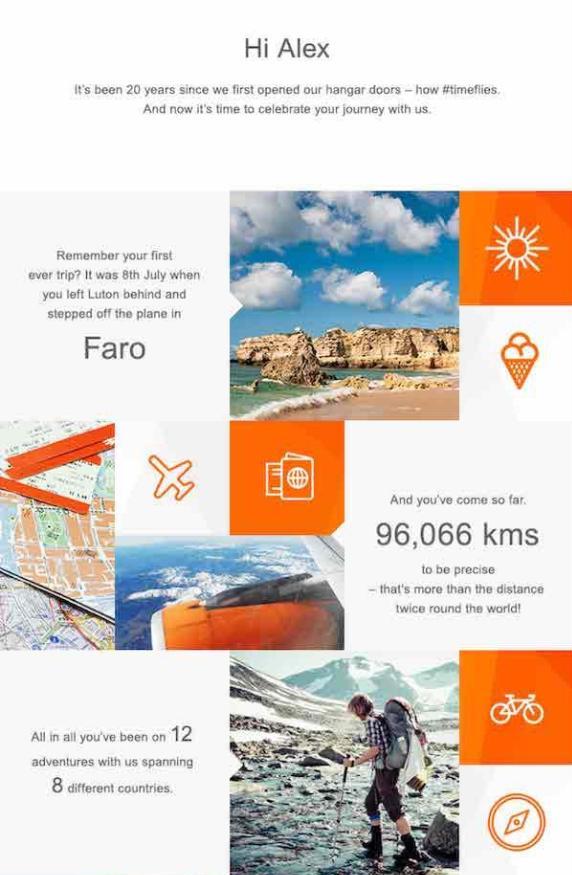 Needless to say, the customers felt valued and appreciated, thanks to this small but ingenious gesture by the brand.
Key takeaway
The correct use of data analysis gives way to actionable insights that can be used to make informed decisions and proactively offer recommendations by way of live chat. In some cases, the data can simply be used to thank customers for being loyal fans of the brand and extend gratitude by way of emails, social media posts, videos, and the like.
3. Get customer feedback, and use it!
Before we jump into the specifics, let's take a look at Care/of's website, which aims at offering 100% customized service to its users.
All the visitor needs to do is take a quiz, based on which the brand drafts a plan of vitamins and supplements to better cater to the user's needs.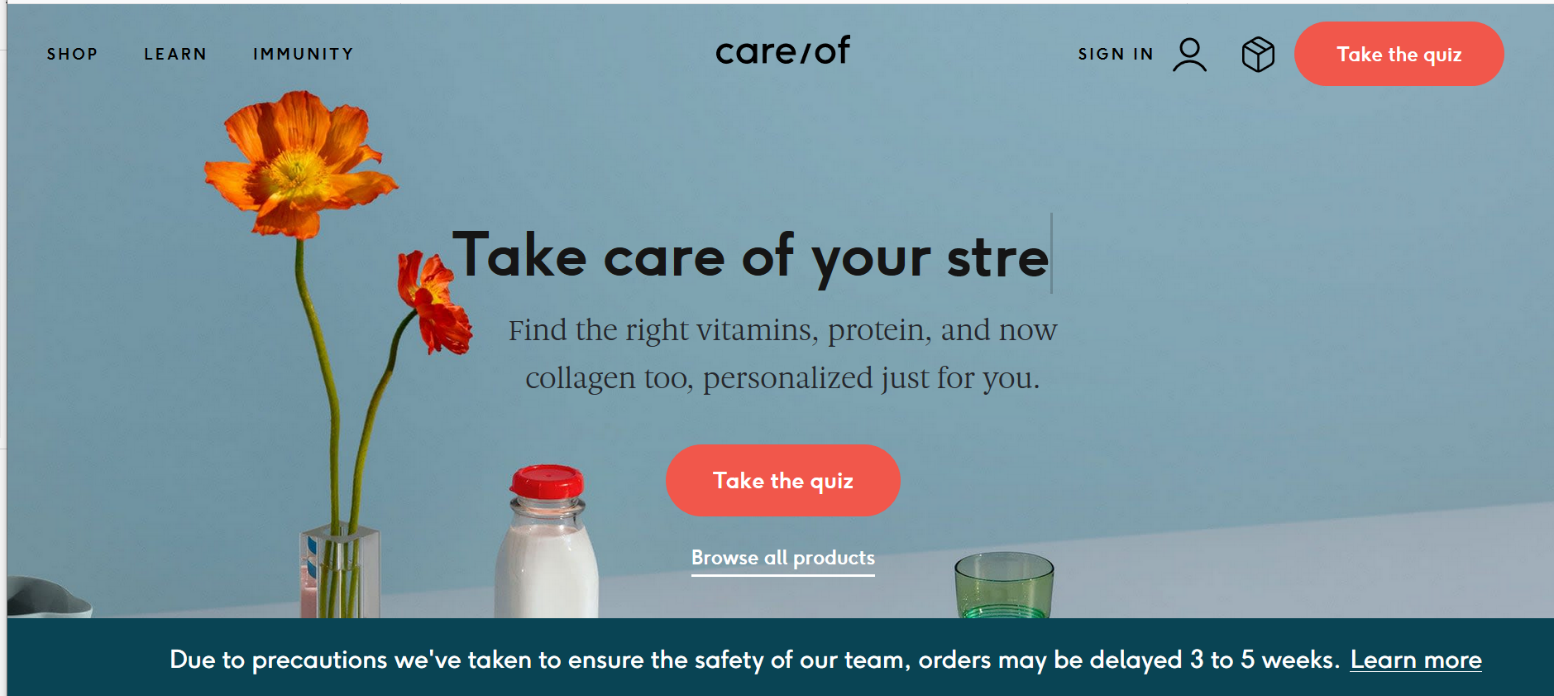 By inputting critical data, the brand makes use of customer information to offer customized plans that offer true value.
Here's another brand, Banyan Botanicals, that encourages users to connect with the brand by taking a quiz so that the latter can get access to a customized Ayurveda health plan: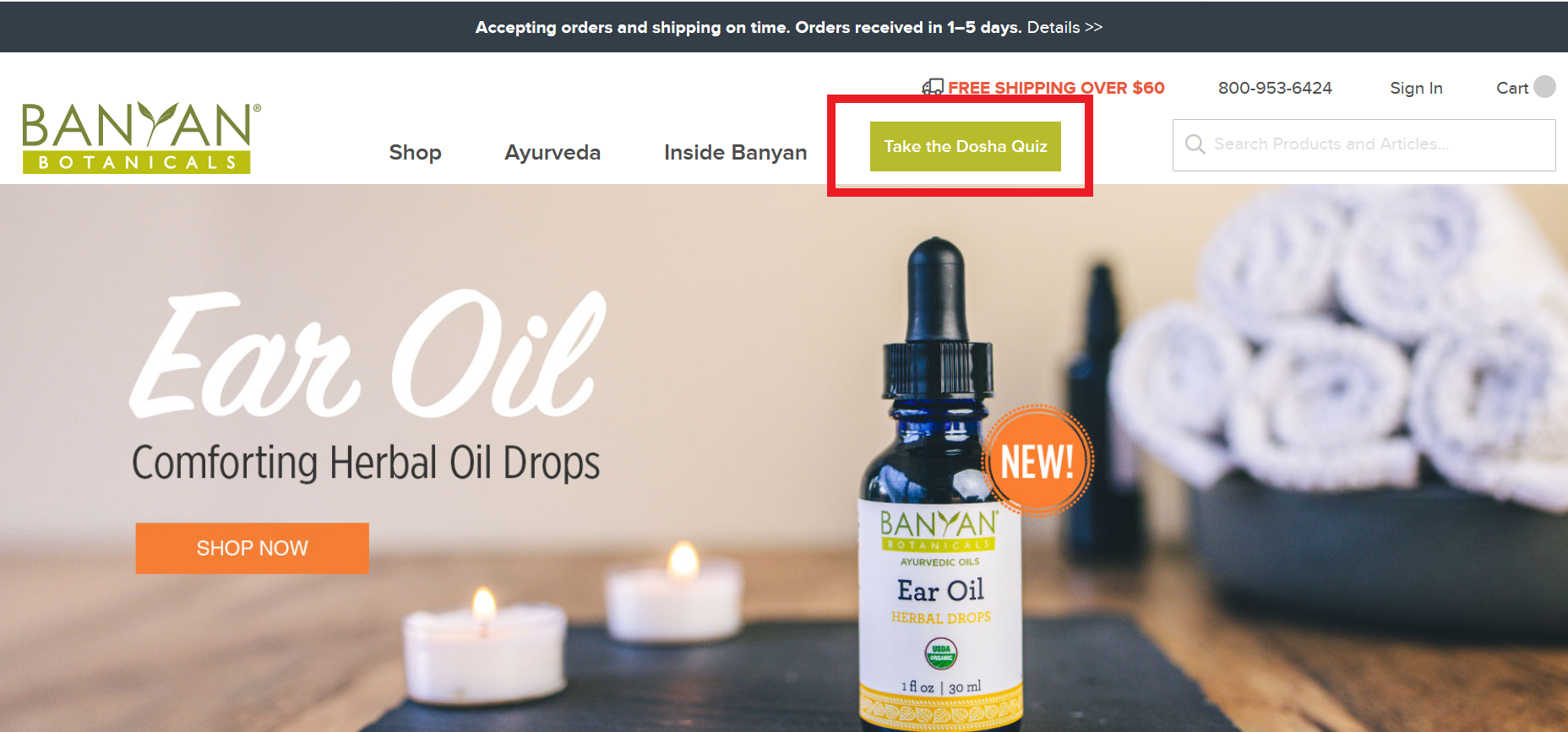 By analyzing the user's inputs, preferences, and behavior both of these brands can proactively reach out to customers and wow them with hyper-personalized offerings. An added bonus is that this approach also allows merchants to identify opportunities and tackle risks concerning user behavior.
Brands  can look at the user surveys, past history, and all ongoing interactions with customers to offer tailor-made solutions, address customer pain-points, offer information about ongoing deals/upcoming sales, and finally transform back-end data into innovative front-end services.

4. Make self-service the default
Not every customer wishes to speak to a CX agent if it means long wait-times for their queries to get addressed. Customers often prefer to take matters into their own hands and self-serve. This is where creating a 'Self-Service' section pays off. Take Buffer's 'Help Center,' for example:
Additionally, your team can analyze past interactions and user behavior on the platform so that they can offer tailor-made communication around the customer's needs while resolving queries effectively and instantly.
Netflix is another example of a company that personifies CX wherever possible. Everyone's experienced the platform's stellar 'personalized recommendations,' but guess what? The brand's Help Center is even better at delivering an informative and seamless user experience: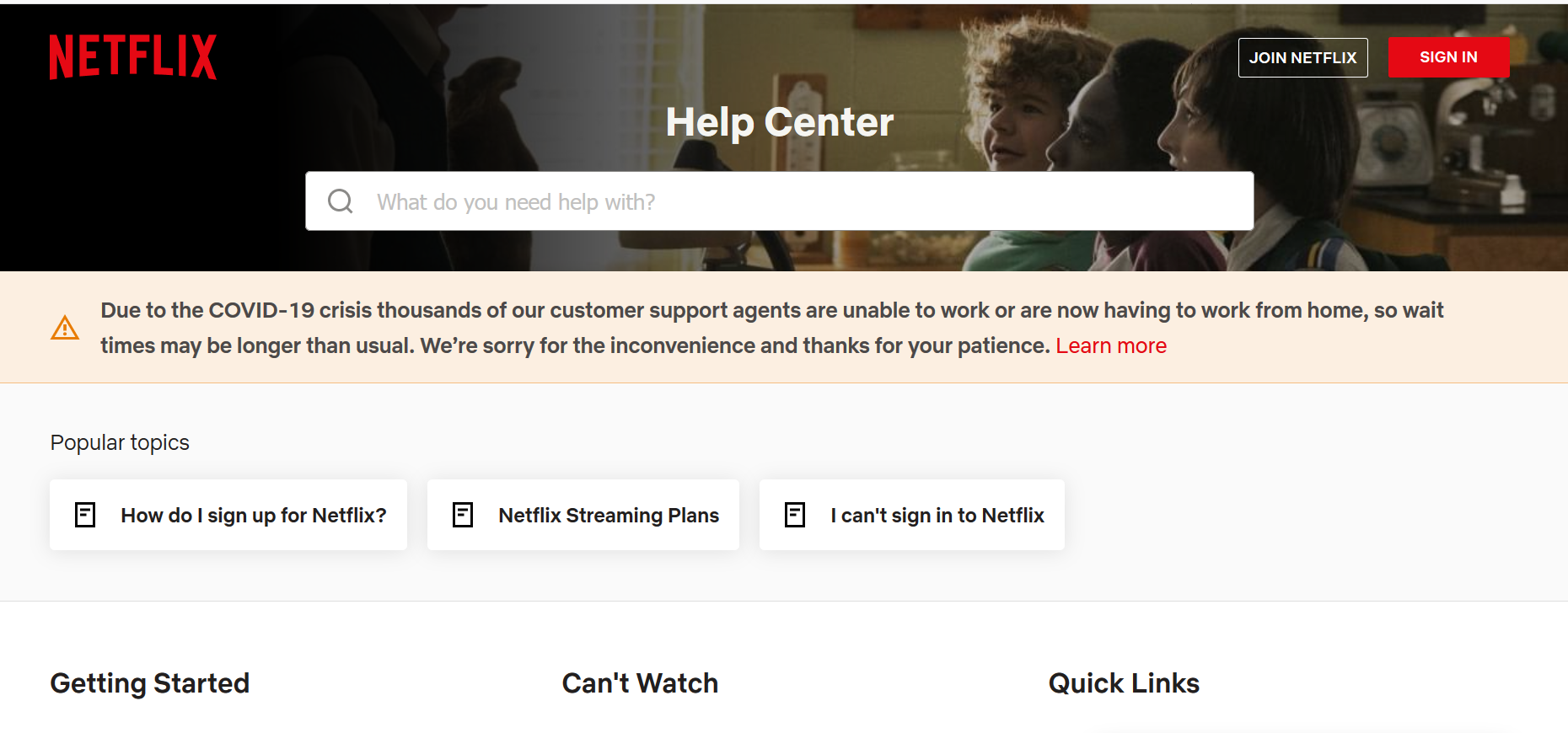 Key takeaway:
Allowing users to input meaningful data can empower your CX team to understand the customer's pulse while allowing customers to engage with the brand at their convenience and will. This will give the latter a sense of "space" and allow them to feel understood and appreciated by the brand - both being integral components of delivering a frictionless CX.
The Customer Data & CX TL;DR
"Companies that lead in customer experience outperform laggards by nearly 80%." - Forrester Research
All things considered, he key to optimizing a user's journey across channels is the optimal use of data. So if you're not both customer-and data-obsessed, it's time to get back to the drawing board and rethink your user experience strategy. And remember, getting a 360-degree view of your customers should be the start and the end-goal for your organization if you wish to lead (CX) by example.
This is a guest post by Srushti Shah from Acquire. Her key focus is to serve her clients with the latest innovations in her field, leading to fast and effective results. Other than work, she loves traveling, exploring new things and spending quality time with family. Reach out to Srushti Shah on Twitter or LinkedIn