Determining a marketing strategy for your business comes with so many questions. What will appeal most to my customers? Should I hire a digital marketing agency to market for? Should I invest in advertisements and, if so, what kind? Or, should I spend time creating content? There are so many things to consider, but if one thing's for sure it's that content is the perfect marketing tool for your small business.
Content marketing is cost-effective and allows you to build genuine relationships with your customers. As a new store, defining your brand and building a customer base are absolutely key to your success. Let's find out how content could be the missing piece of the puzzle to help you achieve all that!
What is content marketing, and is it right for your brand?
Even if you've never heard of content marketing before, you've probably at least encountered it. This is the type of marketing that brands do outside of traditional advertising, and there's a wide variety of it. While most content marketing is created by the brand itself, it actually doesn't explicitly promote the brand. Instead, it is meant to provide value to the customers to get them interested in the benefits that your products can provide to them. Content marketing is defined as: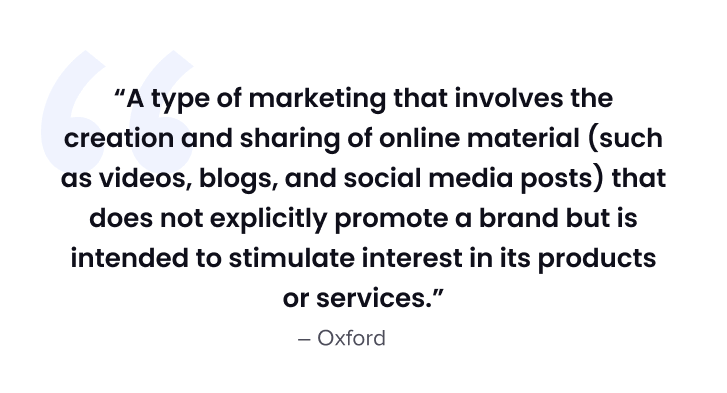 Content marketing is a long-term strategy for customer acquisition, engagement, and retention.   Content marketing goes way beyond videos, blogs, and social media posts. There are dozens of value-add content types for your brand to choose from that provide a diverse and exciting content experience for your customers.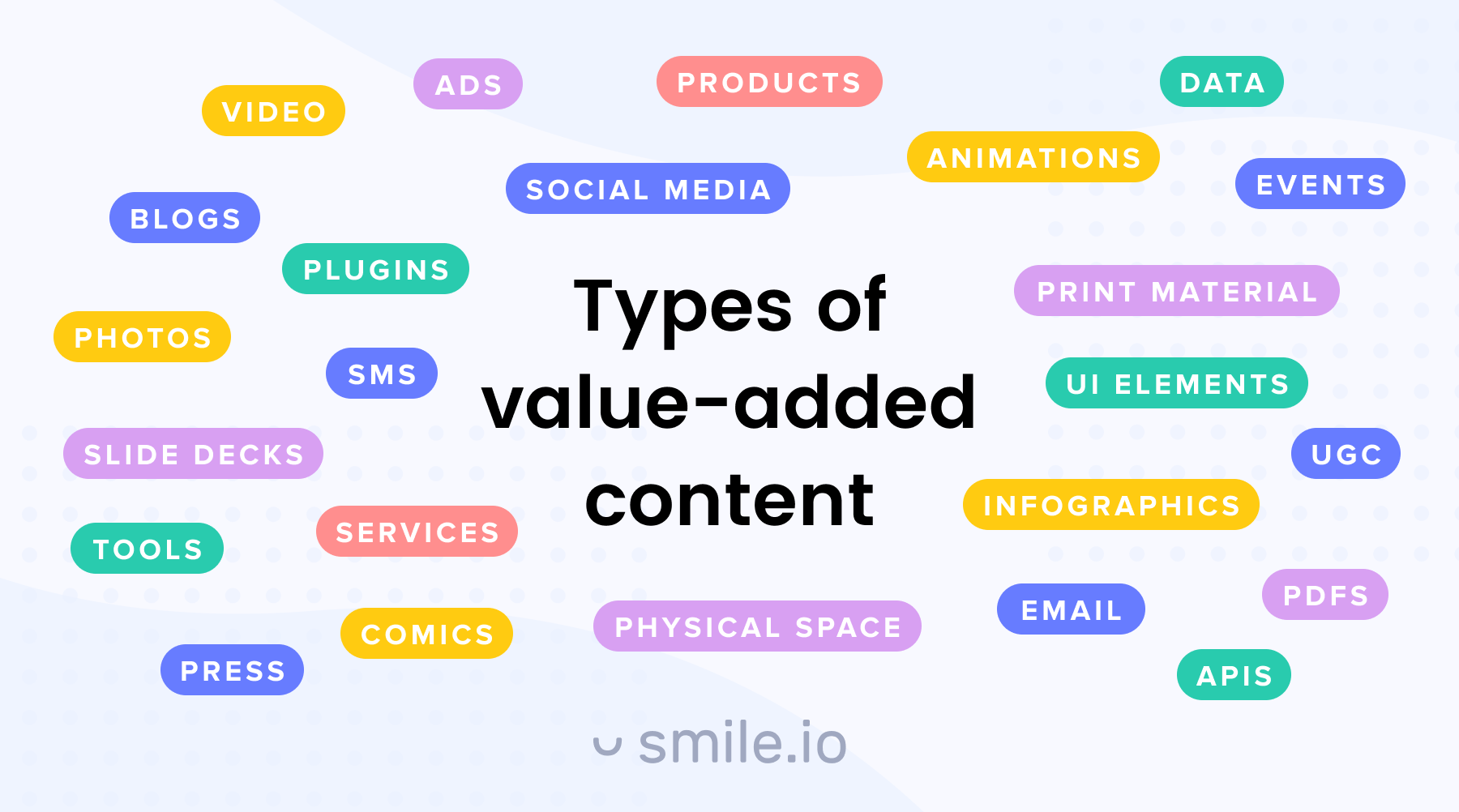 Don't let the sea of content marketing types overwhelm you. As a small business, you may not have the resources to employ all of these strategies; the good news is you don't have to!
There are several content marketing tools from. For example, if you have a very technical product, video tutorials are a great way to educate customers.  On the other hand, if your main goal is to build a strong brand community, user-generated content and events are the perfect way to bring customers together. No matter what type of business you are, employing a few of these strategies can pay off for your small business in big ways.
Let's take a look at some of the reasons content marketing needs to be a part of your small business marketing strategy:
Content marketing delivers a higher ROI
As a new entrepreneur, you may not have the resources to pay for expensive traditional advertising, and standing out from the thousands of advertisements that customers see every day is no easy task anyways. This is why content marketing is a more affordable strategy for a resource-strapped brand.
However, one of the most important things to remember is that content marketing is a long-term strategy to help your small business grow sustainably. While advertisements can be effective in quickly acquiring customers, content marketing is much more effective in fostering loyal customers. This type of inbound marketing saves you money in the long term: customers are able to share your content with their networks, giving you access to an even larger brand audience.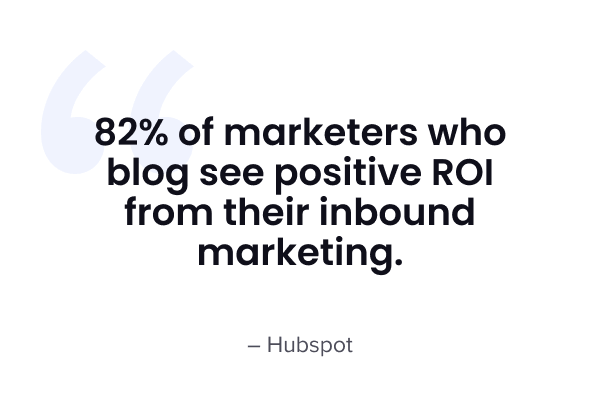 There are many forms of content marketing. Things like blogs, help articles, and social media stories are all great low-cost ways to start building brand awareness. In fact, 82% of marketers who blog saw positive ROI over time from customers who discovered their brand through a blog. While it may seem like content marketing will cost you a lot of time and effort at first, it's definitely worth it in the long run.
Builds trust with your brand
As a new brand, it's important to create the brand image and  build trust with your customers. One of the best ways to do this is with the content you produce!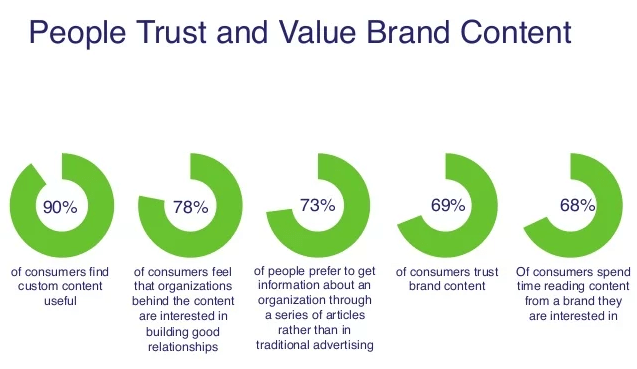 Source: SMX East
Content marketing makes your brand appear more human than paid advertisements since you control the message customers take away from your marketing. In fact, 73% of customers prefer to learn about an organization through articles rather than traditional advertising, and 69% trust brand content. It's clear that your content can do a lot more than educate your customers; it can build authentic relationships that let them trust your brand completely.
Nobody knows your brand better than you, so creating content that communicates your brand values should be an easy task since you've defined them!
You can use your customers in your content marketing strategy
What if we told you that one of the best ways to create content is to let other people do it for you? Well, this is what user-generated content (UGC) is all about. This effective type of content leverages the materials that your customers create for you, and the best part? It's 100% free!
User-generated content can take many forms, ranging from pictures your customers post on Instagram using your products to customer testimonials on your website. When customers post on social media you can repost that to your story to show new customers how much your best advocates love your products. Giving shoutouts to these customers also creates special and meaningful relationships with them because it shows you're listening to them!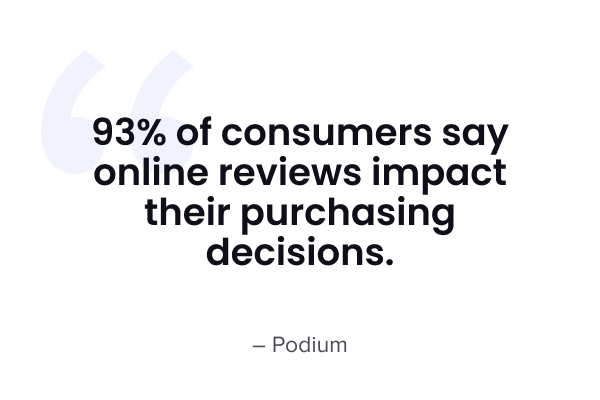 Reviews and testimonials are another great UGC content piece for ecommerce businesses. As a new business, customers may be reluctant to try your products at first, especially when they can't physically see or touch your products. Customer reviews should be an essential part of your marketing strategy since 93% of customers say online reviews impact their purchasing decisions. Showcasing the positive experiences from your previous customers is a great way to ease their concerns with genuine feedback.
Content marketing helps your SEO
As an online brand, search engine optimization plays a key role in your digital marketing strategy. Everybody seems to be talking about improving SEO these days, but as a new brand, it can be difficult to determine the best strategies for you. Luckily, this is another place where strong content plays a key role.
Content marketing and SEO go hand-in-hand, you can't effectively do one without focusing on the other. For instance, creating a list of relevant keywords doesn't matter unless you're using them in your content. On the other hand, you can't produce high-ranking content to drive organic traffic without a strategic keyword analysis. In fact, relevant content creation was found to be the most effective SEO tactic. It's pretty clear that content is the SEO tool your small business needs.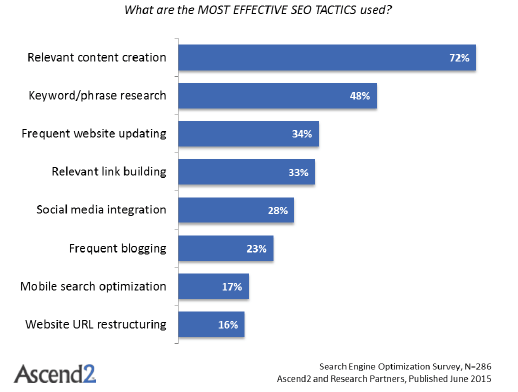 When you write articles, blog posts, or get backlinks from partner brands that include the keywords you want to rank for, you can boost your organic search traffic. This helps customers discover you because you'll be ranked higher on the search engine's results page. Again, this is a cost-effective way to help more customers discover your brand when they're searching for something they need.
Appear as an expert that's up-to-date with the current trends
One of the main advantages of a content marketing strategy is that it can easily be updated. While you may not have the time or resources to constantly update your website design or add new products to sell, you can continuously create new content.
A content marketing strategy allows you to try out and measure different types of mediums of content. By tracking what is performing best, you can cater to your strategy to your audience's preferences to ensure you're delivering real value to every customer.
Key Takeaways:
Content marketing is all about stimulating interest in your products by providing value to your customers.
Content marketing delivers a higher ROI than traditional advertising.
Building trust with your customers can result from providing meaningful content that builds a relationship with them.
Leveraging your customers' user-generated-content is a cost-effective content strategy.
SEO and content marketing go hand-in-hand.
Constantly updating your content allows you to appear knowledgeable, and up-to-date amongst your customers.