Using SMS as a form of conversational marketing is an effective way to create genuine connections with your customers and build positive rapport for your brand. Conversational SMS marketing fills the void often present in other ecommerce marketing channels like email and social media marketing, where it can be difficult for consumers to feel like they are heard.
It's no surprise SMS marketing has one of the highest consumer response rates, allowing ecommerce businesses to increase engagement in a time when organic communication is more critical than ever. In fact, an average of 75 percent of people prefer having offers sent to them via SMS — in comparison to seeing ads online and on mobile apps. Giving customers the option to opt in or out is key to achieving these results because it reinforces a level of transparency and customer choice.
Statistics show that customers are more likely to respond to SMS marketing in comparison to emails. In general, SMS messages have an average open rate of 98 percent, with 95 percent responding within three minutes of delivery.
Here is a breakdown of which communication channels are preferred for receiving promos, updates, and announcements:
SMS: 48%
Email: 22%
App Notifications: 20%
Direct Mail: 8%
What Is SMS marketing?
Short message service (SMS) messaging is a type of conversational marketing that allows businesses to send customers permission-based text messages in an effort to share marketing campaigns and other promotional efforts. It is a customer-centered marketing approach that is driven by a two-way dialogue, enhancing a more one-on-one approach with customers and subscribers.
Conversational marketing strategies
Ecommerce businesses are turning to SMS messaging to magnify customer engagement, improve customer experience, grow revenue, and increase brand loyalty.
Here are some essential tips to keep in mind when preparing for conversational SMS messaging:
Be transparent
Set expectations with your customers right when they opt in to your SMS marketing platform. Include important info such as the number of times you intend to for them to receive a text message from you each month.
Consistency is key
Once you launch your SMS marketing campaign, it's important to stick to a regular schedule. If your customers hear from you inconsistently, they may forget they even signed up for your SMS marketing campaign and ultimately choose to opt out.
Customize your SMS messaging
Personalizing your messages is a great way to show your customers you care about them. Make sure you tag your subscribers with important keywords upon data entry to organize your SMS marketing campaigns appropriately. You might need a list for your loyalty program subscribers, birthday club, email newsletters, and other promotions.
Why conversational SMS marketing is essential for small businesses
Consumers value transparency and communication. They don't want to just be spoken to without having an opportunity to provide input. Small businesses can create more meaningful connections with customers to make sure their voices are heard.
About 60.8 percent of consumers would like the ability to text businesses about support issues — especially when it comes to topics like product questions, troubleshooting, and returns. Also, 75 percent of consumers are open to receiving shipment tracking updates, 65 percent would like to receive order status updates, and 46.3 percent are open to reminders and alerts.
SMS marketing strategies for ecommerce
Before launching an SMS marketing campaign, it's integral for your marketing team to identify a few essential priorities in order to effectively and properly optimize the results of your SMS campaign goals. For ecommerce businesses this likely means more sales and more customers.
How do ecommerce customers communicate?
Try to mimic the behavior of your brand's customers. If your customers purchase items at your shop once a month on average, then you should send your SMS subscribers a text message once per month. If your customers shop at your ecommerce site twice a month, send two SMS messages per month.
How to generate a clear SMS message
Knowing your demographic and what kinds of strategies work best are also an important part of getting the most out of your SMS marketing campaign. Effective SMS messages for your ecommerce site should be customized based on your target audience, but the general rule of thumb is to keep messaging concise, on brand, and free of spelling errors.
Examples of conversational marketing include:
Notifications
Order Status & Updates
Flash Promotions
Feedback
When to schedule SMS marketing
It's always recommended to defer to your analytics for optimal times to schedule your text message automation. If you're unsure about where to start with your SMS campaign, in general Thursdays at noon are the best time to send an SMS message to your customers based on online sales benchmarks. Mondays at noon are also a good time — with Sunday being the least preferred day for consumers to receive SMS marketing.
Which metrics to track
Review important key performance indicators (KPIs) after each delivery — such as open, opt-in and opt-out rates. Keep in mind the global opt-out rate is around 2.55 percent, so be sure to experiment with how to improve your SMS marketing strategy each month.
SMS KPIs and SMS engagement metrics to keep in mind include:
Opt-In Rate
Open Rate
Click Rate
Delivered Percentage
Conversion Rate
Opt-Out Rate
SMS marketing examples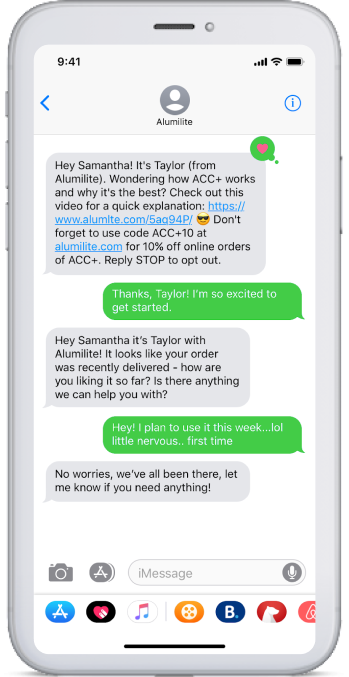 Alumilite improved customer education & support with a 45x ROI
To enable a text messaging campaign that would engage with instead of spam customers, the marketing team at Alumilite enabled two-way messaging capabilities — which increased customer engagement from the very first SMS message. Results consistently average a 10 percent click-through rate and astounding 45 percent return-on-investment (ROI).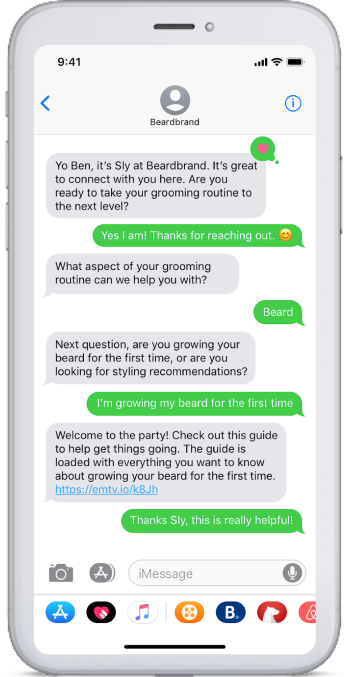 Beardbrand grew monthly sales by 10% via two-way text messaging
Beardbrand was looking to deliver a hyper-personalized experience to each shopper depending on their individual needs. It created a text message quiz allowing automated personalized recommendations to evoke a more human experience, and scale real-time recommendations based on customer needs to improve conversion rates. After launching the ecommerce text message quiz, Beardbrand saw a 26 percent click-through rate and 12 percent conversion rate. Within months, Beardbrand started driving a 10 percent increase in sales per month using automated, two-way text message conversations.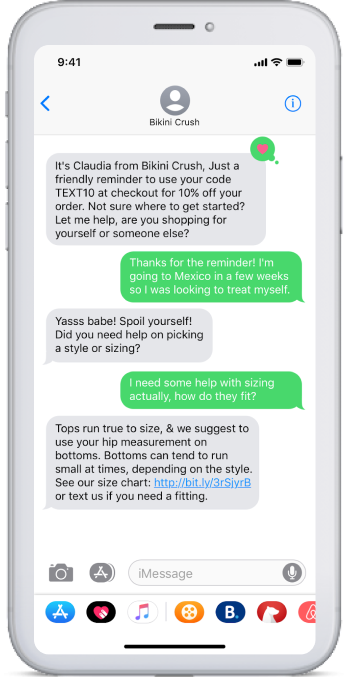 Primarily using social media for its marketing efforts, Bikini Crush Swimwear felt limited by social media ads alone and launched an SMS marketing campaign to test out the ROI. With text-first promotions and product launch announcements exclusively for VIP customers, the swimwear brand drove up sales by $126,000 in the first six months — and also boosted its mobile subscriber list, conversions, and ROI 26x.
Benefits of conversational marketing
Conversational marketing creates a more authentic experience with your customers by actively talking with them instead of at them. Outside of SMS messaging, other examples include chatbots, live chat, and voice assistants, which can all be tracked with performance analytics.
The benefits of a more organic approach with conversational marketing include:
Quick Results: No images to design or lengthy texts to write makesSMS marketing easy for your marketing team to execute. Plus, text messaging instantly notifies your customers versus email or social media marketing — which requires consumers to actively open those applications or set up app notifications.
Automated Customer Support: You don't have to actually manually talk to people one by one. There are many online tools you can customize for your SMS marketing campaigns with personalized messaging, scheduling, and other text message automations.
Committed Customers: When customers opt in to text messaging, they're making a conscious decision to engage with your brand regularly — a huge win. Plus, the average response rate for SMS marketing is 45 percent.
Cost Efficiency: SMS marketing is one the most cost-effective marketing channels in comparison to television, radio, or print because you are limiting your target to a focused audience. A lot of online SMS marketing platforms are surprisingly affordable.
How to start communicating with your customers today
One in three consumers attempt to text a business and get no response. If you don't want to miss out on increased sales revenue with SMS marketing, you can start by collecting consent and then setting up your SMS messages with a text automation platform.
This is a guest post from Ben Perez, Chief Growth Officer for Emotive.