You've launched your online store—now how do you attract traffic? We've long since learned that ads aren't the only way to drive sales and get consumers to your site. Ads can be helpful for attracting new customers, but they can also be fleeting and extremely costly. Thanks to marketing tools available for your ecommerce brand and social media platforms like Instagram, customers no longer have to type in your website URL in order to find you and can stay connected with you long-term.
Using Instagram specifically, consumers can discover your store with very little effort. With 1 billion people using it every month, Instagram is one of the fastest growing social media platforms. 80% of Instagram users follow a business to feel a closer sense of connection to it. This makes it the perfect place for you to market your products. You can't pay for that level of exposure, and with Instagram you don't have to.
Here are 8 best practices to start marketing your products on Instagram and have your account leave a lasting impression:
Make sure you have an instagram business account (If not, convert it)
If you've already made your account and missed this step, don't worry there's a way to convert it. Just follow these simple steps:
Go to your profile and find the menu icon.
Go to your Settings.
Click Account.
Click "Switch to Business Account."
It's recommended that you connect your business account to a Facebook Business Page that is associated with your business.
Next, you can add any business details.
Click done!
Converting to an Instagram business account gives you access to analytics, which will give you great insight into who your audience is. Insights are broken down into Content, Activity, and Audience. Content monitors how frequently you post. Activity reveals your reach and impressions, and it also shows your engagement and interactions. Audience lets you know where your followers are from, what age range, what time of day they're most active, and more. This will allow you to understand who your customers are so you can better cater to their needs. It will make it very clear what you're doing right and where you may need to shift gears. This is essential in building your online presence, especially as a new business.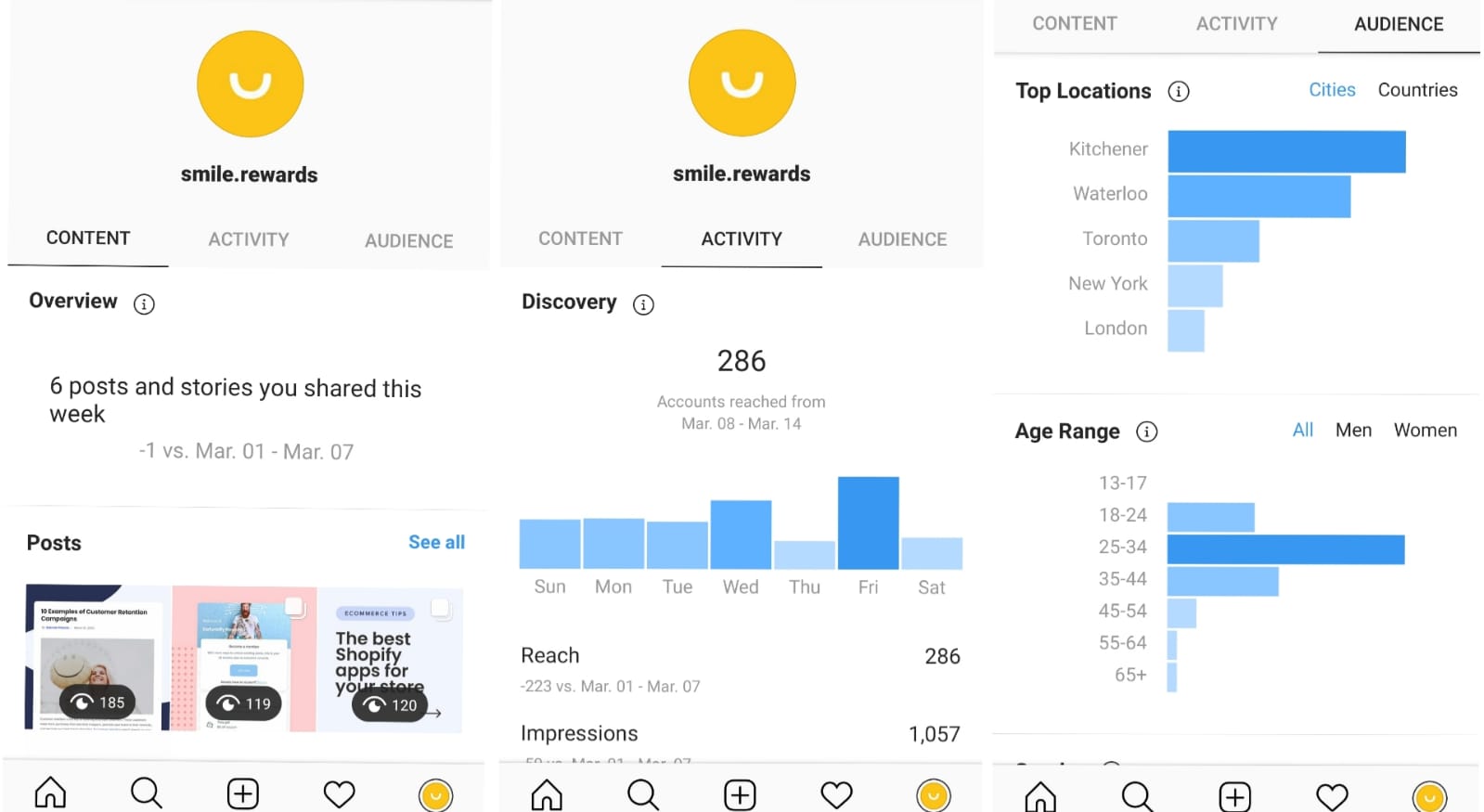 Refine your instagram presence
Little things you do when creating your account will make a huge difference when building your following. Here are some steps you can take to refine your Instagram presence:
Add all important information
This may seem like a simple step, but it's an extremely effective one. Your instagram account should be a gateway to your online store: add your store link on your profile, an address to any retail locations, and any contact information that could be useful for your followers.
Posting an on-brand, identifiable display picture
Though new people will be discovering your store through Instagram, you should also be appealing to current customers. This is why it's extremely important to make sure that your display picture is recognizable and on-brand.
Include a catchy bio
Make your bio your sales pitch! For new followers, it should give them a general understanding of what you do, and it should also be catchy and memorable so it stays relevant in your customers' minds!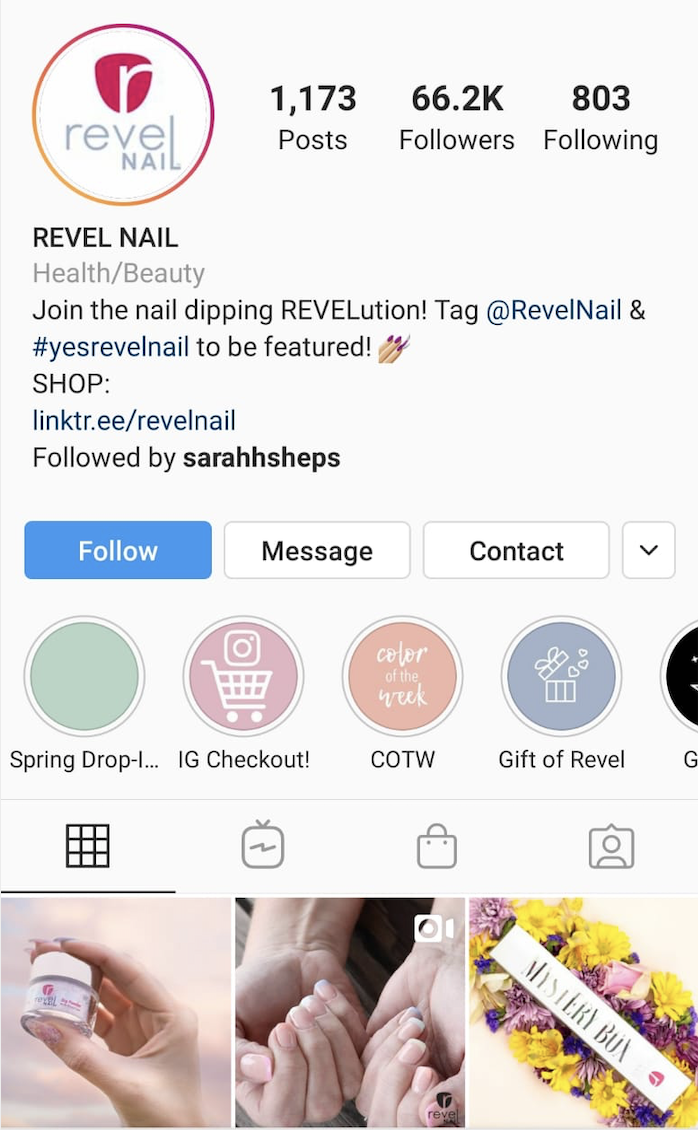 Revel Nail hits the trifecta with their colourful pastel feed. With their link in bio and their display picture set to their current business logo, there's no confusing who they are and what they do. They identify themselves in the appropriate store category of Health/Beauty. They've also included a call to action to "Join the nail dipping REVELution".
Make your instagram shoppable
Instagram Shop allows you to have a virtual storefront, giving your audience the opportunity to explore your products. You can use this feature on your posts and in your stories. In order to qualify for Instagram Shop, you have to ensure your store checks all of the boxes below: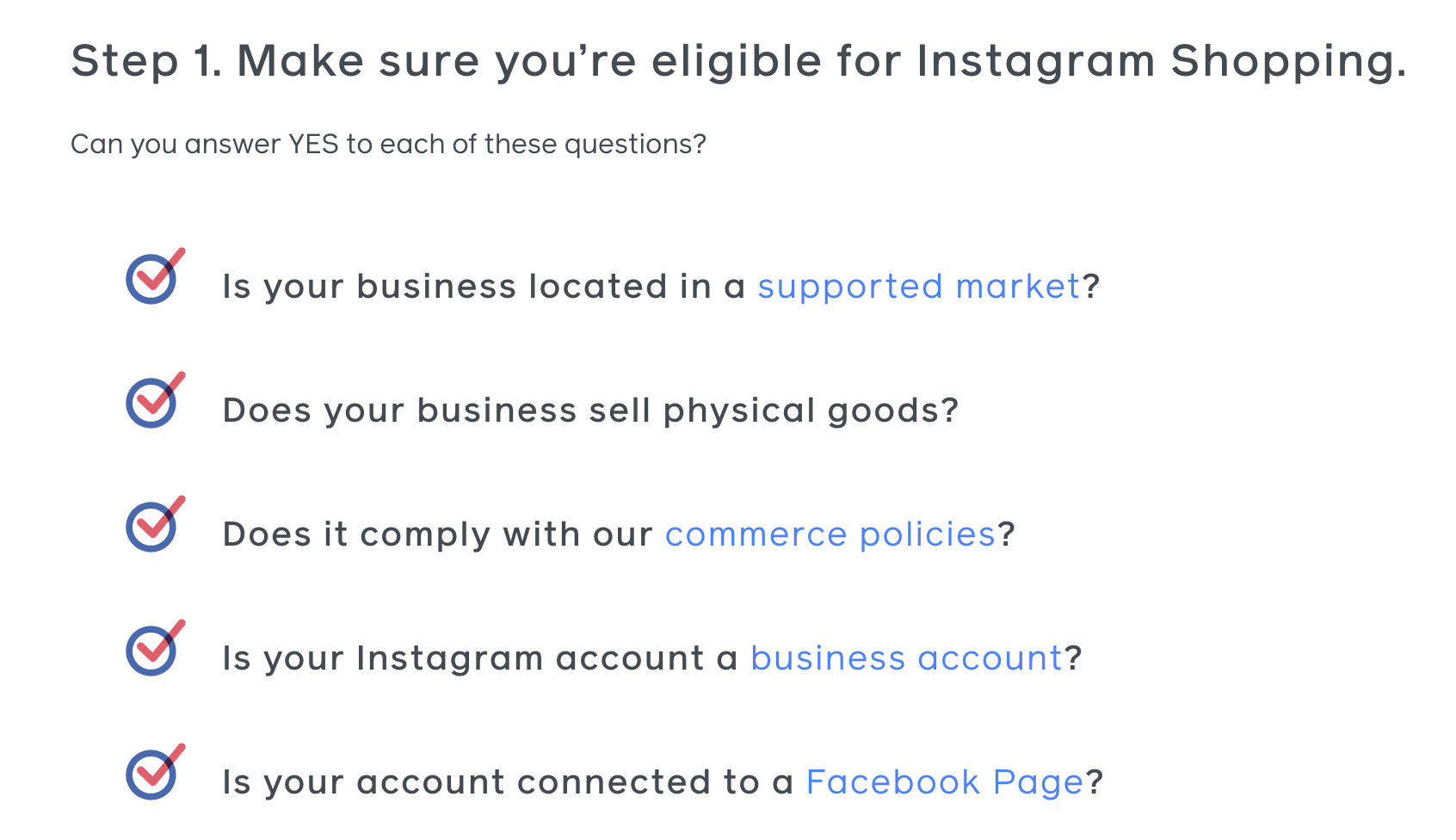 The next step is to make sure you have all of the following things:
An Instagram business account
A connected Facebook page (if you skipped this step above, you'll need to complete it)
A business account connected to Facebook Catalogue (this is managed on Catalog Manager, Business Manager on Facebook, or through Shopify or BigCommerce platforms)
Once you've met all of the above requirements, you can tap on profile > business > Instagram Shopping to apply.
By using Instagram Shop, you're able to streamline your user experience from discovery to checkout. More than 1 in 10 users are using Instagram specifically to shop and find new products and 81% use it to research products and services.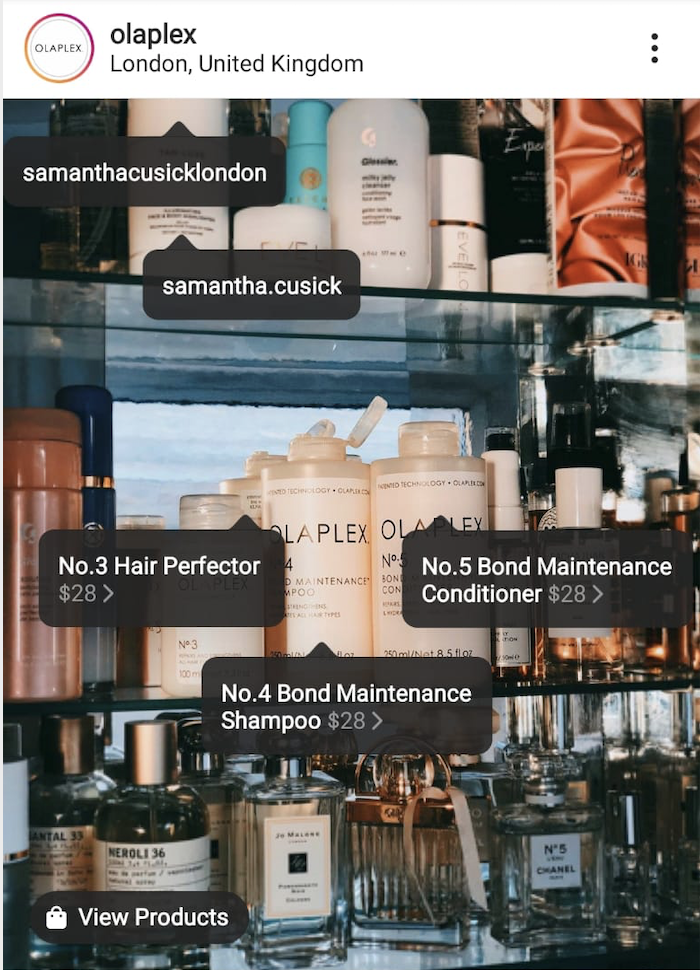 Olaplex does a great job of utilizing this feature. They only have 5 consumer products, but they continually market their products in creative ways and through their integrated Instagram Shop wherever possible.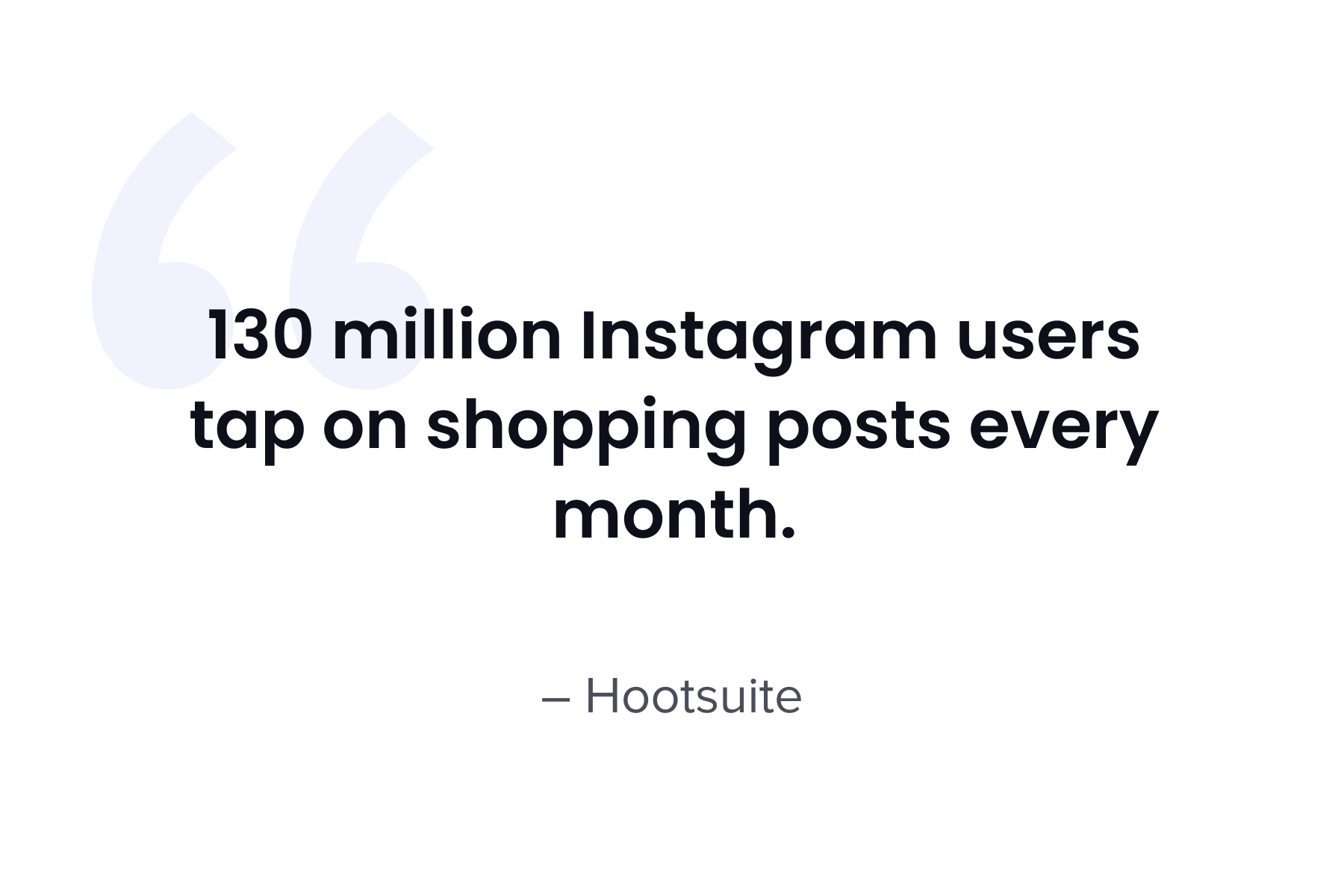 Make sure your posts pop
While shopping online, consumers can't smell, taste, or feel the quality of your products, but if you build a strong online presence, you can ensure that they still get this impression. Appealing, high-quality posts and promotions are essential in bringing this across. Without proper representation of your product, it would be difficult for consumers to trust in your product enough to make a purchase.
As important as each individual post is, it's also important to make sure your feed is cohesive. Keeping a consistent, on-brand colour palette will be more professional and attractive.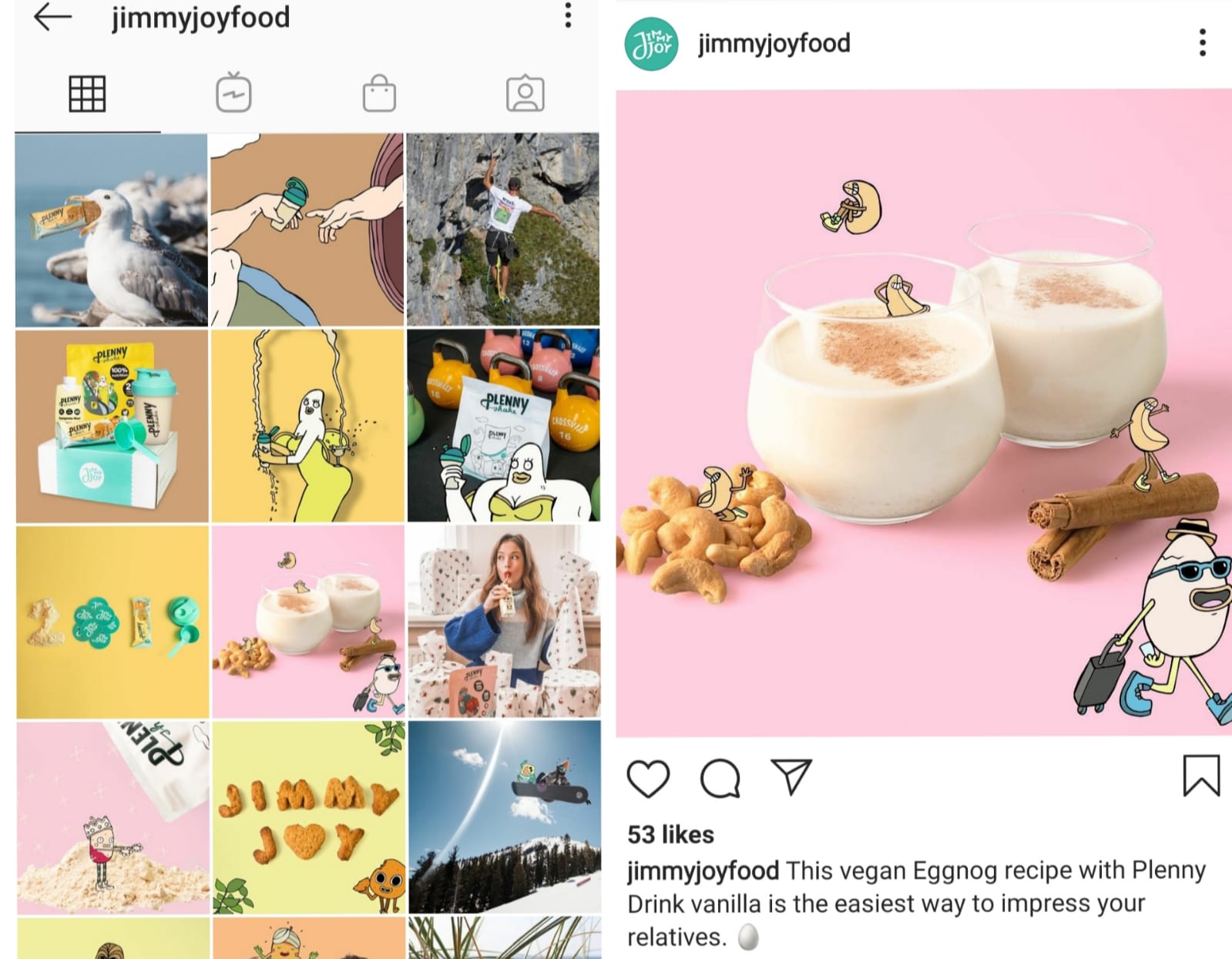 Jimmy Joy Food incorporates unique designs to market their nutritional array of food. They get creative with their posts, mixing graphic design and illustrations with images of their products. They also bring personality and a strong sense of storytelling to their Instagram feed that helps strengthen the emotional connection their audience has with their brand.
Show your products on people
People want to see your products in the wild! There's nothing like seeing real products on with actual people to help envision if it's the right fit. Showcasing models or customers that tag your account using your product can help customers come to a quicker purchase decision and possibly prevent future returns.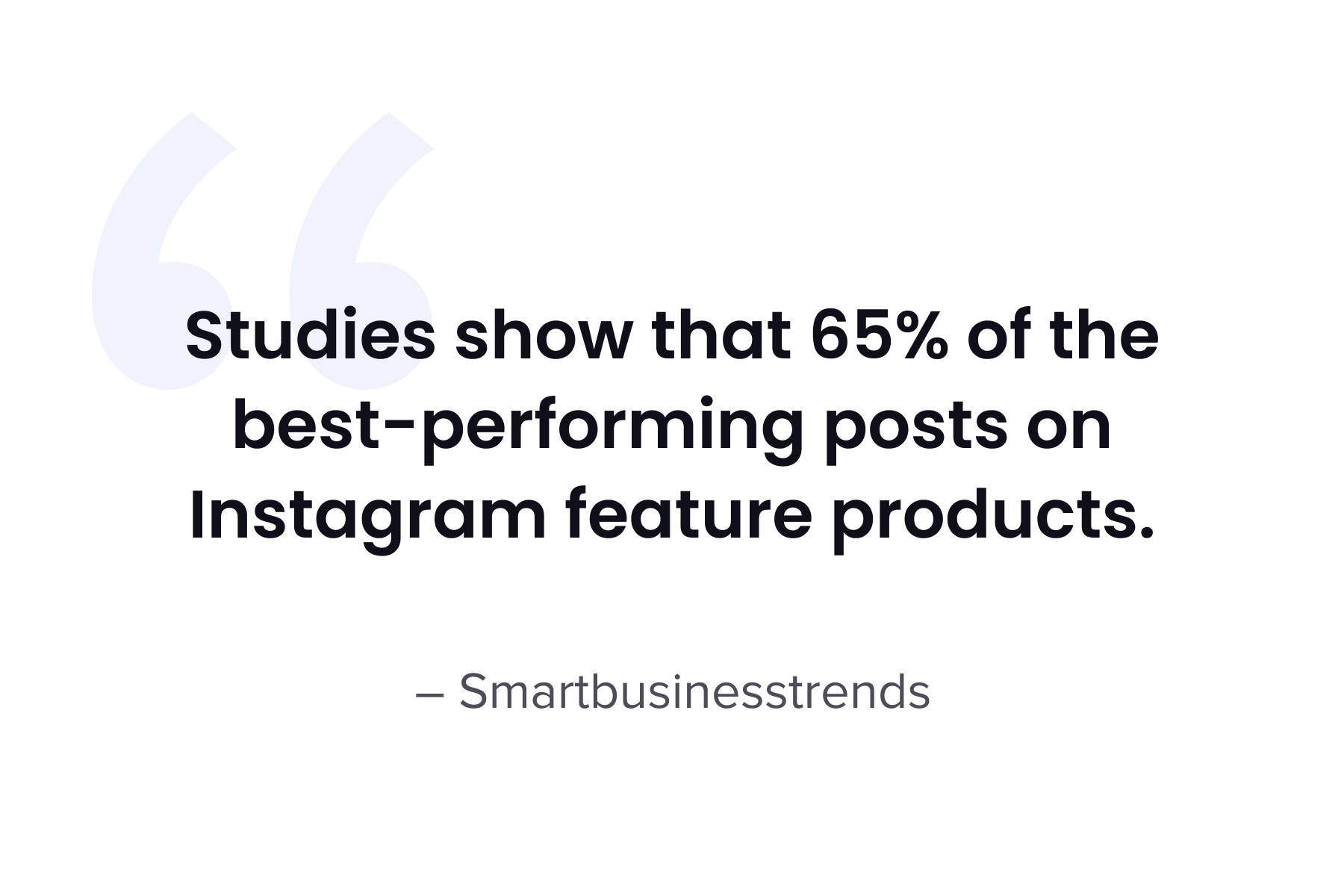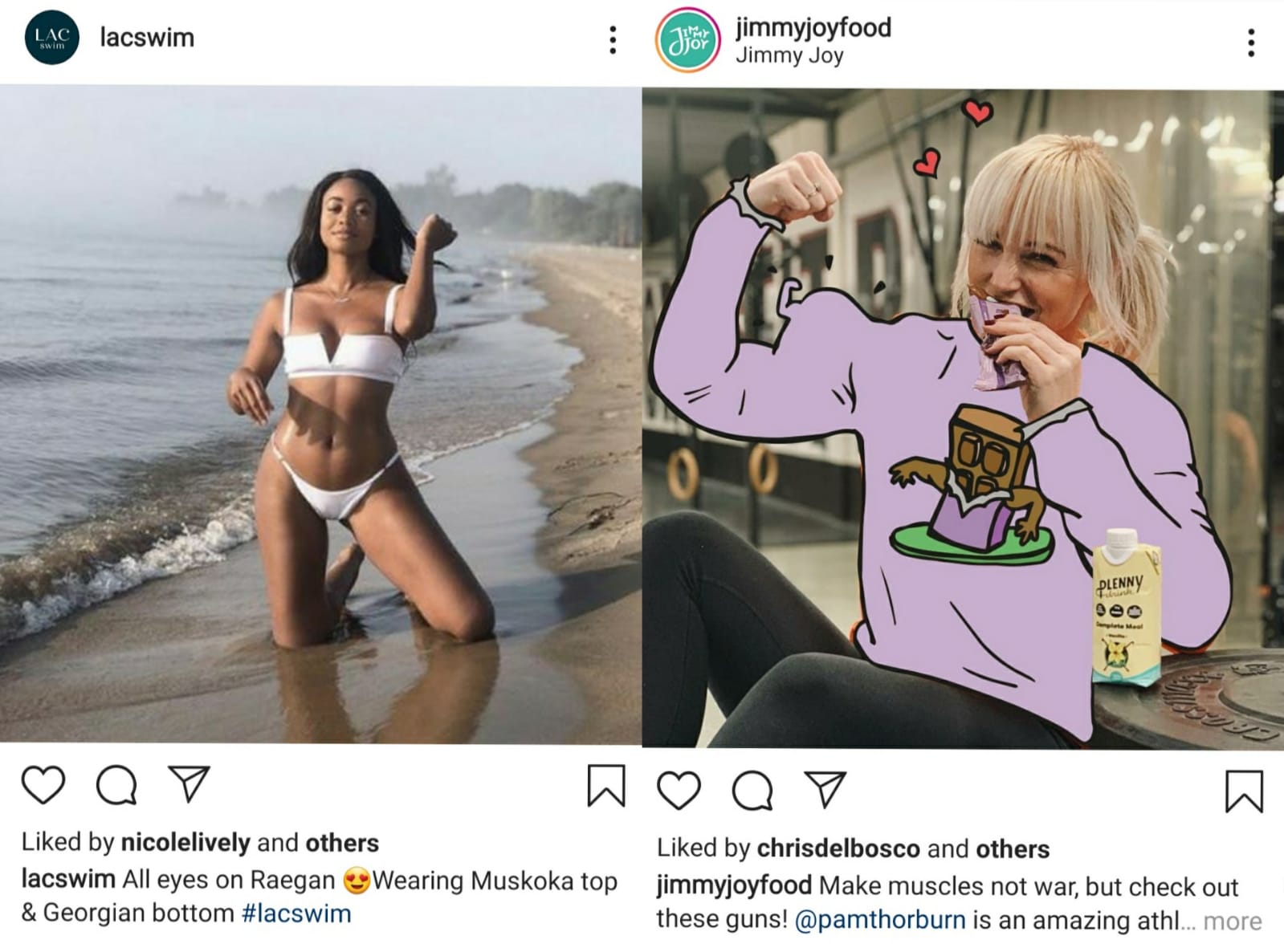 LAC Swim and Jimmy Joy Food sell products in completely different industries, but both use people to power their marketing efforts on Instagram. LAC Swim uses models and influencers to show their range of swimwear, whereas, Jimmy Joy Food shows people enjoying their nutritional foods.
Be loud about sales and rewards
Instagram is the perfect place to let people know about your sales and promotions. It's also a great place to let customers know what's in it for them as followers.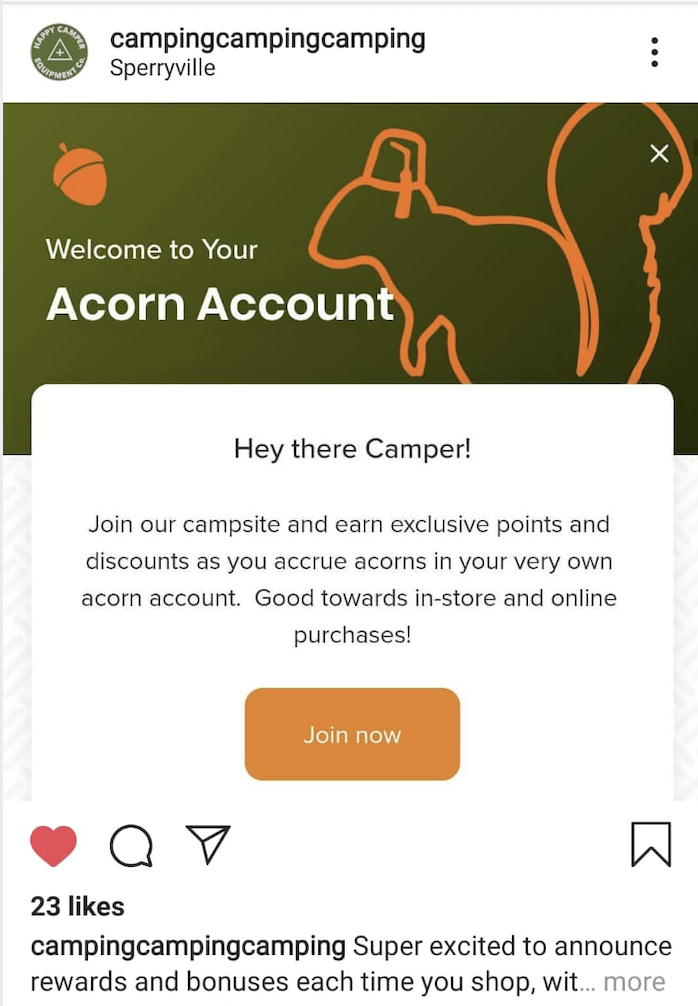 Happy Camper Equipment launched their Acorn Account loyalty program and shared it on Instagram in order  to raise awareness that it had launched to their customers. Instagram allows you to build your brand community, so it's in your best interest to use your account to keep your followers up-to-date and engaged!
Use captions and hashtags with every post
With each new post, you have the opportunity to customize your caption and use hashtags to promote your products.
Captions are mini-sales pitches. They can help highlight featured products or ask questions to encourage engagement in your comments. Make sure the diction you use is appealing, relevant, on-brand, and perfectly captures how the product should make you feel.
Hashtags are important for branding and visibility; they can be used to filter you into a relevant industry. If you're new to Instagram, it's particularly useful in making sure your posts are categorized and visible by the right audience. Don't be afraid to get creative with your hashtags! Unique hashtags can be specific to your brand/brand community, or be associated with a product launch or giveaway.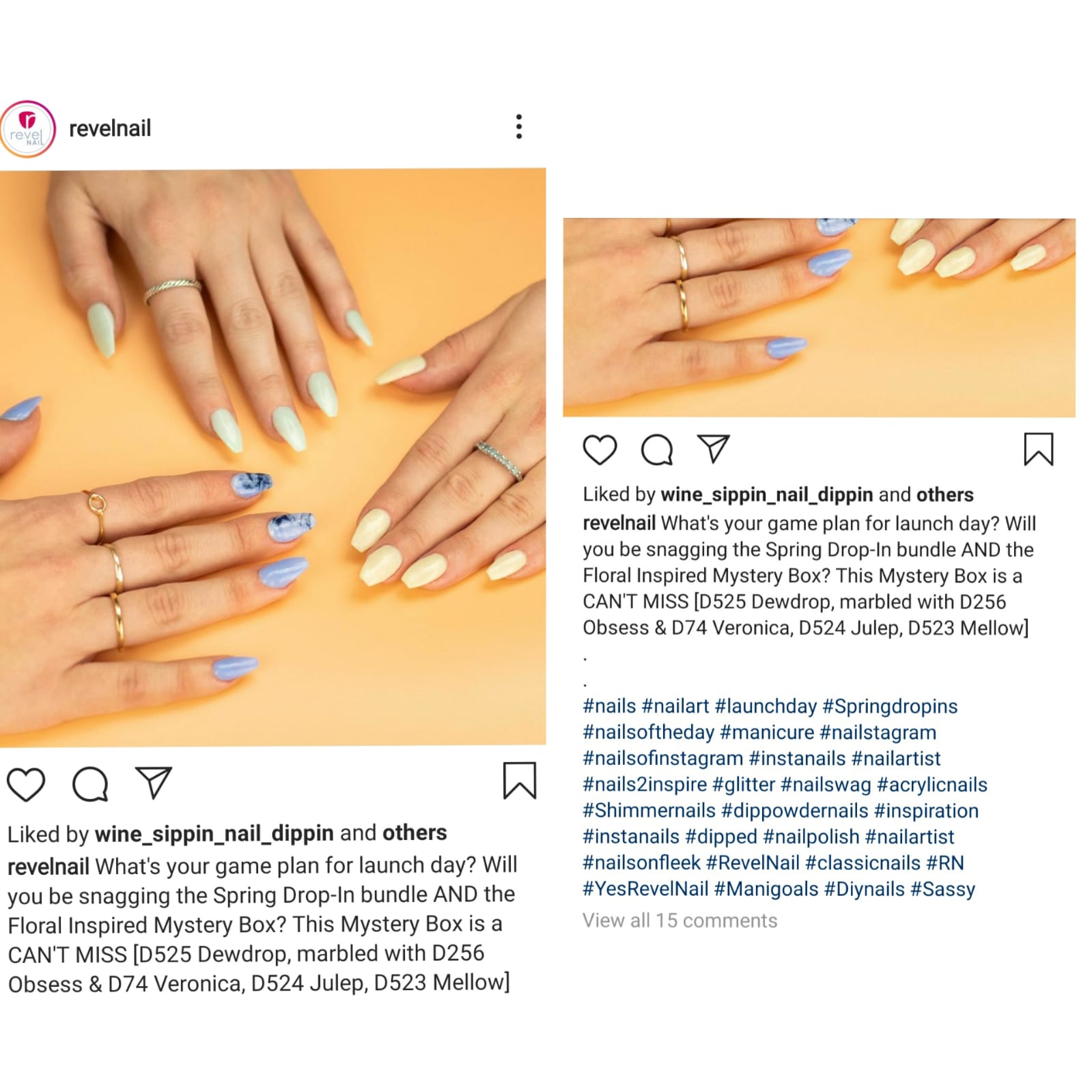 Revel Nail constantly uses relevant hashtags for their industry, as well as unique hashtags that, if searched for or clicked on, will show posts that are exclusive to their brand.
Post Stories Often
Stories offer a secondary way to engage with your followers. Use Instagram Stories to promote new posts, promotions, customer testimonials, and any other content. Stories also allow your audience to engage with your account in several other ways like story replies, emoji-reactions, question and answers, polls, and even show countdowns to any new launches.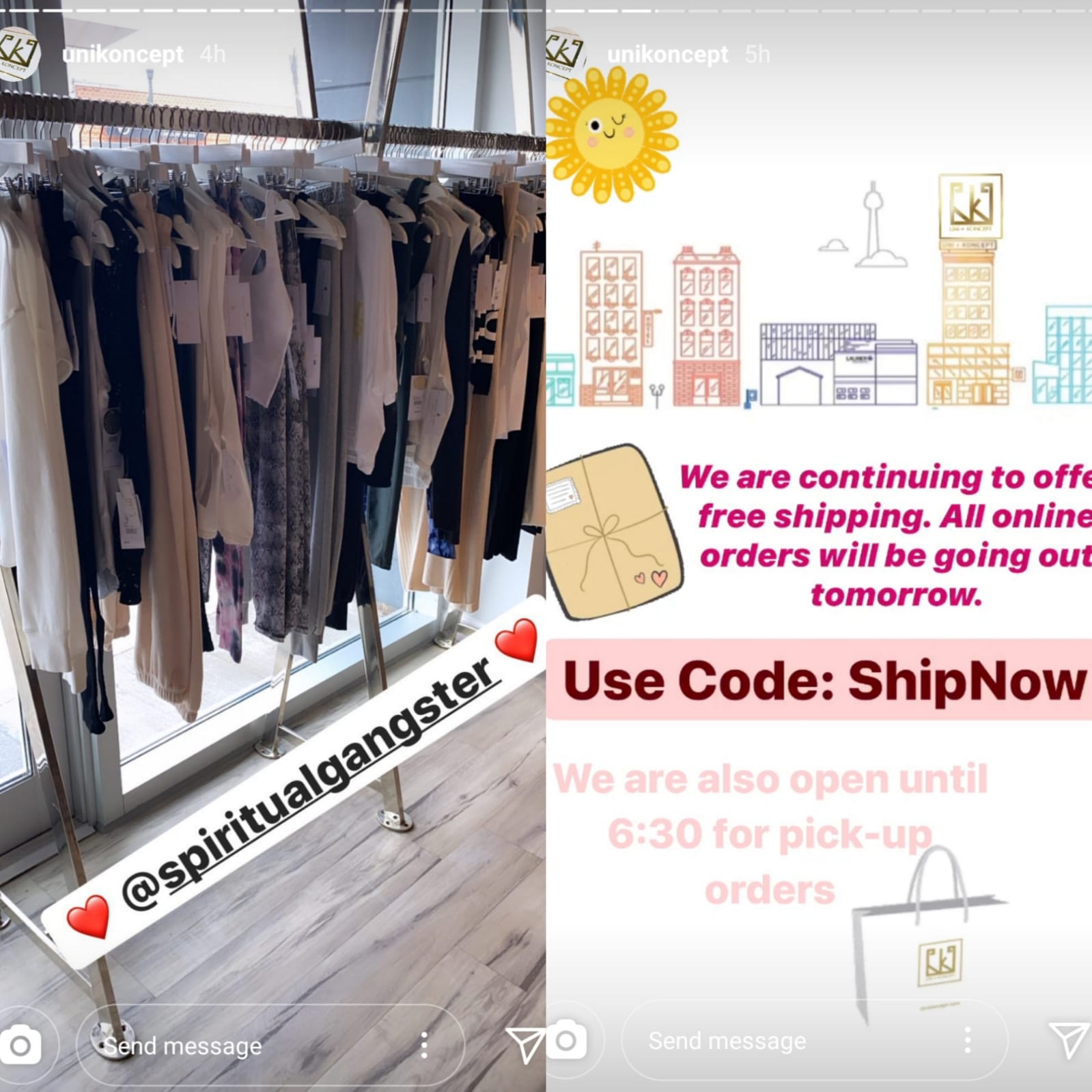 Uni Koncept uses their stories to share new and popular brands that they sell. They also use stories to keep their followers updated with sales, shipping, and business hours.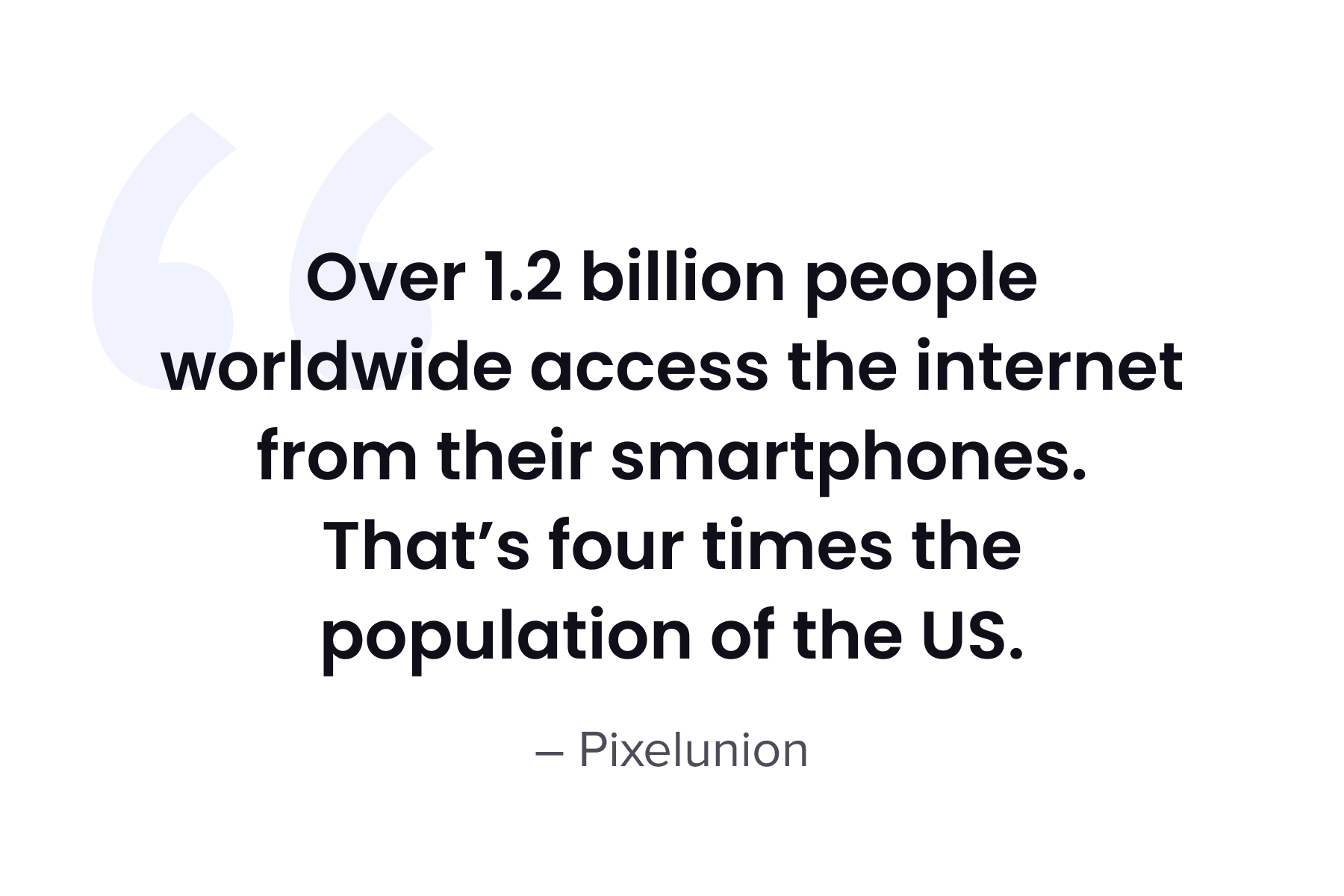 Instagram is a great way to foster a great brand community, showcase your products, and let prospective customers discover everything you have to offer. Studies show that mobile ecommerce sales accounted for 69% of BFCM sales in 2019, making it extremely clear that mobile-friendly platforms like Instagram should be a fundamental part of marketing your products!
Key Takeaways:
Convert to an Instagram Business Account
Refine your Instagram presence
Use Instagram Shop
Make sure your posts pop
Show your products on people
Use captions and hashtags
Be loud about sales and rewards
Post Instagram Stories
Learn how to build a loyalty program for your apparel brand
We have the best tips and tricks in our guide.