Nothing is better than the feeling of making your first sale online. All the hard work into getting your store up and running is paying off. After acquiring customers and converting them into a sale, you might think the work is done. But from a customer's POV, clicking purchase is not the end. The customer journey (and experience) follows through post-purchase.
How a customer feels after they have purchased something from your site is part of the customer's journey to loyalty. Post-purchase is also your opportunity as a business owner to nurture that relationship and focus on retention. This is where post-purchase emails come in to help you retain customers, build loyalty, and create a brand community.
📈
We analyzed our data at Smile.io, and after one purchase, a customer has a 27% chance of returning to your store. After the second purchase, a 49% chance, and after the third purchase, a 62% chance.
With post-purchase emails, you can easily nurture customers with an automated post-purchase email campaign. All you need to do is set up the email flow once and then every time a customer makes a purchase, they'll receive the emails that enhance their relationship with your brand and keep them coming back.
Here are five emails every ecommerce business should include in their post-purchase series.
Email 1: The order confirmation
The first email you should send a customer right after purchase is an order confirmation.

Immediately upon completing their transaction, customers will go straight to their inbox to make sure that everything went through smoothly. To give them peace of mind, and reduce the number of people reaching out to you, ensure you send an order confirmation email automatically.

Fortunately, these transactional emails are easy to enable on whichever ecommerce platform you created your store in, such as Shopify, Wix, and BigCommerce. Within your confirmation email template, you'll want to make sure you include the following details:
An order number.
The time of purchase.
Descriptions of what was purchased (ideally with product images).
Billing summary including an itemized breakdown, total amount paid and tax.
Shipping details including:
When the order is expected to arrive.
The address it will be delivered to.
A link to track their order (or details when they will get a tracking link).
This example from Burst is a great example that proactively gives your customer all the information they need on their order.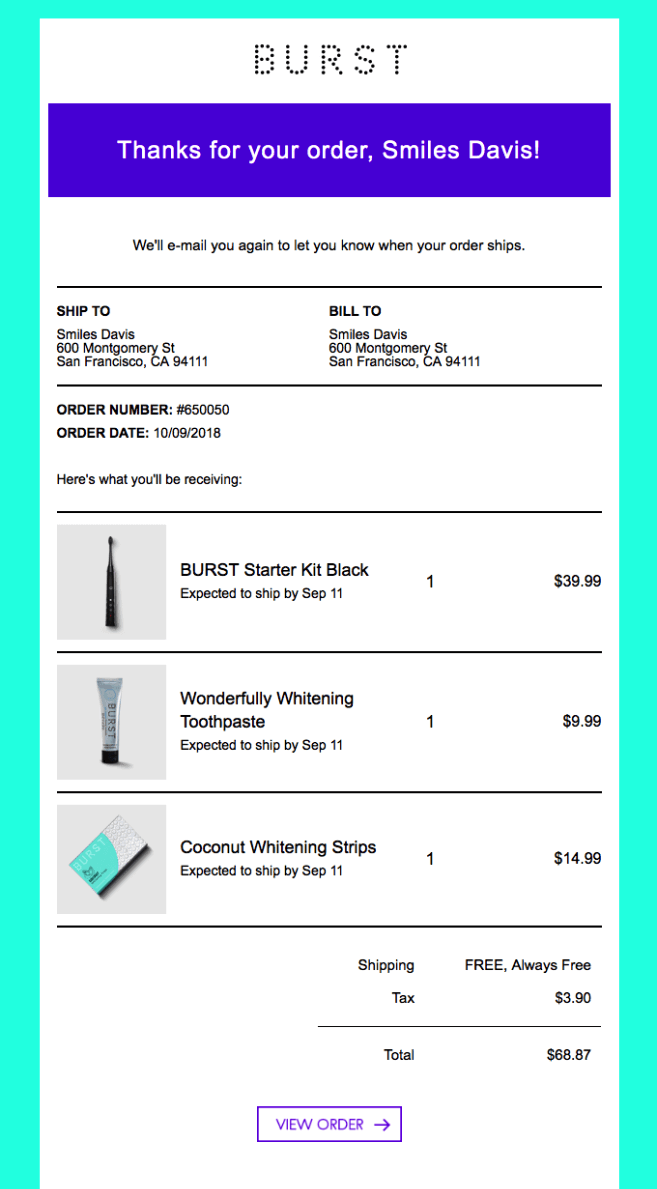 There is a clear call-to-action (CTA) at the end of the email to view the order details. This is something you'll want to replicate. Even though there are no shipping details, the email clearly explains that they will be forthcoming when the order has shipped. This is absolutely fine if you don't have the information right away.
Email 2: The 'thank you for your purchase' email
The second email you need to send to customers is a 'thank you' email to thank customers for their order.

Doing so shows your customer that they're not just buying from a faceless website, but that there are people behind your brand who care about their experience. It adds a personal touch to the shopping experience and is a step towards earning a repeat purchase from that customer.

When setting up a 'thank you' email, it's a good idea to segment out first-time buyers and returning customers. If it is someone's first purchase, in addition to thanking them create a CTA (call-to-action) such as including details of your loyalty or rewards program, a link for customers to view their order, and a way to connect with you on social media or offline in a physical brick-and-mortar.
Hush Blankets' 'thank you' email is perfectly branded speaking to why a customer purchased from Hush in the first place. Additionally, it has a CTA for customers to view their recent purchase.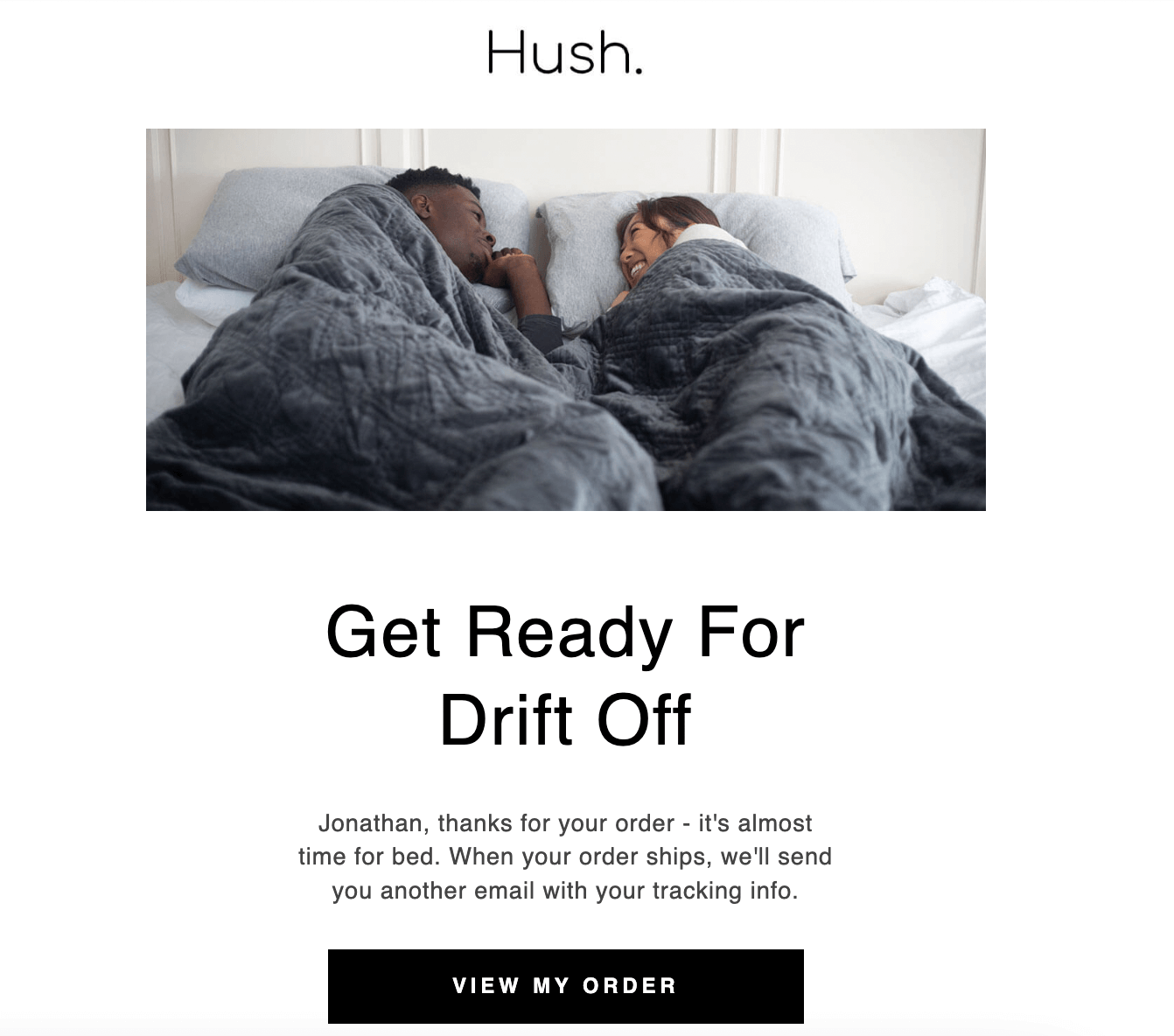 For repeat customers, you don't want to be sending the same message after every purchase. Especially if you decide to include a voucher or coupon code as a thank you, you'll only do it once or twice, otherwise, you'll set the expectation to receive one after every purchase.
Instead, as a customer's order count increases, you should consider sending a more general "thank you for your support" email. This example from Hush feels personal and mentions how we are a repeat customer who has decided to come back. Hush makes customers feel valued with this email.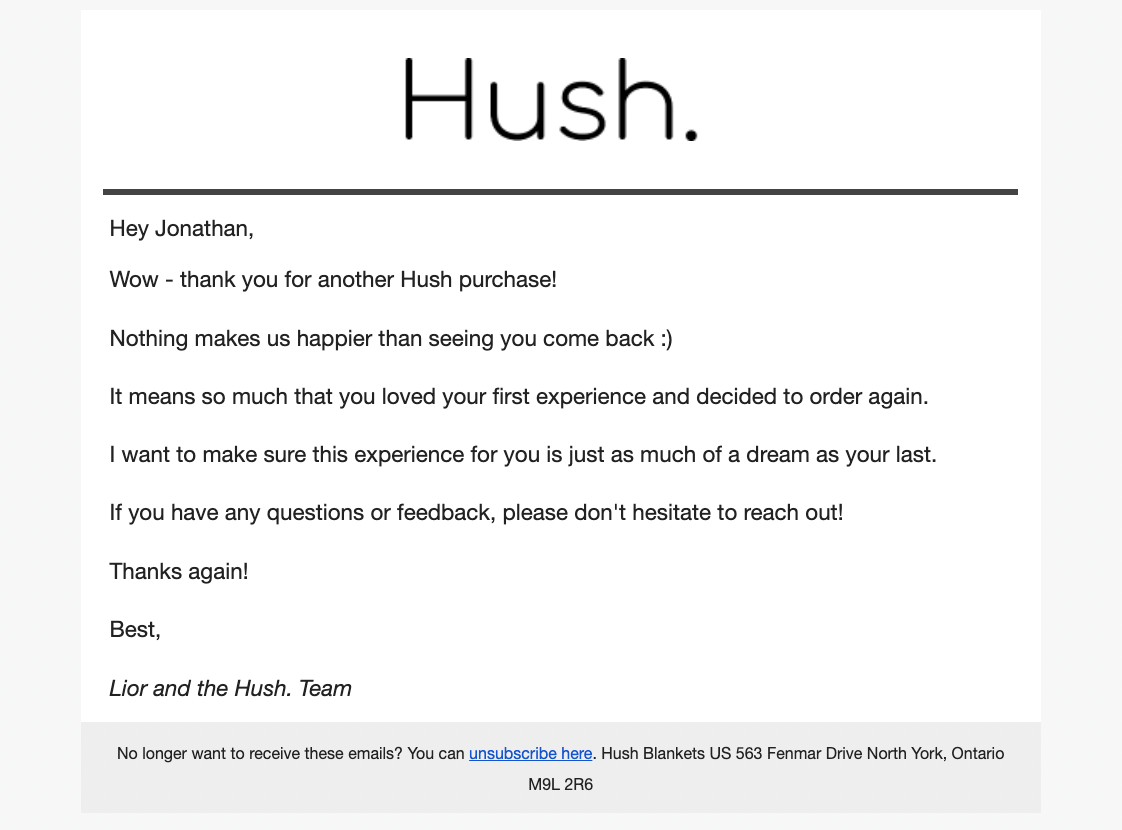 Email 3: Product review request
According to insights, "nearly 49% of all consumers say they trust the reviews they read online as much as personal recommendations." Encouraging customers to leave product reviews is essential to growing and acquiring even more customers in ecommerce. After your customer has received their purchase, it's a good idea to check in with them to see how their experience is going, such as what Bellroy does in their post-purchase email.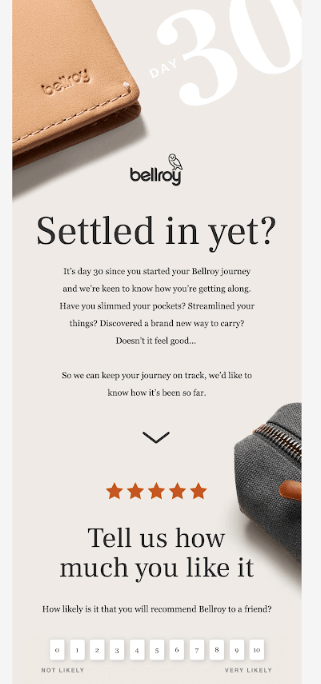 By asking for an honest review, you're able to identify any issues with your product or sales experience from your customer's POV. Actively reaching out and fixing any issues or asking for a review from your customer will open the conversation between you and your customer base. This is an active step in fostering  customer loyalty.
Few things will quell any doubts a potential customer may have better than seeing plenty of positive reviews from other shoppers.
Make sure next time you write your next email, you have these 3 E's:

- Excite : Hype
- Educate: Logic
- Edify: Ask

And make sure when they click, the what they see is just as good (your site), if not better.

— Jimmy Kim (@yojimmykim) February 6, 2023
Email 4: Product recommendations
Once you have acquired a customer, you can begin to collect first-party data like their purchases, their average order value (AOV), and which items were abandoned in a shopping cart. One of the reasons existing customers are more profitable is that you have an idea of what your customer is interested in.
You can begin to create a product recommendation campaign and introduce products you think your customer is interested in. Product recommendation emails can take two forms–personalized recommendations from machine learning or an automated cross-sell based on the originally purchased product.
With personalized recommendations, your email app (if it supports product recommendations) will automatically choose the products for you.
Alternatively, you can choose to set up your own cross-sell email flows where you manually choose what to recommend based on what product your customer has purchased. This can be particularly beneficial when you have a small catalog of items that leave recommendation algorithms lacking the data they need to make reliable predictions.
Galen Leather does a fantastic job at cross-selling by recommending products that are similar to a recent purchase. They are a variety or a different color of a specific item.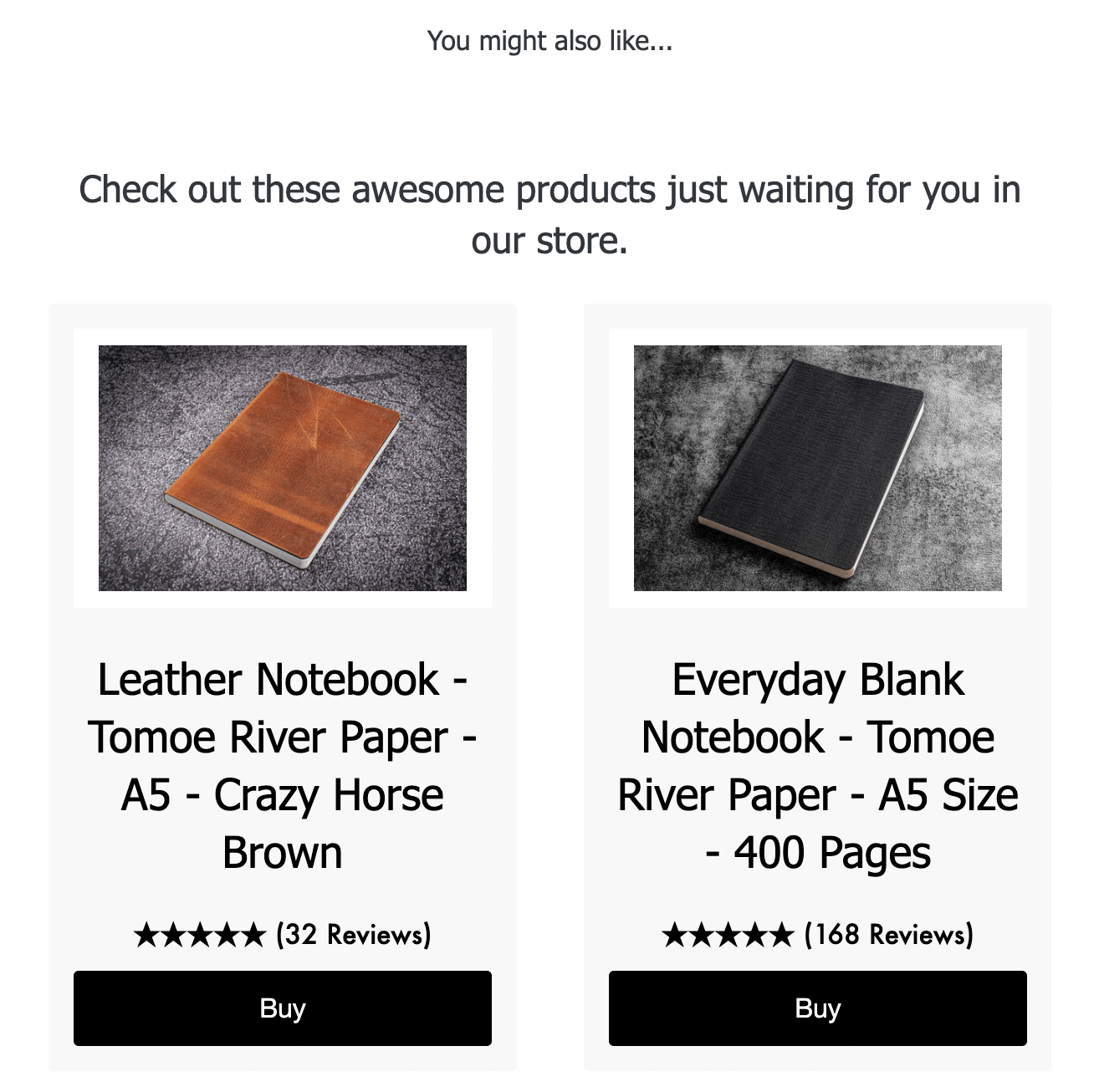 Obviously, it's not practical to set up a dedicated cross-sell email automation for every product in your store if you've even got a moderately sized catalog.
The other option is to only set up a few cross-sell recommendations for your best sellers and use personalized product recommendations for purchasers of other products. BrüMate does a good job at recommending products that pair well with a customer's recent purchase. This cross-sell campaign can increase the AOV of a customer and get them to come back for a repeat purchase. Not only is the email branded, but it's also working hard to get customers to come back for more.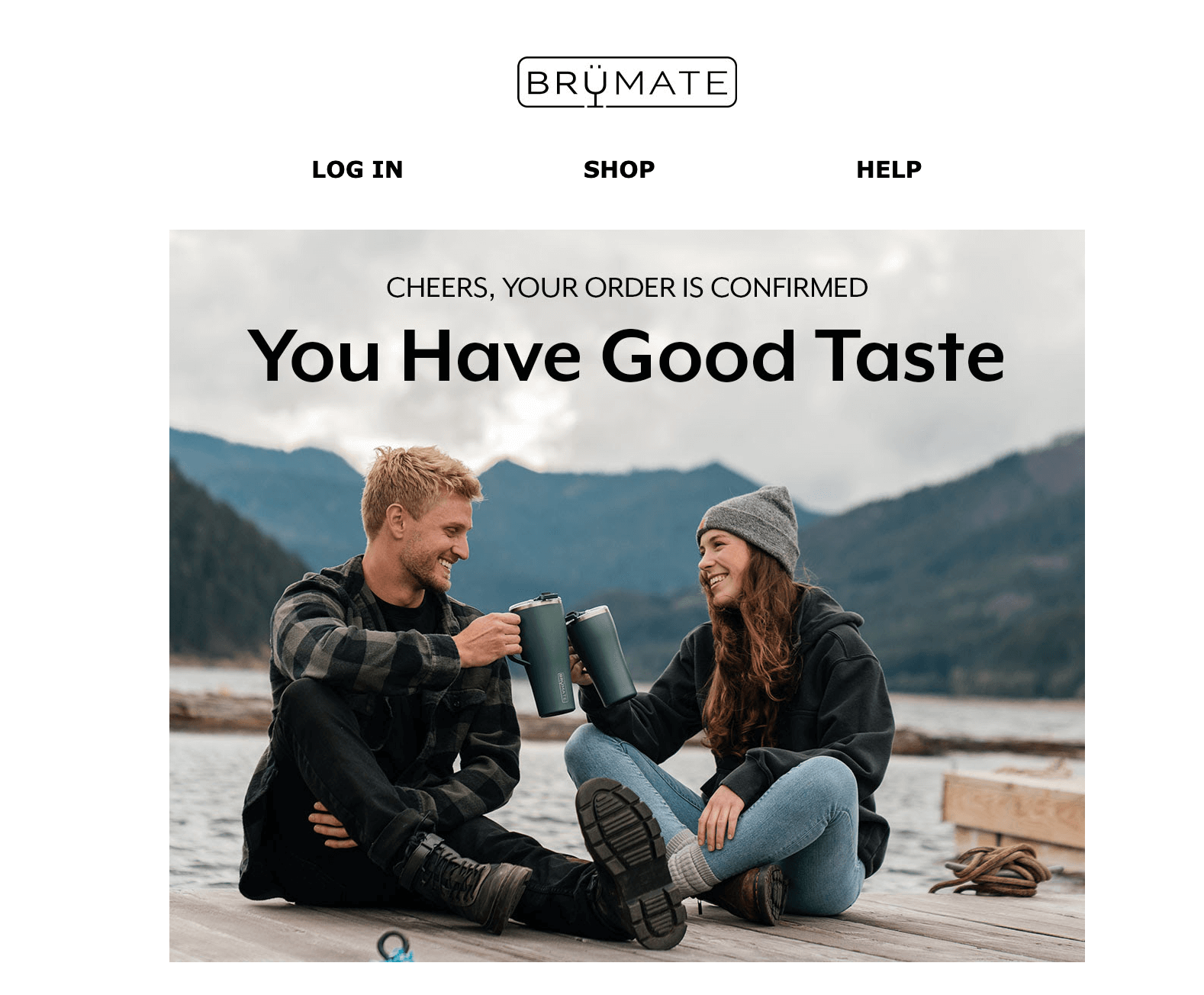 Email 5: Loyalty and points reminder
If you have a loyalty program one of the easiest ways to remind customers of your program is through your post-purchase emails. Through these emails, you can improve retention by letting customers know their points earned on that recent purchase and their overall point balance.   This actively gets customers incentivized to come back and redeem their rewards on the next purchase.
This example from BrüMate is great in showing a customer how many points they have, how many points were earned on their recent purchase, and most importantly, how many points they need until they can redeem their next reward.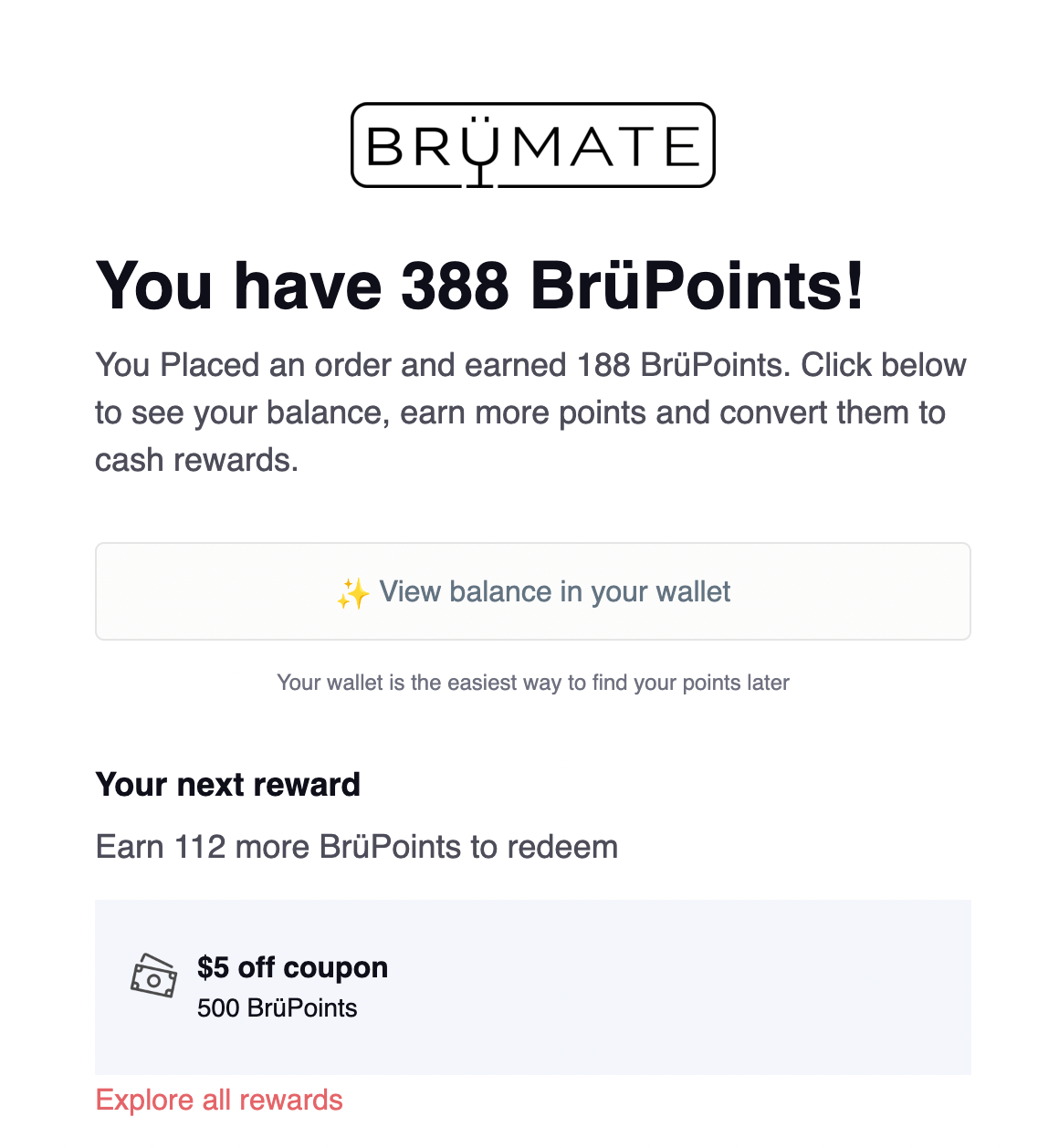 Your own post-purchase email series
These five emails provide the basis of a great post-purchase series in order to retain customers and provide a great experience. But that doesn't mean you need to stick with only these particular emails. Truly building a community will allow you to know your customers on a deeper level. This will allow you to create campaigns that are tailored to them and speak to what they want from a business they support.
I bought from a brand three times (over $300 in total) in the last 3 months and have never received any post-purchase email.

Only received a "your order is on its way" email every time I bought.

Products have good quality, but tbh, I don't feel appreciated by the brand. 😢

— Lavender Nguyen | Email for Sustainable Brands (@lavender_writes) September 26, 2022
Your store is unique and as such you should modify your post-purchase campaign to suit your unique brand and style of messaging. Whatever you decide to send, as long as it's engaging and relevant, you'll improve your customer retention rate and get more repeat purchases.
Editor's Note: This post was originally published on April 21, 2020 and was updated for accuracy and comprehensiveness on February 21, 2023.
Engage Your Customers
Create a branded loyalty program