Target is one of the most well-known and widely loved discount-retail stores in America. Target's customers demonstrate a level of loyalty that most bargain brands could only dream of. The big-box retailer is so popular that there have been numerous articles written on the "Target Effect" over the years trying to explain the magic that makes the brand such a fan favorite.
Today we will look at Target's Circle rewards program to see if it lives up to the brand's standard of customer excellence. Is the Target Circle program another bullseye, or has America's favorite discount retailer missed the mark?
Where the Target Circle rewards program hits the bullseye
Target's dedication to providing an excellent customer experience pays off in a big way for many aspects of their rewards program. From an entire portfolio of personalized customer rewards to specific explainer pages for each component of the program, it's easy to see that Target Circle is right on target.
Target Circle showcases a diverse portfolio of rewards
One of the best parts about shopping at Target is that you can find pretty much anything you need there. Whether you're looking for groceries, office supplies, or a new bathing suit, Target has you covered.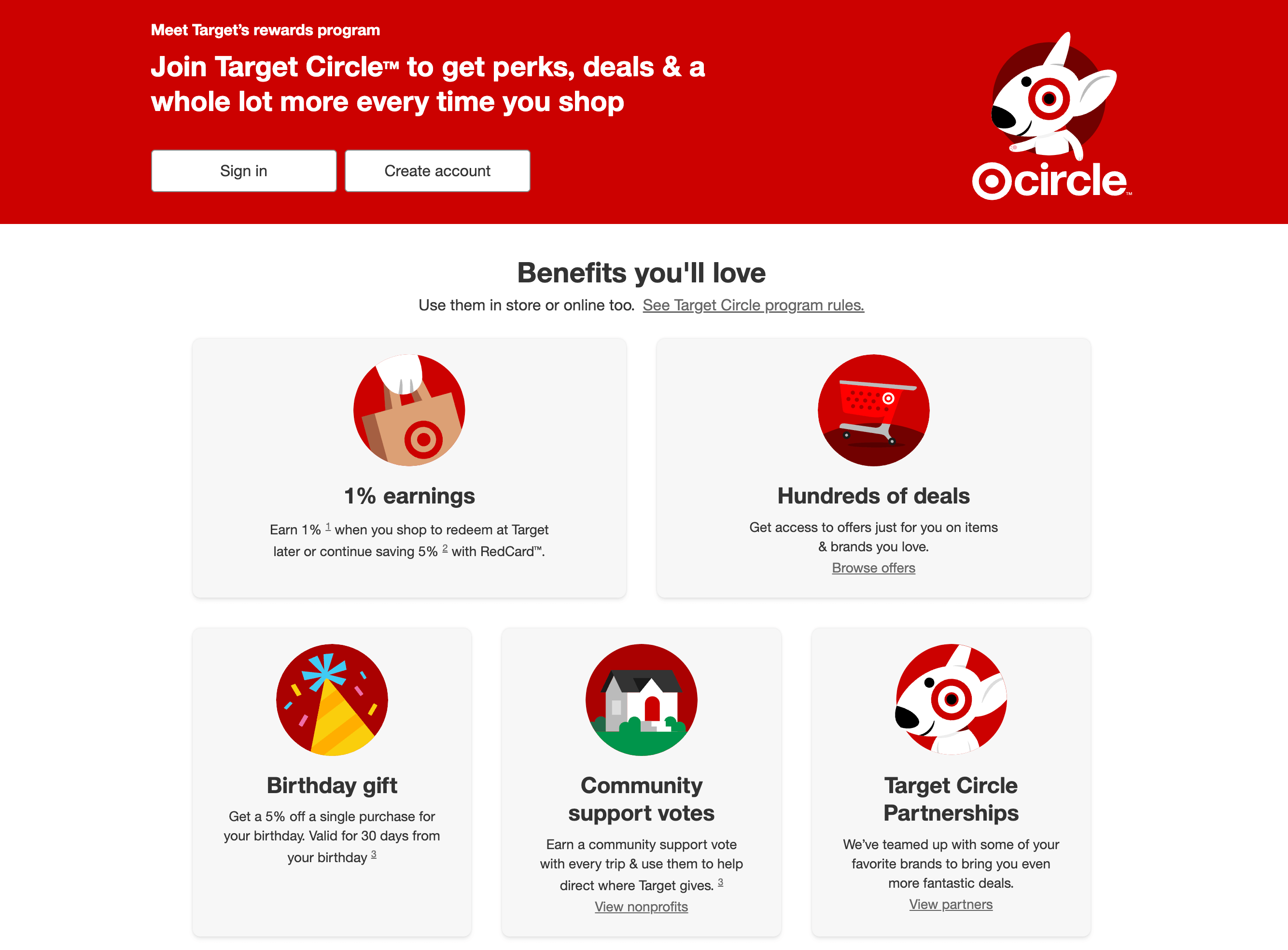 This product diversity is one of the main reasons customers consistently come back to Target. No matter what they need, Target's bound to have it, and this unofficial guarantee keeps Target top of mind.
Target builds on this "all things to all people" ideology with its rewards program. Target Circle is home to an entire network of different reward options, from cashback to Target Circle Partnerships (a network of companies Target works with to offer even more rewards). The rewards don't stop there though, as members can also enjoy a curated list of discount offers, an annual birthday gift of 5% off, and even a chance to vote for what organization Target will donate to next.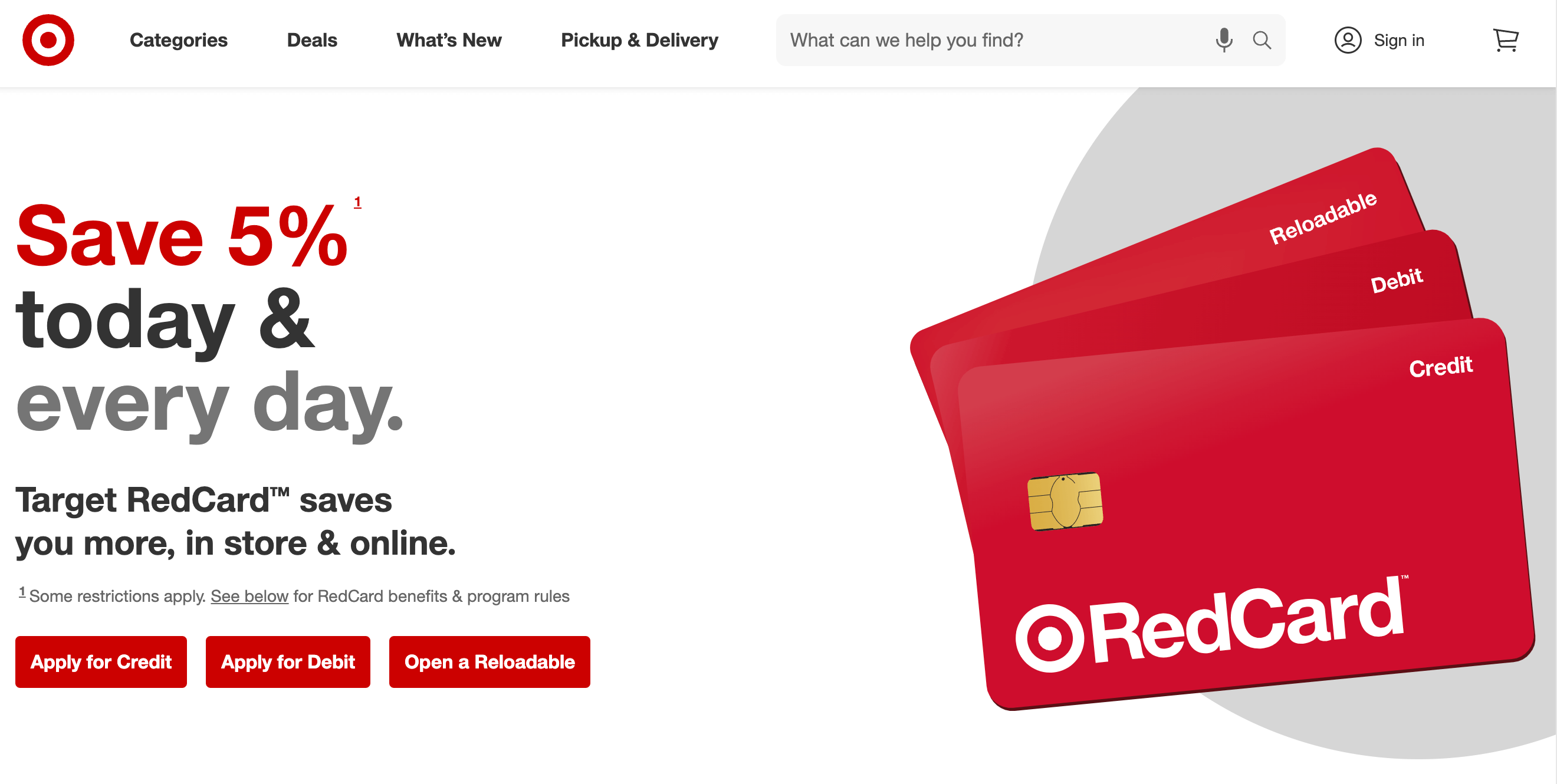 Target even offers its own RedCard credit and debit cards for its most loyal customers. When customers pay with these branded cards, they save 5% on every purchase, instead of earning the 1% that regular Target Circle members get.
With such a comprehensive portfolio of customer rewards, it doesn't matter if you're an impulse shopper, a savvy subscriber, a hesitant buyer, or an extreme couponer—Target's Circle rewards program has something you'll love.
Target Circle rewards program isn't just mobile-friendly, it's mobile-first
There's a big difference between a mobile-friendly customer experience and a mobile-first one.  Mobile-friendly experiences are those that take the value customers can get on their computers and mirror it on their phones. While many brands stop there, the smart ones know it's just the beginning. Target is one of those brands.
More customers than ever are browsing the web and completing purchases on their mobile devices. In fact, in 2022 72.9% of all ecommerce sales took place on a mobile device. That's three out of every four dollars spent. With a majority of sales coming from mobile, it's important for stores to understand the difference between the two mediums. Customers aren't just transferring their desktop purchases to mobile—they actually behave very differently when they switch between the two.
This is where mobile-first strategies come to the rescue. When a brand creates a mobile-focused experience they don't just replicate desktop experiences on mobile devices, but rather take advantage of experiences that are unique to mobile commerce.
Target shows its mobile mindset through the various ways to earn points wherever the customer chooses to shop. The Target app lets customers browse and select discount offers they're interested in on the go, and if a customer sees something they like in store, they can just scan the item with their phone to see what offers are available. Customers can then just present their phone with the barcode or type the phone number linked to their account on the keypad for their discounts at checkout, and boom—instant savings. Forget to scan your app at the checkout? Don't worry because Target lets customers enter their receipts within 14 days to collect earnings from their purchases.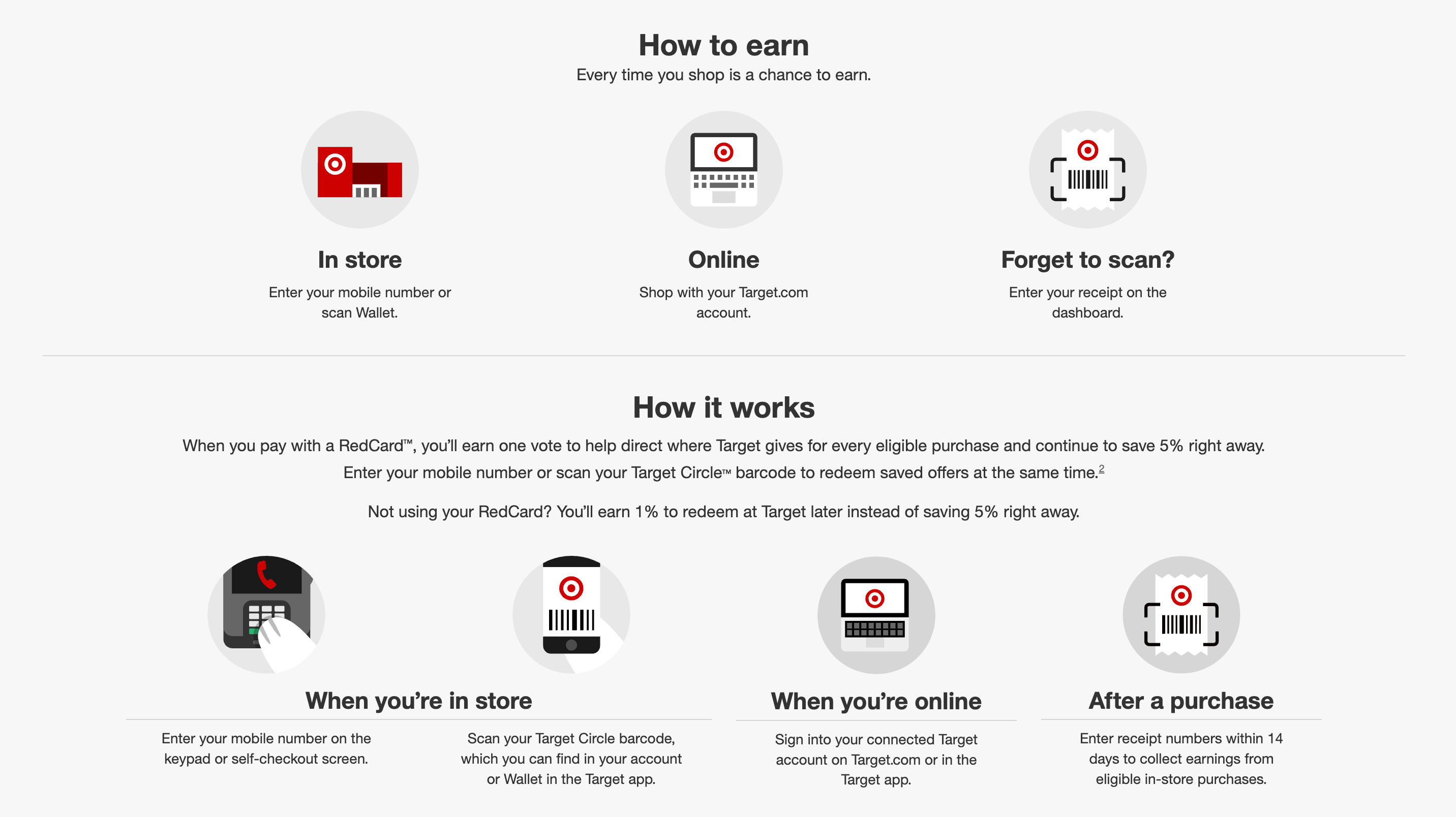 Target's app shows us the true magic of mobile engagement, providing customers with experiences that are uniquely mobile and simply not possible with a desktop. The quick scans, the barcode display, and the in-store functionality all leverage the grab-and-go nature of a mobile device, making Target Circle an omnichannel dream come true.
Target Circle uses customer purchase data to personalize offers
By now you're probably realizing that Target's rewards program has a lot going on. The good thing is that Target recognizes this and does everything it can to make sure each individual customer is getting the most out of what Target Circle has to offer. To do this, they've built tailored discount recommendations into the program, both on the website and in the app.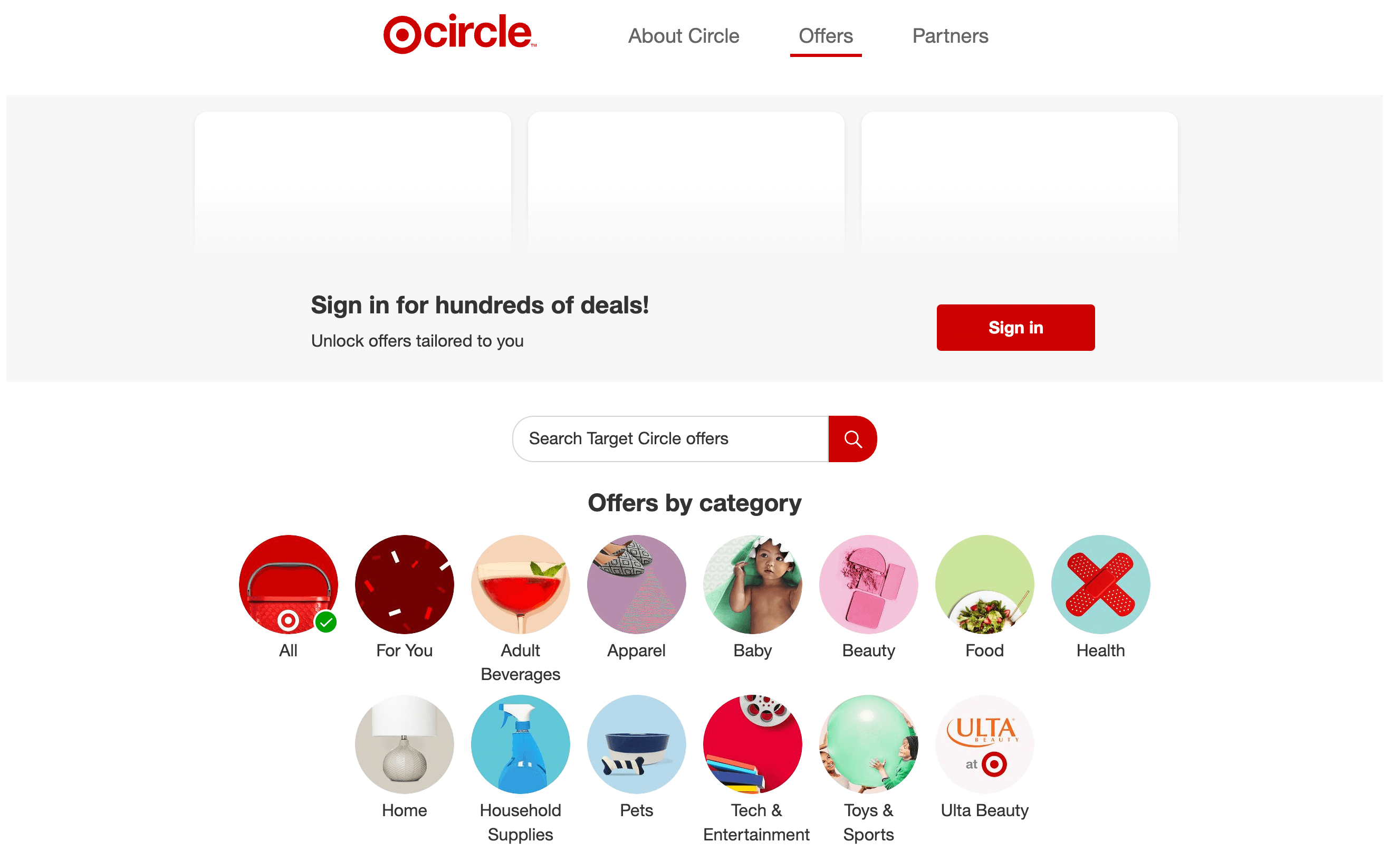 When customers sign into their accounts, they receive personalized offers based on their previous purchases and preferences. All they have to do is save the offer to their account and watch the savings roll in on the products they were already going to buy. Customers are able to save these offers on desktop for online purchases or in the app for in-store purchases, making it a perfect personalized, omnichannel experience.
Target also realizes that its customers are real people with a variety of preferences. This is why Target Circle lets its members browse all available offers, by category. You may be a techie who loves shopping for the latest gadgets, but that doesn't mean you can't also be a beauty guru. By giving customers the ability to search for offers that interest them, Target elevates its rewards program to the next level.
Where the Target Circle rewards program misses the mark
While Target Circle is an excellent take on modern rewards strategies, even America's favorite bargain brand has some faults. They may be few, but there are definitely some areas where the brand can step up its reward game to make sure it's always hitting the targets.
Target Circle has some fine print exceptions
As we discussed earlier, one of the things that makes Target such a great brand is the breadth of products and services you can find inside any Target store. So when the RedCard program promises customers at least 5% off all Target transactions, we're talking about a huge amount of potential value!
At least we would be if the fine print didn't disqualify parts of the Target brand experience from the RedCard program. For example, Target provides customers with prescription medication and Target Optical services but doesn't allow them to apply discounts while using them. The same goes for gift cards for Target or many of the restaurants you can find inside Target stores. Once again, an amazing amount of value is withheld by a fine print exception.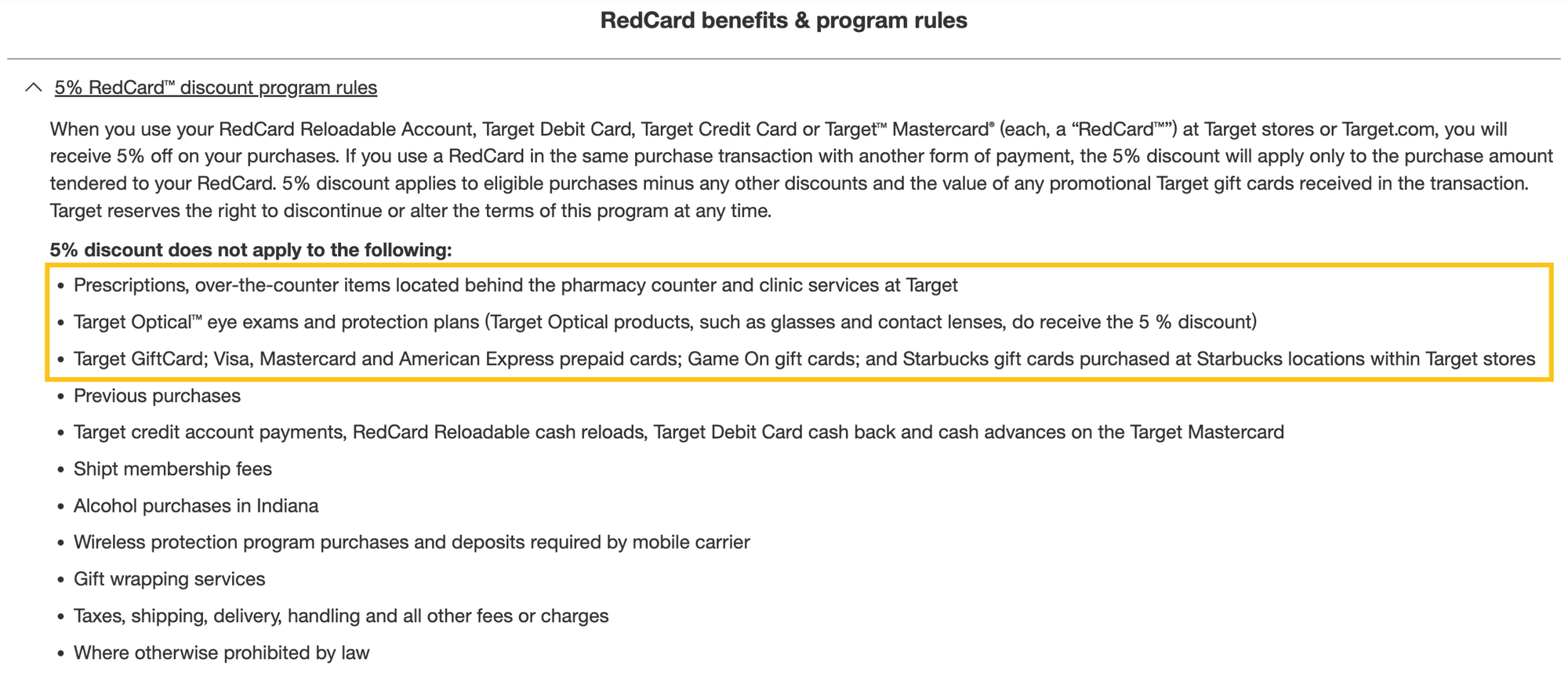 While the expensive nature of these services ultimately makes the exceptions understandable, it doesn't change the fact that if customers could actually put RedCard to use everywhere inside a Target store, we'd be talking about one of the best rewards programs on the planet.
Target Circle hides most of its value behind its RedCard payment cards
Target has built the Target Circle rewards program around personalized discount offers and a subtle 1% cashback offer. However, a lot of the real value comes from owning one of Target's physical red cards. The card can either be a credit or debit card that works much like any other branded payment card. These cards have become so popular that it seems every mall, grocery chain, and superstore has its own—and is perfectly willing to interrupt your checkout experience to try to pitch it to you.
This widespread popularity of branded payment cards is actually a huge drawback for Target's RedCard program. Today's busy customers are trained to tune out repetitive experiences like the obligatory "Would you like to sign up for a Walmart/Shoppers/HEB/Walgreens/Target credit card?" when trying to pay for their order and leave the store. The goal of your loyalty program is to improve the customer experience, not hinder it.

Most customers just aren't willing to add another card to their wallets and unfortunately, the Target RedCard program requires that they do. This means that tons of loyal Target customers are missing out on the most valuable rewards the brand offers, such as free shipping, extended return times, and exclusive items and offers. This restriction really limits the program's accessibility and might deter many potential customers. While Target Circle offers some very genuine value to those who engage with it, the best of the best is hidden behind a paid barrier which is the Target RedCards, meaning many customers may never get to realize that value for themselves.
Looking for a great rewards program? Aim for Target Circle
Target is a master of creating great customer experiences. With prices that make you feel like you're at Walmart and an atmosphere that reminds you of your local Barnes and Noble, it's no wonder customers love to love the bullseye brand. As one might expect, its rewards program is right on brand with diversified rewards that can appeal to a wide variety of customers without overwhelming them and a mobile experience that really puts the power of commerce in a customer's hands.
The Target Circle rewards program is actually so strong that the downsides only come when it limits some services or customers from being included. By hiding the program behind a branded payment card, customers who aren't looking to add another card to their wallet miss out on amazing offers and valuable discounts. Similarly, these amazing offers don't apply to some of Target's most valuable services like Optometry which, while understandable, leaves you wondering just how awesome the program would be without exceptions.
However, even with these slightly off-the-mark oversights, one of America's favorite discount brands has what might be one of America's favorite rewards programs. So if you're looking for a great program… aim for the Target Circle.
Editor's Note: This post was originally published on August 1, 2017, and was updated for accuracy and comprehensiveness on May 26, 2023.
Build a loyalty program as great as Target Circle
Launch your own rewards program in minutes