As someone who loves travelling but doesn't have the budget to match, I'm always looking for ways to save a bit of money when I'm abroad. In my research I stumbled across the World of Hyatt rewards program, and was very intrigued by the idea of saving money just by staying at the Hyatt. With nearly 800 hotels in 54 countries, Hyatt has an impressive global reach that allows travellers like myself to be rewarded in whatever corner of the world they find themselves in.
Needing to know if it was too good to be true, I decided to dig a little deeper and see if the program is really as rewarding as Hyatt makes it seem!
Where the World of Hyatt wins
When it comes to travel the Hyatt brand is often associated with luxury, and their rewards program is no exception. World of Hyatt is well thought out and includes an impressive array of elements that would make any traveller excited to stay with Hyatt.
Clear explainer page makes value easy to see
Since explainer pages are the first chance that companies have to garner interest about their program, it's important that they make a good first impression. Hyatt does a great job of this with a clear, visually focused explainer page.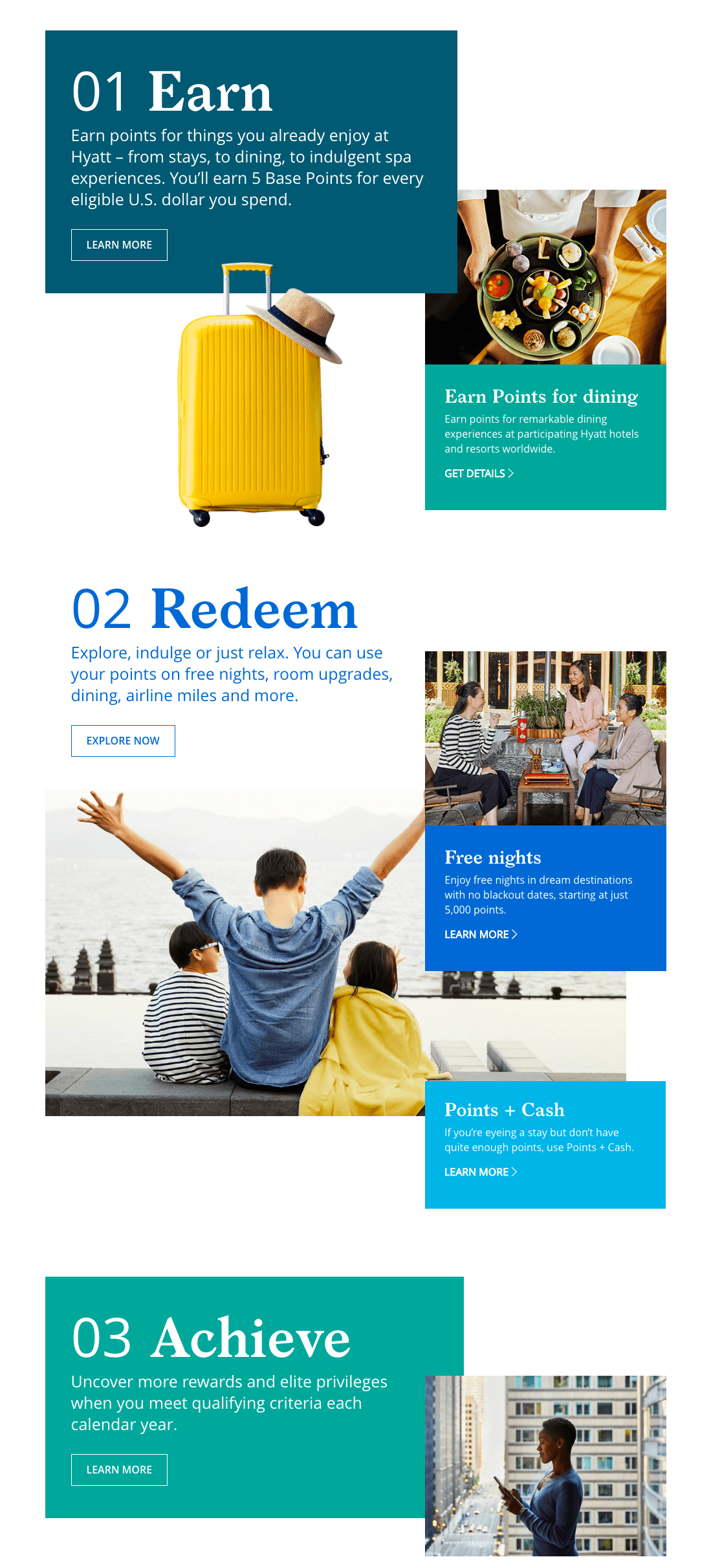 When I first landed on the page, I was pleasantly surprised by how easy it was to understand. The way Hyatt laid everything out was a very effective introduction to the program. It lists the steps I need to take in order to start getting rewarded, and includes links to all the important pages I need in order to explore the program in more detail. As a business you want to strike the right balance between being informative yet not overwhelming to new customers, and I think Hyatt did this beautifully with on-brand visuals and a effective layout.
Customers can get rewards they actually want
Probably my favorite part of the program (and the most impressive) is the variety of rewards Hyatt offers. With everything from free hotel stays to flights, car rentals, and spa getaways all over the world, the World of Hyatt ensures that there is a reward for everyone!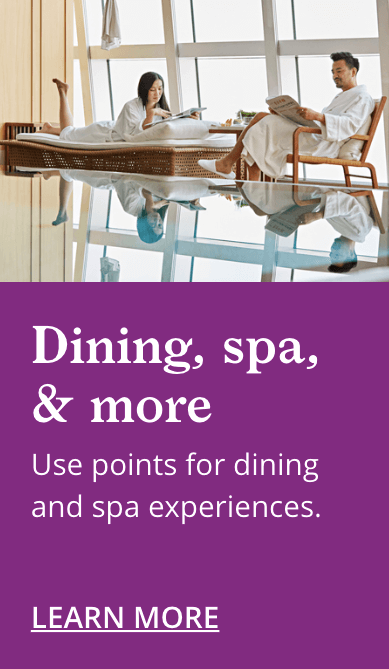 As someone who enjoys experiencing the culture of places I visit, the ability to redeem my points for experiential rewards in the country I'm visiting is incredibly rewarding. Hyatt is known for their world-class dining experiences, so the opportunity to experience local cuisine from top chefs is an incredible (and tasty) reward. These types of  experiential rewards are a great way for Hyatt to build emotional connections with their customers, moving their rewards away from being just another transaction that customers complete.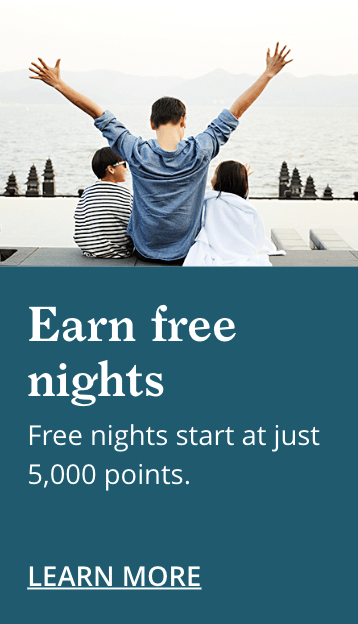 For more traditional rewards program members, Hyatt also allows you to redeem your points for free stays at any of their locations. Clearly Hyatt understand their customers' needs and recognizes the importance of striking a balance between providing dollar-driven value (such as free nights) and delivering unique experiences (like spas and dining).
Top-tier rewards make the program exclusive
Another element of the program that really impressed me was Hyatt's VIP top-tier rewards. The system has 4 tiers: Member, Discoverist, Explorist and Globalist.

The tiers are organized by the number of stays you have at a Hyatt hotel in a calendar year, with your first upgrade to Discoverist coming once you've stayed 10 nights. For guests with 60 nights or more under their belt, Hyatt offers even more incredible rewards and top tier status you can't get anywhere else.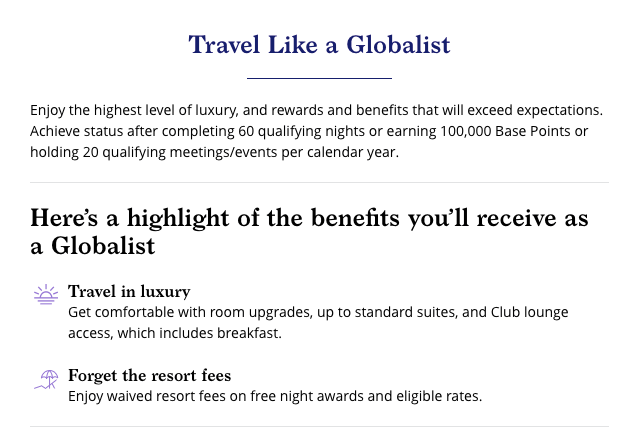 Since the Globalist tier is so exclusive, Hyatt can give these top VIPs incredibly valuable rewards, such as upgrading rooms to suites, free meals, and free late checkouts. For busy business travellers, these upgrades are definitely the most valuable part of the Hyatt program and are sure to keep them dedicated to the brand!
By keeping the best rewards for their most loyal customers, Hyatt is able to ensure that members in their lower tiers are properly motivated to continue to stay at Hyatt hotels more frequently. This gamification keeps their program engaging, exciting, and valuable for everyone involved.
How the World of Hyatt fails to impress
Although Hyatt's rewards program is pretty out of this world, it ain't all sunshines and rainbows. There are a number of areas that both myself and actual members of the World of Hyatt program feel need improvement.
Difficult to qualify for VIP status
While looking for more info on the World of Hyatt program, I kept coming across issues customers had with changes to the top tier qualification process. Hyatt used to offer a different rewards program that allowed you to qualify by either staying for 50 nights or staying on 25 separate occasions.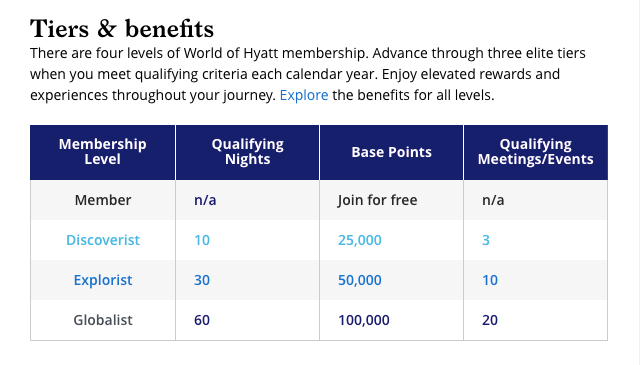 Now with the World of Hyatt rewards program, customers need to stay a minimum of 60 nights regardless of whether they were earned on separate trips or not. For someone like me (or most travellers for that matter), this change means that I'll likely never qualify for their top tier, especially since Hyatt is smaller than most international hotel chains.
The solution to this is simply to rethink their tier requirements. You want your top tier to be exclusive but also achievable. As it currently stands, the top tier is demotivating to many customers who prefer to stay at the Hyatt but don't need to use hotels for more than 30-40 stays a year. As a result, many of these customers will turn to other hotels with more accessible rewards programs, making World of Hyatt's VIP offering a little less than luxurious.
The ability to purchase points is a lose-lose
One of my biggest issues with World of Hyatt is that you are able to buy points for cash. The idea behind this is that travellers who don't have enough points to redeem a reward can top up their balance in order to cash in.  Purchasing points allows them to make up the difference in points and fully take advantage of the program.

In my opinion, this doesn't make sense from either a customer or business perspective. As a business, this robs you of a potential sale. Instead of benefitting off a $200 room booking, you've allowed a customer to purchase $20 of points and redeem their accumulated points for the exact same room.
As a customer this might seem beneficial but to me, it lessens the effectiveness of the reward. A reward should be something the company gives you, not something that you can purchase. It's important that a rewards program be an emotional experience, not a transactional one. Emotional experiences are more memorable and leave your customers feeling like you generously gave them a free experience rather than simply adding another transaction to the customer journey.

Rewards should be an 

emotional experience,
not a transactional one.
If Hyatt introduced other ways to earn, such as customer referrals, members would be able to qualify for all the rewards they want without having to spend another dime! That way, Hyatt could keep their business successful without cheapening their rewards experience, and customers could still reap all of the benefits of participating in their program.
World of Hyatt is too complex to be effective
Just because their explainer page is easy to understand, doesn't mean the rest of their program's mechanics are. When you start looking at how the program's organized, World of Hyatt starts to look a bit like the Frankenstein monster of rewards to me: a lot of random parts sewn together to create something complex.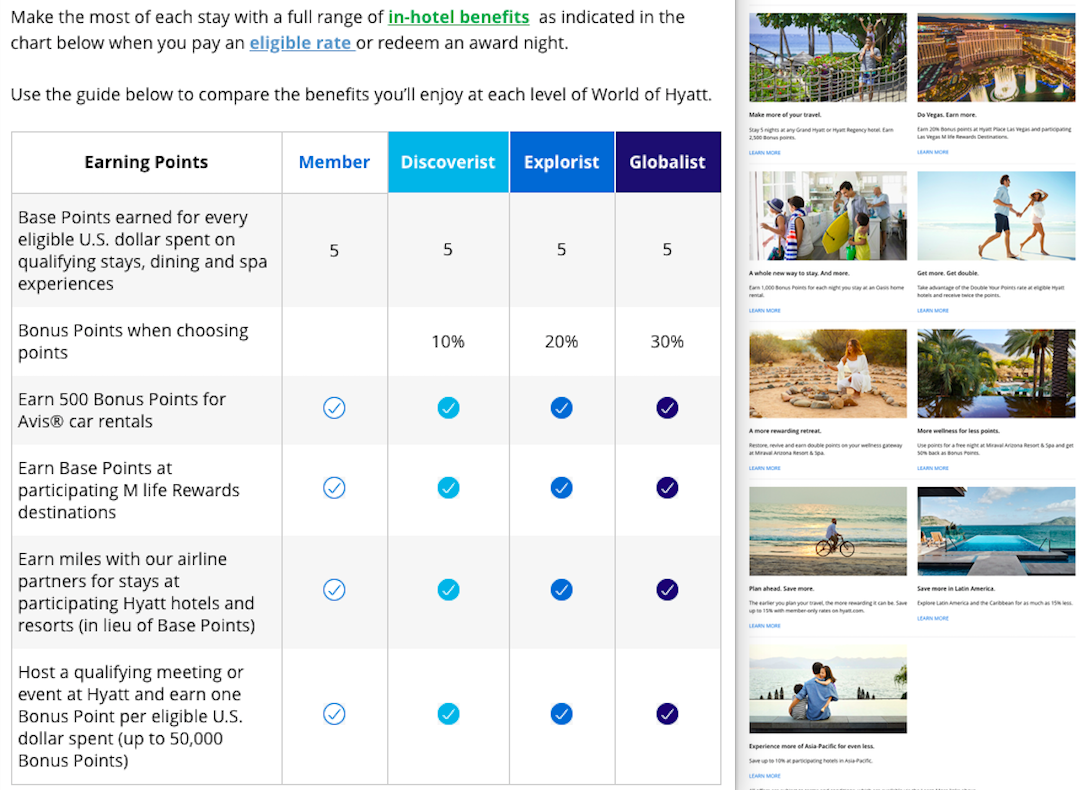 When you navigate away from their explainer landing page to explore specific details, it's easy to get confused as to how it all fits together. Rewards programs that give you only one way to earn are disengaging, but rewards programs with 9 different bonus offers and asterisks about "eligible rates" suffer the same fate. All these earning rules, and even some of the VIP perks, can cause major headaches for both Hyatt's customers and their employees when they have so many strings attached.
The program would be much more effective if they stuck to a core group of earning rules and a core group of benefits. Not only would it be easier to explain the value of the program, but it would also allow staff to be better trained on providing delightful experiences for their best customers. As a result, customers would be happier to participate and look forward to getting involved instead of anxious and overwhelmed.
How the World of Hyatt program checks out
If you're already a loyal Hyatt customer, this program is an amazing way to be repaid for your loyalty to their brand. However, if you're a more casual traveller such as myself, you're better off sticking with reward programs with lower barriers to entry like Wyndham or Hotels.com.
That being said, I'd definitely reconsider my position if I ever find myself traveling more frequently for business in the future. While they might not be an ideal solution for budget-conscious travelers, Hyatt has done a great job of caring for business VIPs with a wide variety of rewards and outstanding VIP benefits that help each of their members feel like the world is truly their oyster.