When we asked Smile.io users to share their favorite loyalty programs, the highest voted program was Amazons Prime. I will share my thoughts on what the loyalty program is doing well in the first section and then follow that up with some areas I believe Amazon could improve on.
What Amazon Prime Does Right
What started out as an online book store quickly became the gold standard in ecommerce. Amazon is an all-encompassing ecommerce solution, and is often seen as the "Wal-Mart" of ecommerce. Thanks to their size, popularity, and ongoing innovation, Amazon Prime remains a central topic of discussion in the future ecommerce.
1. Their Program is Easy to Understand
You will be greeted with plenty of benefits when you sign up for the program. The Prime explainer page does a really good job of showing all the benefits without overwhelming you.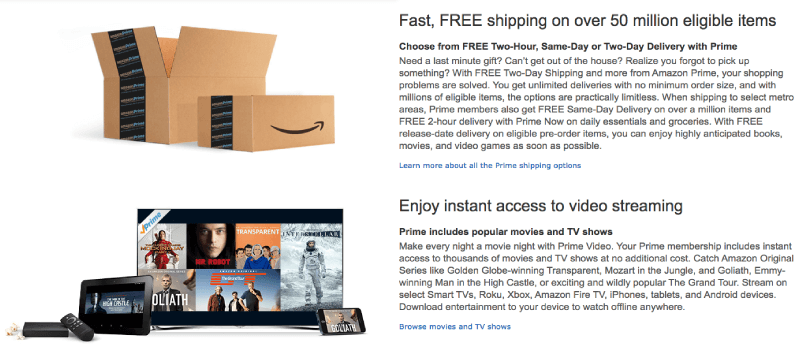 The page highlights each key benefit with an accompanying visuals, and provides a clear hierarchy of information. This makes the page easily skimmable, while also providing adequate detail for prospective customers. It's just enough information to get you excited, without being to overwhelming. This is vital for a strong explainer page.
However, some people will want all the details. That is why Amazon Prime links users to more detailed explanations. Want to know more about Prime Music? Just click learn more and all the details you could possibly need are right there.

Amazon's program at its core is a subscription to get cheaper expedited shipping and access Amazon's multimedia outlets. It can be boiled down to two main benefits, but Amazon does a really good job building these benefits out in order to create a program that is relevant to a variety of customers. Some customers are readers, while others love music. By diving into the details of program benefits, Amazon has created an explainer page with near universal appeal.
If you want to display loyalty program benefits with the effectiveness of Amazon Prime, I recommend reading our post on how to build an effective loyalty rewards explainer page.
2. They Offer a Broad Choice of Shipping Methods & Speeds
There is not a one size fits all loyalty program. You need to adjust and tweak your rewards in order to match what your customers are looking for in a program. A luxury brand loyalty program would be structured much differently than Amazon Prime. Nonetheless, Amazon does an amazing job of giving their customers exactly what they want.
Amazon's biggest advantage over other ecommerce stores is their variety of fast delivery methods. In fact, Amazon makes two-day shipping feel like the economy option by offering even faster methods, including drone delivery in some locations:
Members get their orders delivered fast, free, and with excellent customer service along the way. This simple benefit is one of the best examples of giving your customers what they want from your loyalty program. Amazon's dedication to fast shipping positions them as the torchbearer of ecommerce operations.
Before Prime, it appeared ecommerce was overlooked by many due to slow shipping and unpredictable outcomes. Amazon saw this and created Prime to deliver both peace of mind and convenience for their customers. Following in Amazon's footsteps, you should create a loyalty program that challenges a customer's expectations and surprises customers with immense value.
3. Prime Comes With Additional Perks: Music, Movies, and More
This relates to point number two above. Most know Amazon for their selection and shipping, but many people are unaware of their other services. For example, most people use Netflix for video streaming and Spotify or Apple Music for music streaming.
Amazon has competing products for these, Prime Music and Prime Video, and they all come free with a membership. Prime also includes online photo storage and access to thousands of ebooks. It's a fantastic way to get your services into the hands of thousands, and to build a thorough ecosystem of products and services.
As I write this post, I keep wanting to call these services "free." From a user's perspective, the $99 spent per year is to take advantage of the shipping offers, while other features feel like extra perks. They aren't really free, but Amazon positions them as perks rather than features in order to create this illusion.
Members see extra features as a cost saving opportunity, since they are already paying more per year for services that don't deliver the same breadth of value. Members see value in using these services and Amazon expands market share and brand awareness in all of the areas they are less well known for. This is loyalty marketing at its finest!
What Amazon Prime is Doing Wrong
Before I get into this section I want to clarify that I could not find any glaring problems with Amazon Prime like I usually do with other loyalty programs. This is more of a "recommendations for improvement section" than it is a "what's wrong" section.
1. The Price Is Not Worth It For Casual Users
Loyalty programs are usually a tool used in retention marketing tactics. This means they are focused on getting a greater percentage of your existing customer base to come back and become profitable repeat customers.
The problem I have with Prime is that it really only provides solid benefits to those who plan on making multiple purchases in a year. This means that the program is getting repeat customers to purchase more—which is not a bad thing—but it is not going to be motivating for customer who make an occasional purchase.
I believe Amazon would see some amazing results if they created a program that was focused on creating more repeat purchasers, rather than getting more out of their existing ones.
2. Users Are Not Rewarded For Spending More
Today's best loyalty programs incorporate elements of gamification or status-based rewards. This means they challenge customers to strive to be better or to beat each other. These types of programs are called VIP programs or tiered programs. Amazon would no doubt benefit from a program like this.
One of the best examples of a tiered loyalty program is Sephora's Beauty Insider, which has gotten makeup users to be proud of spending $1,000 a year at their store.
I believe Amazon could take advantage of a similar style program. If I were to restructure Prime, I would make it free to join and give additional shipping benefits based on tiers. Members would start in basic and get discounted shipping. When a customer makes a certain amount of purchases in a year (maybe one above the average purchase frequency) they get free basic shipping. When they make the next threshold of purchases they get free two day shipping like the current Prime structure.
This tiered style program would allow Amazon to see the benefits they currently see with Prime while engaging for customers who are not yet frequent buyers. Customers will spend more if they are challenged to do so!
3. Amazon Confuses Customers With Multiple Loyalty Programs
Amazon has two types of loyalty programs: Amazon Prime and Amazon with Points. This is a collaboration with other point providers, where they can use those points to make purchases on Amazon. Amazon does offer points directly through a Visa card, but the majority are done through external point system.

Running two different programs can create a lot of confusion—especially when both are so prominent. Amazon could easily combine Prime and a points based program to make something that would be super effective.
Is Amazon Prime Worth It?
All in all, I really like how Amazon has structured the Prime program. Like I said, I am not that big a fan of pay to join loyalty program, but I can still appreciate them. They have created a program their customers love and they give those customers exactly what they are looking for.
I think they could improve the program with some gamification elements and a little more focus on creating more repeat customers, rather than just getting the most out of their power users.
That concludes the Amazon Prime case study. If you have a loyalty program you would like me to evaluate please let me know by tweeting @smilerewards with the loyalty program you would like to see. If you want more loyalty and retention tips checkout our resource center, and stay tuned for the next loyalty case study.