Everyone's heard the tale of the lone entrepreneur working alone in their garage for months on end in order to bring their vision to life. While there's no questioning that some of the best brands were born this way, there is another path to success - brand partnerships. Also known as co-branding, this is the strategy of working with another brand to sell a single product or service.
"Co-branding is a marketing strategy that involves strategic alliance of multiple brand names jointly used on single product or service."
Wikipedia
When you're first starting out as a small business, co-branding partnerships allow you to survive and compete with larger, more established businesses. This is also a great strategy for acquiring new customers, building engagement amongst them with both brands, and retaining them through the additional value made possible with partnerships.
Just because you're a small business doesn't mean you're limited to teaming up with other small businesses. Strategic brand partnerships come in many different shapes and sizes, including partnering with large brands or organizations. You can join forces with a brand similar to you to provide more value to your existing customers, or you can partner with an unrelated brand to redefine your industries.
There are endless ways to create partnerships where both brands can benefit so let's take a look at some of the strategies your small business can use to retain customers like a pro.
Partner with like-minded brands who share similar values
It's no secret that working with someone else can be great, but it can also present challenges: two equal partners means two equal opinions that need to be considered. The best way to take advantage of the innovation and new ideas that brand partnerships bring, without the obstacles, is to partner with a brand that shares your values. Working towards the same goal allows you to see the value in each other's actions and enables you to provide more value to your customers.
The other advantage of working with like-minded brands is that the relationship can mutually benefit both of your growth. Each brand will be able to leverage each other's brand advocates and turn them into brand advocates of their own! The key to turning a customer into a brand advocate lies in the emotional connection you can build with them. By partnering with other brands you're able to strengthen your narrative to your community in order to engage more customers.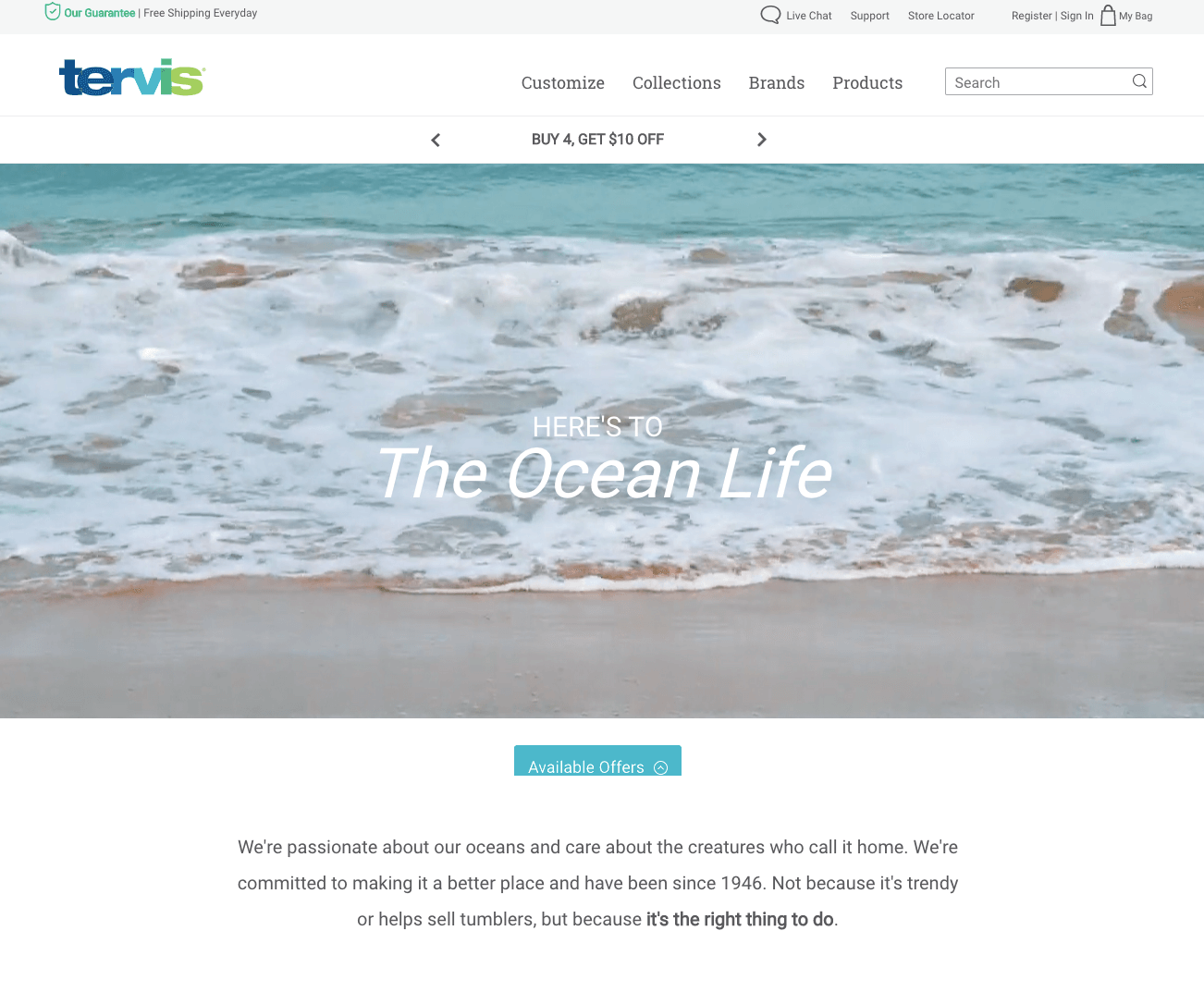 One of the best ways to make your brand partnership visible is by collaborating to create products to sell in your e-commerce store. Ivory Ella and Tervis offer the perfect example of this strategy. Where Ivory Ella's commitment lies in protecting the elephants, Tervis is committed to preserving the oceans by reducing single-use plastics. Both brands are built around a commitment to sustainability, stewardship, and protecting wildlife, which creates the perfect opportunity to work together towards this goal.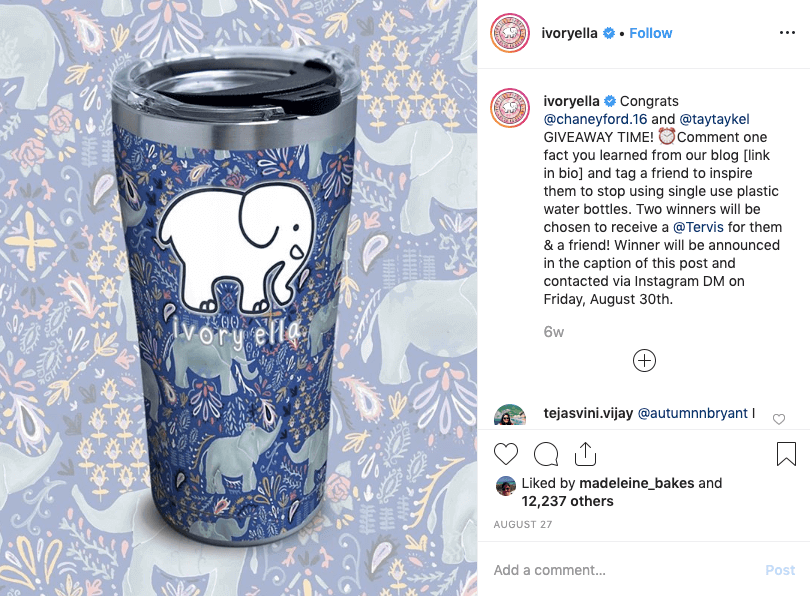 Ivory Ella's elephant-themed tumblers are not only cute, but they give customers the chance to support two closely-related causes at once! This type of product co-branding also presents additional customer engagement opportunities. Social media contests and giveaways are the perfect way to connect with customers online and motivate them to engage with both brands. These promotions are great initially for acquiring customers, and your brand partnership story will keep them coming back.
What you can learn
There's strength in numbers! Partnering with other small businesses that share similar values allows you to leverage both of your brand communities for a long-lasting, mutually beneficial brand partnership.
Look for service partnerships, not only products
While finding other products that your customers value is one strategy, don't rule out service brand partnerships. Finding a service that complements your product is a great way to create a seamless customer experience. Providing this additional value to your customers allows them to accomplish more than they thought they would be able to with your brand.
As a small business, the most important thing you can do is to fully understand your customers. Product-service partnerships fill the shortcomings that customers experience with other brands. Providing an efficient and pleasant consumer experience from start to finish gives your brand a competitive advantage that helps you stand out and creates switching barriers that can help you retain your customers.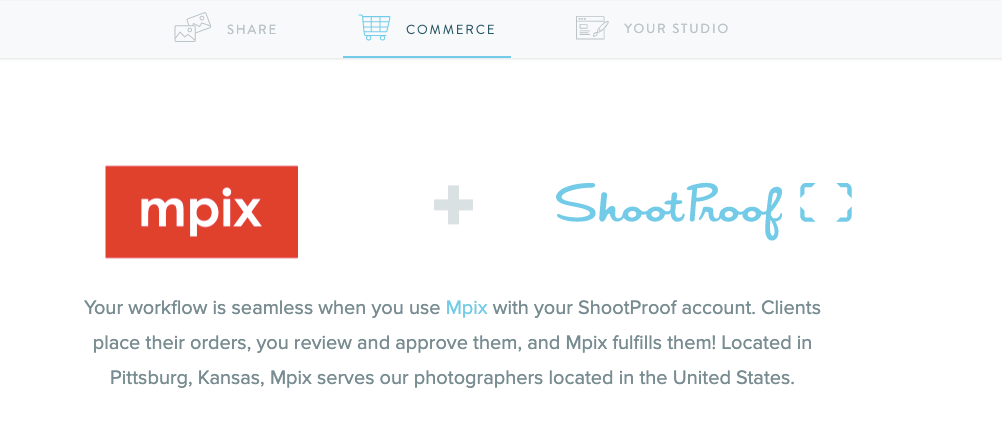 Putting yourself in your customers' shoes lets you fully understand how to add value for them. Mpix has done this through an integration with Shootproof, an online service that allows professional photographers to upload, share, sell and print their work. By fulfilling customer orders from Shootproof, Mpix makes a photographer's life easier and is able to capitalize on this network effect to grow their customer base.

This partnership has also allowed Mpix to compete with larger brands like Shutterfly by giving them that unique competitive advantage. The satisfaction of these two parties is a great way to bypass customer acquisition costs and move directly into engaging these customers to encourage repeat purchases. Mpix further locks those customers in through their tiered rewards program that offers customers different point values based on their achieved status. This is the perfect strategy to motivate both Shootproof's loyal photographers to reach that platinum level, as well and their end-users.
What you can learn
Understanding your customer experience is key to creating a loyal community. Partnering with complementary services can streamline these experiences and provide additional value.
Allow your partnership to drive your brand's social cause
For some brands, it's all about supporting a greater cause and giving back to the community, often because customers are drawn to brands that have missions that align with their own personal values. This support needs to go beyond a simple tagline or image on the brand's website though - it needs to be evident every step of the way. From the way the company engages on social media, to the organization it supports, brands must be communicating in an authentic and impactful way in order to build real emotional connections.
Brands that engage in this type of social responsibility often partner with charities or local organizations. In many cases, these partnerships are the defining foundation of their entire business model, whether that means that a portion of profits are donated to the organization or their actual products are designed to represent the cause.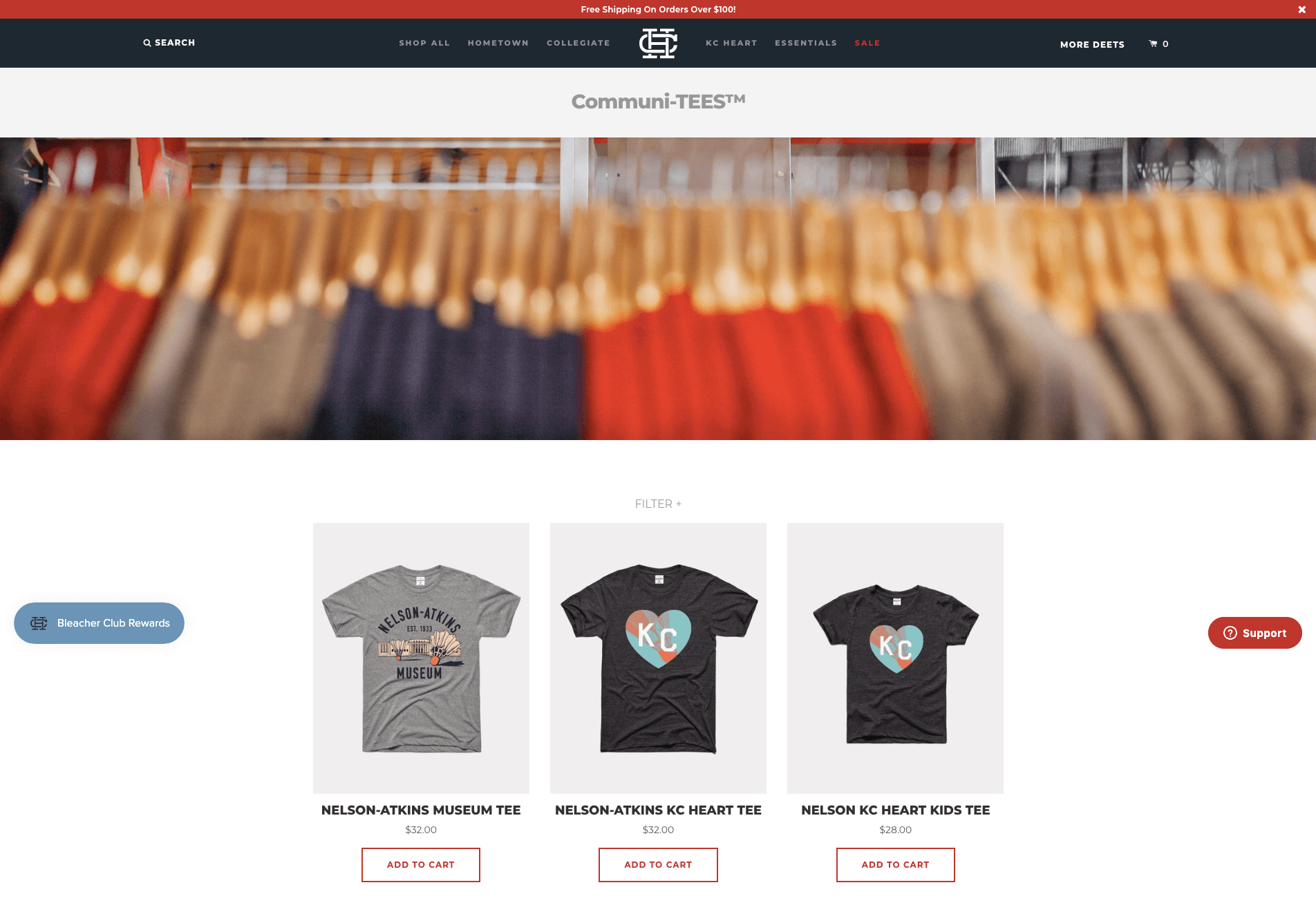 Take Charlie Hustle's Communi-TEES line for example. This line of classic Kansas City designed t-shirts donate a portion of their proceeds to the local Nelson-Atkins Museum of Art's educational programs. The benefits of creating these local partnerships are two-sided for your small business - you're able to connect with these brands more directly and your customers can easily recognize the value in the cause because it's so close to home!
While staying local is a great option, sometimes brands partner with larger social organizations. The advantage of thinking worldwide is the opportunity to attract an online global brand community.
Partnering with well-established charities provides a large pool of passionate and engaged people who already support your brand's mission. Ocean & Co dove head-first into this type of charitable partnership strategy by working with three different organizations that are changing the tide of ocean pollution. With a target cause front and center, 10% of profits from their ocean-themed products go towards Karen Beasley Sea Turtle Rescue and Rehabilitation Center, Lonely Whale, and OneLessStraw.
What you can learn
Actively practicing social responsibility is a great way for your small business to retain customers by giving them the chance to continue advocating for causes they're already passionate about.
If you can't beat them, join them
Starting a new business in a competitive industry can be intimidating. How are you going to first attract customers as a new brand? How are you going to compete with the Amazons and Googles of your industry? As the e-commerce space continues to explode, it's next to impossible to find an industry with no big competitors. The best way to overcome this obstacle is often to turn your competitors into your allies.
Collaborating with competitors is a strategy that might sound a little counterintuitive at first, but it can provide a leg-up for your small business. When two brands are targeting the same audience, it can benefit both of you to work together in order to provide more value to your customers.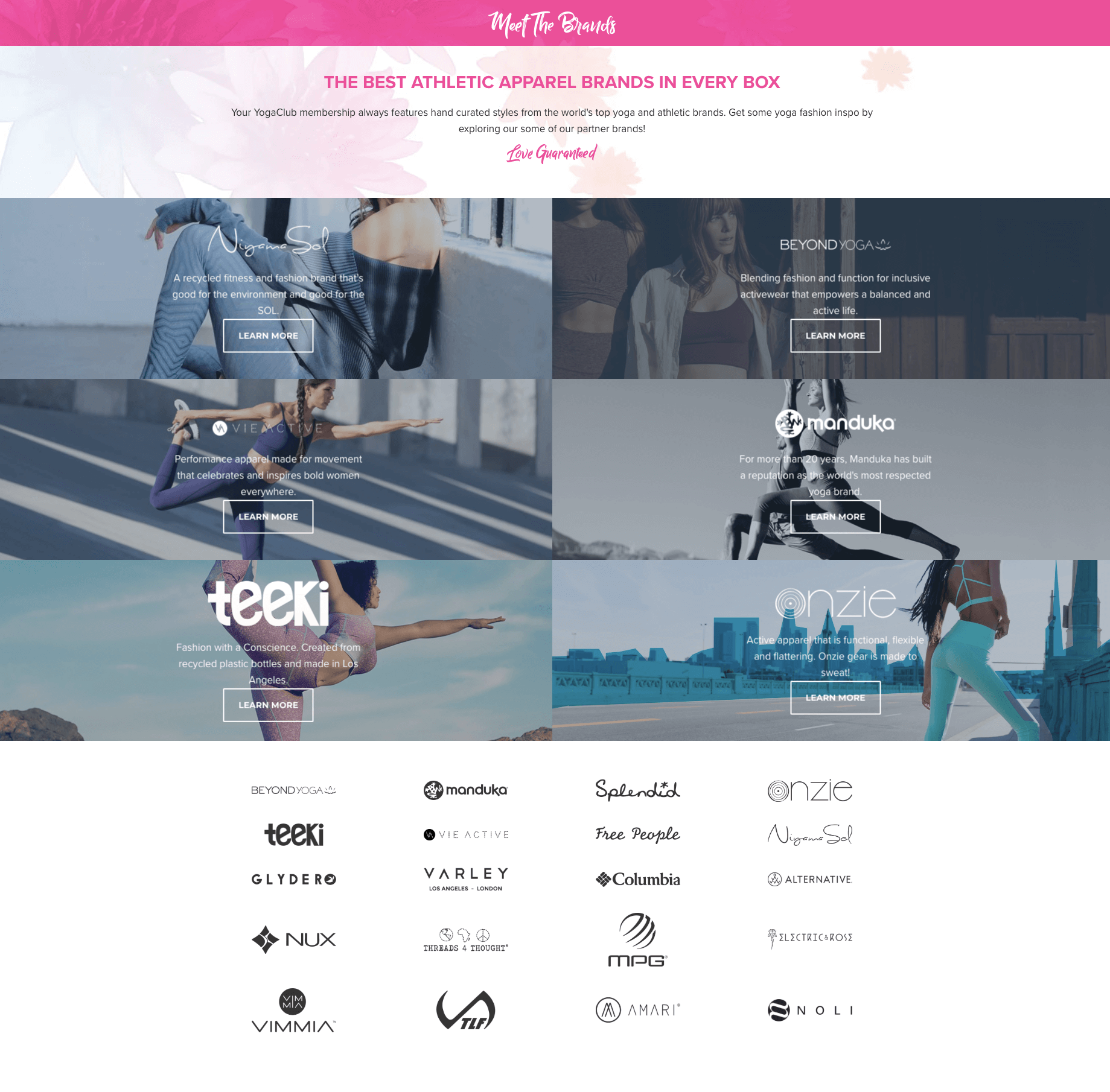 Operating in the ever-growing athleisure market, Yoga Club offers customers subscription boxes with high-quality fitness apparel. Thinking outside of the box (or should we say inside of the box) has allowed Yoga Club to compete in this saturated industry by using a different type of business model to turn potential threats into their partners!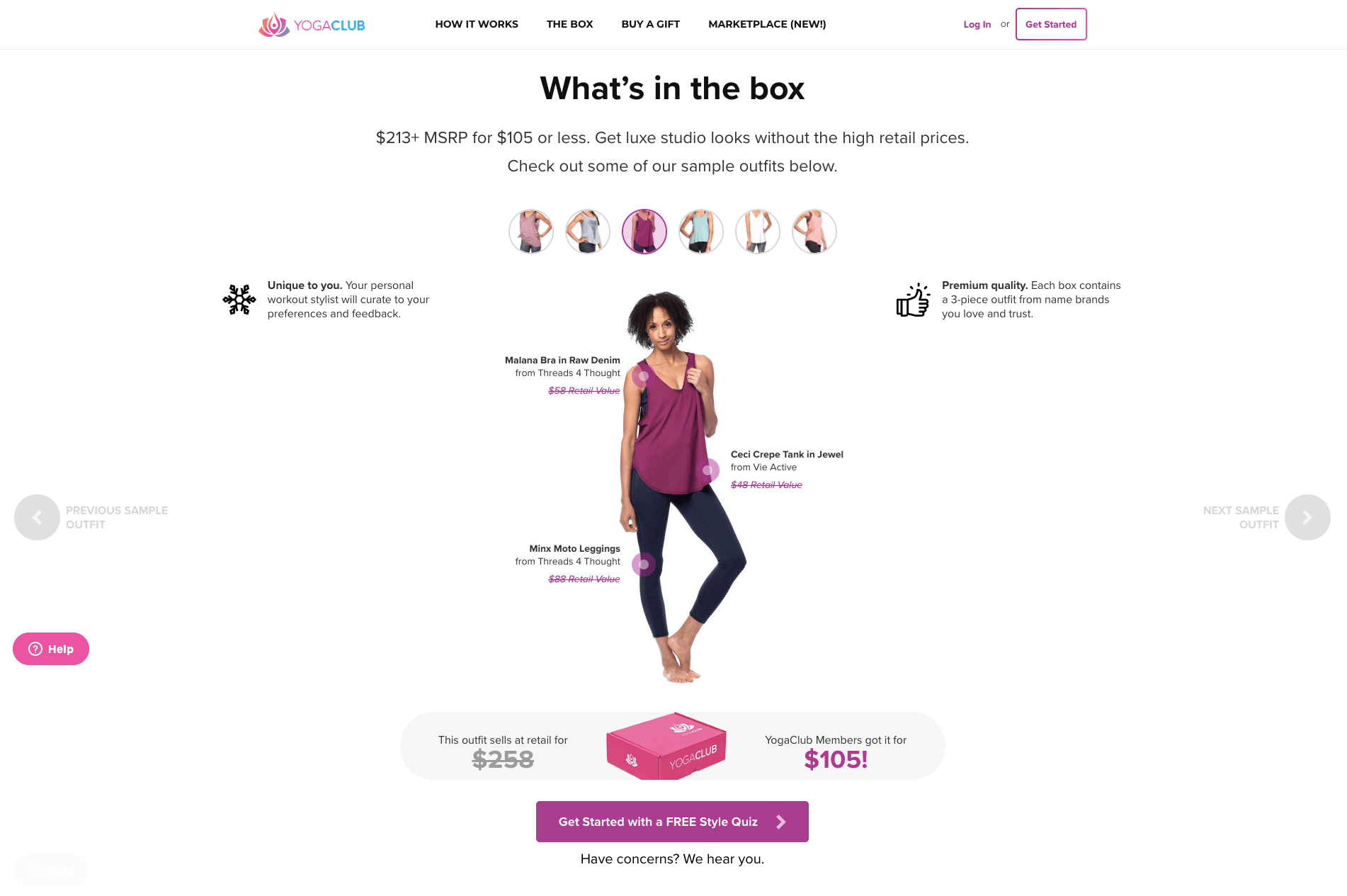 Yoga Club customers pay $105 per box and receive a full outfit where the same outfit would cost more than double the price at retail. This value is extremely attractive to customers and the ability to reach even more customers is what draws partner brands in. Using creative business models like subscription boxes is a great way to make your competitors excited about working with you, rather than threatened.
What you can learn
Show your competitors that you can provide both them and their customers additional value and they'll be happy to work with you.
Set the groundwork for long-term, sustainable partnerships
The best brand partnerships of all time are not those created for a limited time only, they're long-term collaborative relationships that benefit both brands.
You don't have to limit yourself to one partnership though. By creating a network of partnerships you can draw in even more brand communities while reducing the dependency risk associated with traditional partnerships. With a wide variety of brand offerings, brands can even employ proven loyalty strategies such as bonus points campaigns. Offering 2x the points for a certain brand is a great way to quickly engage that brand's loyal community.
In successful co-branding relationships, customers will discover your brand through your partnerships. While it won't happen overnight, it's important to set the foundation because while retaining customers takes time, it is totally worth it.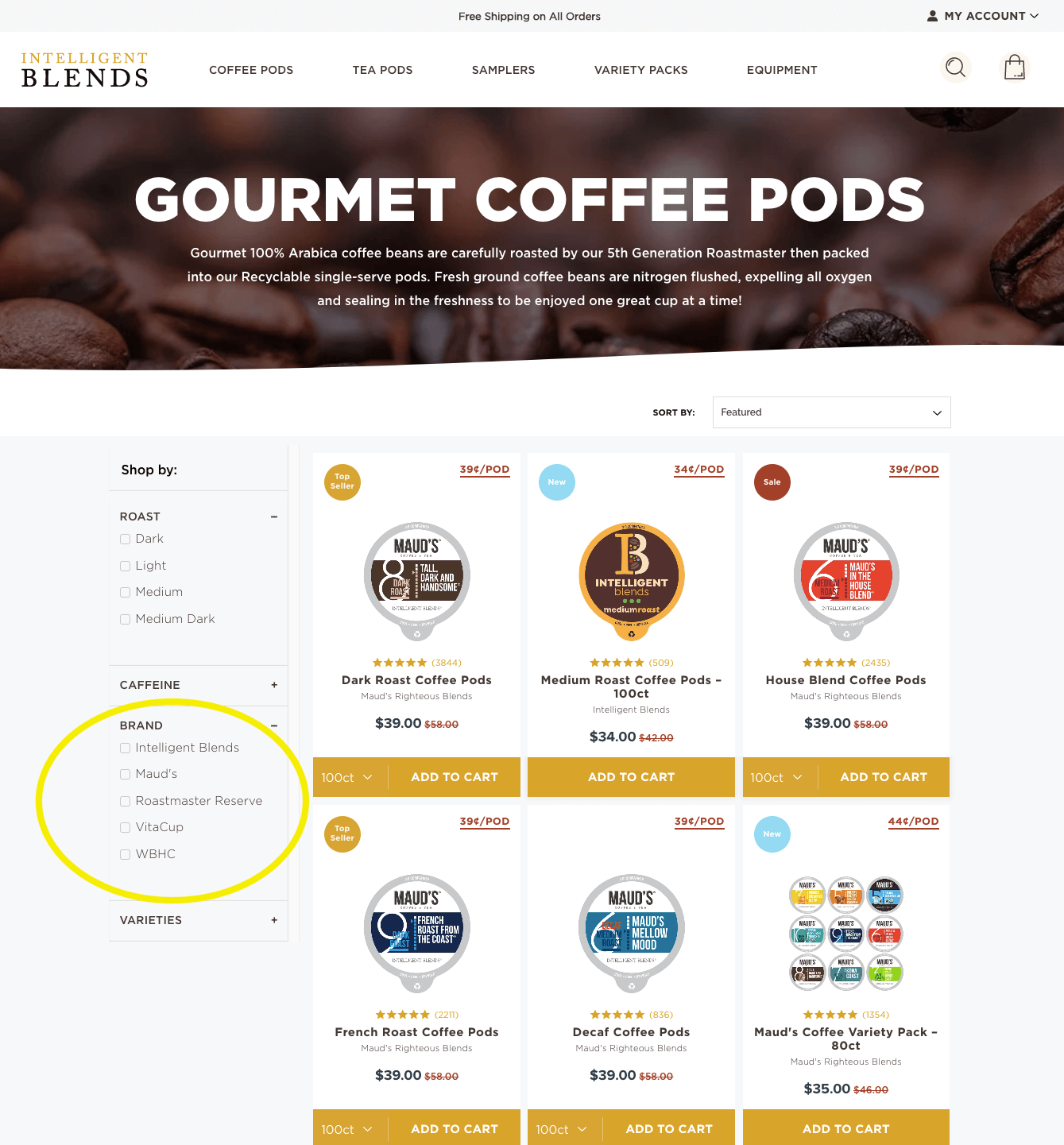 Intelligent Blends offers premium gourmet coffee and tea pods at discounted prices. There's no doubt that millions of people love coffee, making this an extremely competitive industry. Not only does Intelligent Blends have to compete with Keurig, Nespresso and Tassimo, but they also need to show their advantage over other coffee options like Tim Hortons or Starbucks. They've brewed up a perfect strategy to do this by partnering with brands like Tejava, Roastmaster Reserve and VitaCup to allow customers to purchase whatever brand they like best at everyday low prices.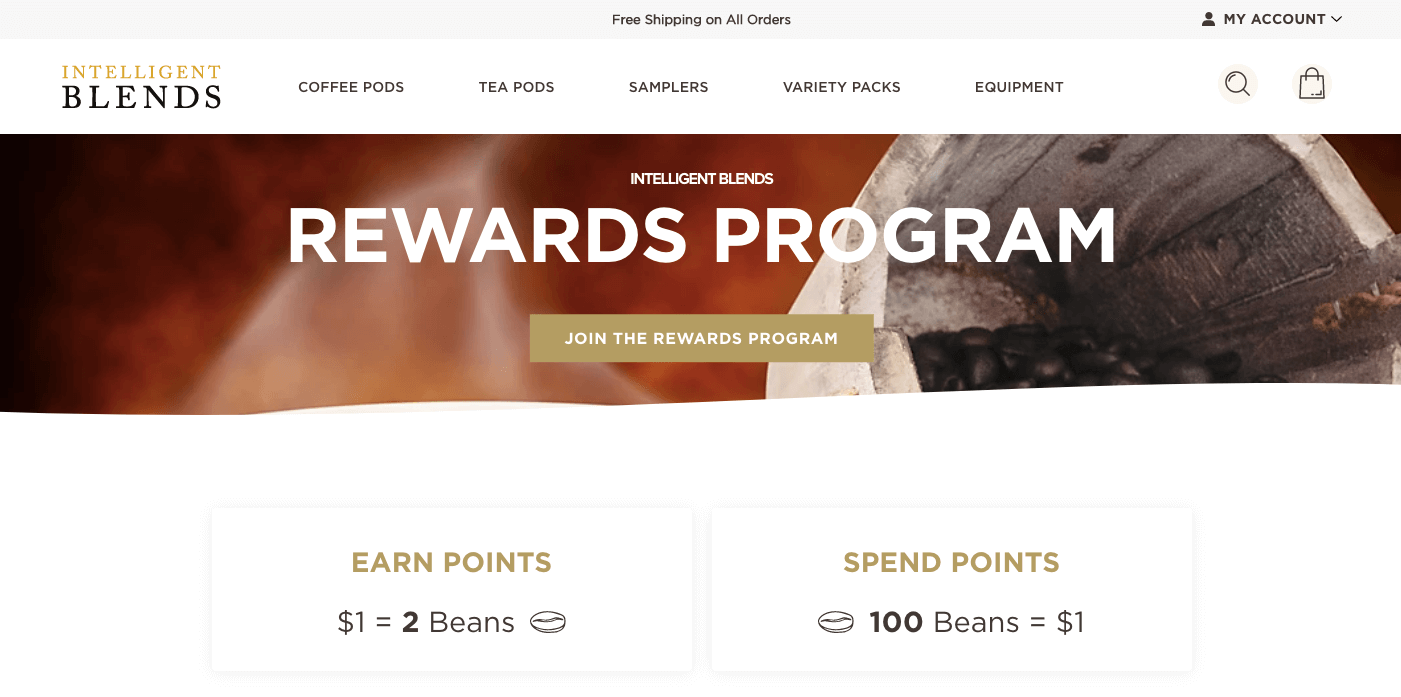 Their wide variety coupled with their rewards program has set them up for long-term success. Coffee lovers are perhaps some of the most loyal customers making them the perfect group for a points program with their high purchase frequency. There's nothing bitter about earning rewards on something you drink every day!
What you can learn
Form partnerships with a long-term focus to ensure that you have the team you need to build up your customer retention.
The road to success doesn't have to be lonely
"Two minds are better than one." This is a message that's held true for centuries and can prove true for your small business as well. Leveraging someone else's brand community allows you to share your story with a large group of people right away. Whether you partner with similar brands, complementary services, or team up with your competitors, a brand partnership might just be the missing piece of the puzzle you've been searching for.