If you've been keeping up with retention marketing trends, you've probably noticed that the new hot topic in the customer loyalty world is "experiential rewards".  No matter what industry you're interested in, everyone seems to be talking about this somewhat elusive way of rewarding your best customers.
I use the term elusive only because "experiential rewards" are still a relatively new concept and the precise definition can be difficult to pin down.  However, one thing is clear: experiential rewards are the next step in the evolution of customer loyalty programs. As commerce changed, so did the rewards programs that accompany it. What was once just a portfolio of discounts and free shipping coupons has quickly expanded to include more unique and customer-centric ways to reward and recognize your best customers - including experiential rewards.
Experiential rewards
are the next step in the evolution of customer loyalty programs.
As the structure in which rewards are offered evolves, so does the type of rewards being offered.  All of this growth means that you need to have a good grasp on the new wave of retention marketing and how it will impact your business.  Since experiential rewards are leading the charge for the future of loyalty programs, they're the perfect place to start!
In order to get a better understanding of experiential rewards, we're going to take the classic problem-solving approach by asking a series of critical questions:
What are experiential rewards?
Why are they effective?
Who should be using them?
When should you use them?
How are brands already using them?
By the end of this post, you'll not only be more knowledgeable about what experiential rewards are, but will also be more equipped to start including them in your own stellar rewards program!
What Are Experiential Rewards?
When you're exploring a concept for the first time, "what" is a great place to start.  However, while terms like customer lifetime value or  customer engagement have pretty concrete definitions, there are very few complete explanations of experiential rewards.
Experiential rewards go beyond transactions to improve the larger customer experience.
Thankfully, we're here to change that!  Experiential rewards can be defined as rewards that go beyond transactions to enhance the larger customer experience.  The goal of offering this type of reward is to exceed your customer's expectations by providing them with access to experiences that can't be replicated or found anywhere else.

Experiential rewards help establish
deeper connections
between customers and brands.
In other words, experiential rewards have the power to turn routine purchases into a stronger emotional connection between your customers and your brand.  From celebrity meet and greets, private events, personalized products, and product launches (just to name a few), experiential rewards have the power to shift your rewards program from transactional to transformational.  As a result, experiential rewards become fully immersive ways to build relationships with your customers that make a much stronger impression than a discount in price ever could.
Why Are Experiential Rewards Effective?
Even though I already alluded to this in the previous section, it's definitely worth spending more time on.  By engaging your shoppers in new and exciting ways, experiential rewards give you the perfect opportunity to help your customers build lasting memories.  These memories will have a far greater impact on your brand's reputation than a fleeting discount, bringing customers back to your store in the hopes of experiencing that type of enjoyment again.
44% of shoppers believe that the reward they're being offered are
irrelevant.
Experiential rewards are also extremely effective because they involve a level of personalization most rewards programs lack.  It's no secret that customers are looking for personalized experiences and rewards, with 44% of shoppers admitting to being unhappy with programs because the rewards feel irrelevant.  This isn't surprising when you consider that 97% of all reward programs rely on transactional rewards.  For those unhappy customers, this one-size-fits-all approach to rewards just doesn't cut it.
This is where experiential rewards come in, breaking traditional expectations of loyalty rewards and give customers a chance to feel truly special.  The best part?  Your customers will want to share these incredible experiences with their friends and family.
Experiential rewards encourage customers to share your brand with their friends and family, increasing its
value and visibility.
When people share their experiences with your brand online, your marketing reach grows with it.  When people see their friends and family enjoying something amazing, they too will begin to desire the types of rewards your customers are showing off.  With the fear of missing out and the desire to be part of something exclusive as powerful psychological motivators, your program instantly becomes more valuable.
Who Should Be Using Experiential Rewards?
While the obvious (and expected) answer is that every brand can benefit from experiential rewards, there's a bit more to it than that.  Your success with this type of reward is largely dependent on your industry.
Take the food and beverage industry, for example.  With an extremely high customer lifetime value and purchase frequency, customers are going to be accumulating points at a relatively high rate.  In order to make these "high quality" rewards truly special, you would need to ask customers to redeem an awful lot of points, creating a barrier to entry that could leave many customers disinterested in the value your program has to offer.
Fashion, cosmetics, jewelry,
and
travel
are well-suited for experiential rewards.
On the other hand, fashion, cosmetics, jewelry, and travel brands are practically built for experiential rewards.  Since luxury is an integral part of each of these industries' business proposition, customers are more likely to appreciate the status and exclusivity that experiential rewards provide.  As a result, they'll be much more willing to earn more rewards over a longer period of time in order to experience these larger than life benefits.
Understanding your customers and what they
value
is the key to successful experiential rewards.
Ultimately, it comes down to understanding who your target demographic is and what they value.  If you can reasonably create a use-case for experiential rewards in your business, go for it!  Your customers won't mind one bit.
When Should Experiential Rewards Be Used?
Now that we know the who, the what, and the why of experiential rewards, it's time to look at the when: when should you be offering experiential rewards? Thankfully, this is actually a fairly easy question to answer, and it's all thanks to tiered reward programs.
At their core, tiered programs are based around that ever-present idea of status and luxury  - two themes that have already come up several times.  This correlation makes tiered programs the perfect vehicle for experiential rewards.  Offering these amazing rewards to only your best customers will keep their value high, delivering a one-two punch of special status and similarly elevated treatment.
Although it's clear to see that tiered programs and experiential rewards are perfectly suited for each other, I want to be clear that the two don't have to go together.  Take Sony, for example: instead of breaking customers into different tiers, they give everyone an equal opportunity to earn points and redeem them for a wide host of experiential rewards.  No matter how you structure your program, you can take advantage of the appeal of experiential rewards.
How Are Brands Using Experiential Rewards?
Experiential rewards may be part of the new shift of retention marketing but that doesn't mean there aren't already some great examples to learn from. Studying experience experts like Kohls', Sony, e.l.f., and Neiman Marcus can give you the inspiration to design your own larger than life rewards.
Kohls' Yes2You Rewards Fashion Photshoot
Kohls gave one lucky customer the opportunity to "fill a celebrity's shoes" as a model for the launch of reality star Lauren Conrad's latest fashion line.  The reward winner was treated to a day of pampering and fashion before getting the chance to meet the designer herself, bringing together all of the things she already loved about the brand.
As only one of many one-of-a-kind rewards the Yes2You program has offered (including tickets to the American Music Awards, tickets to Hollywood premieres, and more) this experiential reward is a fantastic example of a brand learning what their customers really want and delivering rewards accordingly.
Sony's Ultimate Rewards
Similar to Kohls, Sony uses their Ultimate Rewards to take their customer experience to the next level.  From Hollywood premieres to sporting events to concerts, Sony gives their customers to chance to make their dreams come true - but not without a little twist.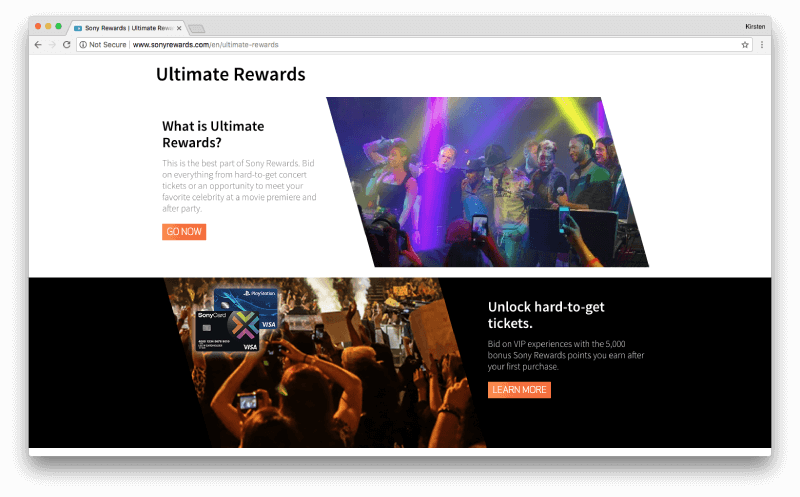 Unlike other rewards programs, Sony requires their members to bid on these exciting experiential rewards with the points they've earned by being a member.  This introduces an added level of gamification that can't be rivaled.  This marketplace approach to rewards redemption makes the redeeming process an experience in itself, putting the power to assign value in the hands of the customer.
Neiman Marcus' InCircle Chairman Perks
Neiman Marcus takes experiential rewards to a whole other level with their 8 tiered InCircle program.  As a member of their two highest tiers (President's Circle and Chairman's Circle, respectively), customers are treated to a slew of luxuries, including concierge services, valet parking and salon services (just to name a few).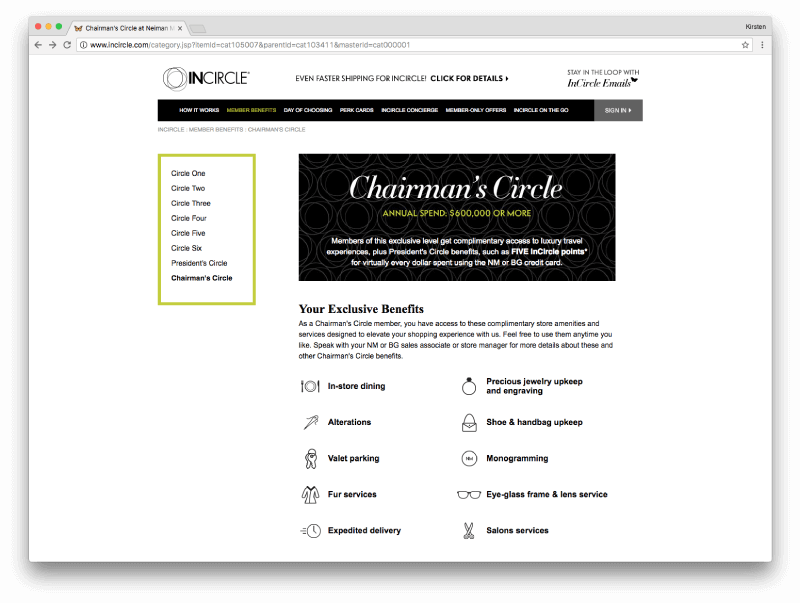 The level of thought and care Neiman Marcus put into the experiential rewards offered at every level shows a dedication to their customer experience that most brands can only dream of.  With these rewards available, one thing's clear: no one could ever accuse them of a poor VIP experience!
Experiential Rewards Will Take Your Customer Experience to the Next Level
Ultimately, the power of experiential rewards is in the combination of inspiration and aspiration.  Experiential rewards inspire your best customers by giving them positive associations that last much longer than a transactional reward.
Experiential rewards will make your brand more
memorable, valuable,
and
desirable.
These unique, shareable experiences will also help you build a brand community that gets customers excited, expanding your marketing reach and further solidifying the idea that your brand really is the ultimate solution.  Much like Mastercard's #PricelessSurprises campaign, experiential rewards will make your brand feel absolutely priceless.  How's that for customer experience?