Whether you're a fan of online shopping or not, you'd be hardpressed to find a more successful ecommerce brand than Amazon.  With almost $62 billion worth of annual revenue in the U.S. alone, Amazon has been competing in a league of their own for years, with growth rates of 23% or more year over year.

Since 2005, Amazon Prime has been a significant contributing factor to this ongoing success.  For only $99 a year, members are treated to express shipping, exclusive content, early access to new products, and more, taking the "line" out of online shopping.  These perks – along with the ever-expanding scope of Amazon's marketplace – have made the ecommerce giant a force to be reckoned with.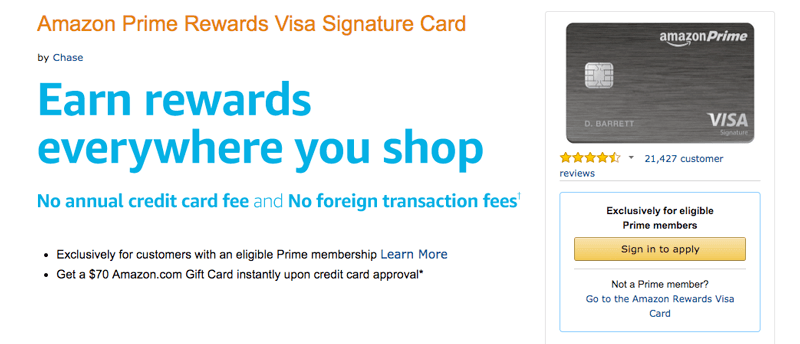 However, even with so many winning features under their belt, Amazon isn't satisfied.  In mid January 2017, Amazon announced their newest customer experience sledgehammer: the Amazon Prime Credit Card.  Available to all Amazon Prime members, the Amazon Prime Rewards card boasts no fees, normal interest rates, and 5% back on all Amazon purchases.

When you put it down on paper, it sounds too good to be true, right?  That's the question many consumers are left with following this exciting announcement.  In order to determine the answer, let's break down how the Prime credit card actually works.
A Brief Introduction to the Amazon Prime Credit Card
The Amazon Prime Rewards card is available to anyone subscribed to the Amazon Prime rewards program.  While other credit cards may have an enrolment fee, the cost of the card is included in the customer's Prime membership and, with the $70 Amazon gift card they receive as a signing bonus, the membership itself  is practically free!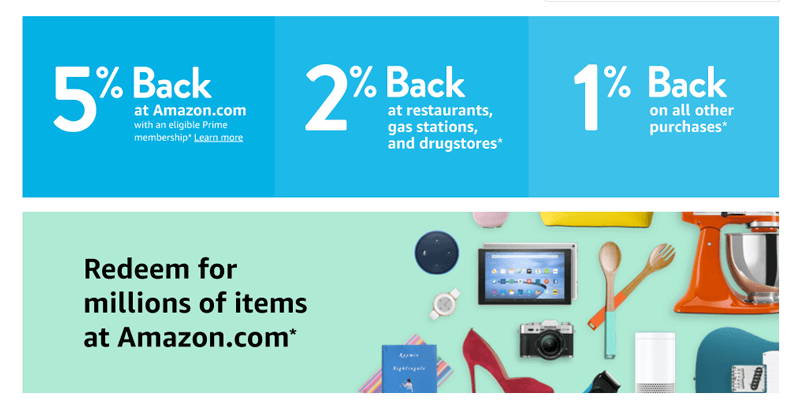 Once members have been approved, they can begin earning points that can then be turned into dollars off.  Customers will earn 100 points per percent-back dollar spent, with shoppers receiving 5% back on all Amazon purchases, 2% back on specific restaurant, gas, and drugstore purchases, and 1% back everywhere else.  With this earning model, an Amazon purchase of $100 earns a customer 500 points, giving them $5 cash back.

In addition to the cash back guarantee, customers do not  need to worry about foreign transaction fees and are also given access to concierge services, roadside assistance, and travel insurance.  With all of these perks on the table, the Amazon Prime card seems to be a valuable aid to almost any lifestyle.
Why Amazon Prime Rewards?
Even after examining the program in full, Amazon's credit card rewards still look to good to be true, so what could be prompting this exceptional offering? Simple: revenue.

In June 2016, Amazon reported over 63 million Prime users.  This staggering number is equivalent to over half of all of the households in the United States, but of all of these members only 15% used an Amazon credit card.  When you consider that Amazon credit card holders spend 4.6 times more per transaction, upping the number of credit card holders by even 5% would significantly increase their revenue.  With this in mind, it's not hard to understand why Amazon decided to up their credit card game!
The question then evolves to whether these card improvements come at the cost of their customer experience.  Sometimes brands cut corners in a short sighted  effort to get ahead, leaving their brand experience prone to disappointing customers.
But if we're going by what we know, the Amazon Prime credit card doesn't provide a bad customer experience.  Quite the opposite, in fact!  With easy-to-earn rewards and a clear earning model, customers are being given the opportunity to take their online shopping game to the next level as part of a shopping experience that does what Amazon does best: exceeds expectations.
How Amazon Prime Rewards Exceeds Customer Expectations
Over the years, Amazon has made it pretty clear that they're dedicated to improving their customer experience.  From the introduction of Prime in 2005 to the Alexa personal assistant, they've pushed the envelope on what customer experience means in the ecommerce space.
Their success is largely based on an innate understanding of both their customers and the seven different types of customer expectations.  Let's see how this knowledge impacted their ability to impress and retain their credit card customers.

Explicit Expectations

Everywhere you look, brands seem to be offering customers new credit cards.  According to the National Retail Federation, 25% of the Top 100 brands are currently offering credit cards, with each of these enrolments highlighting the added benefit of percentage-back rewards.  No matter which industry you look at, either ecommerce or retail, brands have adopted this trend to the extent that it is now industry standard.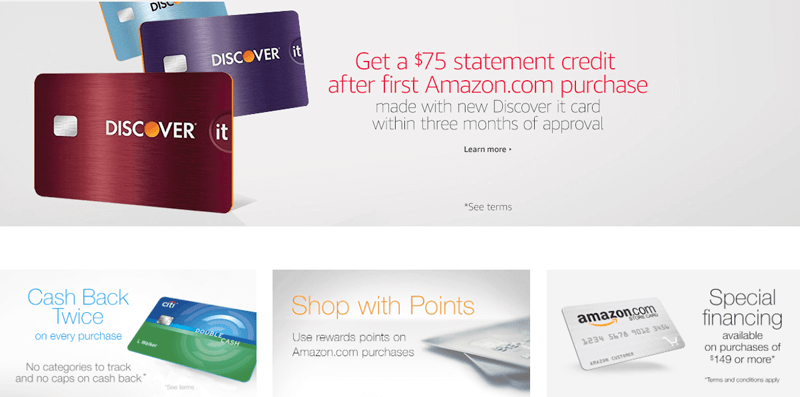 Amazon has already been addressing this expectation for years with an Amazon.com Store Card and their associated Amazon Rewards Visa Signature Card.  So what do you do when you're already meeting expectations?  Exceed them!  The Amazon Prime credit card gives the online giant the chance to improve the expectations they've set for themselves, creating more value to push ahead in the hyper-competitive market.
Implicit Expectations

Implicit expectations are set by customers comparing one brand's experience to another's.  Up until this point, Amazon has not had to seriously contend with any industry competition.  While brands like eBay, Apple Music, and Netflix offer outstanding services in several of the niche markets Amazon also occupies, none of them branch out much past that, giving Amazon free reign to dictate the customer experience standards of ecommerce marketplaces.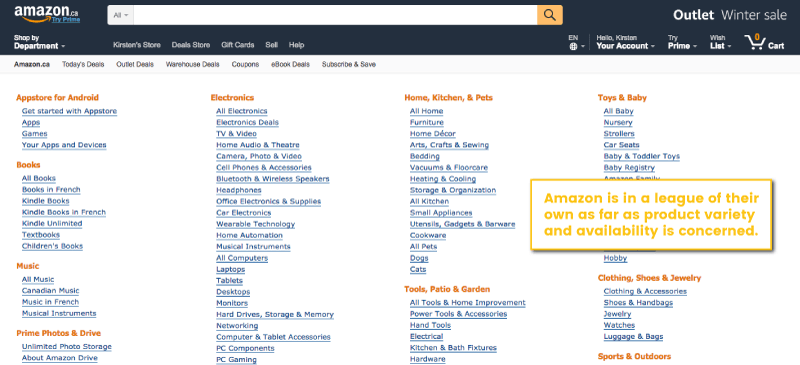 Part of this process has been Amazon's persistent disruption of the ecommerce market.  As one of the world's only one-stop-shop marketplaces, Amazon has often ended up competing against themselves as they pilot new projects like drone delivery and audio-only shopping.  However, now that they've entered the world of credit card rewards, they will need to begin to consider and accommodate the standards being set by other big brand companies with similar cash back programs.

Since the Prime Rewards card program is still relatively new, it's difficult to say what kind of impact Amazon will have on the credit card game.  In the ecommerce world they're still king though, as one of the only online vendors offering credit card rewards.  As this trend continues to develop, customers will expect this level of synchronicity between rewards and payment moving forward, allowing Amazon to securely carve out their niche as an industry leader and superior customer experience provider.
Static Performance Expectations

Nobody looks forward to adding a new card to their wallet.  Besides adding unnecessary bulk, customers customers frequently end up spending more the more credit cards they have. These factors make signing up for a new credit card a tough sell for many people.
With these potential roadblocks on the line, the physical appearance of the Amazon Prime Credit Card is extremely important to its success.  With so many plastic competitors on the market, Amazon made their card out of metal.  This material choice not only evokes images of prestige, elegance, and durability, but also seems to promise customers that the card will be the coolest thing in their wallet – literally and figuratively.

While this might seem like a small consideration, these status-conscious considerations go a long way with customers.  This is especially true of customers who are willing to subscribe to loyalty programs with membership fees, such as Amazon Prime.

By associating their program with a credit card that looks attractive and feels valuable in hand, Amazon has begun to build a community that people will want to become a part of for the status it outwardly reflects.  This attention to detail demonstrates Amazon's keen awareness of their customers and is what continues to allow them to design products and experiences whose forward-facing elements enhance a customer's experience.
Dynamic Performance Expectations

While credit card programs aren't bound to change all that much, the Amazon Prime credit card is actually the dynamic performance of the preexisting Prime membership program.  As I mentioned earlier, Amazon's credit card participation rate has been relatively low since the first credit card was released.  With the release of the Prime Rewards card, Amazon has acknowledged and identified what motivates their best customers and developed new offerings around it, creating new value through rewards that customers can earn and access anywhere.

Since the members' commitment to the program directly impacts the benefit of their participation, the relationship between Amazon and their customers is not a passive one.  With the Amazon Prime credit card, Amazon has created a dynamic, engaged brand relationship that promises more to those who are willing to engage.
As a result, Amazon will need to continually monitor and reassess this program's success in order to continue meeting the needs of their most engaged customers.  Time will tell how well they're able to diversify and expand their card program past existing customer expectations, but if the card's current trajectory proves true, there's little doubt concerning its capacity for dynamic performance.
Technological Expectations

When it comes to credit cards, technology isn't as big of a consideration.  The mechanics of how to use a credit card haven't changed since credit cards were first introduced in the 1920s, and they're unlikely to change anytime soon.  In the same vein, we also know that Amazon is not the first retailer to offer a credit card.  They are, however, one of the first ecom brands to do it, and this immediately sets them apart.

As the ecommerce landscape continues to evolve, it's becoming harder and harder to impress customers with technology.  With mobile phones that can do virtually everything in the palm of their hands, customers are no longer dazzled by immediacy, stunning interfaces, or wireless experiences.  Therefore, brands now need to differentiate themselves with unique combinations of experience, technology, and processes.
The Amazon Prime credit card achieves this by expanding the way customers understand online retail.  In combination with their physical retail locations, expedited shipping offerings, and other amazing projects like their personal assistant system "Alexa", Amazon's Prime card is evolving the concept of ecommerce and what is limits are, rejuvenating a now-familiar market with exciting results.
Interpersonal Expectations

One of the reasons my younger brother loves online shopping is because he doesn't have to speak to anyone in order to get what he wants.  While some might share his opinion, he's definitely in the minority as most customers are looking for personal relationships with the brands they shop at.  Amazon works very hard at developing these connections, using personalized recommendations and email marketing to acknowledge each customer and their buying behaviours.
Even though this is already meeting 81% of customers' expectations, Amazon understood they could and should go further.  The best way to do that?  Their credit card rewards.

Before the Amazon Prime credit card, Amazon's loyal customers were not given much choice into what perks they received as a member of the program.  Across the board, customers were given access to fairly standard benefits like free shipping and early access to sales.  This one-size-fits-all mentality was a far cry from the personalization Amazon exhibits at other stages in the customer journey.
The Prime rewards card changes that.  Now, as an Amazon Prime credit card holder, customers are given three options for how they redeem their cash back rewards: they can have the rewards deposited into their bank account, put towards future Amazon purchases, or use them to start paying off their card balance.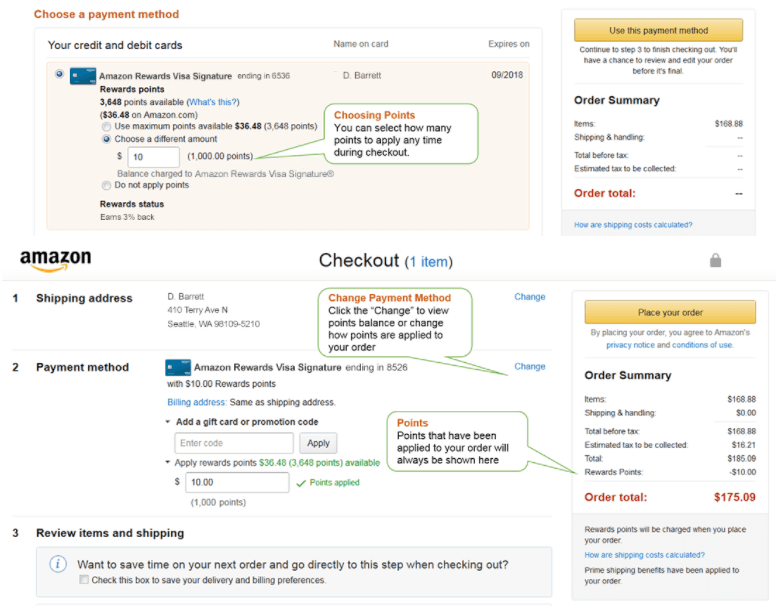 With this level of choice, customers cannot be disappointed with the interpersonal experience of being an Amazon Prime credit card holder.  Giving customers the opportunity to begin paying for their next purchase indicates a familiarity and frequency that helps establish an intimate connection with a brand.  By acknowledging the likelihood of the customer returning, Amazon is able to thank customers for their ongoing business, and make the use of their credit card a more personal (and interpersonal) experience.
Situational Expectations

At the end of the day, every interaction needs to be valuable in order to truly exceed a customer's expectations.  From the research process to the act of completing a purchase, customers need to be wowed and pampered in order to solidify the positive image a brand is hoping to project.
It should come as no surprise, then, that situational expectations are directly impacted by everything a brand does.  When you look at the structure of the program, It's clear to see that the minds behind the Prime credit card understand that every interaction matters.  With Prime, customers can now earn rewards in literally every purchase situation – whether it's with Amazon or not – giving them no reason not to participate.
With the Amazon Prime credit card customers will be seeing the Amazon logo on a daily basis as they pull their card out to earn rewards no matter where they shop.  This familiarity does nothing but strengthen the positive associations shoppers have with the marketplace mogul, putting them in the perfect position to continue delighting their customers everyday.
Breeding Legendary Loyalty with the Amazon Prime Credit Card
Through their impressive array of technological and ecommerce innovations, Amazon has made it clear that they are committed to the customer experience.  This commitment ultimately propelled them to develop their Amazon Prime credit card program, which helps Amazon continue to exceed customer expectations everyday.
From the way the card looks to what it means for the future of ecommerce, Amazon continues to put an emphasis on the customer experience as they raise the bar for other retailers.  Ultimately, the Prime rewards card is just another in a long list of ways that Amazon guarantees first-class customer loyalty, leaving us wondering: what are they going to do next?