Offering the right rewards in your rewards program can be the reason that customers will choose to return to your business rather than shop with a competitor. This becomes even more important with VIP programs! As your most loyal customers, top tier members are looking for an exceptional customer experience that recognizes the loyalty they've shown your brand.  Your rewards can make or break whether they choose to stay loyal to your store.
Here are 5 of the best examples of top tier rewards that help deliver an amazing VIP experience.
1. More Points Per Purchase Makes Customers Feel Special
Giving more points to the most elite members in your VIP program will make sure the top tier feels exclusive by promising more value. These are two of the key factors that ultimately motivate your lower tiered members to move up your program's ladder.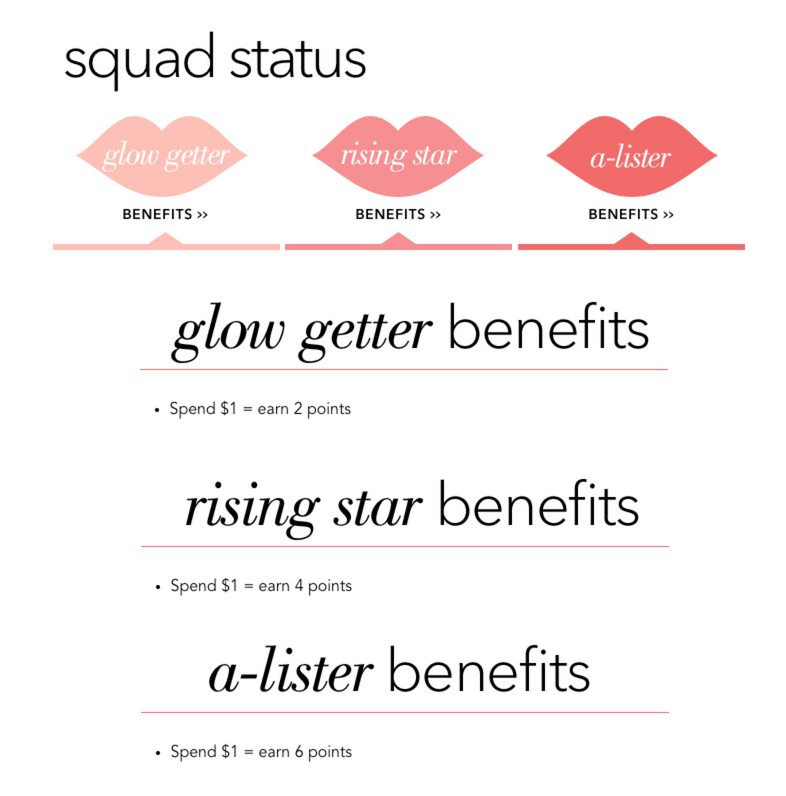 The number of points you reward will vary based on the number of tiers you have and the value of your points currency when exchanging them for rewards. A great example is e.l.f.'s Beauty Squad program. e.l.f. reserves the highest point-earning potential for the small percentage of top-tier members to ensure their VIP tier holds a high value for their best customers. This is a fantastic example of what it means to truly motivate your customers to strive for the top.
By not giving away rewards too easily, e.l.f. is able to keep their a-lister tier exclusive, keeping their best customers happy with more points per dollar and, as a result, greater value.
2. Exclusive Events Give VIP Members Something to Look Forward to
Holding exclusive events for VIP members is another great way to get your customers engaged with your program. The beautiful thing here is that hosting exclusive events has a long term effect. Instead of simply looking to inflate sales for a limited amount of time, exclusive VIP events motivate customers to make more purchases year-round in order to be invited to these events.
Your event can be anything you believe your customers would find valuable, such as an influencer meet & greet or a customer appreciation night. This will ensure that those who reach the top tier feel valued and become part of an exclusive community. Sephora's Beauty Insider is a prime example of a loyalty program that offers access to special events for loyal customers.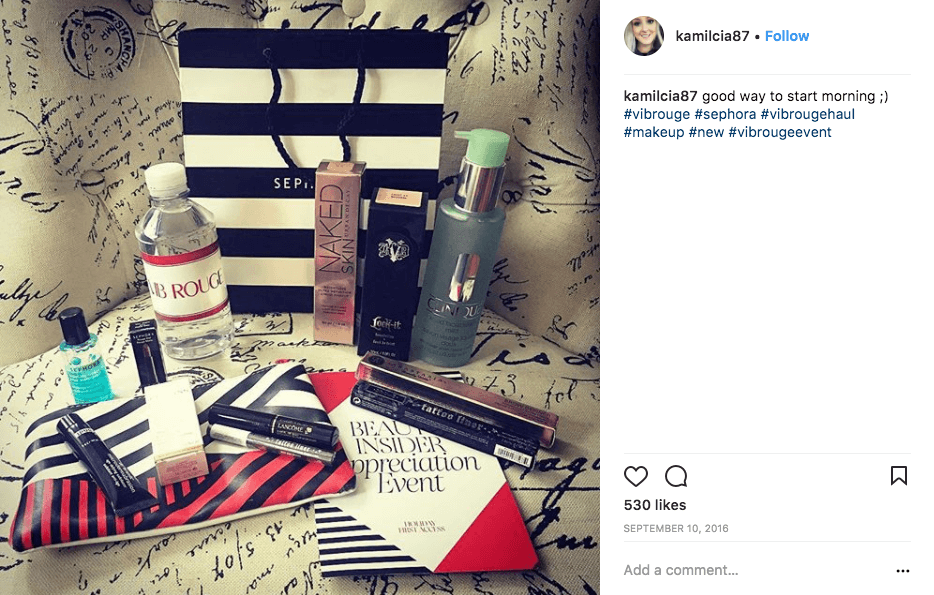 Geting your best customers out to exclusive events not only gives them something to look forward to, but also gives you a chance to learn about them. Find out what they like or dislike about your product and why they choose you over your competitors. This will allow you to appeal to your target audience better, while at the same time showing your VIPs how much you care about them.
3. Free Shipping Gives Customers a Reason to Come Back
Even though your top tier members already love your products and are likely to continue making purchases, offering free shipping allows you to be sure they won't ever leave you. Shipping costs are a huge barrier for customers. In fact, 44% of customers will abandon their cart if shipping costs are too high, and 9 out of 10 shoppers say free shipping is their greatest incentive to shop online.
9 out of 10 shoppers
agree that
free shipping
is the number one incentive for choosing a brand online.
Offering free shipping is especially effective when used in combination with additional point-earning potential because together they ensure your top-tier members still have something to look forward to when shopping at your store. Including free shipping will increase the perceived value in your VIP program and get customers coming back. Now that services like Amazon have made free shipping the new norm, this is definitely a reward you don't want to miss in your program.
4. Free Products Recognize an Elite Customer's Achievement
Once a customer has reached the top tier in your program, it's only fair that they should receive a reward for their hard work. This gratification will ensure that your customers feel like it was worth their time and money getting to the top, and as a result will continue shopping with you.
Prizes can range from popular products to samples, or even personalized gifts. Not only will this provide satisfaction once the top tier is reached, but the added value of the product will increase how motivated your lower tier customers are to reach the top. By carefully selecting the right product for the right audience, you're able to achieve a high perceived value even if the price tag on it won't break the bank for you. For example, branded swag does not cost very much to manufacture but can make your customers very happy.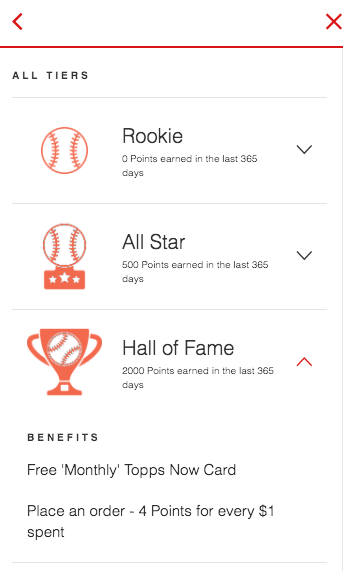 The Topps Now Rewards Program is one of the best examples to illustrate how a well-crafted VIP tier can provide significant value for the customer. When they reach the Hall of Fame tier, customers are rewarded with a free collectable baseball card.  This makes them feel like their time and money was well spent because the product they've earned is directly related to their interests.
In this way, Topps clearly understands their customers. Get customers to continue shopping with you by rewarding them with products that have a high perceived value.     '
5. Early Access to Sales Boosts the Social Status of VIP Members
Early access to sales is the cherry on top of a fantastic VIP experience because every customer loves to save money - especially if they can start saving before their peers.
As humans, we constantly compare ourselves to others - it's just part of our nature. This social comparison is called the Local Ladder Effect, and it explains why we are so concerned with how much money our co-workers are making or where we stand on a video-game leaderboard.  Publicizing the fact that a small group of people are allowed early access to your biggest sales will make it much more desirable for lower tier members to join this privileged group.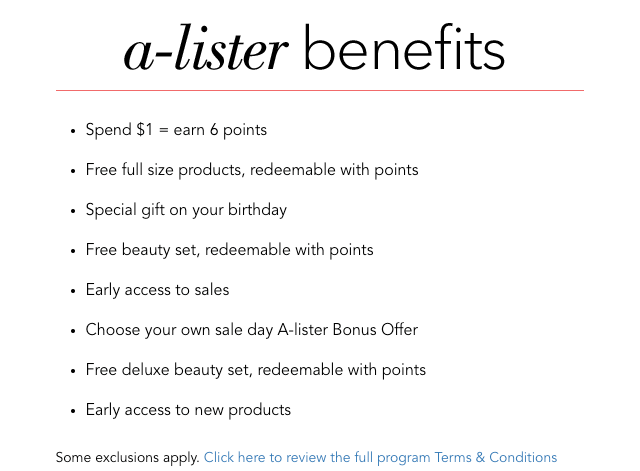 e.l.f.'s Beauty Squad rewards program gives their best customers in the "a-list" the upper hand with access to sales before everybody else. "Skipping the line" is a symbol of social status and it is a fantastic addition to any VIP rewards program.
The Perfect Rewards Ensure the Success of Your VIP Program
The key to a successful VIP program is motivating customers with rewards they actually want.  Whether it's more points per purchase, access to exclusive events and sales, or free products, your VIP rewards will ensure your program is both motivating and worth the effort to reach the top. Using any combination of these 5 rewards will ensure you are maximizing the success of your VIP rewards program.