This guide is also included in "The Beginner's Guide to Starting an eCommerce Store"
Whether you are a merchant completely new to the ecommerce marketplace or an established etailer who has experienced significant growth in the past year, you both have a similar underlying need. This need is to find the most suitable avenue to sell your product or service, namely an ecommerce platform. So you embark on a journey to find the perfect platform that fits your specific wants and needs and will hopefully propel you into ecommerce prosperity.
After hours of research you realize that you are in no better position than when your search began. Each platform seems to have its merits and quickly you realize the vastness of educational material available on them. There are both positive and negative reviews for each platform, further complicating the situation. Luckily for you, I had a feeling this might happen. On countless occasions, current or prospective ecommerce merchants have been overwhelmed with the variety of platforms available to them. This is an unfortunate occurrence and it can often lead to an organization making a hasty decision.
Above any single feature or functionality, the most important factor to consider when choosing a platform is how it fits with your current or future business model. One platform may have impressive features and limitless customization options, but paying upwards of $10,000 per month just isn't in your company's budget. On the flipside, an established etailer may need more than the basic, out-of-the-box functionality that some platforms offer.
The following is a complete guide to selecting the ecommerce platform that will work best for your business. Beginner or expert, this guide will help you navigate through the noise and clutter and discover the e-commerce platform that will be truly beneficial to your organization. This will not, however, try and determine the best platform as that is completely subjective to your store, current needs, and goals.
The Platforms
The platforms covered in this guide were chosen for a variety of reasons. Firstly, they are all prominent and well-known within the industry. While there are other platforms out there that may be more heavily used at this point in time, the ones chosen have shown significant growth that is projected to outpace many competitors into the future.
These platforms include:

Magento Community is a free, open-sourced ecommerce platform that has incredible support from its ever-growing community of users.

Magento is the fastest growing ecommerce provider on the IR Top 500. With brands such as Zumiez and COACH using the software, Magento Enterprise is one of the premier ecommerce platforms on the market today.

Shopify is probably the easiest to use platform on the market and allows users with little-to-no knowledge of coding to build stores. Users can easily create aesthetically pleasing sites using this software.

BigCommerce is a complete, reliable ecommerce platform that is feature-rich compared to other platforms in its price range. This platform was designed to be simple, straightforward, and user-friendly.

WooCommerce is not a stand alone ecommerce platform, but a shopping cart plugin for WordPress websites. This plugin is free and provides a cart for sites where content (e.g. blogs) is of high importance.

Spree Commerce is a free, open-sourced platform that powers the sites of brands like Bonfire and Chipotle. While this platform is still relatively new, it has a great deal of potential because of its open-source software.
Pricing

Hosting and Website Tools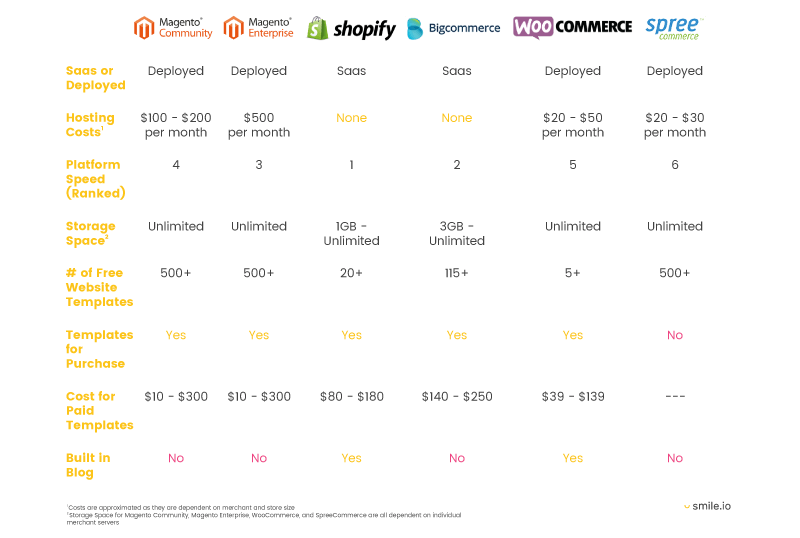 Shopping and Marketing Features
For this features section it is important to distinguish between whether features come installed out-of-the-box, are available as a free extension (application), or come as paid extensions (applications).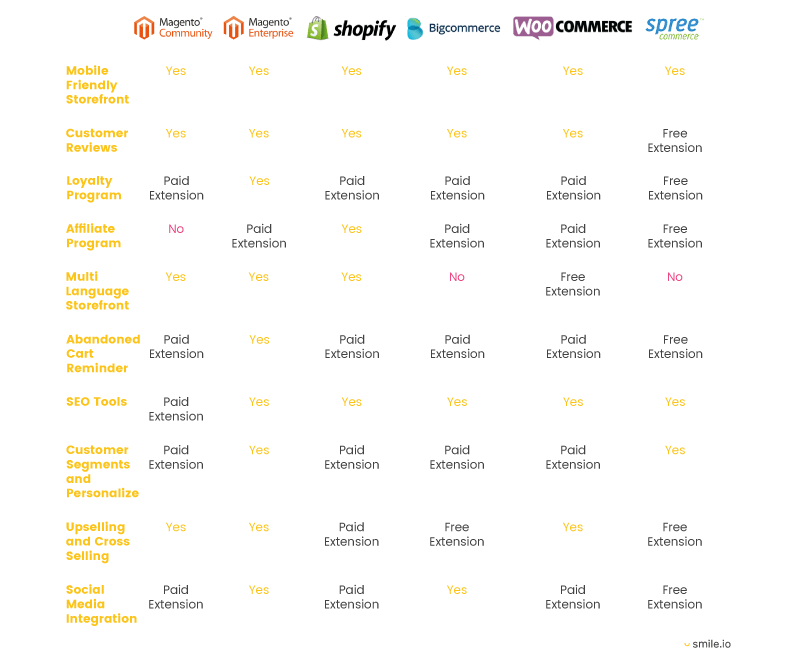 Backoffice and Security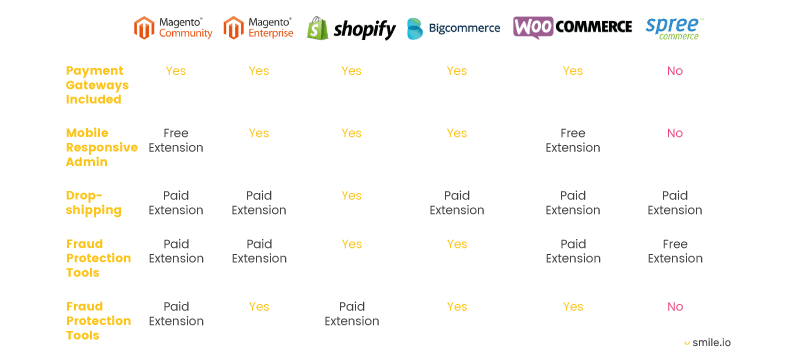 Platform Help and Support

Which eCommerce Platform is Right for Me?

Magento community is ideal for upper tier, middle-sized retailers with revenues in the range of $0 – $10,000,000, but it can also be used by larger retailers.
Although it is free and open-source, any organization that uses this platform should have Magento Development expertise. One person or very small operations would not be advised to use this platform as there are other platforms that provide more out-of-the-box features at a relatively lower price. While these other options are paid, they could save smaller businesses a great deal of development time. If content is of utmost importance to you, Magento Community may not be the best option as this platform lacks strength in this area. For instance, blogging features are limited with Magento and have more advanced functionality on platforms like WooCommerce. Those looking to integrate a multitude of third-party applications would be wise to select Magento as their API allows for easy integration. This being said, organizations with revenues in the range listed above would find Magento Community suitable for their business, given that they have the Magento Development Expertise in-house or contract a solution provider to do the work for them.

Magento Enterprise is best suited for medium and large-sized retailers who have sales that exceed $50 million, allowing them to afford the high cost. These organizations most often have product catalogs that exceed 20,000 products.
At this point in a business\'s life cycle, they are past just wanting to sell product and are looking to optimize everything that they do. Magento Enterprise offers this functionality with the ability to fully personalize and customize the customer experience. Additionally, Enterprise boasts one of the most advanced feature sets; some of which would be beyond the scope of what is needed for a smaller merchant. As with Magento Community, if you were concerned with content features such as blogs other options (like WooCommerce) have better features and will likely better than Magento Enterprise. Rather, those looking for a powerful e-commerce engine with the ability to easily integrate third-party applications would be advised to select this platform.

Despite the fact that Shopify is currently used by a wide range of business sizes, it is ideal for smaller to medium sized retailers because of its simplicity and ease-of-use. Retailers of this size see revenues in the range of $0 – $5 million. These companies simply don't need the advanced functionality of other, more expensive platforms.
If your main goal is to have a very aesthetically pleasing site, Shopify is certainly the best option as their new, modern themes have been heralded by many in the ecommerce world. As a more e-commerce focused CMS, Shopify is somewhat limited in how it handles blogs and other forms of content. Merchants that move from Shopify to another platform often do so because they are looking to improve upon the relatively limited feature set. Others choose to switch because they are looking for a more powerful system that can handle a large product catalogue. Shopify's API is well documented which allows for an (almost) unlimited set of possibilities for integration, but some believe that too many integrations can give the store a fragmented look-and-feel.

Similar to Shopify, BigCommerce is used by a variety of business sizes. This platform would ideally be used by a medium to large sized retailer and one that has more specific needs of their platform. An e-commerce merchant with sales in the range of $0 – $10 million would see the most benefit from BigCommerce.
Increased customization abilities and more advanced out-of-the-box features allow for more in-depth analysis of your customers and products. For instance, BigCommerce analytics provides a list of the top customers in your store and their history with your store. This way, you can identify these individuals, reward them, and further improve their experience. In addition to this, BigCommerce is relatively expensive for the smallest plan which could cause smaller size businesses to seek a more cost-efficient option. The ability to easily integrate with a variety of other products/services makes BigCommerce a fantastic choice for businesses that are currently using or planning to use services beyond what the platform offers. BigCommerce has drastically improved its blogging capabilities, making it much easier and effective for merchants to publish, and capitalize on, content.

WooCommerce would be the best choice for a smaller-sized retailer, especially one that is already powering their store with WordPress. This plugin is best for merchants with revenues in the range of $0 – $500,000.
This platform leverages WordPress' developed capability as a CMS to help merchants create their store on a professional website alongside an integrated blog. WooCommerce does a pretty good job of integrating with other extensions and applications, but a merchant would not select this platform solely based on this factor. These companies aren't too concerned with sophisticated marketing and reporting tools, but rather are just looking to sell their products and build initial sales. Manual product upload makes this platform undesirable for organizations with a massive product catalogue.

With limited out-of-the-box features and few extensions available, Spree Commerce is catered towards smaller-sized businesses with revenues in between $0 – $5 million.
This would be a great option for a small company that isn't particularly strong in development as setup is easy and programming skills aren't necessary. Larger, more established companies would inevitably have a development team in-house which could deter them from choosing Spree. Spree has strong integration possibilities because of their Wombat software. This software is new, but has a goal of allowing any store to connect to any service. Although Spree is relatively new, it is impressive as their open-source software has a lot of potential.
What eCommerce Platform is Best?
Commenting on my choice of platform would be foolish in this case as it depends mainly on the organization in question and their specific goals. Maybe you are a news source that needs the site to have strong CMS features but wants to include a small store as well. Or, you may be a cosmetics manufacturer with upwards of 15,000 SKUs and they need a powerful engine with strong integration capabilities. Each and every merchant is different, not only do they have different needs, but often they have different approaches to running their business as well.
Now, before you do anything else, put yourself in your customer's (current or future) shoes and ask, "what would they like to see in my store." After doing so, you should have a clearer picture of what your site must include and subsequently the platform that will work best for you.