A few years ago, I found myself in an interview for a marketing intern position. After the standard opening pleasantries, they asked me a question I thought was very interesting: tell us about an organization that you believe does a great job when it comes to marketing.
I took a moment to consider the question and then it hit me: Nike. A brand so powerful, the very name means victory. A brand whose logo is so iconic that it is one of the 5 most recognizable symbols in the world and communicates motion even when it's perfectly still. Needless to say, Nike is one of the greatest contemporary brands in commerce but does that greatness extend to their rewards program?

The Nike+ rewards program is an interesting example of a modern twist on the classic rewards program, but even Nike has some pros and cons. In order to get a better idea of what this program looks like, I've taken a run at breaking down the plusses and minuses of what Nike+ has to offer.  So, like Nike would say, let's just do it.
The Plus Side of Nike+
If I'm being honest, the Nike+ rewards program has a lot going for it. Just like in the rest of the Nike experience, their branding is an incredibly strong asset, but the success of their program goes beyond the look and feel of the site. With Nike+, Nike has put together a rewards system that any athlete will find valuable.
Nike+ Has Rewards Designed By Athletes, for Athletes
One of the first things I noticed about the Nike+ rewards program was their rewards portfolio. Most brands only offer their customers a combination of discounts and other financial incentives, but Nike's focus is on delighting their customers through highly targeted experiential rewards.

That's not to say Nike+ doesn't offer any transactional rewards. Nike+ does offer its members free shipping on all orders and the ability to try any product for 30 days with a "no questions asked" return policy.  However, at the end of the day those perks seem trivial when compared to the main event.

Nike+ offers its members access to special Nike events where they can meet and train with other members of the Nike+ community.  Nike+ customers can also get early access to new training gear and Nike experts who can help them make purchase decisions and discuss training best practices.
These (among other) Nike+ experiential rewards are a fantastic example of what it means to truly understand your customers. Nike's customers are motivated by the ethos of authentic athletic performance, and the benefits of the Nike+ program speak to that in volumes. By matching their rewards to their customers' values they've created a rewards program that these athletes actually want to be a part of because it caters to their needs and mirrors their interests.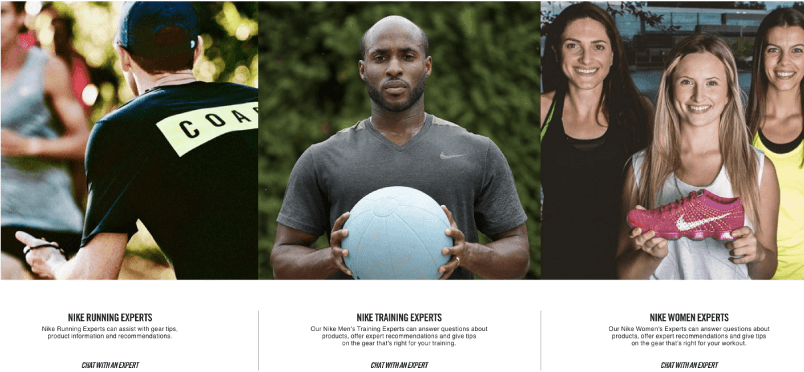 When customers shop at Nike (myself included), they're buying more than a running shoe or a pair of shorts. Nike customers are buying into everything the brand stands for, the idea of pushing for better, the spirit of friendly competition, and the value of sweat. When I read through the rewards in the Nike+ program, I feel like the people who designed them understand these values too.
Nike+ Is a Beautifully (and Consistently) Branded Rewards Program
Nike is no stranger to aesthetic expertise. Their stores are decorated with perfect action shots of athletes that look ready to run right out of the picture and straight into a marathon. This visual acuity is mirrored in the Nike+ site, with words and images that are sure to excite the athlete in all of us.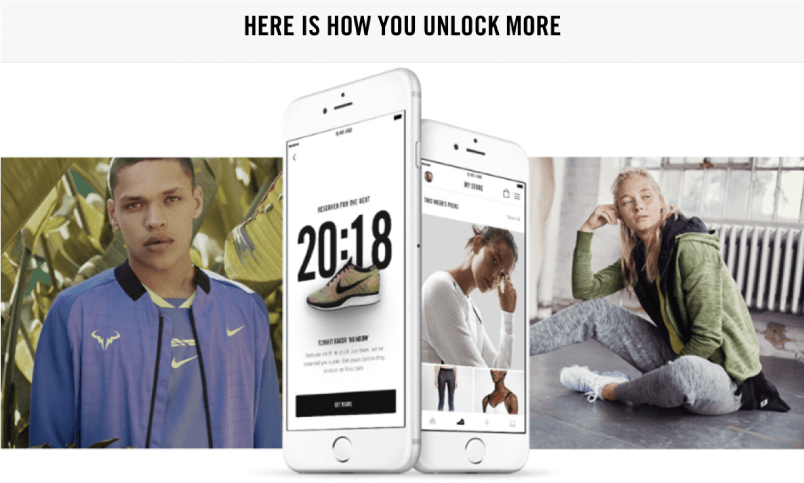 Apart from being visually stimulating, the branding on the Nike+ site manages to accomplish another important task: it achieves an admirable level of consistency with the rest of the Nike experience. From the name of the program to the images that help explain its features, the Nike brand is front and center through it all. The familiar swoosh and motivational message lets Nike+ members know that this program is a natural extension of the Nike brand and therefore the Nike promise.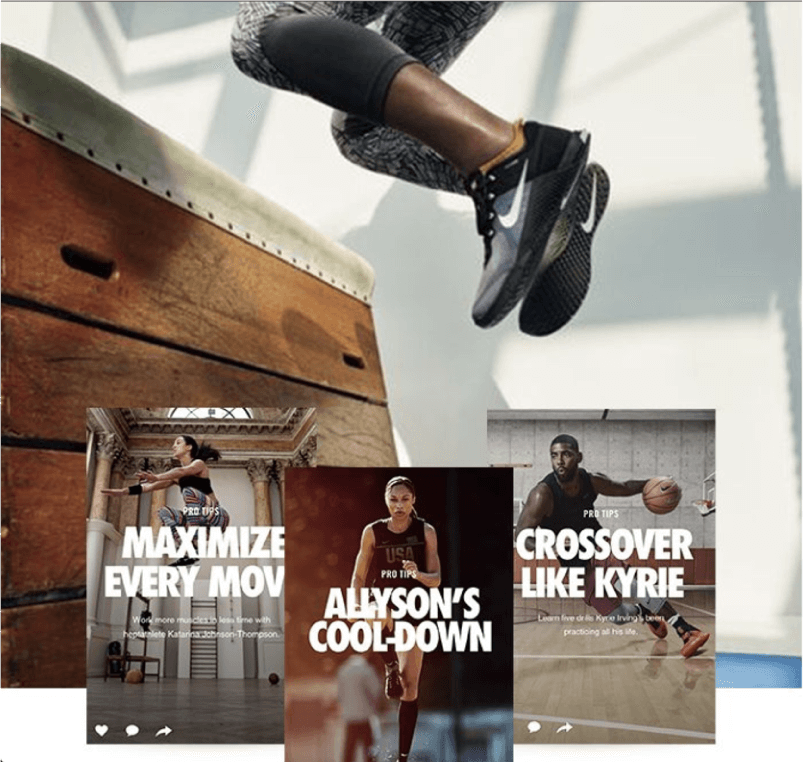 Beautiful and consistent branding goes a long way in getting customers to engage with a rewards program. At first glance, many customers feel like joining a rewards program is more hassle than it's worth. Intentional branding can help them overcome that perception and share some of the love they already feel for the rest of your brand experience with your rewards program.
Speaking as someone who could spend an entire day at the Nike outlet, exploring the Nike+ program felt exciting and yet familiar - the perfect combination for a new experience by a familiar brand.
Nike+ Is a Mobile Focused Customer Experience
We've discussed the importance of designing a customer experience optimized for mobile in the past, and Nike+ is the perfect example of why. Their program doesn't just take a mobile friendly approach- it celebrates it.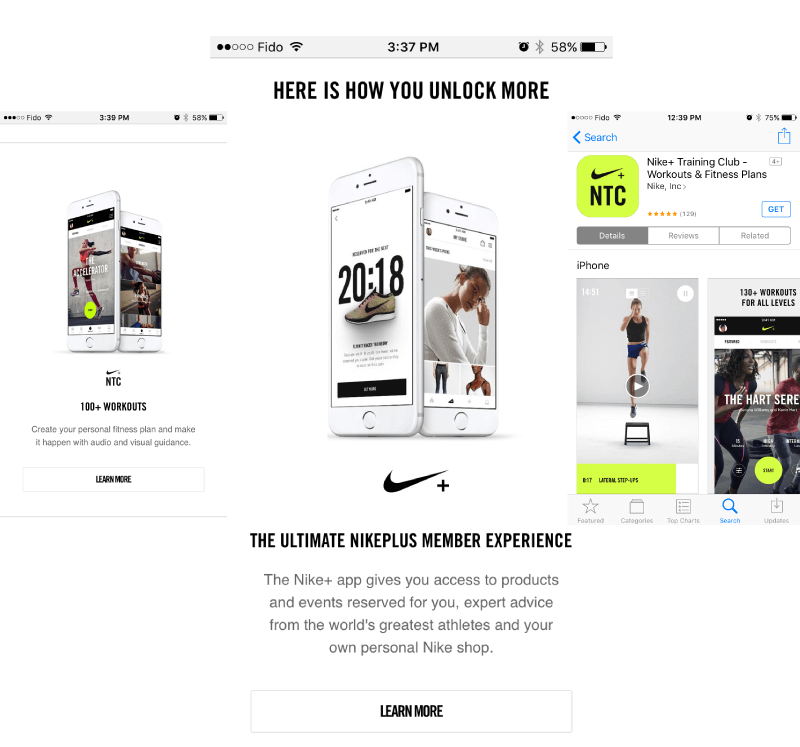 The Nike+ site flourishes on mobile devices with select images and formatting that plays to the handheld screens. For most brands, having a site that is mobile optimized would be enough of a leg up, but Nike pushes their mobile experience even further.
Nike+ members can also enjoy five separate mobile apps that can enhance their use of the product. Nike+, Nike+ Fuel, Nike+ SNKRS, Nike+ Run Club, and Nike+ Training Club are all available for Nike+ members to track their activity, get new workouts, and stay up to date on all of the latest gear.

The Nike+ program isn't just accessible on mobile, it actually opens up entirely new experiences for customers on their phones.  Nike's commitment to their mobile experience means that Nike customers can take the brand whenever and wherever they go. As more and more experiences shift from our desktops to our handheld devices, mobile accessibility has become something of a necessity, and the Nike+ app demonstrates that this is something Nike definitely understands.
Where Nike+ Gets Benched
Even the best rewards programs have their shortcomings, and Nike+ is no different. There are several program elements that trip up an otherwise awesome customer experience, but if Nike can tie up these loose ends their program will be off to the races!
Nike+ Doesn't Provide Opportunities for Re-engagement
As we discussed earlier, the Nike+ program has some pretty sweet perks. The only problem is, these perks come on an all or nothing basis. As soon as you're a Nike+ member you receive all of the awesome benefits that come with the program, with no additional  engagement to look forward to.
Most contemporary rewards programs are designed with the long term in mind, and because of this these programs strive, above all else, for continued engagement. A points program gives points for every purchase, a VIP program keeps customers motivated to gain and maintain their status, and referral programs reward customers for each successful referral. These programs are designed to keep customers engaged and interacting with the brand.
This is where the Nike+ program falls short. Since all of the rewards are available instantly, there aren't any re-engagement mechanics to stimulate interest over time. This can lead to customers becoming disinterested over time and eventually disengaging from the program. A rewards program should never be seen as a set it and forget it tool.

While this may seem like a trivial issue, giving customers something to look forward to is a key component of motivation. I myself have gotten bored with programs that fail to re-engage me over time. The nature of fitness industry gives Nike a natural avenue for re-engagement. They could tie additional perks to maintaining an active lifestyle which could be easily tracked through their mobile apps. Speaking of those apps...
Nike+ Has Too Many Separate Apps
I know I praised Nike+'s mobile engagement strategy earlier, and a big part of that was because of their mobile applications but I need to address the other side of that coin. You see one of the program's strengths is actually hiding one of its weaknesses: Nike+ has too many apps.
Before you call me a hypocrite, allow me to explain: while I believe that each of the apps are highly valuable, Nike dilutes their impact by separating them. It is the separation of this value into multiple different applications that creates the issue.

While customers are getting increasingly more mobile with their experiences, today's devices haven't quite caught up to their desires. Phones only have so much memory for applications, and there are a lot of other apps already vying for that space. With this in mind, many customers are very hesitant to download new apps, which means new applications need to show substantial value in order to convince a customer they're worth downloading.
Having an app for each and every individual aspect of the program makes it difficult for cross-functional customers to take advantage of the whole program. I myself am the perfect example of this issue. My workout routines include running, weights, and circuits and I'd be lying if I said I wasn't interested in updates about the new flyknit runners.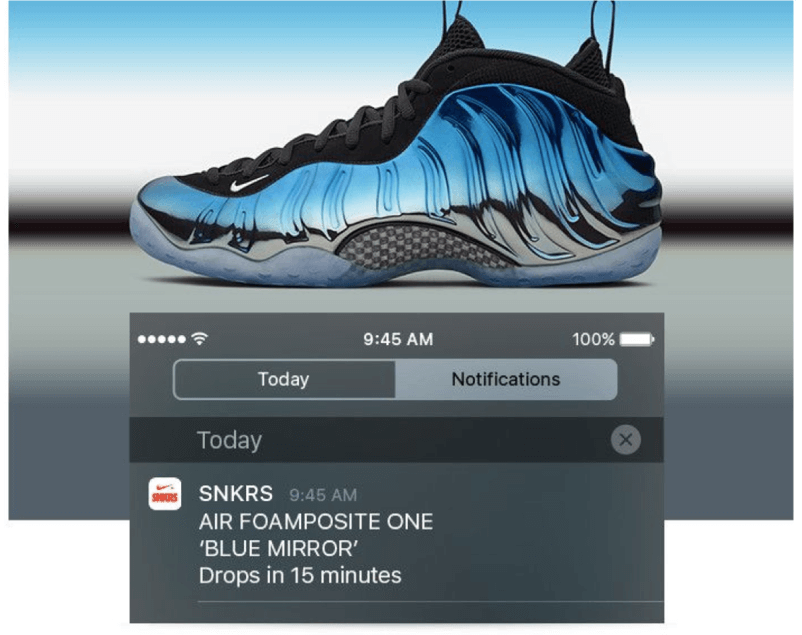 According to Nike+ this alone would make me a candidate for three of their applications, but the thought of adding 3 new icons to my homescreen terrifies me. If we add in other lifestyle choices like calorie tracking, the problem gets even worse. Customers that are daunted by the number of apps will end up not downloading any and will miss out on the genuine value the program provides. By streamlining the value of their applications Nike+ can more effectively engage with their cross-functional customers.
Thinking of Joining Nike+? Just Do It.
Like any training athlete, Nike+ is still pushing to be its best but what it is, is a strong rewards program and a nearly flawless extension of an already amazing brand. With it's focus on mobile optimization and hyper-relevant rewards, Nike+ runs circles around the competition. By slimming their app catalogue and providing some re-engagement opportunities, Nike can take their rewards program from great to legendary.
In summary, if you're thinking about joining Nike+... well, you know the rest.