No matter its size, every business aims to achieve growth in one way or another. Whether this involves growing your revenue, your loyal customer base, or both, there are several ways to move the needle.
As a small business, it can be tempting to invest a lot of money into fast-acting customer acquisition strategies that will bring in quick growth. However, we caution you to stray away from only using these strategies and instead opt for sustainable growth strategies. But what exactly is sustainable growth and how do you measure it?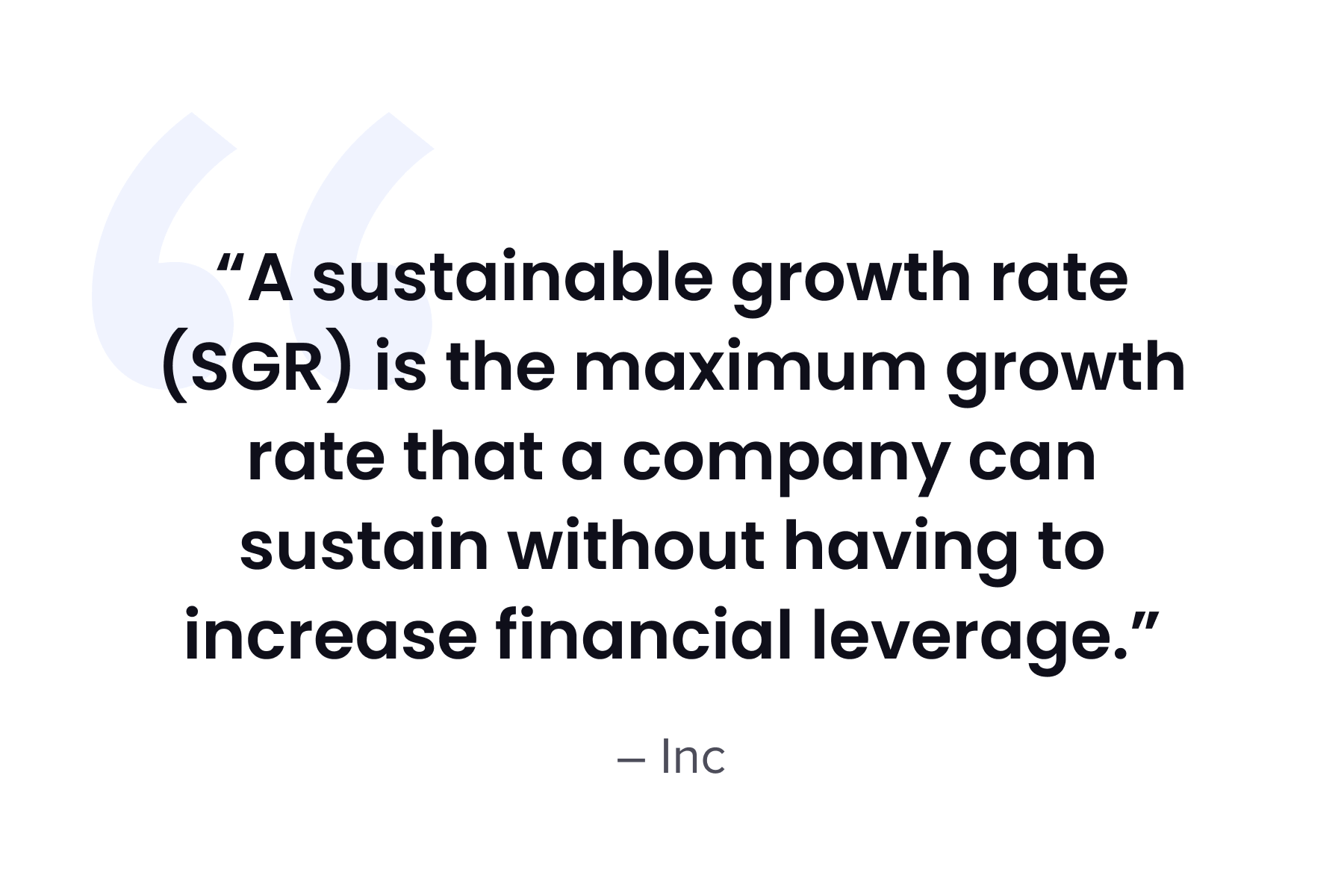 According to Inc, a company's sustainable growth rate is the maximum rate a company can grow at without having to borrow any money. In other words, this is the amount of growth a brand can achieve from organic strategies like repeat sales or brand community building actions.
Now that we know what exactly sustainable growth is, let's dive into how you can actually measure it.
How to measure sustainable growth
There are several different metrics that ecommerce brands need to be actively monitoring to measure their success. While looking at your revenue growth is an obvious way to measure your success, it isn't the only way.
If you have a loyalty program, tracking your number of engaged program members is a great measure to see how your program is growing. Since loyalty is the ultimate goal, your repeat purchase rate, which measures how many of your customers are purchasing more than once in a year, is another way to see how your customer base is increasing. At the end of the day, there are several key metrics that help you determine your sustainable growth rate -- deciding which ones to use all depends on your brand's goals.
Let's take a look at 5 small ecommerce businesses that are making big moves by achieving sustainable growth.
Jimmy Joy
One of the best ways to increase your customer repeat purchase rate is through subscriptions. By charging your customers a weekly, bi-weekly, or monthly fee for a continuous shipment of products, you are locking them in for the long-term. European nutrition brand, Jimmy Joy has leveraged the power of subscriptions by offering customers the opportunity to buy individual products or subscriptions of their health-based products.
In such a highly competitive industry, Jimmy Joy has set themselves apart from the pack with strong brand values of sustainability and whole health that attract customers. These values coupled with their quality products are leaving customers satisfied and excited to come back.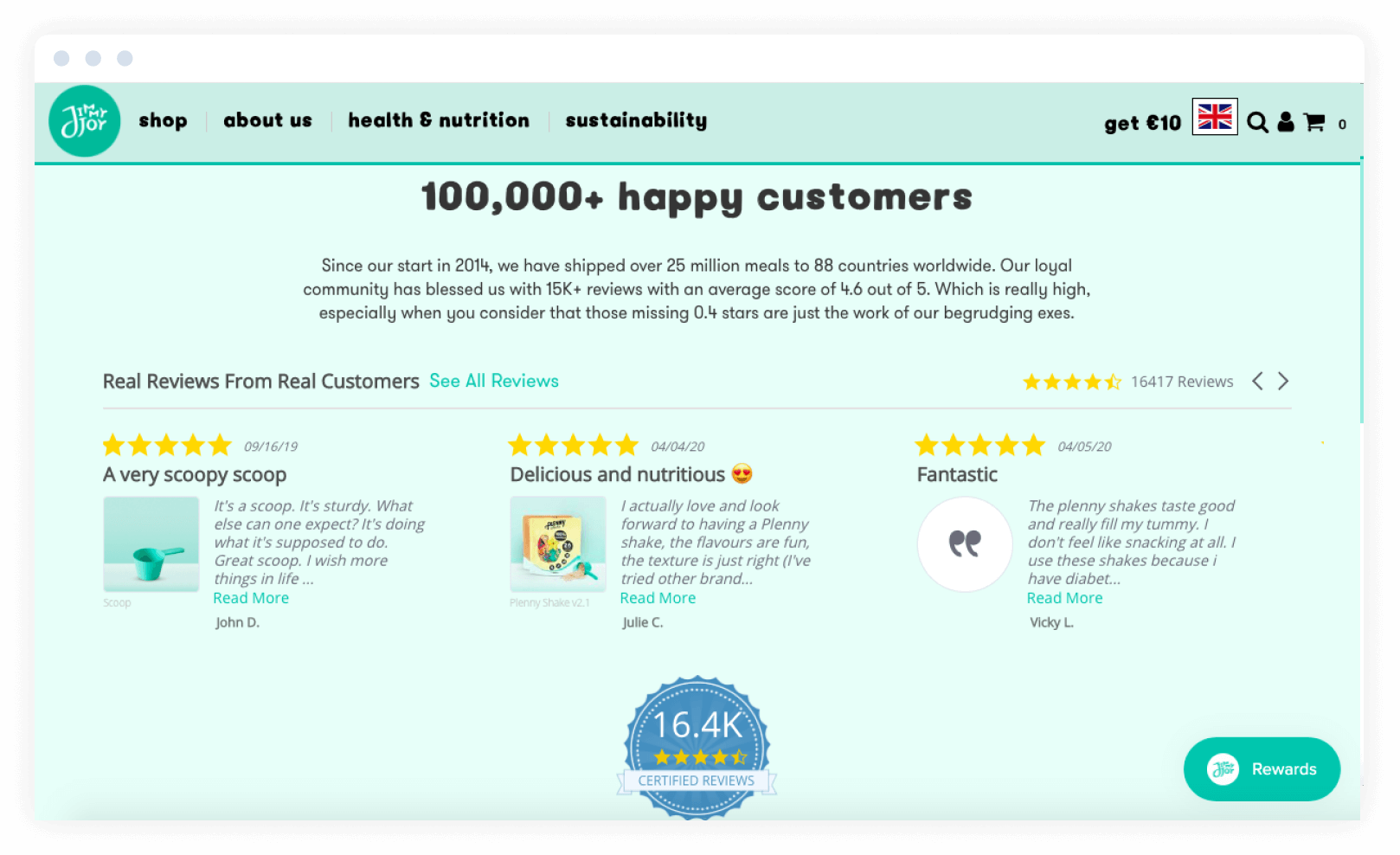 Jimmy Joy took their brand to the next level by introducing a loyalty program to achieve sustainable growth. Today, they have over 21,000 program members engaging with their points, referrals, and VIP tiers. By rewarding members for leaving reviews, Jimmy Joy benefits from positive user-generated content that acts as the social proof new customers need to make their first purchase.  By displaying these reviews on their homepage, Jimmy Joy appears authentic which is a great way to start building relationships with new customers to grow their customer base.
What can you learn from Jimmy Joy?
Using user-generated content like reviews or social media posts is a great way to build your brand community because both returning and new customers will see that other shoppers were satisfied with their experience and expect a similar experience for themselves.
Teal Poppy
In the fashion and clothing industry, attracting customers from thousands of competitors can be a challenge. Teal Poppy Boutique has overcome this challenge to grow their brand by communicating to customers in multiple different ways. One of their most successful strategies is the way they've utilized their social media as a forum for a thriving online brand community.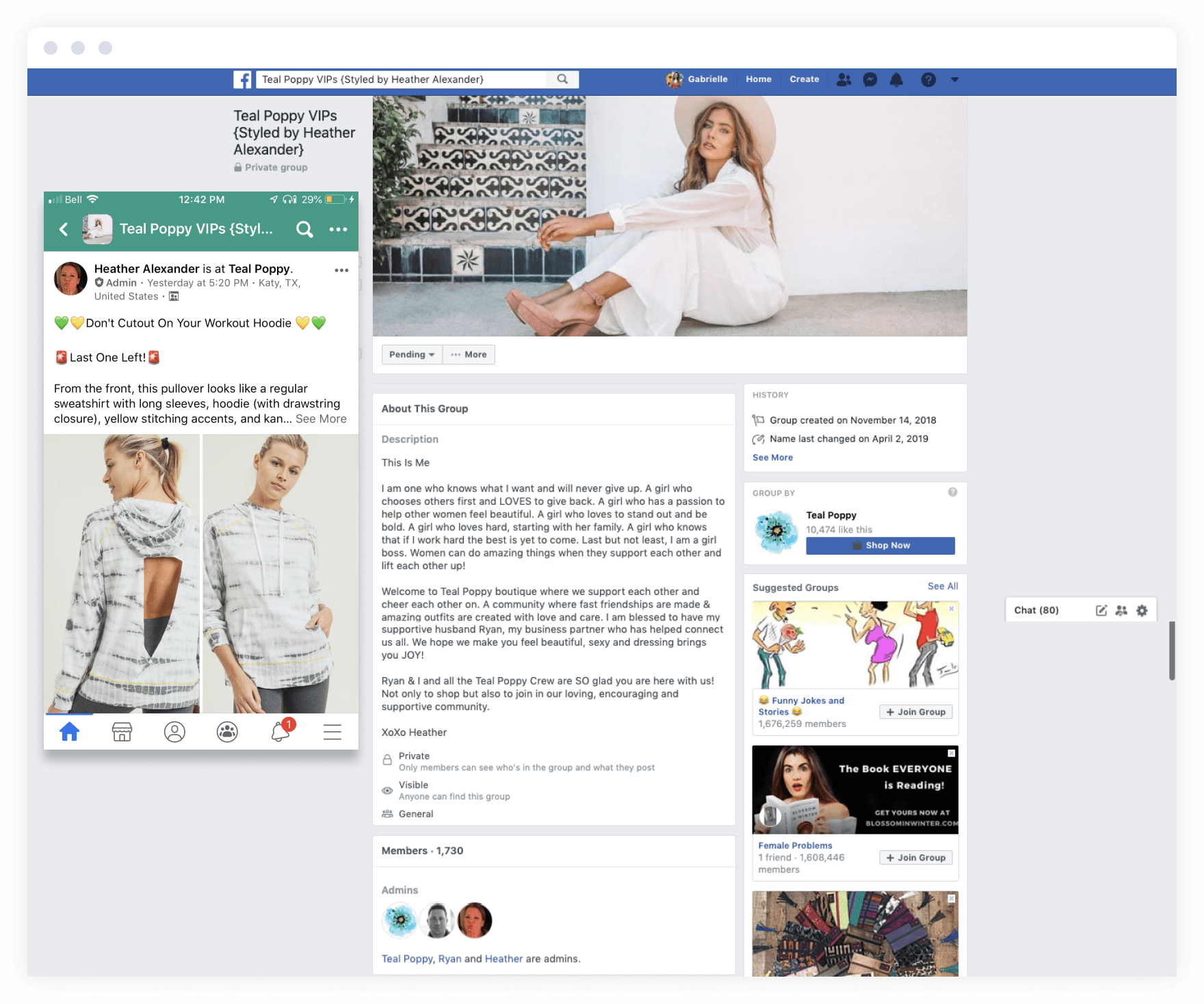 This online clothing brand combined their VIP program and brand community through an exclusive "Teal Poppy VIP" Facebook group with over 1700 active members. With daily product promotion posts, customer photos, and styling tips, Teal Poppy provides extra value to their customers to keep them coming back.
The group is even moderated by one of their very own stylists to make the brand appear more human. Giving customers a place to connect with one another will make your brand more than just a store -- it will make it a part of your customers' lifestyles.
What can you learn from Teal Poppy?
Use your social media to make your brand community more visible since it will give you another discovery platform for new customers and give existing community members another place to see your products. This will help both your brand community and sales grow at the same time!
Packlane
In today's constantly evolving business environment, ecommerce has entered industries all over the board -- including the world of B2B stores. Take Packlane for example -- a custom-design packaging brand. As a brand that sells to other brands, Packlane had to take a unique approach to growing their business.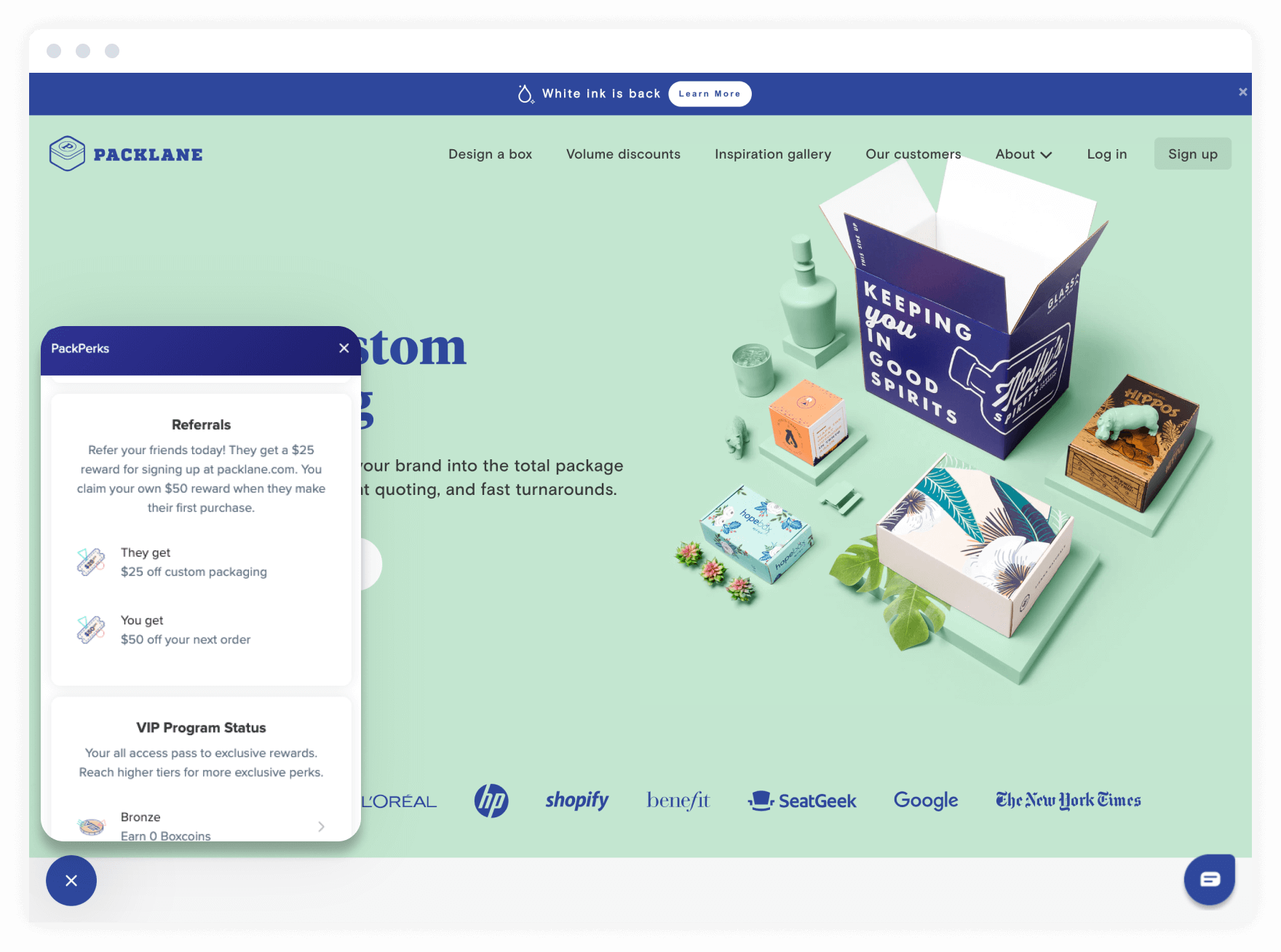 One of their biggest success factors came from the introduction of their referral program to increase their customer count. Just 8 months after launching their program, their brand community rose to over 28,000 members. When your customers can't physically see or touch your products before purchasing, word of mouth marketing becomes that much more important.
This is why referrals are one of the best ways to sustainably grow your brand. By giving your existing customers a reward for sharing your brand you are motivating them to find new customers for you. On the other hand, for new customers, these referrals coming from a trusted source are more persuasive than an advertising campaign leading to more purchases. The psychology behind this reciprocity and rewards is what Packlane leveraged to achieve quick growth that actually lasted.
What can you learn from Packlane?
All ecommerce businesses, including B2B ones, can use referral programs to quickly achieve growth that will last. When returning and potential customers are rewarded for both referring and being referred to, there are incentives on both sides to shop with your brand increasing both your customer acquisition and retention.
Evy's Tree
Incorporating sustainable growth strategies into your marketing plan is only valuable if you promote them to your customers. One brand that has done this successfully is women's clothing brand, Evy's Tree. By making use of a loyalty program to retain customers, Evy's Tree saw a 58% increase in their repeat customer rate.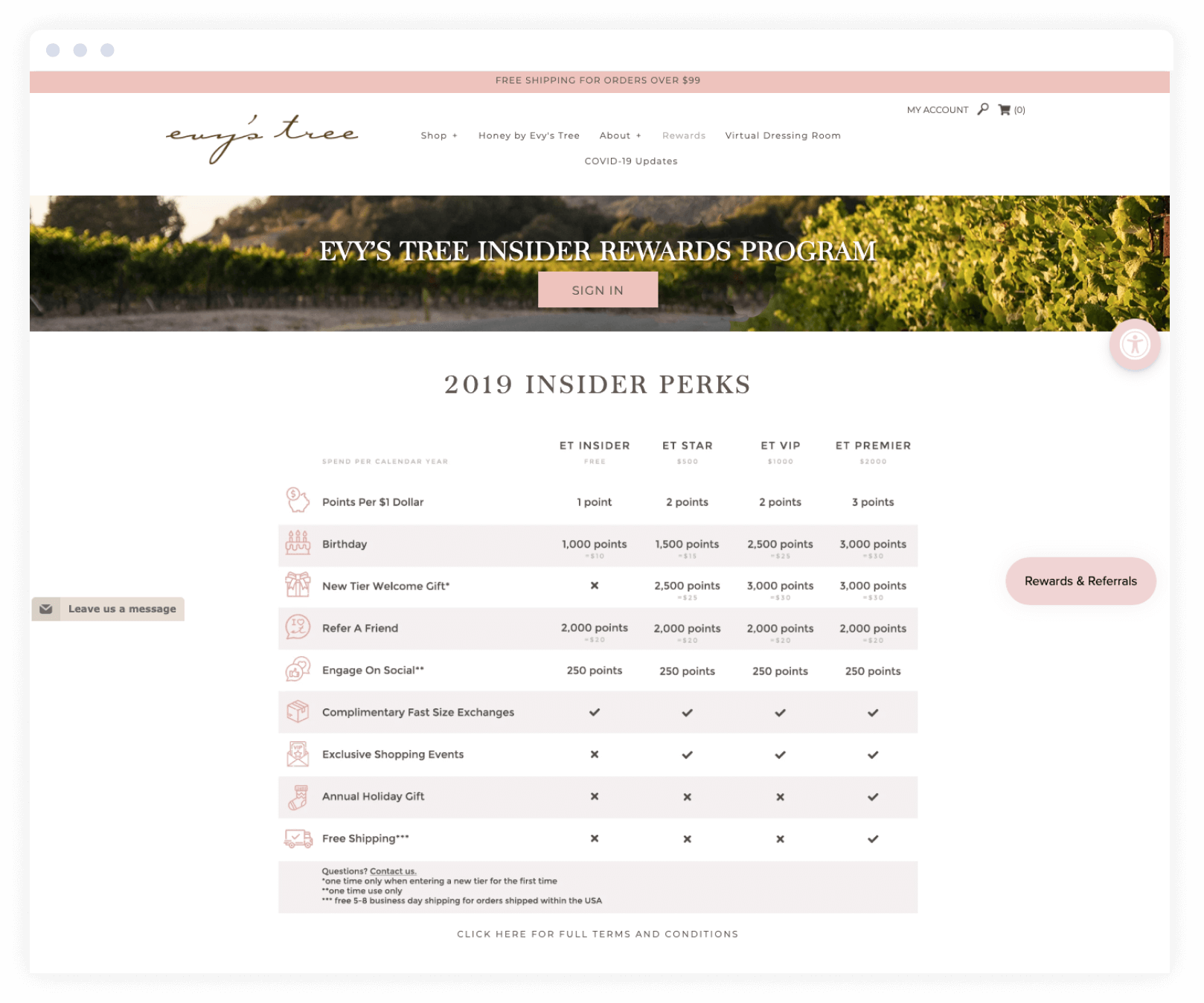 With such a successful loyalty program one thing is clear -- they are promoting their rewards effectively! Their loyalty program, which is powered by Smile, is visible to customers on every page through a launcher and panel on the right-hand side of the screen. They've also included a clear explainer page for their program that makes it clear how customers can earn and redeem their points.
By successfully promoting their loyalty program, Evy's Tree has achieved a points redemption rate of 65% which is a great indicator of their loyalty program success.
What can you learn from Evy's Tree?
Promoting your loyalty program is a great way to achieve repeat purchase rate growth because it aids with everything from acquisition through program discovery to retention through incentivizing customer purchases with great rewards.
Good Face Stuff
If you've ever shopped for skincare products online then it's no secret that there are millions of products out there. As a shopper, it can be overwhelming to know which product is right for you and your skin's needs. For ecommerce cosmetic brands that want to succeed and grow, providing value to your customers is what it's all about.
American skin care product brand, Good Face Stuff, has built its brand off of providing clear explanations of their product features to customers. Not only do they include detailed product descriptions on their website, but they've taken to social media to promote their brand to customers in multiple places. By leaving customers with no doubts in their minds, Good Face Stuff gives extra information customers need to be confident in their online purchases.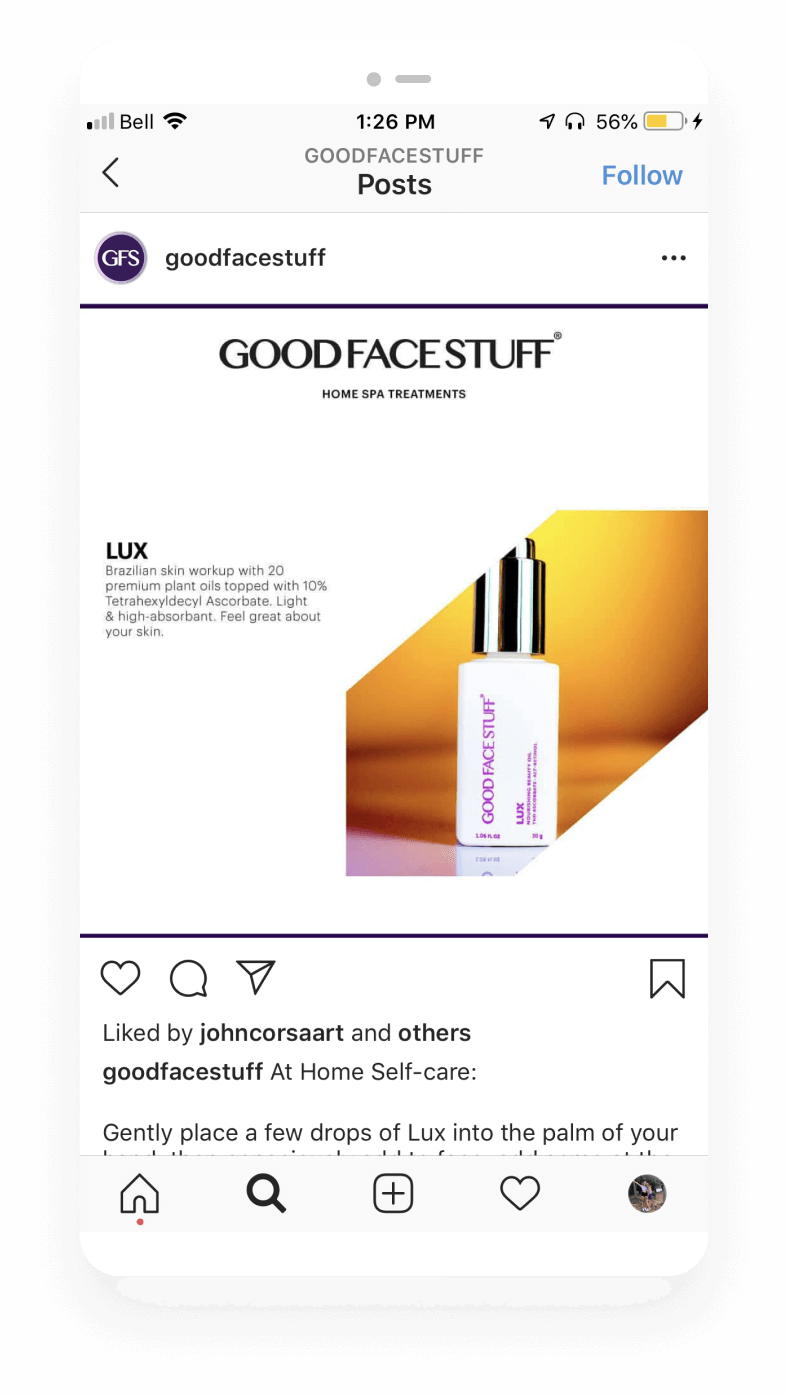 Good Face Stuff consistently posts Instagram photos promoting and explaining their product features, ingredients, and uses. These types of value-added promotions are a great way to remind your customers about your brand in their every day lives. Sometimes these gentle reminders are all it takes to re-engage a dormant customer to make another purchase, causing your repeat purchase rate and revenue to grow.
What can you learn from Good Face Stuff?
Incorporating value-added elements into your product promotions that educate or inform your customers is a great way to get them to the purchase stage that much faster since they have to spend less time and effort searching for that information on their own.
Key Takeaways:
Sustainable growth is the maximum amount of growth a company can achieve without taking on any financial leverage.
Using UGC shows both new and returning customers that people enjoy your brand.
Social media is a great way to build your brand community and make it discoverable for new members.
Referrals reward both your existing customers and potential ones making them a great sustainable acquisition and retention tool.
Promoting your loyalty program is a great way to improve your customer repeat purchase rate through acquisition and retention.
Value-added marketing is a great way to convince customers to purchase your products right away.
Ready to achieve sustainable growth for your brand?
learn how to effectively retain customers to grow your sales and brand community.