There are a ton of great ecommerce resources out there! You have: podcasts, ebooks, video shows, blogs, and more. With so many great resources out there it can actually make ecommerce seem a little overwhelming. To help break through the noise I am going to share my go to ecommerce resources to help you break through the noise.
I will start with my top 10 ecommerce blogs! These are 10 blogs that I follow closely and I find are immensely helpful. Here is a list of my top 10 ecommerce blogs (in alphabetical order):
1. A Better Lemonade Stand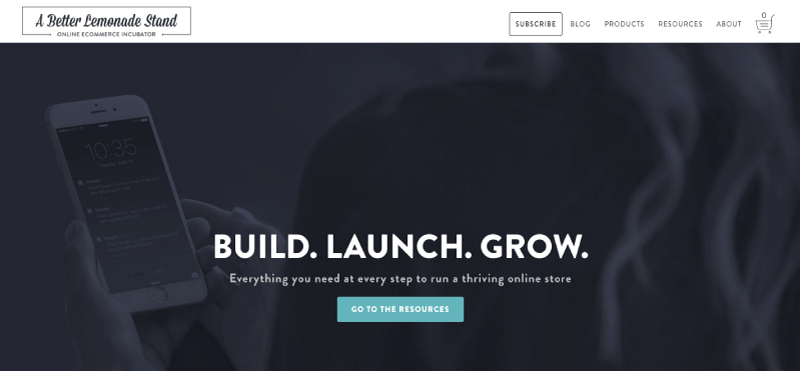 Visit the Better Lemonade Stand Blog!
A Better Lemonade Stand or ABLS as it is commonly referred to is an ecommerce incubator. It is designed to help new (and even un-started) ecommerce sites learn everything they need to succeed. The site focuses on taking a new ecommerce idea from ideation all the way to its first $50,000.
The site is more than just a blog. ABLS also has a great list of ecommerce tools you can use and an amazing list of resources to help you learn the ins and outs of ecommerce life from an early stage perspective. My favorite tool on the site is the product evaluator tool!
If you are new or just starting this is the blog on this the blog on the top 10 list you want to focus on!
3 Notable eCommerce Blog Posts
Instagram Exposed: Advanced Instagram Marketing Tactics
The Great Build: Behind the Scenes of a 6 Month Old Business
How I Built a T-Shirt Business in 24 Hours
A Better Lemonade Stand's eCom Expert

2. Bigcommerce Blog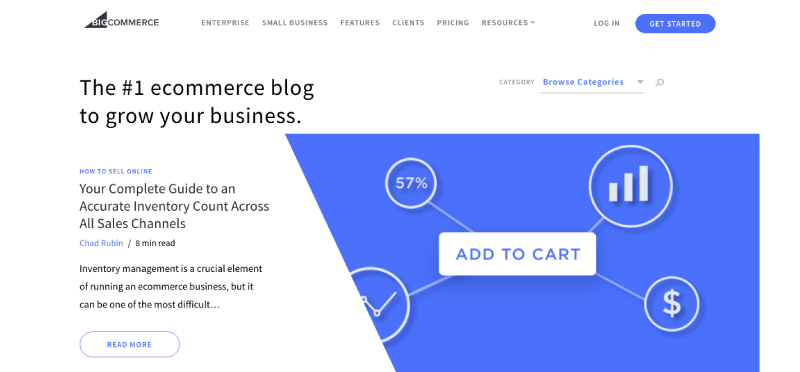 Bigcommerce is an ecommerce platform. It provides the software you need to get your ecommerce store set up to start selling goods online. Launching thousands and thousands of ecommerce sites gives you quite a bit of insight to share.
The blog has a great mix of tips, guest posts, and client success stories. Each type of post provides valuable insight into the world of ecommerce.
3 Notable eCommerce Blog Posts
Mid-Market Brands Claim Top Four Fastest Growing Retailers
Twitter Advertising Broken Down by Industry and Store Size
How Site Design Affects Conversion Rates
Bigcommerce's eCom Expert

3. Buffer Blog

I know Buffer is not an ecommerce blog in the traditional sense, but there is a ton of useful information. Every ecommerce professional should be aware of what is happening in the social world, especially in social media marketing.
Buffer covers all things social media and content and there is a lot that can be learned from them to help better your: ecommerce social strategy, social media marketing, and even content creation. In my opinion Buffer is a must read blog for all ecommerce marketers.
3 Notable eCommerce Blog Posts
Linkedin Marketing: The All-in-One Guide
How to Create a Social Media Marketing Plan From Scratch
The 15 Best Browser Extensions to Improve Social Media Marketing
Buffer's eCom Expert

4. Get Elastic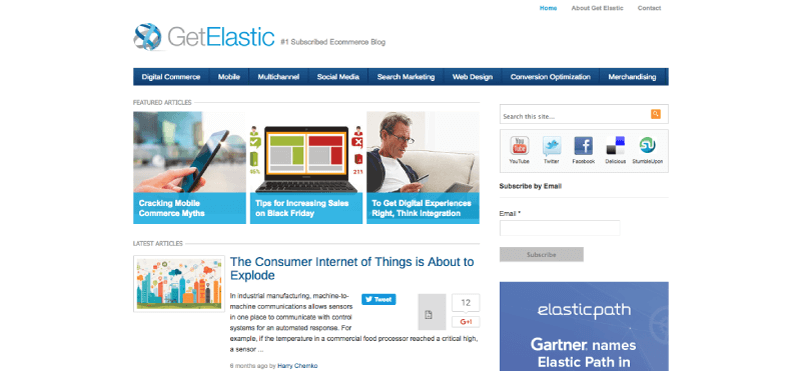 Get Elastic is a pure ecommerce blog! All they blog about is ecommerce and that has turned the blog into a real ecommerce juggernaut. The blog is the number one subscribed ecommerce blog online which makes it a no brainer to include in the top 10 ecommerce blog list.
Get Elastic is the blog for Elastic Path and is easily one of the best and most effective company content strategies I have ever seen!
3 Notable eCommerce Blog Posts
Why Mobile Matters to Millennials
What Consumers Think About Personalization
Creepy or Cool? What Consumers Think of the Store of the Future
Get Elastic's eCom Expert

5. Help Scout Blog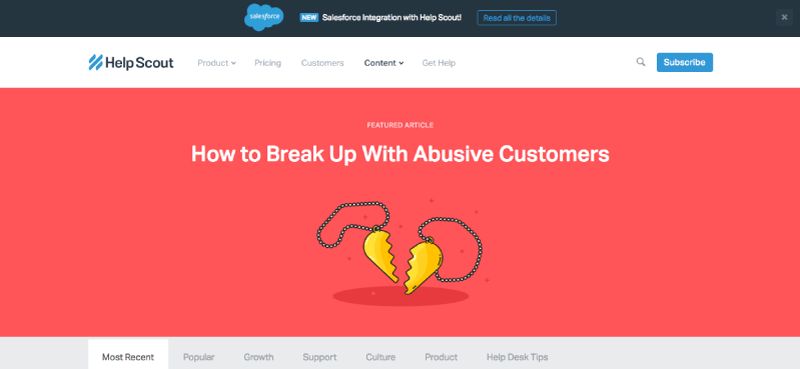 Once again this blog is not a pure ecommerce blog. Help Scout is a help desk tool that allows you to keep your customer support organized and efficient. A good customer experience is vital to an ecommerce stores success and the articles on the Help Scout blog can help you achieve your customer service goals.
The blog goes over everything you need to know about customer service and support. Topics include: support, company, culture, and a few customer support success stories.
3 Notable eCommerce Blog Posts
How to Talk to Your Angriest Customers
Phrases to Improve Every Support Interaction
Improve Free Trials by Getting to Know Your Customers
Help Scout's eCom Expert
6. Moz Blog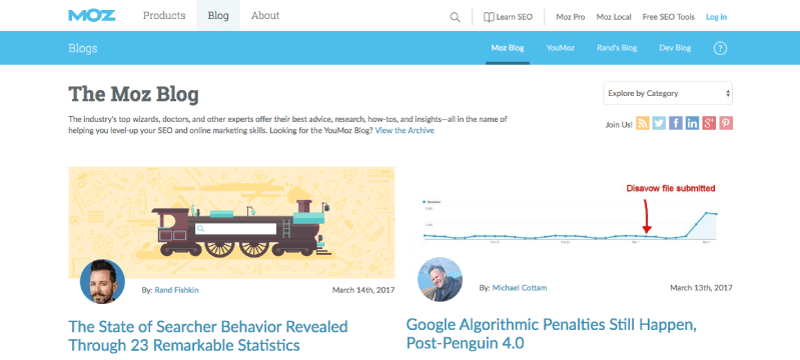 This blog is an absolute must follow for everyone in ecommerce and just about anyone with a website. The Moz blog focuses on improving your site's SEO and your online marketing. The site is chalked full of helpful tools and posts to help you rank better in search.
Moz even has a host of tools that makes implementing their advice a breeze. There is no greater collection of SEO minds on the internet than on Moz, so subscribe and start increasing your sites SEO!
3 Notable eCommerce Blog Posts
Stop Ghost Spam in Google Analytics With One Filter
How to Learn SEO: Choose Your Own Adventure
The SEO Expert's Guide to Web Performance Using WePageTest
Moz's eCom Expert
7. Practical Ecommerce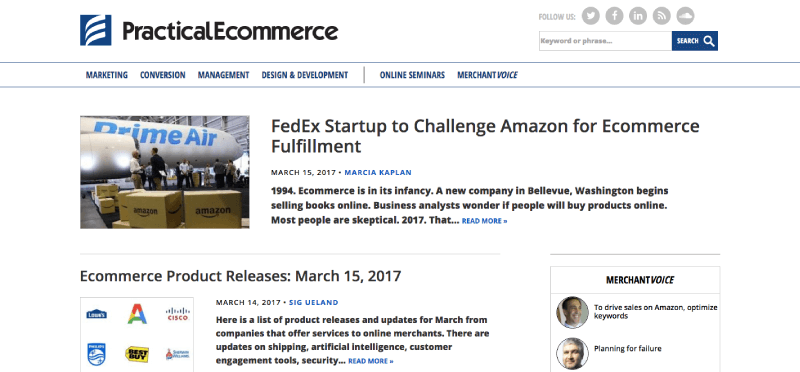 Visit the Practical Ecommerce Blog!
Practical Ecommerce is another pure ecommerce blog. The blog focuses on all sorts of different aspects of ecommerce including: marketing, site optimization, Google Analytics, and more. If you are looking for a one stop shop for everything ecommerce than this is your blog.
The blog also has featured authors on a variety of different topics who blog frequently to keep you up to date on the most important ecommerce topics.
3 Notable eCommerce Blog Posts
A Random (8 Year) Walk in Ecommerce
Shoppers Turn to Small Online Retailers for Unique, Hard-to-find Items
7 Ways To Improve Ecommerce Category Filters
Practical Ecommerce's eCom Expert

8. Shopify Blog

The Shopify blog has quickly become one of my favorite ecommerce blogs! The blog alone is amazing but they also have some amazing ebooks and guides as well. There content is geared towards a early stage ecommerce crowd but the perspective they provide is very interesting.
They have a very diverse team of former ecommerce entrepreneurs writing the content for them and the articles produced are top notch. I find myself reading their blog every time a new article is posted.
3 Notable eCommerce Blog Posts
5 Proven Ways to increase the Average Order Value of Your eCommerce Store
Acquisition vs. Retention: Should Your Store Play Offence or Defense?
How We Built an eCommerce Business form Scratch & Generated $922 in 3 Days!
Shopify's eCom Expert

9. The Smile.io Blog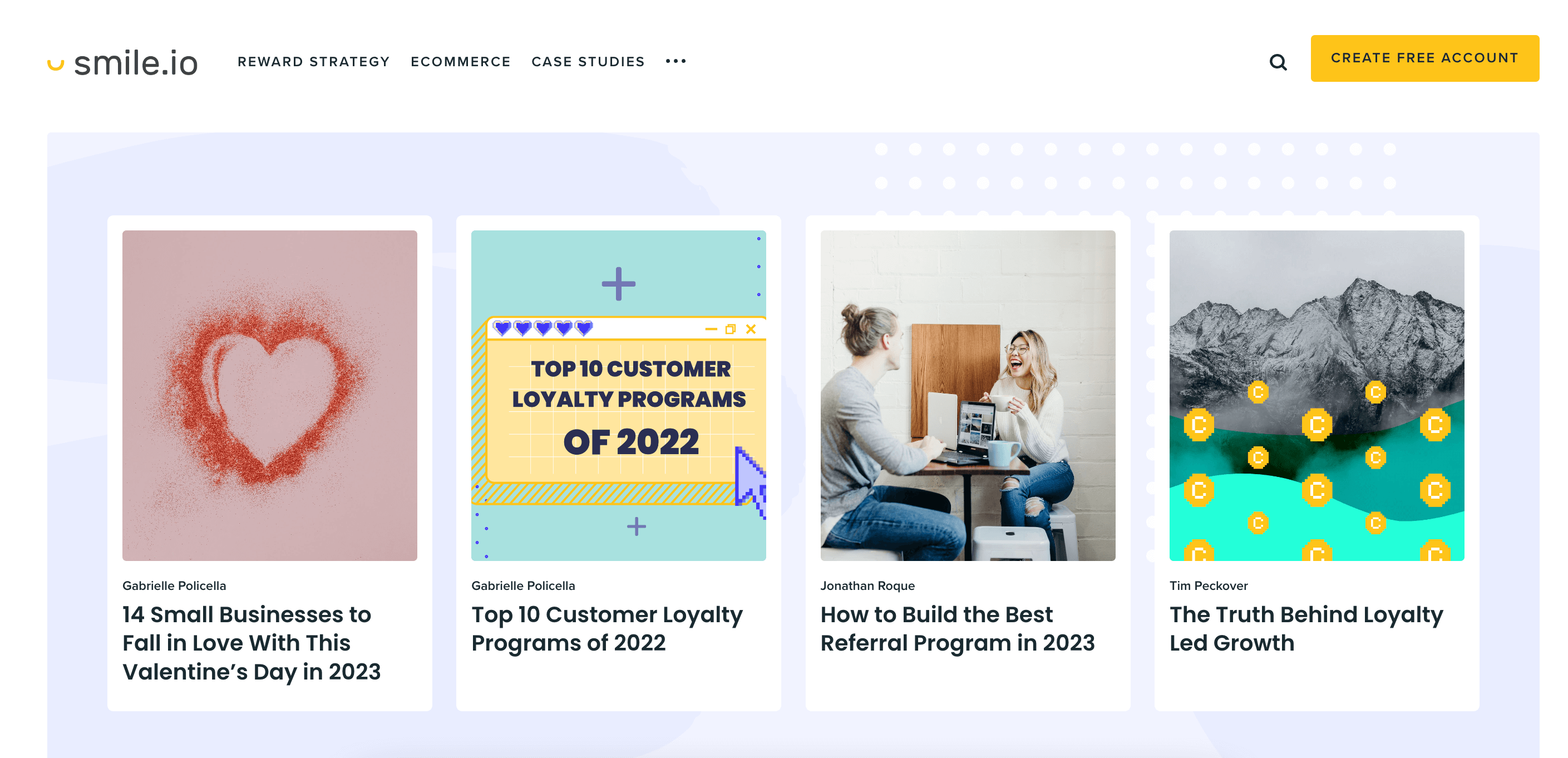 This is the blog you are currently reading! It wouldn't be a proper blog post with out a little self promotion, just check the tips from the content guys listed above. The Smile.io blog covers ecommerce from many angles but has a heavier focus on customer retention and customer loyalty.
If none of your customers are coming back you are going to have a tough time in ecommerce and this blog arms you with the resources you need to start utilizing retention.
3 Notable eCommerce Blog Posts
eCommerce Psychology 101: Sell More
Repeat Customers are Profitable, Here are the Stats
Smile.io's eCom Expert

10. QuickSprout Blog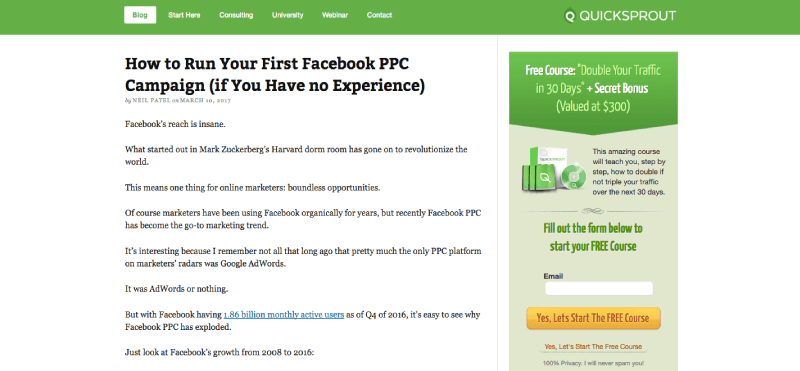 QuickSprout is a website designed to teach you everything you need to know about online marketing and the lessons come from an impressive teacher. The site is operated by Neil Patel who has started many successful online ventures including KissMetrics.
This blog provides a ton of actionable advice about online marketing from a true expert!
3 Notable eCommerce Blog Posts
The 5 Types of Content That Attract the Most Backlinks
Quantify Your Results: The 14 Most Important SEO Metrics
How to Cut Your Bounce Rate in Half
QuickSprouts' eCom Expert

Which eCom Experts and Blogs Did I Miss?
There are so many great blogs out there that provide a ton of value for ecommerce. So many in fact it would be impossible to include them all. The blogs in this list are the ones that I follow on a regular basis to make sure I am up to date with the ecommerce world. If you know a must see ecommerce blog I would love to hear about it! Tweet me it @alexmcea.