If you are having trouble getting customers actively engaged with your rewards program, don't fret! With a few small improvements, you can change that and get more customers interacting with your program. These engaged customers are responsible for generating the majority of your profit, making them highly valuable for your brand.
Here are 5 easy ways you can get your customers more actively engaged with your program.
1. Encourage Customers to Spend Points with Email Reminders
Customers who have enough points should be spending them, but sometimes they need a little reminder that they can redeem a reward. The easiest way to do this is through email.
Since the average American is enrolled in more than 14 loyalty programs, it can be difficult for customers to remember how many points you've earned in each of them. Just because someone has been inactive for some time doesn't mean they have abandoned your program - they might have just forgotten the value the value that's waiting for them! As a result, email reminders are necessary to boost engagement, and are an easy and effective way to bring customers back to your store.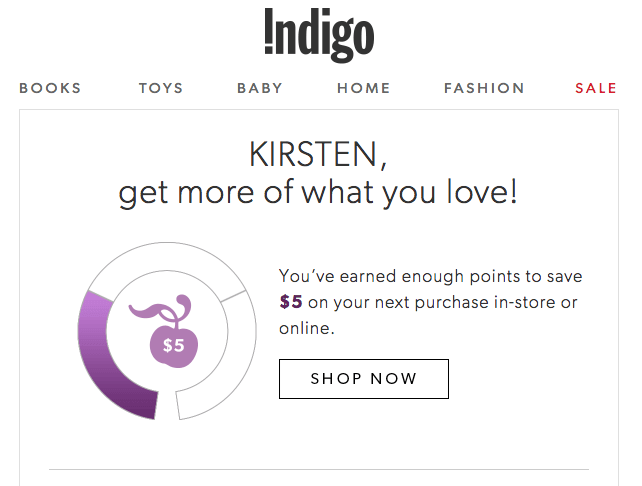 Indigo is by far one of my favorite examples of this concept at work. Several times a year, they bump my points balance up to the next reward level and remind me that I have some points to spend.  It's hard to buy from a competitor or ignore my desire for a new book when they're reminding me that I have enough points to save $5 off my next purchase!
No matter how you choose to incentivize your customers through email, it's clearly one of the best ways to boost loyalty program engagement.
2. Make Your Program Visible
You can't expect to have any actively involved customers in your loyalty program if they don't even know you have one. I can't count the number of times I've gone through a checkout process as a guest with no idea that I could've been earning points for my purchase.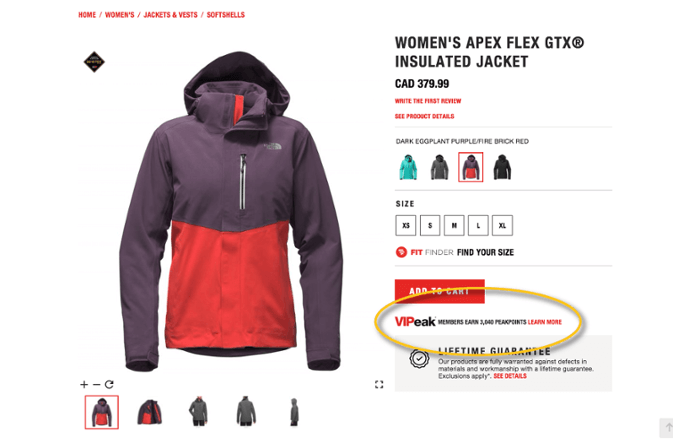 The best place to promote your rewards program are the pages that get the most traffic. This might be different for every store, but in most cases your home, checkout, and product pages will provide the most visibility. For example, the North Face VIPeak rewards program is advertised on every product page, which makes it very hard to miss and makes sure I'm earning points for every purchase.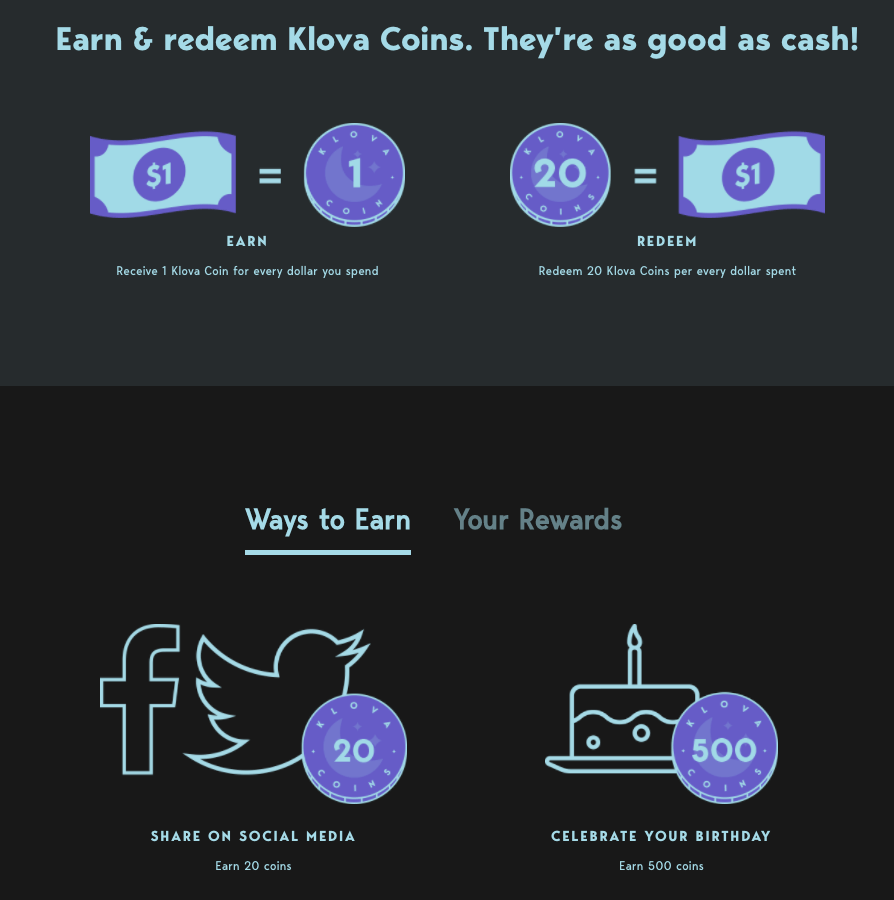 You can also increase visibility with a dedicated explainer page.  Klova makes their rewards program easy to find and clears any up confusion with their amazing page, which describes how Klova coins can be earned and spent. This is one of the ultimate ways to make your program visible. Add a link to your explainer page on your website's navigation menu and you will significantly increase the signups for your rewards program.
Get more of your customers on board with your loyalty program by simply making it more visible with call-to-actions, an explainer page, and nav bar links. The more program members you have, the more you can influence their brand loyalty.
3. Increase the Speed Customers Are Earning Rewards
No one wants to stay in a rewards program that makes it hard to earn rewards. You can get customers engaged with your program early on by allowing them to earn rewards faster.  Once they see how easy it is to earn points, they are going to strive much harder to redeem rewards and stay hungry for more!
There are a number of ways you can make it easier for members to reach their first reward:
Increase the number of points received per action or dollar spent
Decrease how many points your rewards cost
Run a bonus points campaign for existing members
Give customers new ways to earn points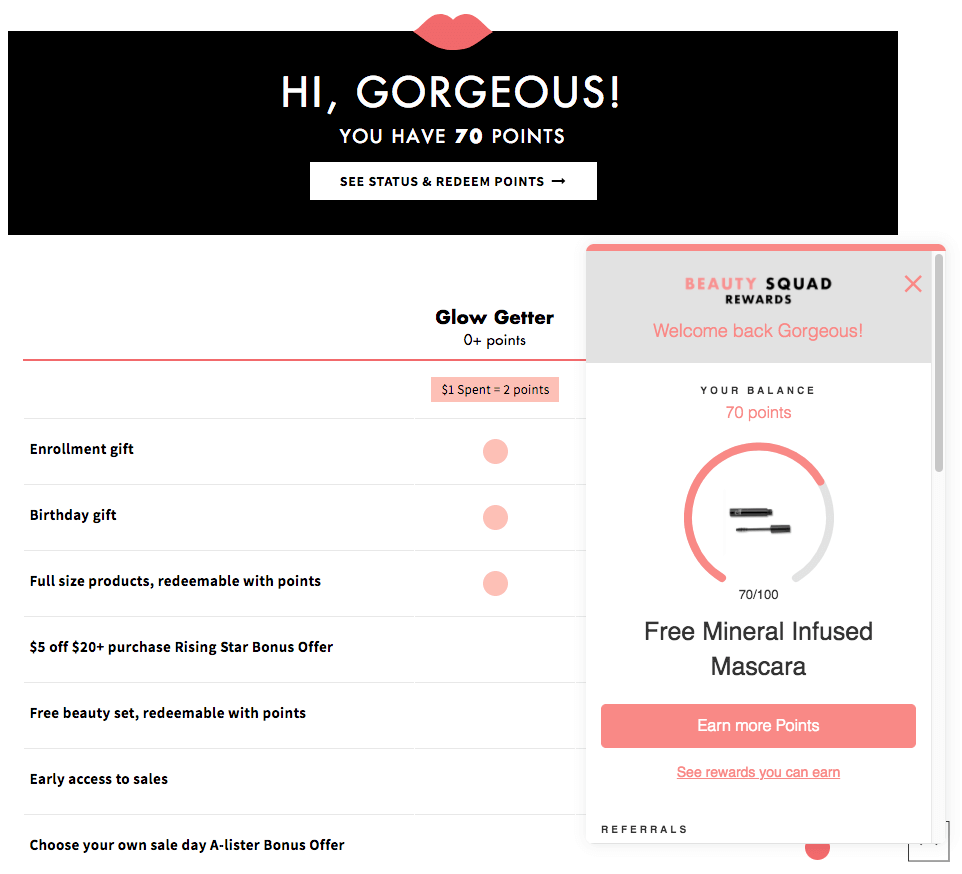 e.l.f.'s Beauty Squad program allows me to earn a free Mineral Infused Mascara very quickly, which keeps me motivated to continue purchasing! I already achieved 70/100 points just by creating an account and sharing on social media. Once I make a $15 purchase I will be able to redeem my free mascara. I would much rather claim my free gift from e.l.f. than make a purchase from a competitor - as a gift for my girlfriend of course.
4. Give Customers New Ways to Earn Points
Sometimes the issue isn't with how fast customers can earn points but with the ways that they earn them.
Giving your customers more variety will keep them earning for longer, which means they with you instead of switching to one of your competitors. There are a number of valuable actions you can reward for:
Following your pages on social media
Sharing your store on Facebook or Twitter each month
Making a purchase
Creating an account
Leaving a product review
Celebrating a birthday
Referring a friend to your store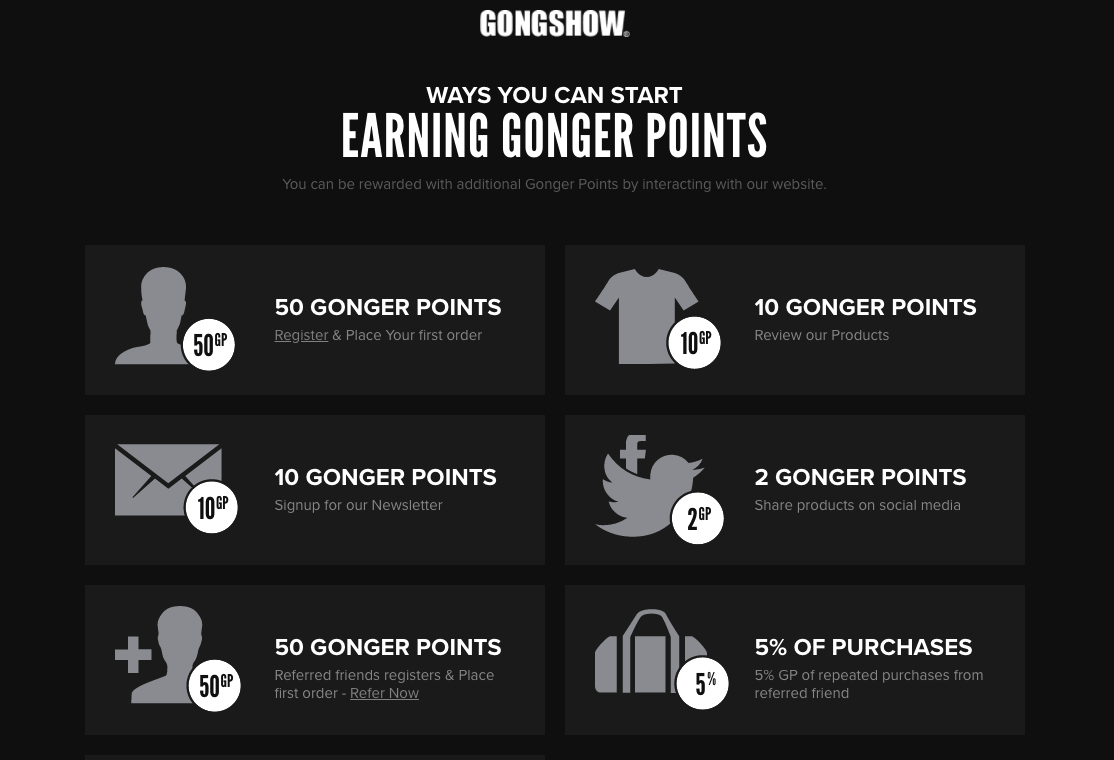 Gongshow diversifies the way customers are earning points by offering points for placing your first order, reviewing their products, sharing products on social media, and others. Many people get bored of the traditional loyalty program model where points are earned only when dollars are spent.
Put yourself in your customers' shoes: how would you want to earn points? Just by making purchases, or by engaging on social media as well? Keep making your program more exciting until you are confident that even you wouldn't get bored earning points!
5. Make Sure Your Rewards Match Your Audience
Motivating customers with the rewards you offer is critical to getting customers to engage with your program. Would you stay in a loyalty program that offers iPhone accessories as rewards when you're an Android user?
The easiest way to determine if your customers are actually motivated by the rewards you're offering is by asking them! Reach out via email or request feedback through your site to get an idea of what customers are actually looking for in your rewards program.
If you're not sure where to start, we've found that most people are very receptive to free shipping and branded swag. Both of these rewards have a higher perceived value than their actual value, making them valuable for both you and your customers. This by far the optimal scenario: your customers get something they value without you having to break the bank.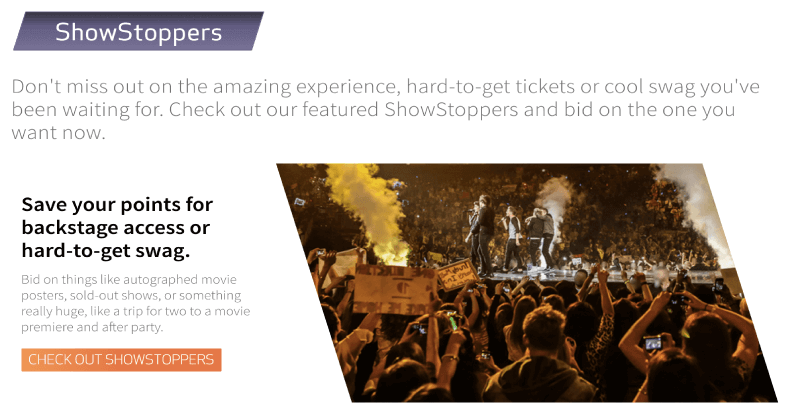 Sony's rewards program gives their customers the chance to win signed posters, backstage concert tickets, and access to Hollywood movie premieres. Each of these rewards is a perfect match for the media-consuming Sony customer.  You need to find a reward that matches your customer - what's a product or experience that's difficult for them to obtain but easy/cheap for you to deliver?  Answering this question will help you discover rewards that keep your customers excited to keep earning and spending in your program.
Improving Your Rewards Program is a Gradual Process
Experimenting with your rewards program is one of the best ways to build a world-class program. From the rewards you offer to the ways customers can earn them, your program is not a set-it-and-forget-it tool. Try emailing customers to remind them of their point balance, add some visibility to your program, increase the speed points are earned, offer new ways to earn points, or make sure your rewards match your customer!
You might not get it perfect the first time, but that's alright! Since every clientele is different, boosting the success of your program depends on what works best for your customers, so ask get them involved in the conversation!  When your customers feel they have a voice, it's only a matter of time before your engagement rates start to creep up and up.