If you consider yourself a luxury brand, you've probably wondered if a loyalty program could work for your business.  Whether you were afraid that it could dilute your brand or just didn't know what it could look like, I have great news: rewards can work in your industry!
By branding your "loyalty program" as a rewards program and making it exclusive, you can not only build your customer loyalty but also make your brand feel even more premium. All it takes is knowing how and why rewards work.
Reward Programs Work for Luxury Brands
The high amount of competition and smaller customer base means many luxury brands have trouble gaining repeat purchases. The solution here is to implement a rewards program which helps you differentiate your brand from the competition by building an exclusive community.
Additionally, with very high margins averaging around 10%, luxury brands are well suited to giving back to their loyal customers - especially when set up correctly.
How to Create a Rewards Program That Preserves Your Brand
Follow these basic principles to ensure your rewards program builds customer loyalty while keeping your well-respected brand intact.
1. Make it Exclusive
Social status is one of the biggest factors when it comes to luxury purchase decisions, which means you want to carry that exclusivity into your rewards program. Building a prestigious community will foster your customer's desire to join your program and purchase from your business instead of your competitor's. This keeps your existing customers engaged while also attracting new ones to join!
2. Avoid Discounting
Discounting your products as a luxury brand is very dangerous because it leads to nothing but a short-term increase in sales that severely damages your brand image. To combat this, use your rewards program to provide additional value rather than offering subtractive discounts.
3 Tactics to Structure Your Rewards Program for Luxury
Now that we've gone over the strategy your rewards program should follow, let's cover how to actually structure your program.
1. Offer Points for Social Sharing
Customers want the social status associated with purchasing luxury products, which means they want to post about it on social media. Take advantage of this by offering them points to share your products across their networks. With the average person having 634 social connections, this is extremely valuable for increasing brand impressions and awareness.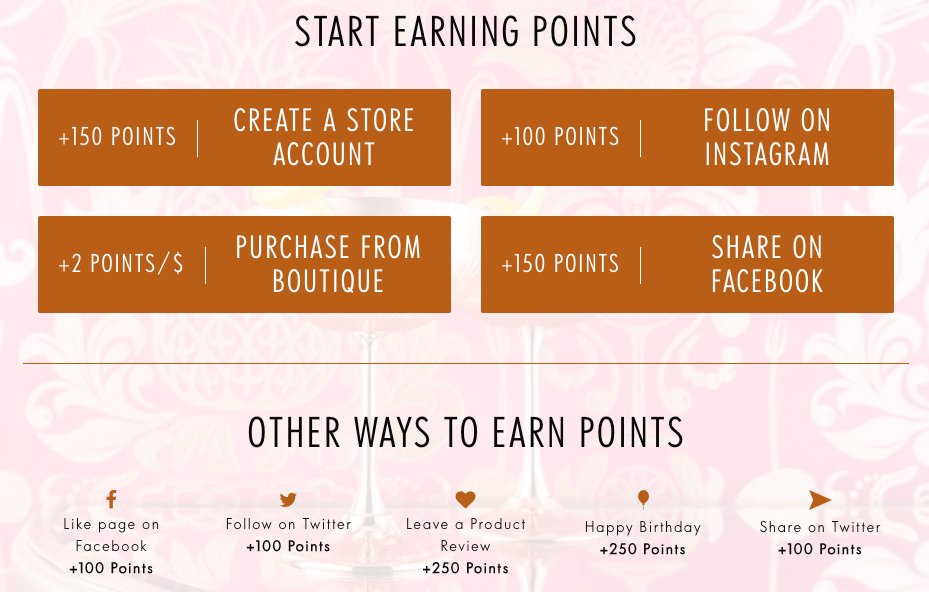 Elyx Boutique gets their luxury customers excited about joining their Copper Club by providing many easy ways to earn points through social media. By understanding how customers engage with their brand, Elyx motivates them to engage and share every purchase they make!
2. Offer Tiered Rewards
Place your customers in tiers based on how many points they've earned and provide them with more prestigious rewards as they move upwards. This makes your best customers feel appreciated but also encourages your lower tiers to strive for higher ranks by spending more money and earning more points.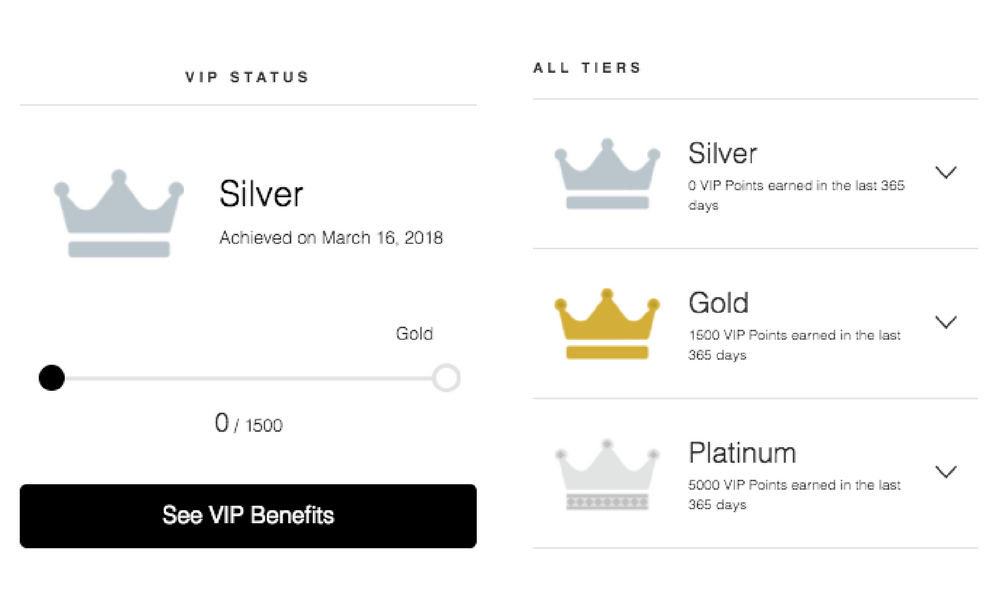 Roma Designer Jewelry's VIP rewards places you in either the Silver, Gold, or Platinum tier - very appropriate names for a jewelry store. These names make the rewards program feel integrated with the rest of their website, making for an unbeatable shopping experience. By moving up to the higher ranks I'm rewarded with extra VIP points on every purchase, which can later be redeemed for store gift cards! This cycle of value motivates me to keep making purchases.
3. Offer Valuable Rewards
The best rewards are the ones that your customers actually want. This will motivate them to spend more in order to earn them, improving brand engagement. Implementing a tiered VIP rewards program allows you to determine who your best customers are and appropriately reward them for their efforts. Give your top tier members access to products they can't get anywhere else to make them feel special and retain their loyalty.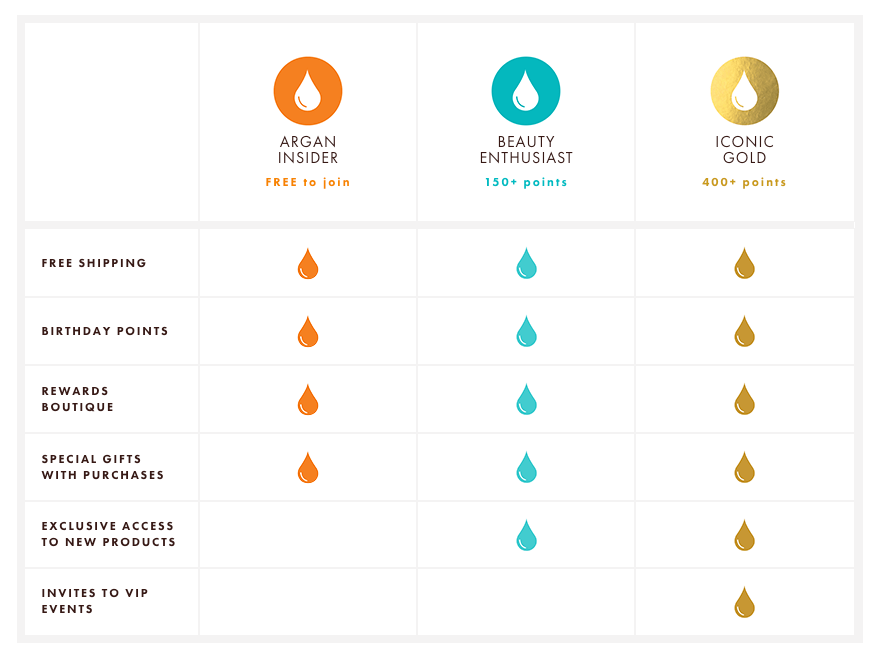 Moroccanoil's rewards program gives great incentive for both new and returning customers to join.  With significant value available to lower tiers, they've upped the ante with highly exclusive rewards (such as special events and exclusive access to new products) that are only unlocked once the higher tiers are reached. This makes it tempting for new customers to join and even more rewarding for long time loyal customers. Ultimately, Moroccanoil's Beauty Circle makes it impossible to shop anywhere else for hair and body care products.
Add Prestige to Your Brand with a Rewards Program
A rewards program will not detract from your brand but rather make it even more premium. Exclusivity will be the key to ensuring your program creates loyal customers, and VIP tiers and exclusive rewards are crucial to this success.