I've always been an active person. From climbing trees as a kid to weight training and rock climbing as an adult, I've always been passionate about physical fitness.
These days more of my friends have "caught the bug," so to speak, but I'm not sure it's purely to be healthier. Nowadays the way you look at the gym is almost as important as what you do there, and this has led to an incredible surge in fitness apparel sales. In fact, sales are projected to surpass $231.7 billion by 2024!
The popularity of athleisure fashion continues to grow year over year.
If this sounds ridiculous, it shouldn't. Think about your office — if it's anything like ours, there's at least one person wearing workout pants every day. This fashion trend, affectionately coined "athleisure," has not only increased sales but also boosted the competition. With higher demand from customers, more brands are getting brave enough to try their hand at activewear, making it an increasingly competitive industry to be a part of.
So what can you do to get the gold? While you might not be able to bench press your way to success, you can strengthen your brand community with rewards. When you reward customers for joining, engaging with, and sharing your brand with their friends, you establish strong relationships that aren't easily broken.
How to get community gains with rewards
There are many ways to use rewards to improve your brand community, but three tactics stand out as easy wins for fitness apparel brands.
Make customer reviews a priority
When it comes to buying new workout clothes, quality is incredibly important. From running to weight training to yoga, customers need to know that the products they're investing in will actually hold up when push comes to shove.
The problem is that quality is hard to tell from photos alone. This is one of the leading reasons that customers are still afraid of shopping online. As a result, customers do lots of research  before committing to a purchase, and customer reviews are a huge part of that. That's why athletic wear video reviews are so popular. Customers want to know that the brands they're investing in not only look great but can also pass the "squat test."
You can build this peace of mind into your brand community by rewarding customers for product reviews. Offering your members some points for sharing their thoughts about your products creates valuable social proof that will encourage new customers to try your brand for the first time and, ultimately, join your brand community.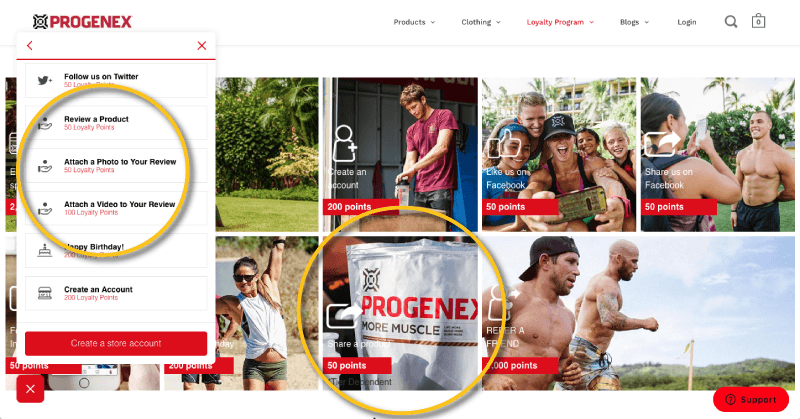 Progenex is undoubtedly one of the best examples of this in action. Not only do they reward customers for each review, they also offer bonus points for attaching videos or pictures to reviews (which they can do with Smile and Stamped.io). By offering these additional points, Progenex demonstrates that they understand a picture is worth a thousand words and want to use that visual content to make every purchase decision easier.
Encourage more peer-to-peer referrals
As I mentioned earlier, athleisure is becoming a staple in many people's wardrobes. However, that doesn't mean your customers are willing to wear any old pair of leggings to run errands. Whether they're wearing your products in the gym or on the go, your customers want to be sure they're wearing the latest trends and styles. After all, it's not just performance wear — it's a lifestyle!
With their social status on the line, customers only want to be shopping with the best brands. The trick is getting them to see yours that way. More than ever customers don't want to be sold to, which means your marketing messages will have little say in what decisions they make. Luckily, you have an incredible marketing team at your disposal: your brand community.

You can mobilize your incredible network of members by offering them rewards for referring their friends to your brand. This is a strategy Workout Empire has been using since the launch of their Sassy Army program. When customers explore the different ways to earn points, they quickly see that making a referral is one of the most valuable actions listed. With 500 Sass Cash up for grabs with every successful referral, sharing the brand with their friends is clearly worthwhile.
Each of these Sassy Army referrals validate the quality of the brand to new and potential customers, and you can do the same thing with your own store. With their peers' recommendations in the back of their mind, customers will be more likely to try your brand and incorporate it into their ever-growing athleisure wardrobe.
Make your program beautiful
I know I sound like a broken record, but quality is incredibly important when it comes to fitness apparel and the way your brand looks has a huge impact on how its quality is perceived. It plays a big part in why I choose the brands I wear. If I look good, I feel good, and that can go a long way towards getting me through a tough workout.
As a result, your rewards program needs to follow suit. Having a beautiful website means nothing if it doesn't influence the look and feel of your brand community. Instead, your program should be an integrated, cohesive part of your online experience that mirrors the appeal of your products.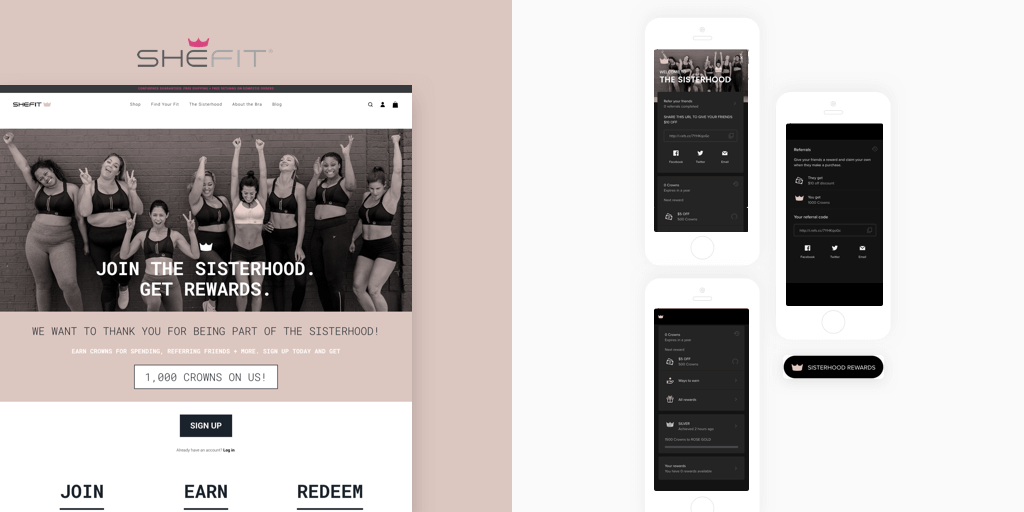 If you're looking for some inspiration, look no further than SheFit. As soon as you land on their Sisterhood rewards program page, you can immediately see how it fits into their store's design. This also extends to their program panel, which beautifully matches whether you're looking at it on desktop or on mobile.
From the icons they chose to the fonts and colors they used, SheFit has created a loyalty brand that roots their community in what makes their brand unique. These clear connections make it both appealing and valuable to officially join their sisterhood, improving the chances of every customer finding a reason to get engaged.
Put rewards into action and get your customers' hearts racing
Whether your customers are more interested in pumping iron or just being comfortable, a rewards program is the perfect tool to take your brand community game to the next level.
With more referrals, customer reviews, and brand engagement in the mix, your community will not only feel re-energized — it will also feel alive.