Basic literacy skills are something many of us take for granted. With the growing digital divide and more students learning online, many children are not getting the same opportunities with reading and writing that students did in the past. For individuals in countries where technology is not easily accessible, this limits their opportunities even more.
September 8th is International Literacy Day, which was founded by UNESCO and has been celebrated since 1967. Despite all of the progress that has been made, over 763 million young people and adults across the globe lack basic literacy skills.
📚
International Literacy Day aims to improve literacy for everyone across the globe to improve the equality of basic dignity and human rights
There are several brands that offer the tools needed to help change this. Let's check out a few book and stationery brands that you can shop with to continue improving your own literacy skills.
The Book Bundle
One of the best parts of reading is getting completely immersed in a new fictional world. Whether you're lost in the magical wizard world of Harry Potter or you've stepped through the wardrobe into Narnia, there is something special about reading a good series. UK-based brand, The Book Bundle allows its customers to purchase collections or "bundles" of books at a discounted rate.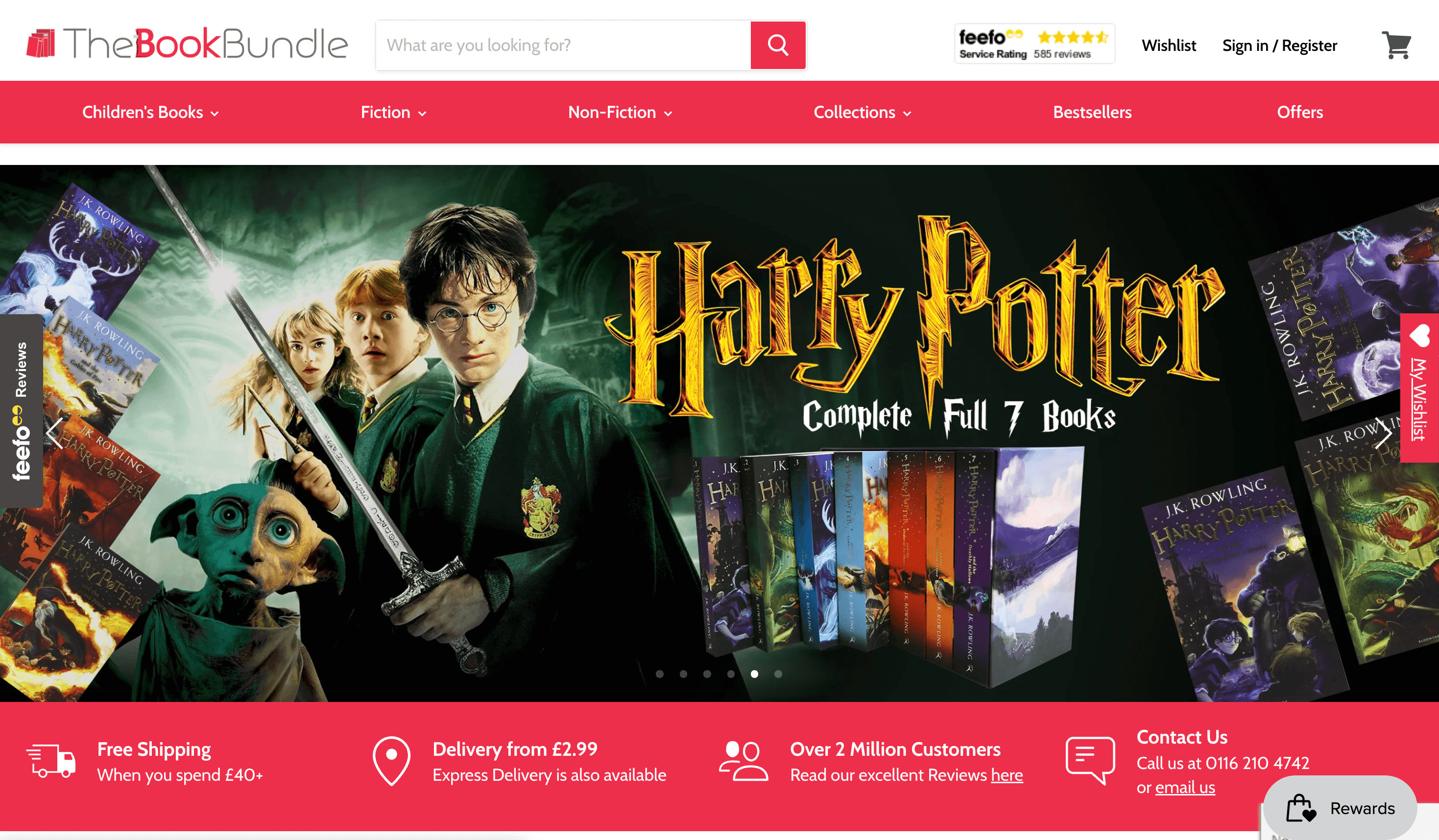 With book categories ranging from Action and Adventure all the way to Business, Finance, and Law, The Book Bundle has something for everyone from all age ranges. As a small book brand, this company harnesses the power of referrals to stay competitive through its rewards program. For every referral an existing customer makes, they give the new shopper £ 2 and receive £2 for themselves as well. Customers can also rack up points as they make more purchases to redeem for pounds off their next purchase.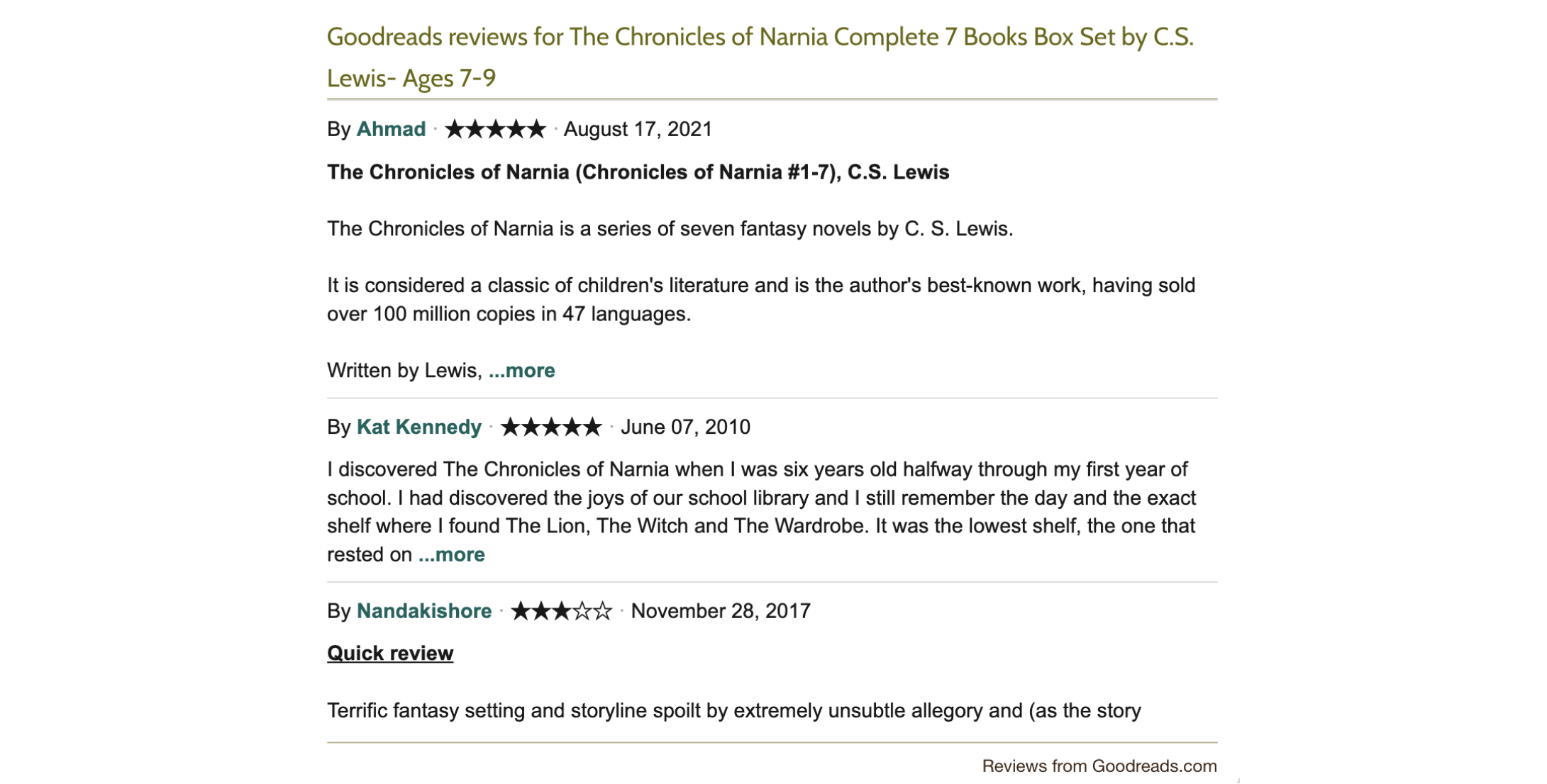 The Book Bundle enhances its customer experience even more by integrating reviews from Goodreads.com on its product pages. This allows customers to gain other people's perspectives to influence their decisions. This form of social proof can build authenticity and trust with the brand in the mind of the customer, increasing customer loyalty as a whole.
If you're looking for a great new series at a great price for your children (or yourself), look no further than The Book Bundle.
Books Unbound
One of the greatest joys of reading a story is connecting to a character. Maybe you see yourself or a loved one in them and that's why you root for them. But we can all agree that it's a lot easier to connect to a character when you have some shared experiences or features. That was the inspiration behind Books Unbound—a book brand that provides culturally sensitive and representative content for refugees.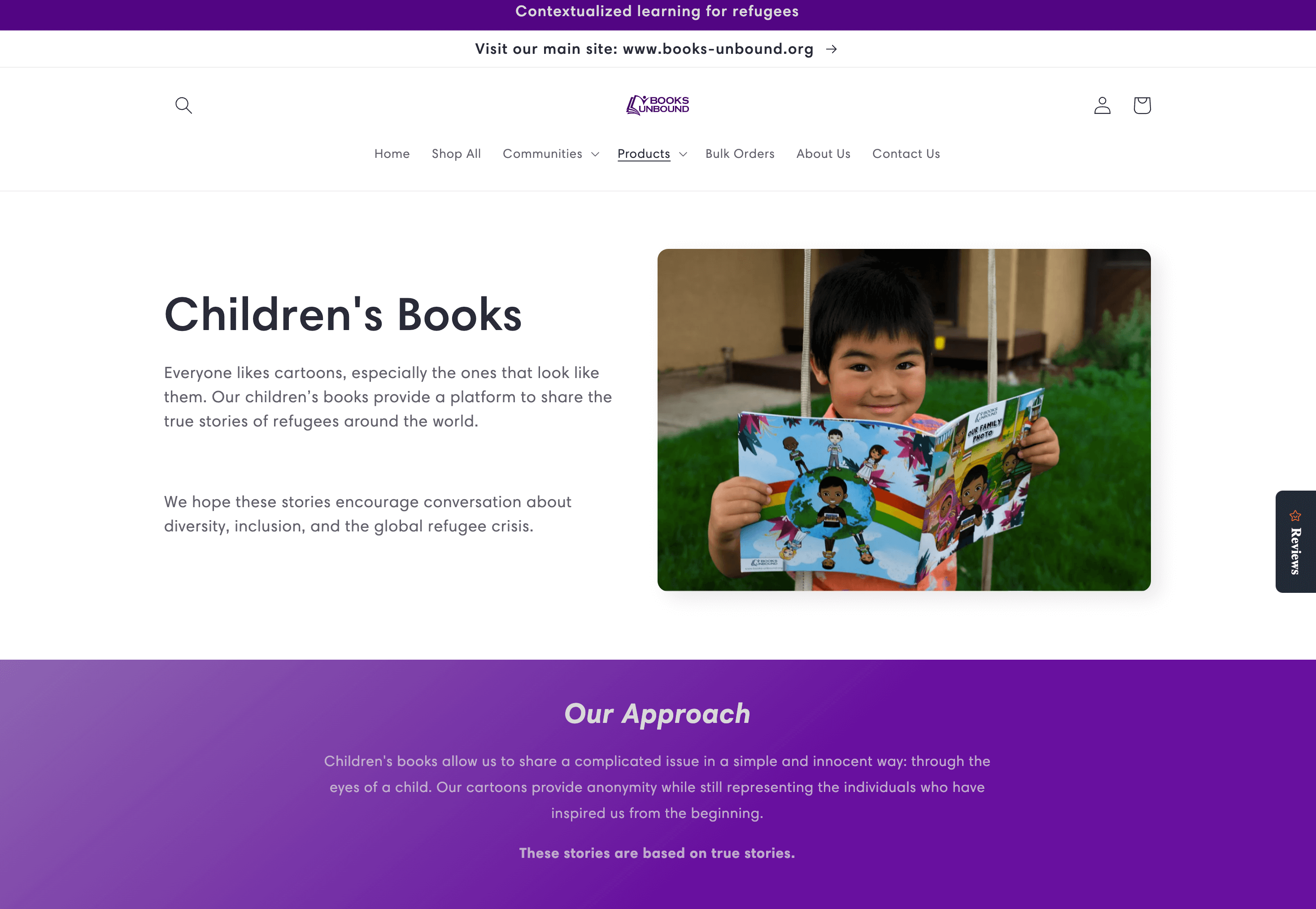 After spending time as an educator for marginalized communities in Southeast Asia, Sophie Danielson noticed there was a lack of contextualized learning materials for these cultures. So she set out to change this by drawing cartoons that represented their culture, daily activities, and traditions. Fast forward to today and Books Unbound offers a wide range of culturally sensitive books, coloring books, picture dictionaries, stickers, and more for refugees.
Today, the brand offers products for Afghan, Rohingya, Syrian, and Ukranian refugees. It also offers products aimed at addressing how diverse cultures can work together in the USA. Whether you come from one of these cultures and can finally identify with characters or want to learn more about them, Books Unbound has created a strong community of supporters who value this social cause.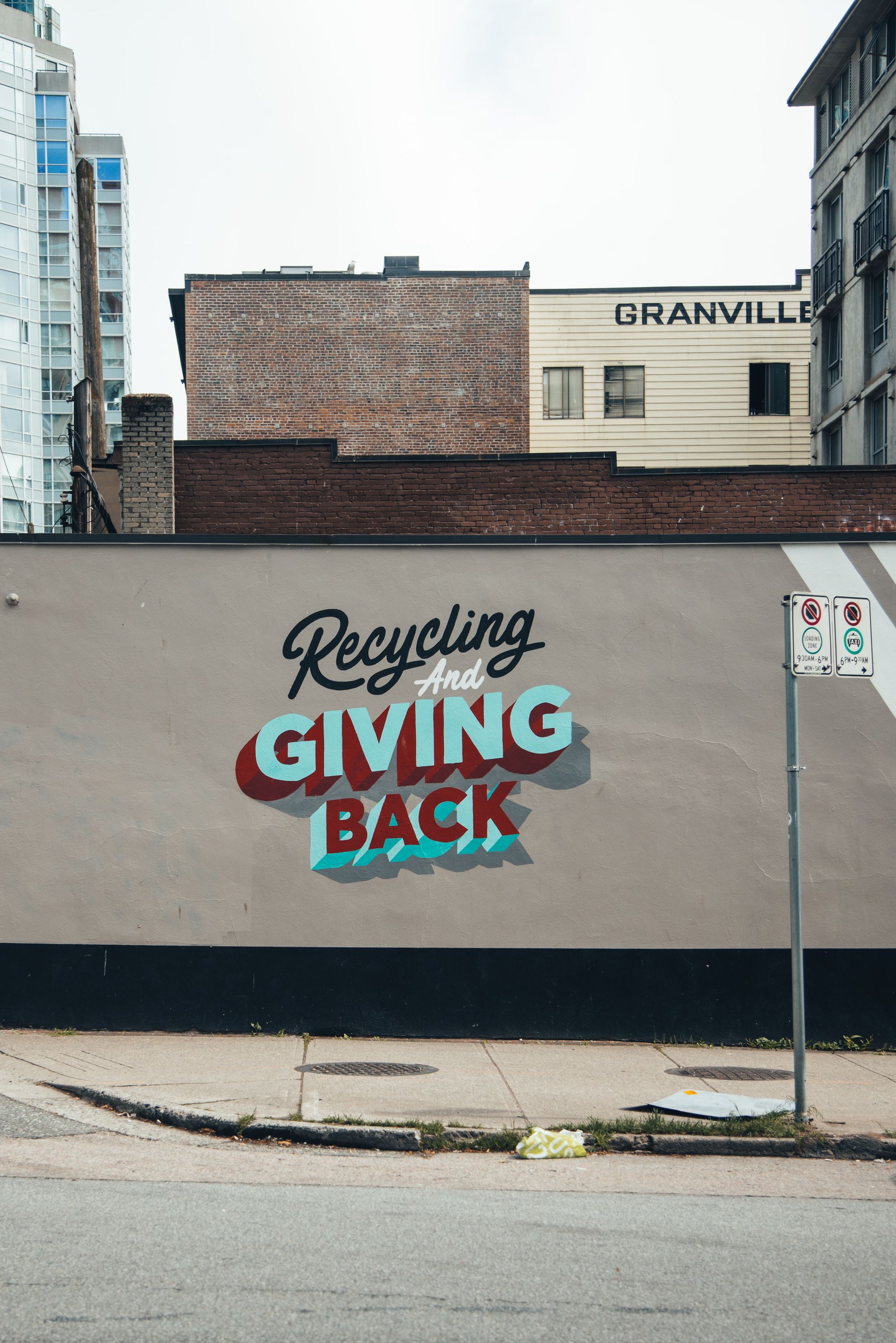 Books For Less
For some smaller book brands competing with giants like Indigo or Barnes and Noble may feel impossible. However, there are several effective ways to differentiate yourself from these big brands. Books for Less is a small New-Zealand based second-hand bookstore that does just that.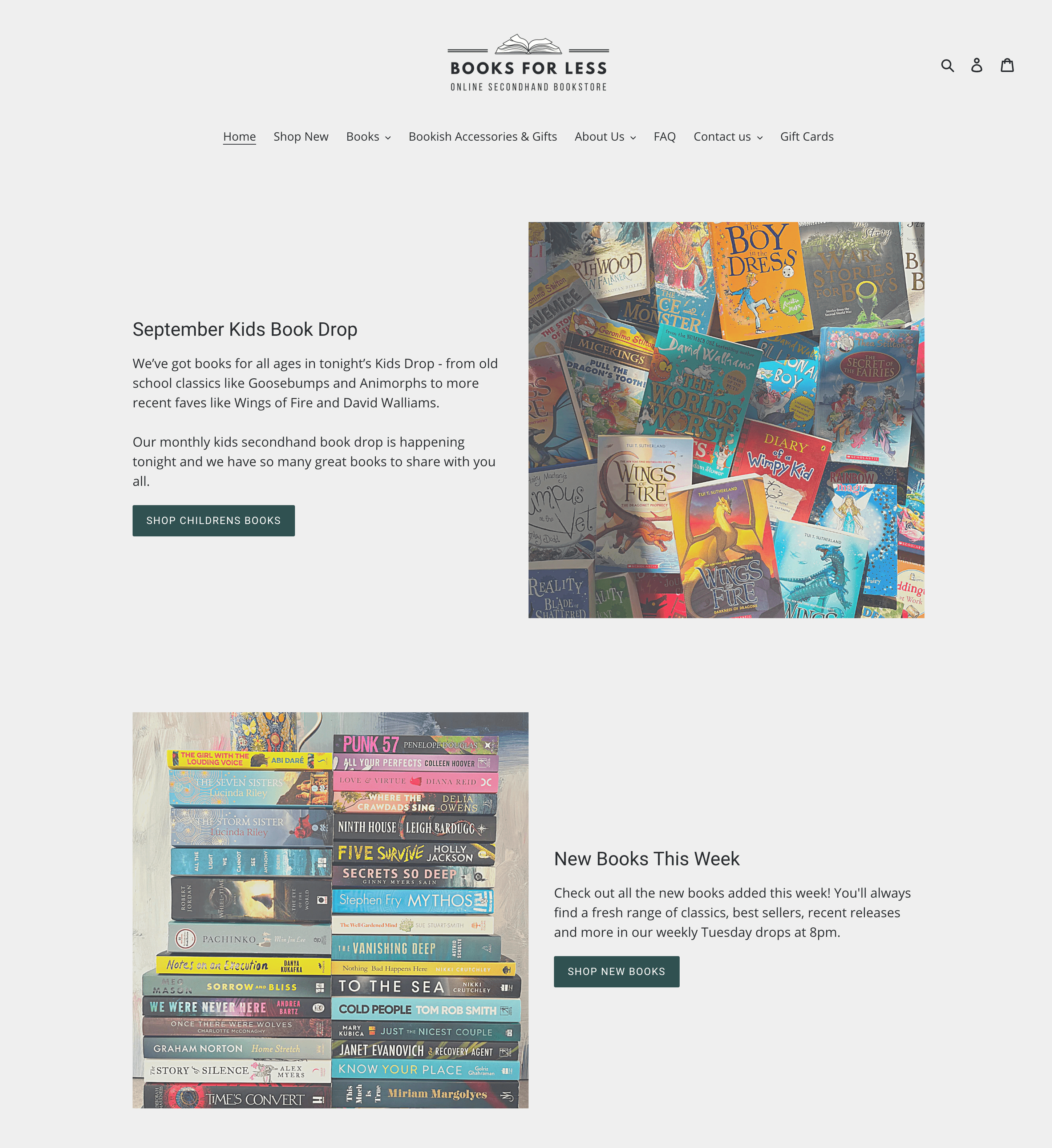 Started by two book lovers, Books for Less aims to make reading accessible to everyone. Avid readers know that constantly adding new books to your shelf can rack up a pricey bill. That's why co-founders Anne-Marie and Moses started this brand—to avoid having to choose between supporting small businesses or paying a low price. Books for Less offers your favorite books at a price you'll be a fan of as well.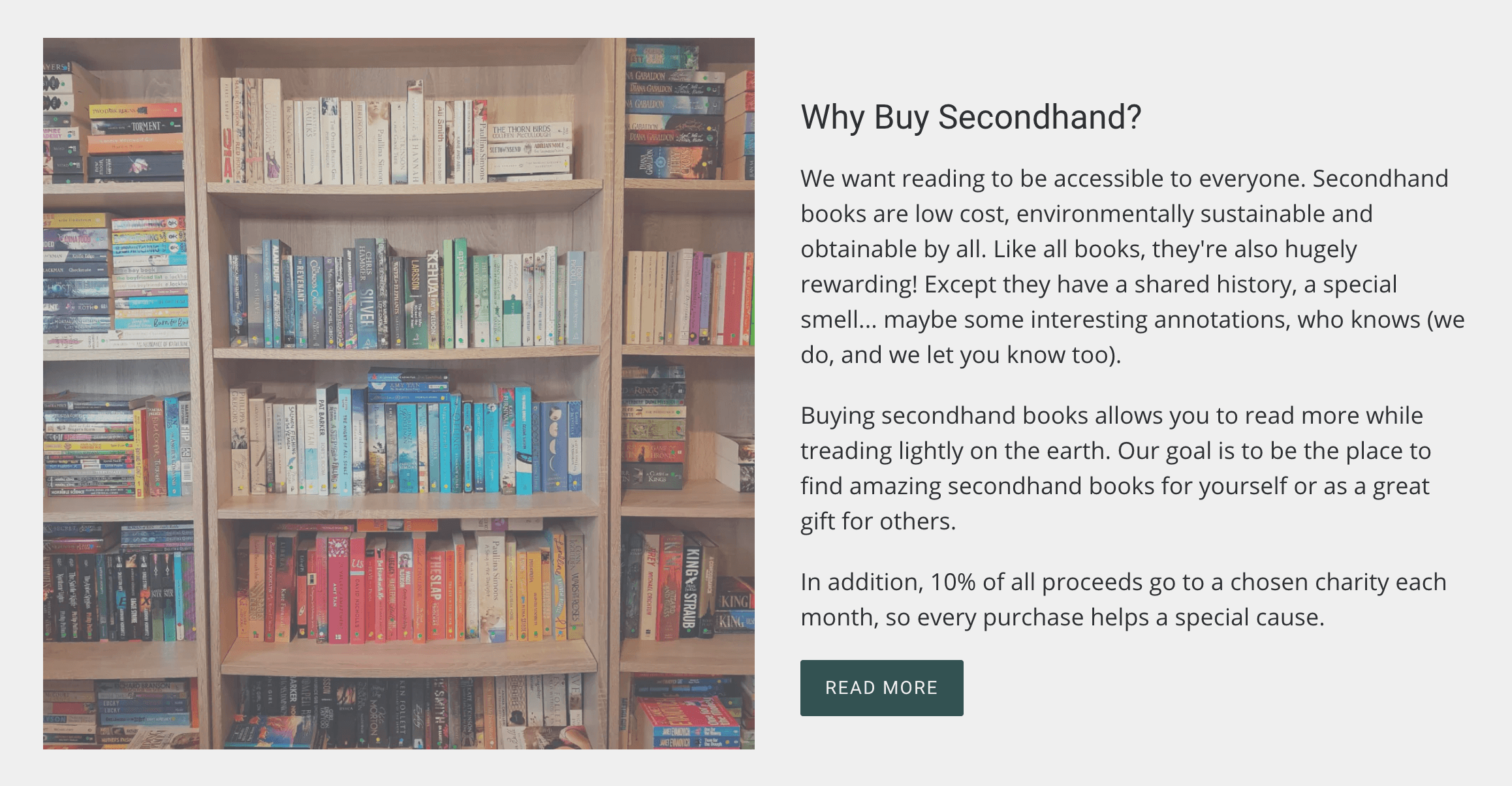 On top of great prices, this book brand is sustainable by nature. As a second-hand bookstore, it reduces waste associated with printing and manufacturing new books. They also come with their own story within the pages—from annotations to a special smell, used books have a unique history that new ones can't replicate. All products are also shipped in re-purposed cardboard to cut down on waste. "Don't be surprised if you order a bunch of books and they turn up in a baby food box or similar!" the website tells us.
With weekly book collection drops, Books For Less is able to keep customers engaged and encourage repeat purchases.
Better World Books
Keeping on the theme of books for good, this next brand is defined by a simple but powerful mission, "Buy Books, Do Good." Better World Books is an online bookstore that sells new and used books to readers across the globe. For every book purchased, books are donated to those in need through its partnerships with various charities and non-profits.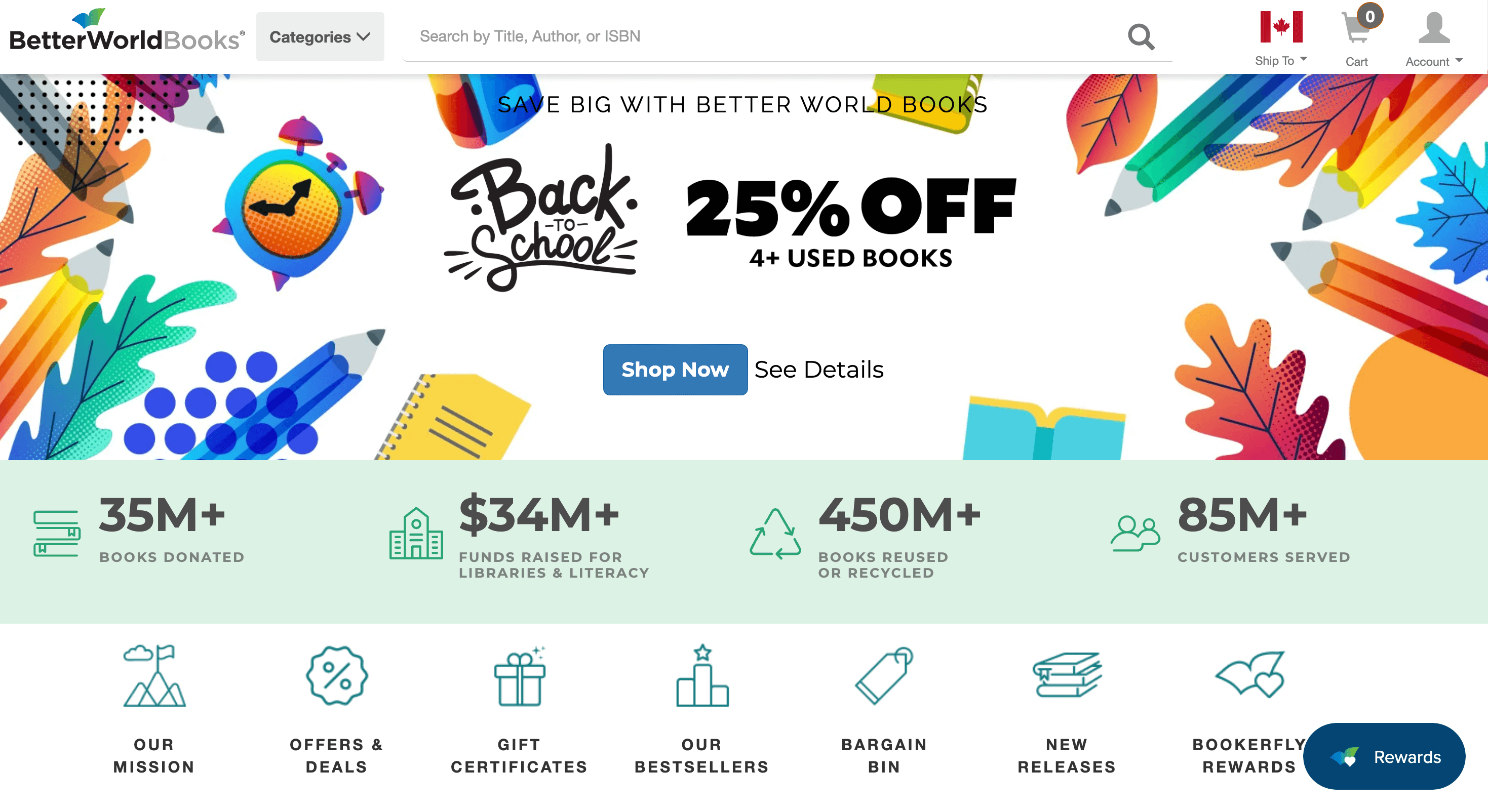 Since its creation in 2002, Better World Books has donated over 35 million books, raised $34 million for libraries and literacy programs, reused or recycled over 450 million books, and served over 85 million customers. Talk about an inspirational story. The social venture is a certified B Corp and gives its customers the chance to make an even bigger impact by letting them choose to contribute one dollar ($1.00) with each purchase to one of its literacy initiatives.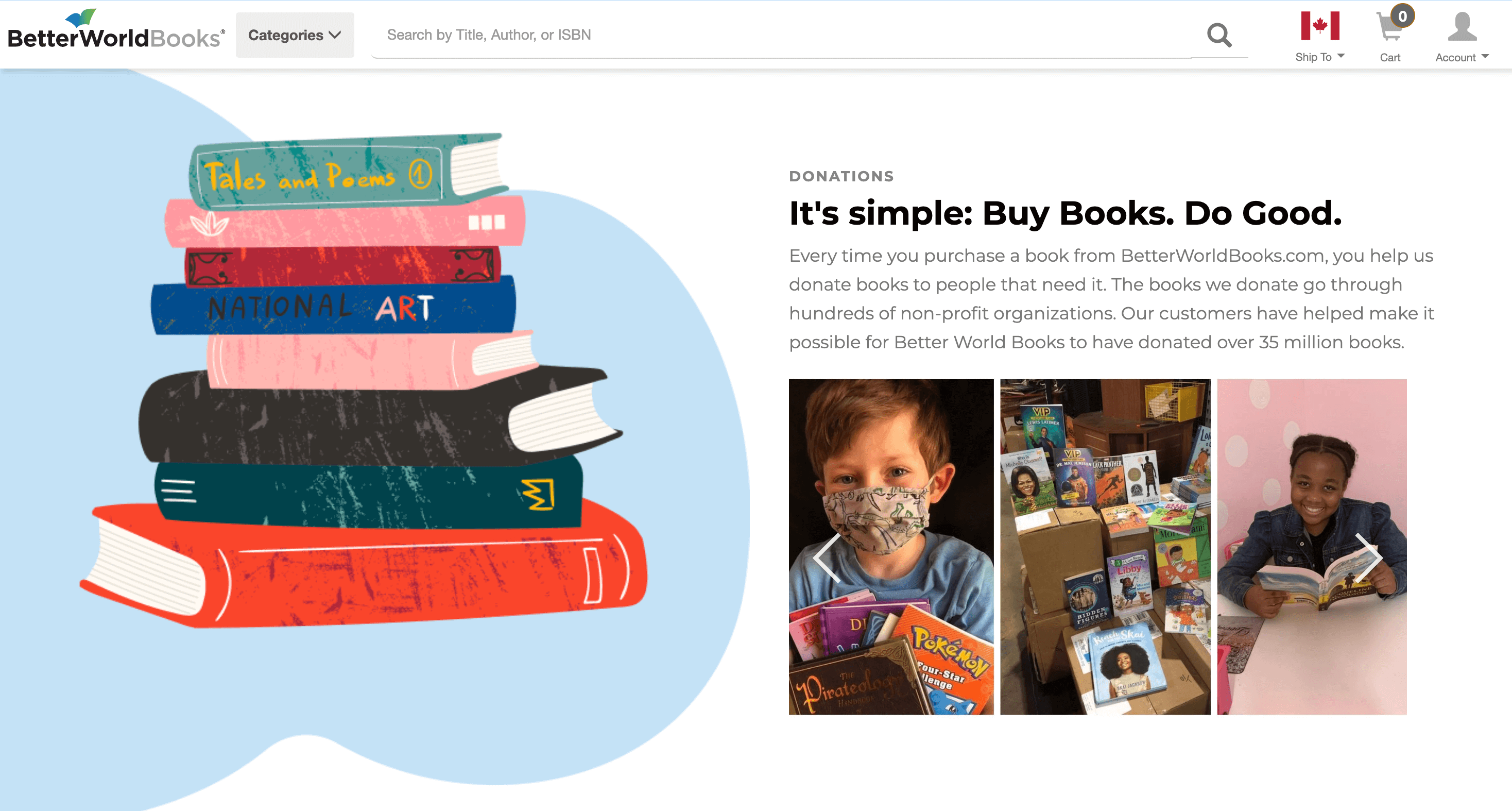 Through its vast collection of books and its strong social mission, Better World Books has created an incredibly strong brand community of book lovers. With nearly 170K social media followers, its customers are able to connect with one another to share book recommendations, discover new reads, and learn about the brand's impact.
Better World Books takes its community efforts even further through its monthly reading challenge. With a dedicated Facebook Group, customers are able to follow along with the monthly reading list to stay motivated to reach their own reading goals. In return, they are able to join their own virtual book club and share the passion of reading with like-minded community members who truly get it.
Hemlock & Oak
We've covered a lot of book brands but reading is only half of the story with literacy—writing is another part of it. Hemlock & Oak allows customers to create their own stories with its range of planners, journals, pens, and more!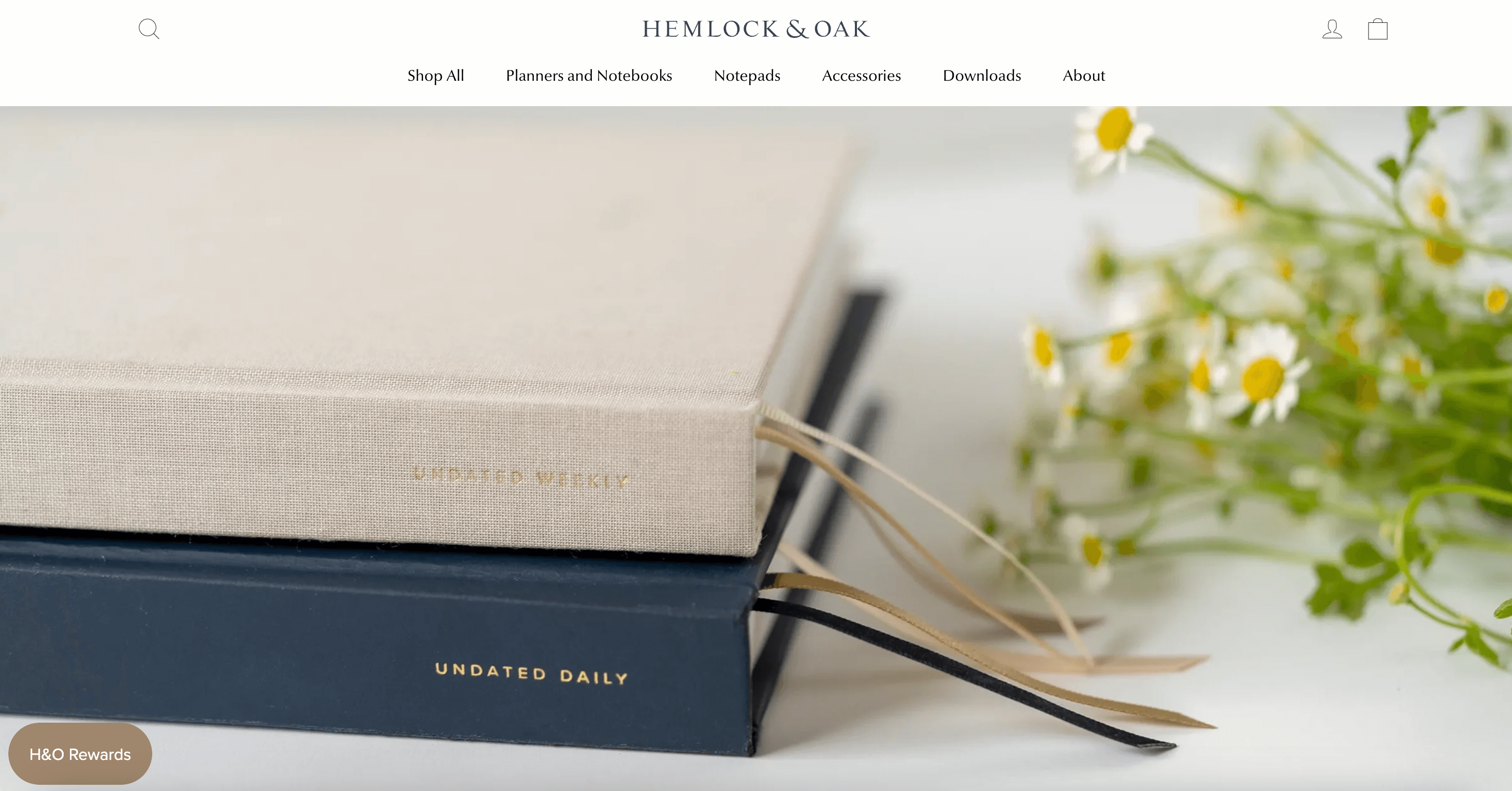 Writing goes beyond writing essays in school. Journaling is a great resource for anybody to help cope with the stress and anxiety that we all face. It's also a great way to take a break from the go-go-go hustle and bustle of the online world that we are experiencing all the time. This is a great way to give a thoughtful gift or ground yourself while supporting a small business.
Hemlock & Oak may aim to make it easier for its customers to give gratitude through its journals and planners, but it also delivers gifts to its customers. It offers multiple ways for customers to earn points, which they can redeem for dollars off their next purchase. If the beautiful, aesthetically pleasing planners aren't appealing enough, the chance to earn and redeem points should be enough to keep customers coming back time and time again.
99BooksCart
Seeing as this post is in recognition of International Literacy Day, it wouldn't be complete without some book brands from across the globe. 99Bookscart.com is an online book retailer based out of India that offers books for 99 rupees. Customers can purchase best sellers for this discounted price, or purchase a Bookscart Box for 999 rupees.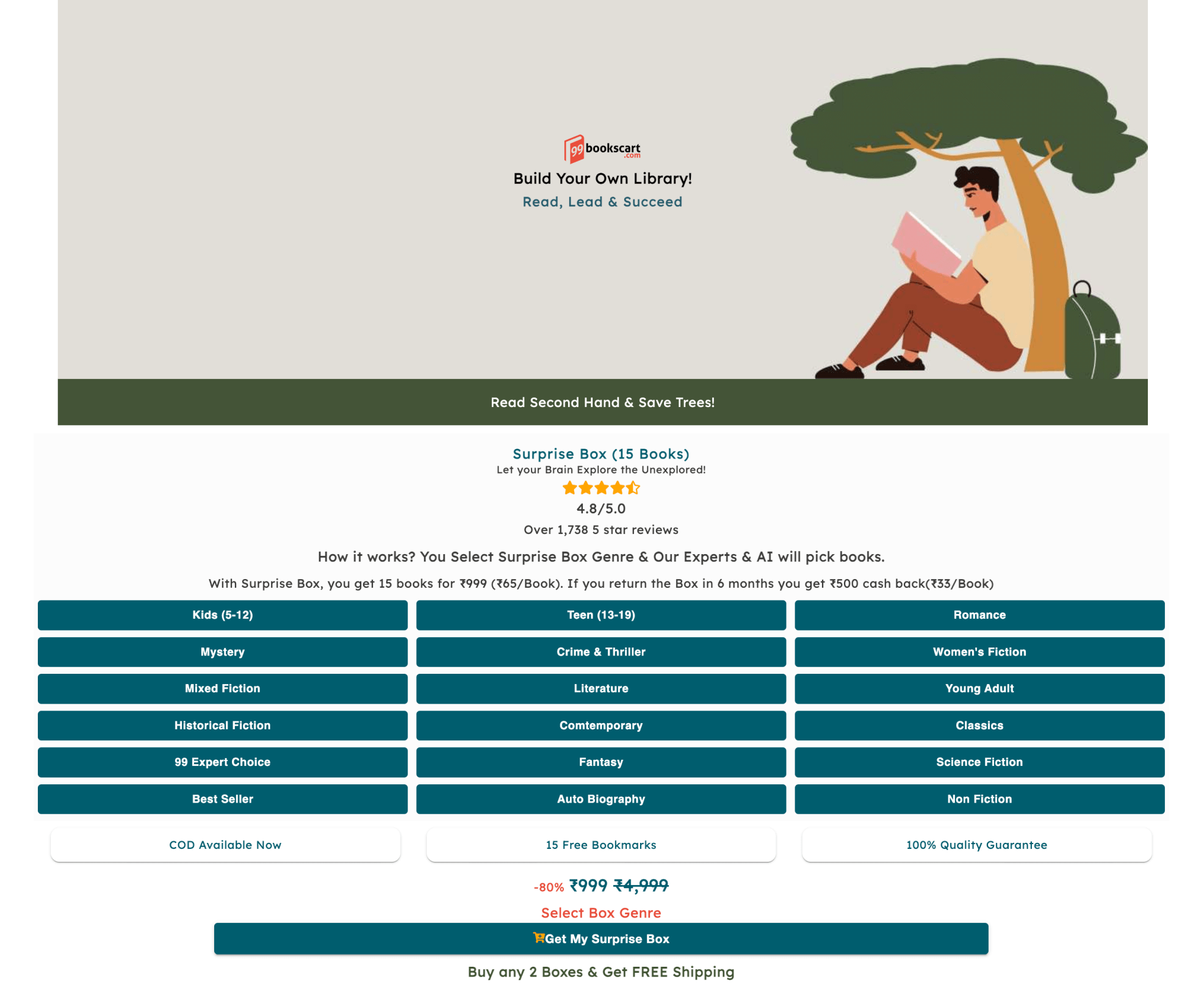 When purchasing a custom box, customers get to select a genre that will feature 15 different books from various authors within that category. This is a perfect way to discover new books and start your mini at-home library for a great price. Not only does this provide a personalized, curated customer ecommerce experience, but it also acts as a fun surprise as you wait to find out what's next on your reading list.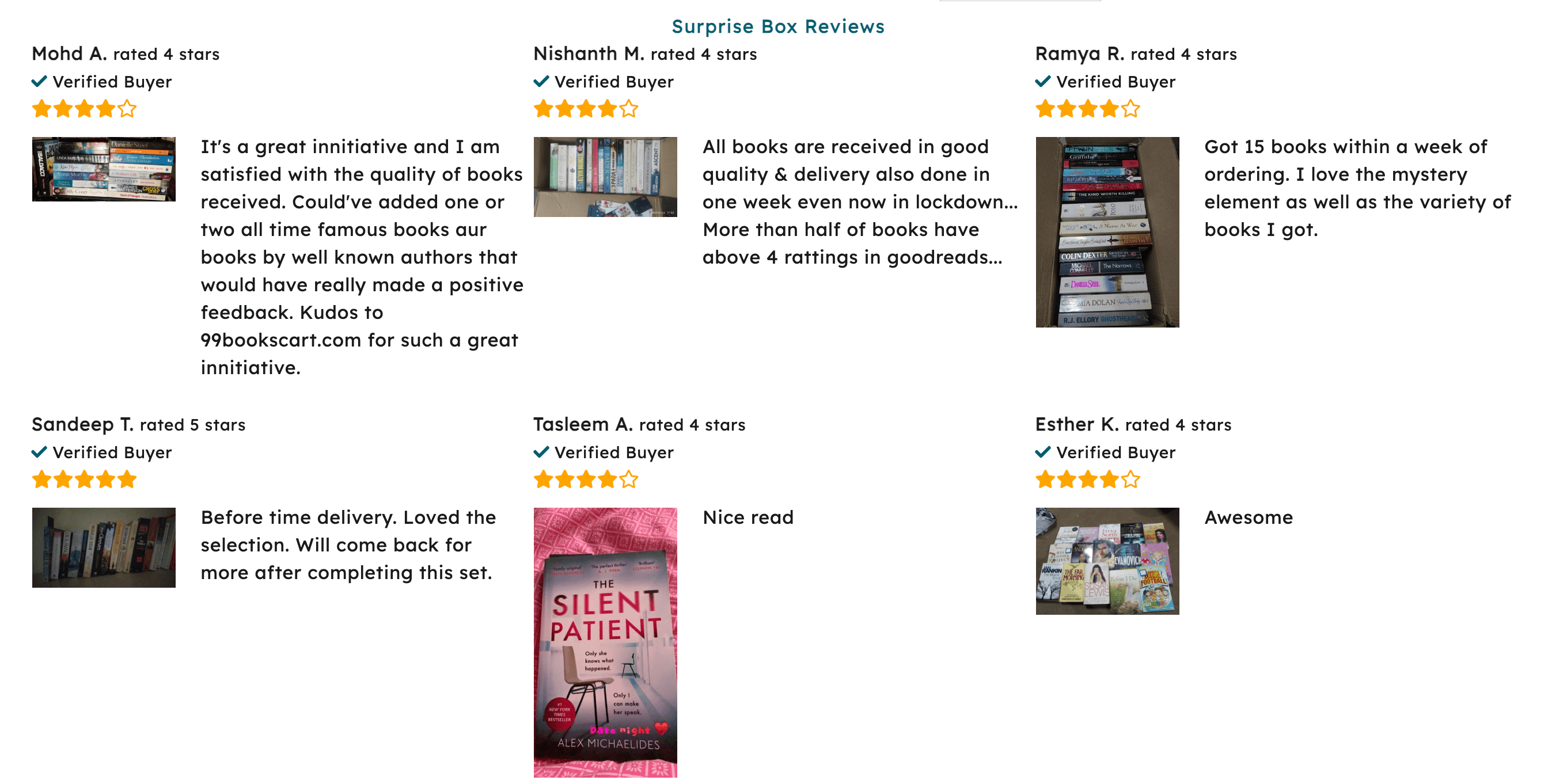 99BooksCart also features thousands of customer reviews on its website. This allows customers to see what previous readers thought of certain books, as well as what the quality of the books they received was. As a brand that sells second-hand books, this social proof is a great strategy to build brand trust and authenticity for future first-time shoppers.
This brand levels up its exceptional customer experience with a language filter that allows customers to find books in their native language. By having this filter bar on its homepage, 99BooksCart makes it extremely easy for customers to have a seamless user experience. With great prices and even better personalization, 99BooksCart will be a brand its customers just can't put down.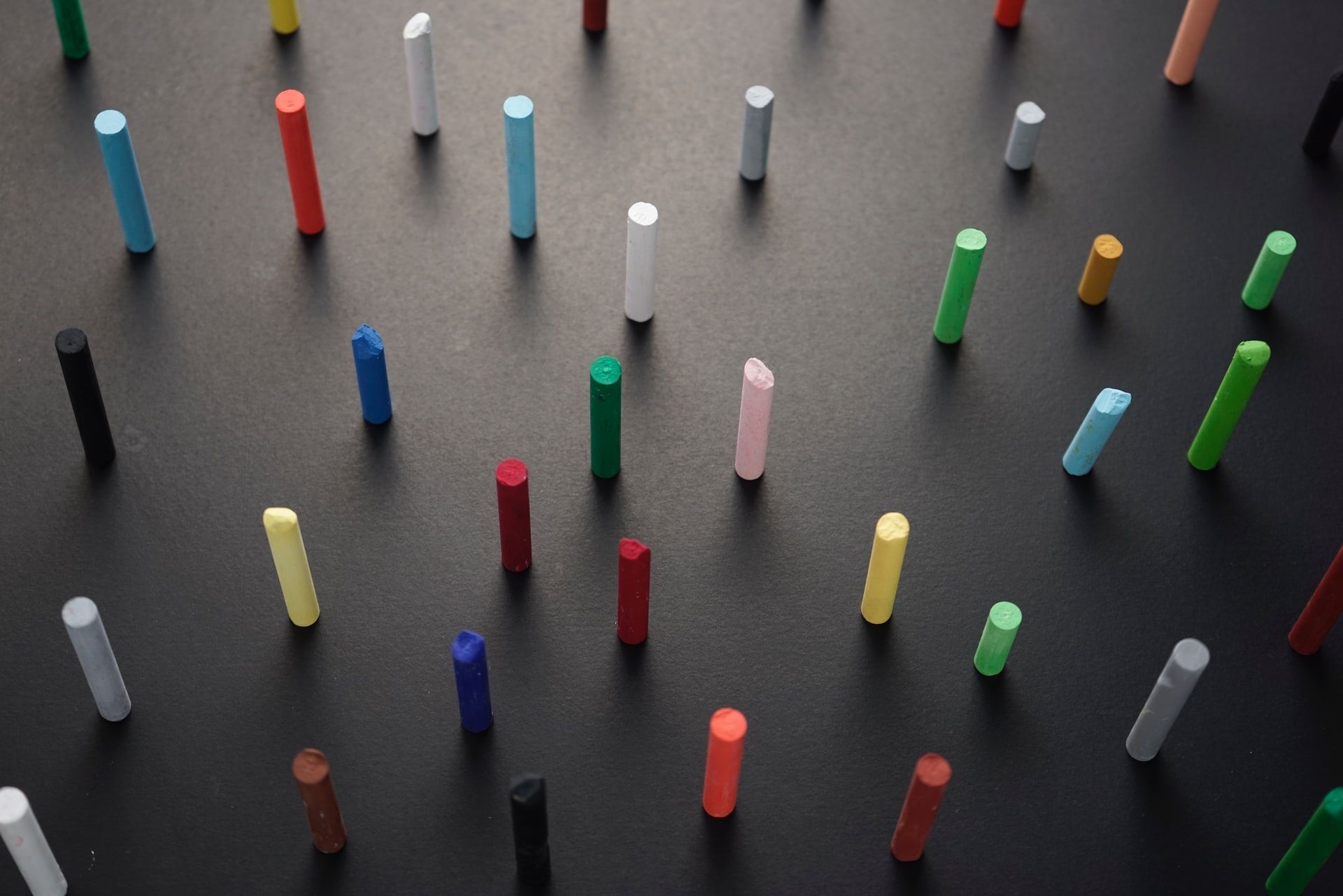 Book Beau
Every book lover enjoys cozying up with a good book every once in a while. The key is having a comfortable reading setup. Book Beau makes this possible with their variety of reading-related accessories. It sells book sleeves and book beans which are comfortable pillows to help you find the best reading position for you.
It also sells book sleeves to prevent your books from being damaged. Whether you are renting a library book or are a student with piles of textbooks in your backpack, chances are you want your books to be in top-notch condition when you reach for them next. The book sleeves are offered in a variety of cute designs and sizes to fit every reader's preferences.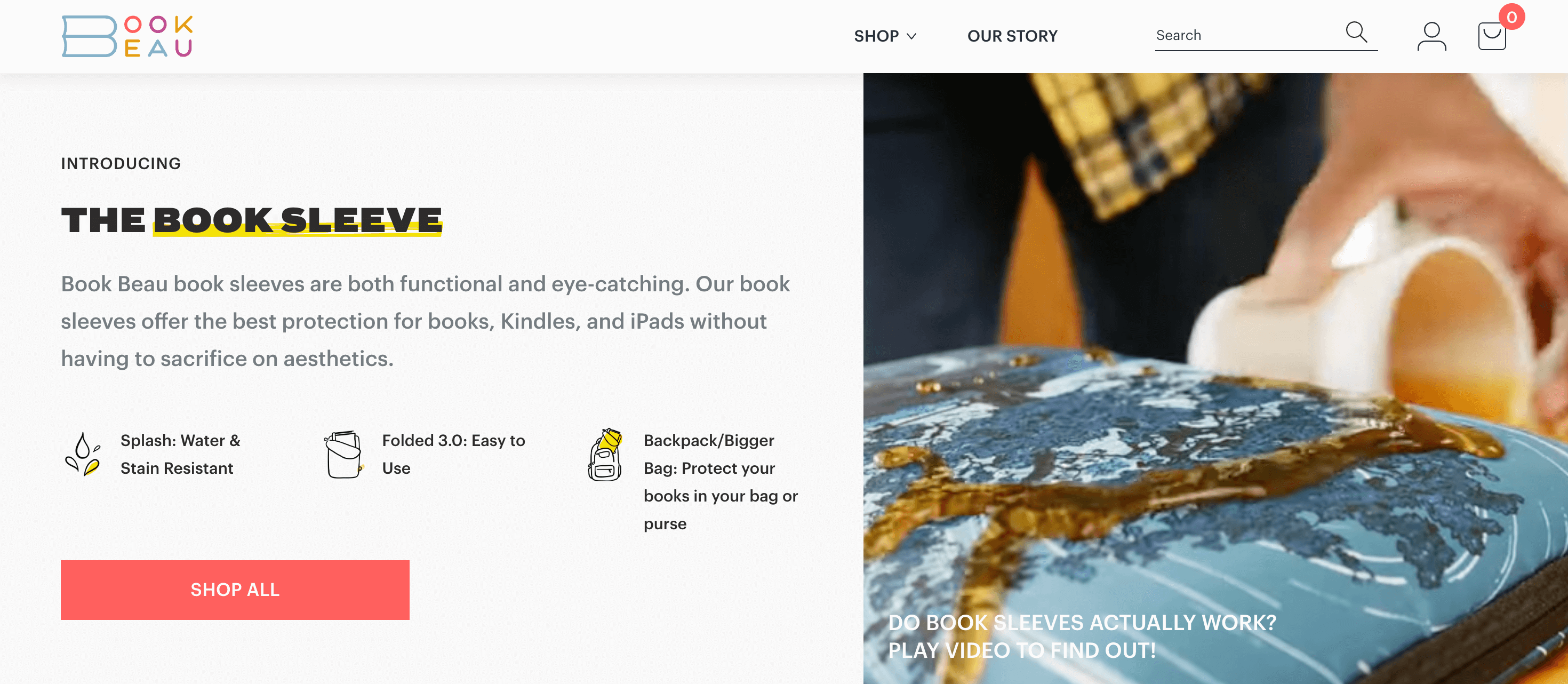 Book Beau also has a customer loyalty program to keep its customers coming back for more. It offers a variety of ways to earn points to redeem for Boba points, as well as a strong referral program. After all, bookworms love to share their favorite books with friends and family, so why not share their favorite book accessories as well?
Books2Door
For many bookworms, their love of reading was born at a young age. Reading is a fundamental part of a child's development so it's important to keep the hobby affordable and accessible for children of all ages. That's what U.K.-based Books2Door is all about.
Founded in 2004 by Abdul Thada, Books2Door is now an award-winning online bookseller, specializing in children's books and box sets at discounted prices. No matter what genre or level your child is reading at, you can find something that will interest them on the website. Books2Door also offers a monthly subscription box service with 3-4 new books delivered to your house each month. One of the best parts of reading is discovering hidden gems and this is the perfect way to do so!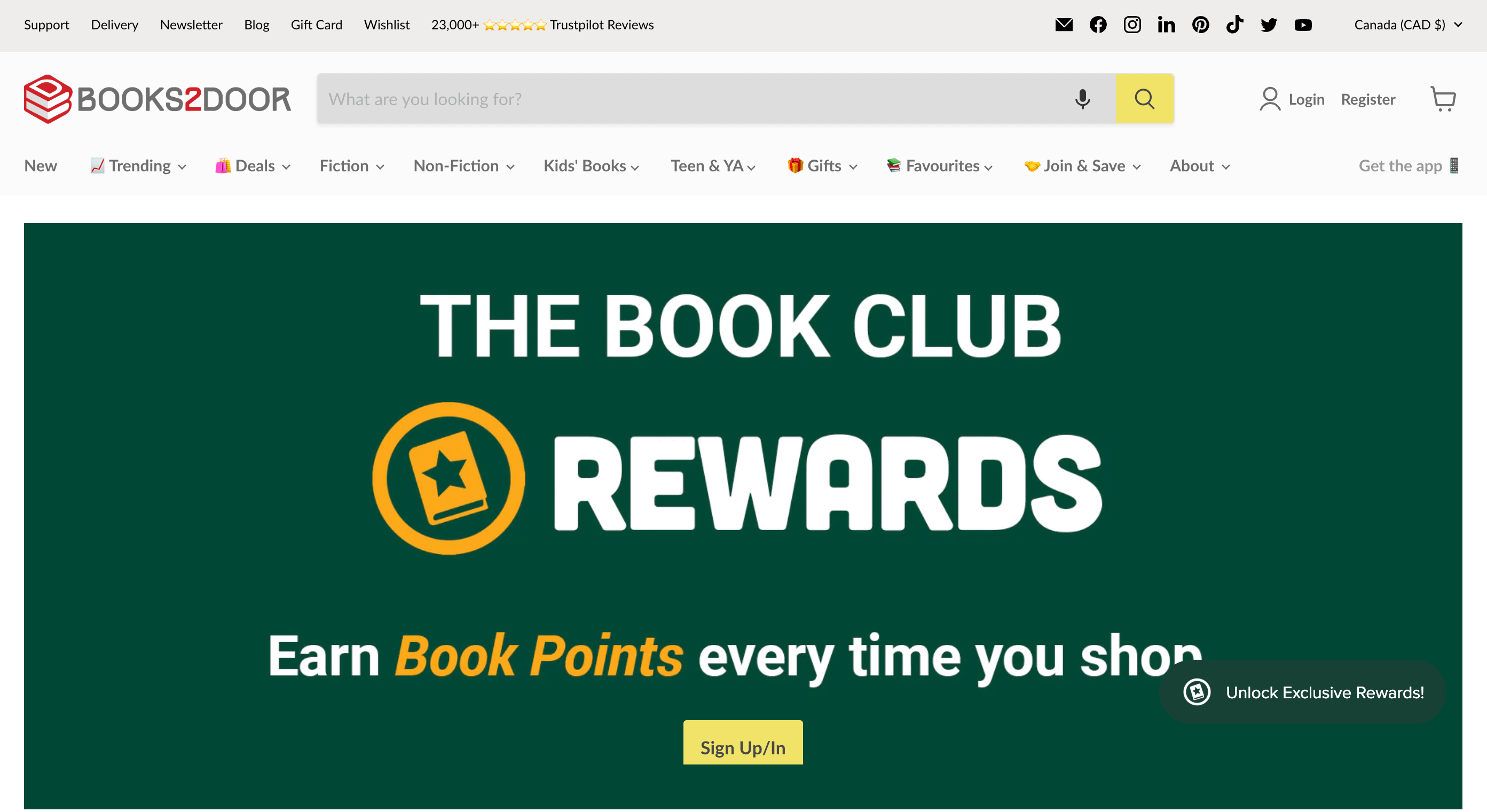 To sweeten the deal even more, Books2Door rewards its loyal customers through its Book Club Rewards program. Customers earn points for every purchase they make or when they refer a friend to the book club. They can then redeem their points for discounts on future purchases or free shipping. With so many bookstores online and in person, a customer loyalty program is a must to keep your loyal shoppers coming back again and again to find their next great story.
Start your next chapter now
Whether you've always loved reading and writing, or it's your goal to read one book by the end of this year, it's no secret that building strong literacy skills is essential. Next time you think about buying a new book for your summer vacation, we urge you to check out one of these great brands before logging onto Indigo or Amazon. You might just be surprised at what you can find!
But for now, if you've made it to the end of this post, you're already on the right track for celebrating International Literacy Day. Happy reading!
Editor's Note: This post was originally published on September 8, 2019 and was updated for accuracy and comprehensiveness on September 8, 2023.
Start writing your customer loyalty story
Add a loyalty program to your ecommerce brand