From the beginning, Smile has always hired globally. It wasn't a mandate, it wasn't a defined part of our business model, and it wasn't something that we promoted as part of our hiring process. Nevertheless, while our headquarters as Sweettooth and then Smile were both located in Kitchener, Ontario, Canada, some of our earliest employees were internationally based—and spread across the globe.
It's historically only been a small portion of the team— a dozen or so across the US, Europe, the Philippines, etc., but they have all been a vital part of our team's growth and success since day one.
As we've grown, the reality that some of the best talent is outside the tech bubble of the Kitchener-Toronto corridor, Canada, or even in North America wasn't lost on us. Even in the months and weeks before stay-at-home orders, we had even hired our new VP of Customer Success, Sara Facini, who would be Toronto-based as a remote employee. The drive from Toronto to the Smile office might technically be commutable, but who wants to spend hours in gridlocked traffic every. Single. Day?
The power of a pandemic shift
With April 2020 and work from home orders coming into effect, Smile (along with all the other office-based employers) shifted our team to be fully working from home. Having company-provided laptops made the initial switch reasonably painless. I can't imagine how that went for companies that relied on tower PCs.
Creating home offices
Having a laptop at home doesn't always mean you've got a workable setup, though. Pre-COVID, sure you could spend an afternoon working from a coffee shop or your kitchen table, but the former just wasn't possible anymore, and the latter simply wasn't always feasible—at least not without some help.
"A man is only as good as his tools" - Emmert Wolf
To make creating a workspace more feasible, every person on the team was granted a $1000 available credit to create a home office setup. Whether you'd just started or had been a long-time employee, if you had worked out of the HQ or lived on the other side of the world, you got the credit.
Our work from home credit is as flexible as possible, too. If you need a desk or chair, use the credit. If you needed a new router, use the credit. If your internet speed wasn't fast enough and you wanted to upgrade, use the credit. Power bars, keyboards, mice, seat cushions, headphones—if you could think of something to help your setup feel just that little bit better, you had some cold hard cash you could use towards it.
Everyone is a remote employee
As the initial whirlwind of moving to home offices settled down, we took a long hard look at the processes, tools, and culture we had and how it translated to a fully remote environment. The team was thriving with autonomy (all things considered), and it was opening up some doors we hadn't considered.

What if we were all remote, forever?

If the team is doing well, and the opportunity to hire people across the world has never been an issue, and it feels like the team is adjusting to a new norm, why bother going back? That was precisely the thought Smile's leadership team had through the end of 2020 as the costs vs. benefits of a fully remote team began to settle.
Several of Smile's recently hired teammates, including COO Maggie Fox, and others, were all hired as fully remote employees. So with them all not being in the post-COVID office, it really didn't make sense to not let the entire team work remotely from wherever they are in the world.
High growth with a distributed workforce
What does going all-in on a fully global, remote team look like then? Does it mean that Smile has access to a global talent pool to hire the best and brightest for every job posting that goes live? You bet. It also meant shifting how we do business to make sure that every employee is empowered to do their best work.
"Going fully remote has allowed us to hire people with diverse backgrounds and experiences from all over the world. We can find talented people who are the best at what they do for every role we have.... The only tough part is time zones!" - Mike Rossi, CEO @ Smile.io
At the same time, every employee matters. Whether you're local to Smile HQ or literally on the other side of the world, the work you do is crucial to Smile's growth, trajectory, and success in the short and long term. To make that success happen, a few essential tools have become part of the virtual office vernacular and process.
Let's make a Deel
It won't be long before it gets hard to imagine what hiring and onboarding were like before discovering Deel.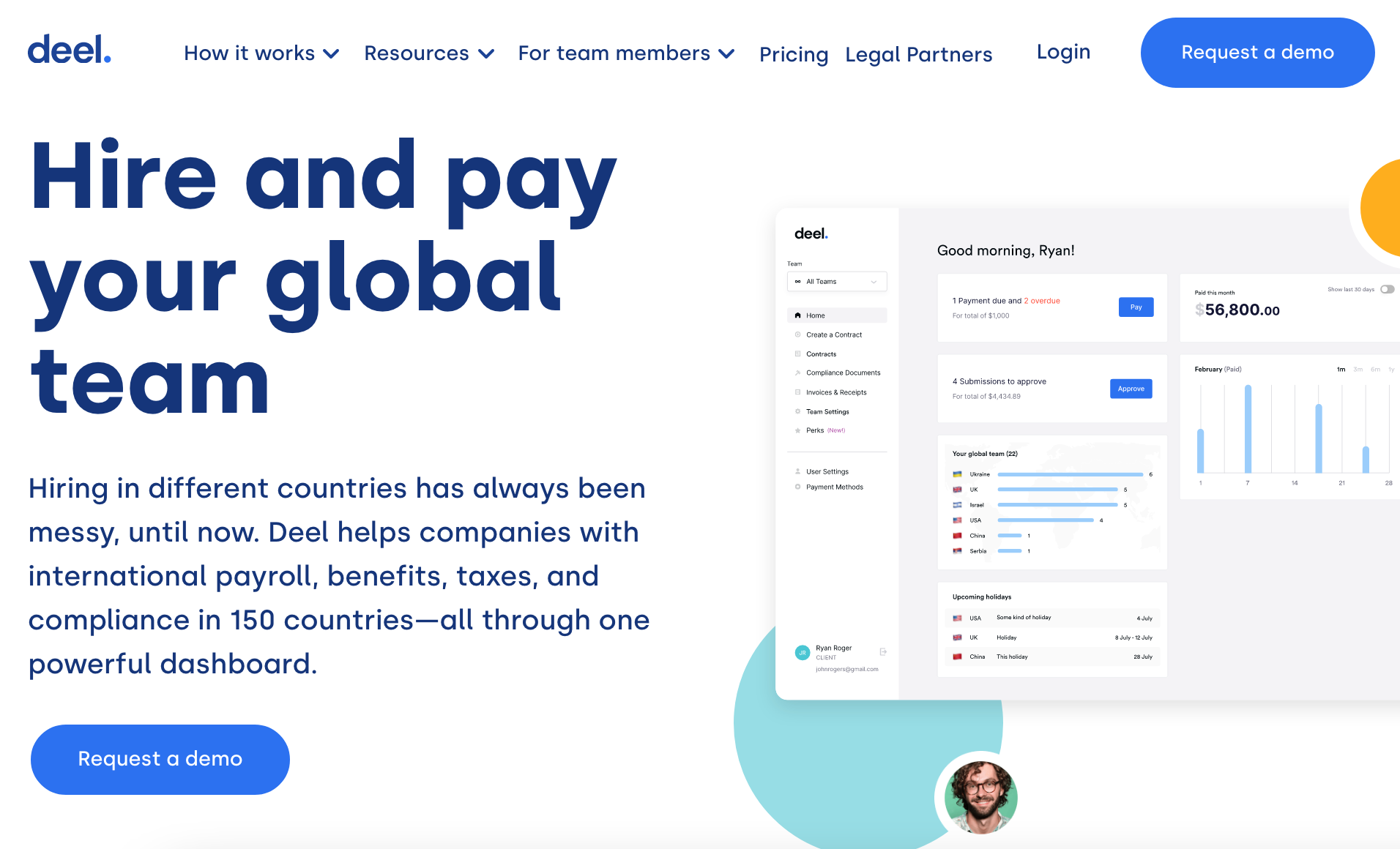 With teammates in so many different countries, it's nearly impossible for an HR department to keep track of how to pay people for the work they do at Smile in the best way possible for them in the eyes of their local governments. The majority might be a standard salaried employee. But for some, they need to set up a small business and be contracted for their work. For others, being a contractor isn't an option, and they need a local employer of record with an office where they're located.
Deel handles everything. The paperwork, the back and forth, benefits, taxes, compliance—Deel is on the ball. It has made working and getting paid a far less painful experience for all of our international employees.
Remote-first is a competitive advantage
It is surprising how many companies who could be fully remote are choosing not to be. As soon as offices are opening back up, they're forcing everyone back to the office or posting new job opportunities that are all location-dependent. Of course, some professions and jobs simply can't be remote, but if you have the opportunity, why wouldn't you?
Growing with a global DNA lets us hire the best and the brightest no matter where they are in the world. It allows us to move our Merchant Experience and Technical Support Teams to nearly 24/7 coverage without having to make anyone work through the middle of their night (unless they actually want to...). It's great to have the option to connect merchants with someone in their time zone for customer support.
All in all, shifting to become a remote-first company has been one of the best decisions we've made as a company. There have challenges and setbacks, but in the words of the legendary Kobe Bryant, "Great things come from hard work and perseverance. No excuses."
Join our remote team 🌏
Help us build the loyalty layer of the internet