From Indonesia to Canada and everywhere in between, the Smile.io team spans over 18 countries around the world. From the beginning, Smile has always been a globally focused team. But it wasn't until April 2020 that Smile decided to move its HQ from Kitchener, Ontario to being worldwide, becoming fully remote.

Being fully remote has allowed Smile to remove any barriers for bringing on the best talent. This has translated into offering our merchants across the world almost 24/7 coverage and support that empathizes with any language and culture.
Today, we are introducing our new series that gives a sneak peek into Life at Smile and the hard work our team gives every day to our merchants.
Meet Ezra! Ezra is a Technical Support Specialist based in Jakarta Indonesia. Ezra breaks down a typical day in his life for us.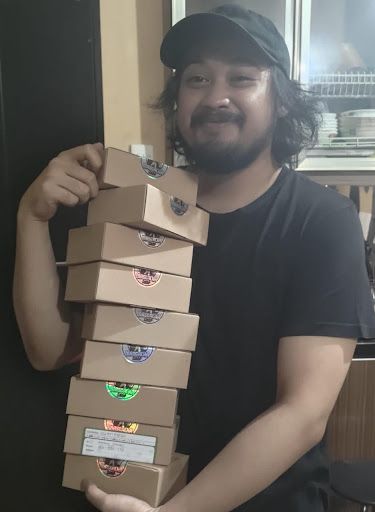 Quick highlights  
Name: Ezra
Current Title: Technical Support Specialist
Current Location: Jakarta, Indonesia
What does a typical day in your life look like?  
6 AM - 8 AM This is the time to get a workout in and get my body energized for the rest of the day. I usually break my fast with a light meal before an hour jog around the neighborhood. There's nothing better than a hit of fresh morning air to start the day!

9 AM - 10 AM It's time to make room for some creativity. After I started working with Smile, I finally had the opportunity to pick up an old hobby of mine - music! Nothing too fancy. I'll just play some notes on the keyboard and try to impersonate Adele. My mom loves it! But I'm not sure what the last complaint from my neighbor was about.

10 AM - 12 PM With a couple hours left before my shift starts, it's plenty of time for me to manage my online business. I have an online store where I sell some of my trading card game collection. This is the period of time where I'll pack the orders I've received in the past 24 hours and simply wait for the courier to pick them up. I was surprised with how often my customers came back for more despite my lack of advertisement. Turns out the points they get from my loyalty program keep them coming back for more. Shoutout to Smile for running my loyalty program.

12-1 PM It's lunch time! Since I'm practicing intermittent fasting, 12PM will be the last meal time for the day (before an 18 hour session of water-only). I'll still have enough time for a power nap before I prepare and head to work.

1 - 3 PM After a long commute of 30 seconds from my bedroom to my workstation (which is in the next room; I try to avoid the sight of my bed when working), I'm ready to start the day! Most days, I'll start with reviewing some questions from my colleagues and following up with customers from the day before. Reading chats are also important since there's a lot of information going around within our remote environment. We don't want to miss any spicy news!

3 PM - 8 PM It's deep work time! Handling technical support questions requires a tranquil mind, so I'll turn on some lo-fi music from YouTube to set the mood right and start answering questions. For me personally, answering technical questions is like solving a puzzle; and I love puzzles. It's especially delightful when it helps our merchants build their business along the way. 💛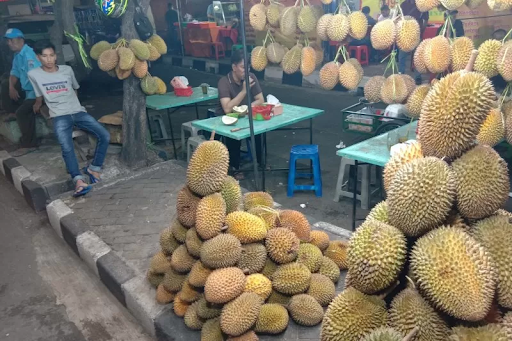 What's your favorite part about working remotely?
It definitely has given me a better grasp of my work-life balance. Having to commute 2 hours back and forth every day through a packed train platform is definitely not something I'd want to go back to if I can do remote work.

It gives me more time and energy to do things that actually make me happy. I'm able to spend more time with my family, and also with myself. The most noticeable thing would be how much happier I am! (Yes, I was a grumpy man.)
Describe your workspace setup?
I've got my laptop attached to 2 monitors; one horizontal (this is my main screen, where most things happened) and one vertical (this is my code screen, where I can review merchants' themes or scroll through SQL results).
I've got a mid-range condenser microphone attached to my PC as well, which I use to record either music or presentation videos from time to time. Another key piece of equipment is the mechanical keyboard; with RGB lighting of course. Helping merchants is cool, but doing it in style makes me feel even better.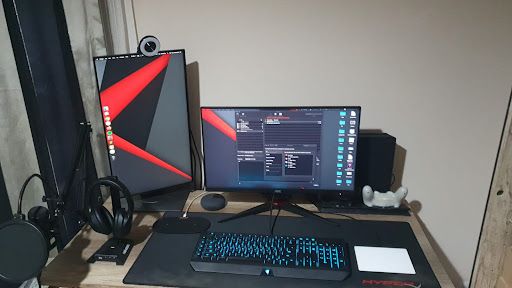 What do you listen to while you work?
Either a LoFi R&B music or some Neo Soul to keep the moods up.
Which movie can you quote the most?
I probably quote too much from The Dark Knight Rises.
What is your number one piece of advice for remote working?
Communicate! It's easy to feel detached while working remotely, so reach out as often as you'd like to your colleagues :) I'm sure they all would love to see a ping on their DM's asking what they're up to, just like you do!
What memorable moment or story have you encountered while working with a merchant or at Smile?
Working with each merchant has been an enjoyable experience for me, and I had the opportunity to help a merchant who happened to be selling things related to my hobby. We ended up becoming good friends and I have been purchasing goods from his store every month, and thankfully my Smile points are benefitting both his business and my wallet!
Join Ezra and the Smile.io team
Help create sustainable growth for every small business