If I told you that customers are looking for more than discounts and coupons from a loyalty program, would you believe me? Surveys show that the average shopper is part of 15 loyalty programs, but what prompts them to join all of them? Is it really just to save money, or do they have other expectations?
Looking at the tens of thousands of programs our customers have started for their shoppers, we can see five major categories of expectations that customers will have of your rewards program.
Customers expect you to care about them
One of the most common problems is that many small businesses assume that by simply rewarding customers with discounts that shoppers will become more loyal to their business.
This is entirely the wrong approach and will lead to customers walking away from your business.  Instead, the focus should be on creating an emotional connection between your brand and your customers. 79% of shoppers only consider brands that show they care about them, and building this connection makes it more likely that they will visit your store again in the future. By making customers your priority, you can build a program that anticipates and exceeds their needs as soon as they join.
79% of customers will only consider shopping with brands that show they understand and care about them.
- Wunderman loyalty study
A great way to show your customers that you care is by offering birthday rewards. This small recognition is a great way to personalize your rewards experience to every member, making sure that they feel special and recognized for their membership.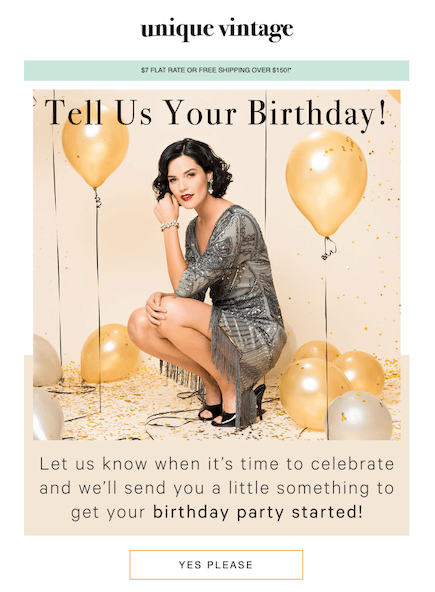 Unique Vintage does an excellent job of this by offering loyalty members special gifts every year on their birthday. By making this a central part of their earning and registration process, they're showing customers that they care about each member individually and want to recognize them accordingly.
Customers expect to save money
While it's true that customers want you to care about them, the biggest reason customers join loyalty programs is still because they want to benefit financially, which means your program should offer them opportunities to do so.
A points program is a simple but effective way to do this. Giving customers points that can be cashed in for discounts on future purchases creates a powerful switching cost that encourages rentention, keeping them shopping with your store. Inspire Uplift rewards their customers for engaging with their store in a number of ways, including purchases, social likes, and customer photo reviews. For every 100 points a member earns, they receive $1 off a future purchase.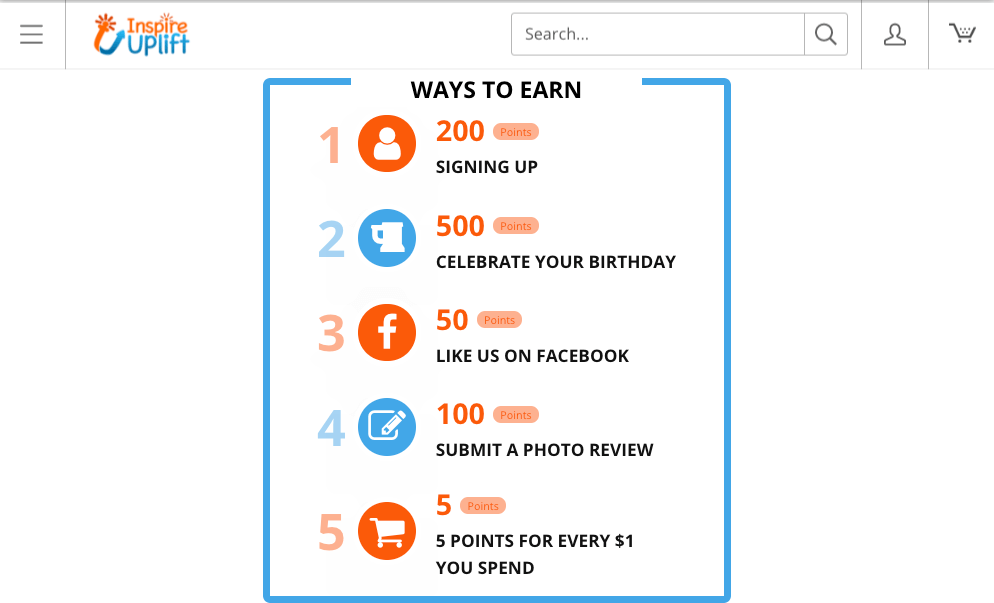 Offering a simple way for customers to earn and redeem their points makes for a satisfying rewards experience for customers. You can even take this to the next level by running events where consumers can earn bonus points.
These events combined with simple earning rules allow customers to get to the rewards they want faster and encourage additional purchases that may not have happened without the added incentive. As a result, you knit your rewards experience together with the value customers are looking for in the brands they shop from.
Customers want to choose their own rewards
Simplicity is important but just like you and me, your customers still like to have options. Choosing a reward is one of the best parts of being a rewards member, so it's important to know what drives your customers and remember that not every shopper is motivated by the same type of reward.
By letting customers redeem their points on both large or small rewards, you make sure everyone is happy with what your program is offering.

A program that does a great job of this is "Who's Hoo" by Evy's Tree. They've structured their program in such a way that customers can spend as little as 500 points or as many as 4,000 depending on the type of reward they're looking for. This generous spending range ensures their customers are able to redeem points in the ways they prefer, keeping customers engaged at every stage in their rewards journey.
Customers want to feel special
People always like feeling special, and your loyalty program members are no different. One reason customers join loyalty programs is to feel like part of an elite group -- one that deserves special treatment. Rewards are the perfect tool for satisfying and meeting this expectation, especially when used in a VIP program.
VIP programs help you identify who your most loyal customers are and reward them accordingly. By setting up your program in tiers with increasing benefits, you're able to drive customers to purchase more often and in greater quantities. The system allows only the most loyal customers access to the top tier, which acts as an incentive to continue spending to gain access to the best rewards.
VIP tiers drive customers to purchase more often and in greater quantities.
Jimmy Joy is incredible at offering rewarding experiences to their three groups of loyal members. Their top tiers offer secret rewards even the chance to vote for limited flavors!. For nutrition fanatics like Jimmy Joy's customers, these rewards are extremely motivating because it gives them a chance be in the know when new and improved products come out - because they helped make them!
Recognizing these desires in their core customer base gave Jimmy Joy the ability to design a program that anticipates their best customers' expectations and delivers an experience accordingly..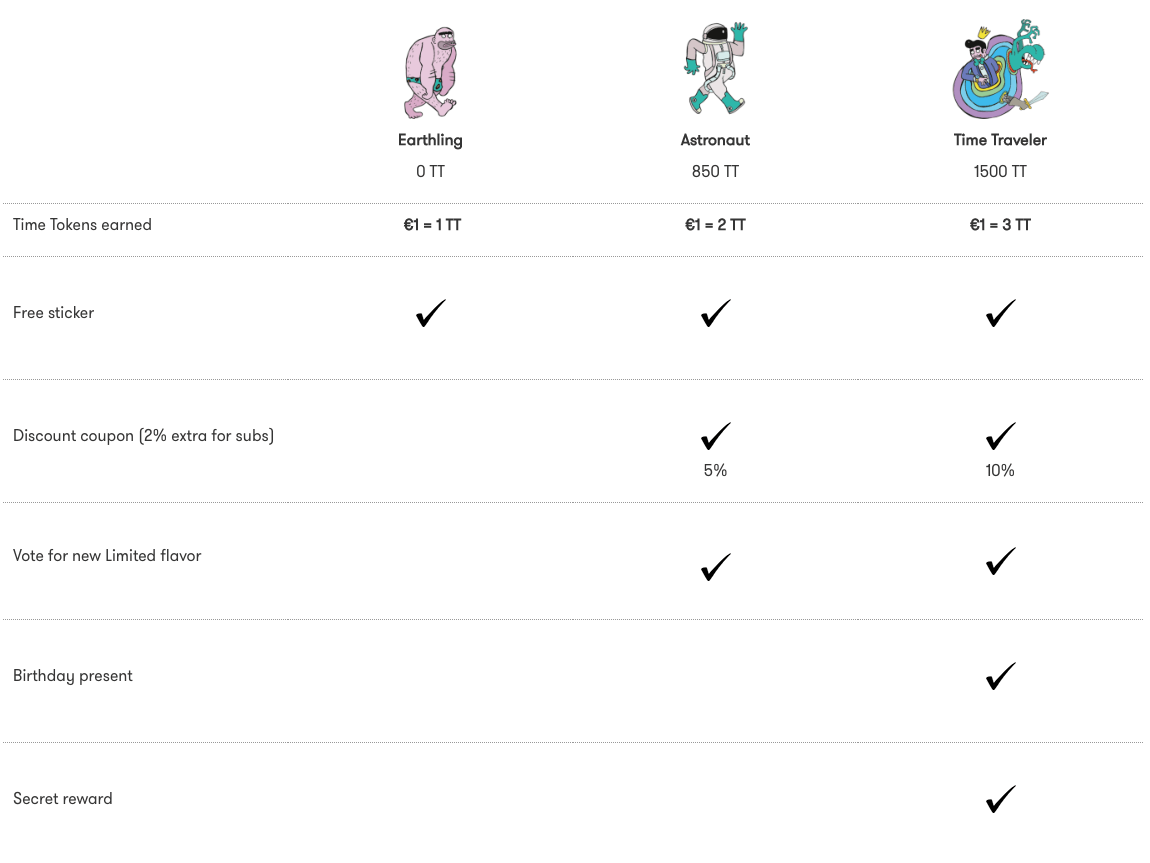 Not only are tiers are an effective way for you to identify who your best customers are, but they're also great at encouraging customers to share their loyalty status. If brands like Sephora and Starbucks have taught us anything, it's that customers love to brag about their program status. With VIP tiers you're able to create powerful brand advocates that feel special and, as a result, expand your marketing reach.
Customers expect a beautiful experience
Gone are the days of 2000's, or even early 2010's web design. Nowadays, customers expect a beautiful, polished brand experience whenever interacting with your business. This makes it essential that your rewards program is personalized and on-brand.
The first step to creating a cohesive and beautiful brand experience is putting some thought into how you name your program. Rather than naming your program something generic, you want to evoke an emotional connection between your customers and your brand.
When naming a program, your aim should be to evoke an emotional connection between your customers and your brand.
You can build on this by creatively naming your rewards tiers, and personalizing your icons for each level. An awesome example of this is Rose and Rex. They deliver a brilliant experience for their loyal customers with custom colors and graphics, and program and point currency names that fit perfectly with their brand identity.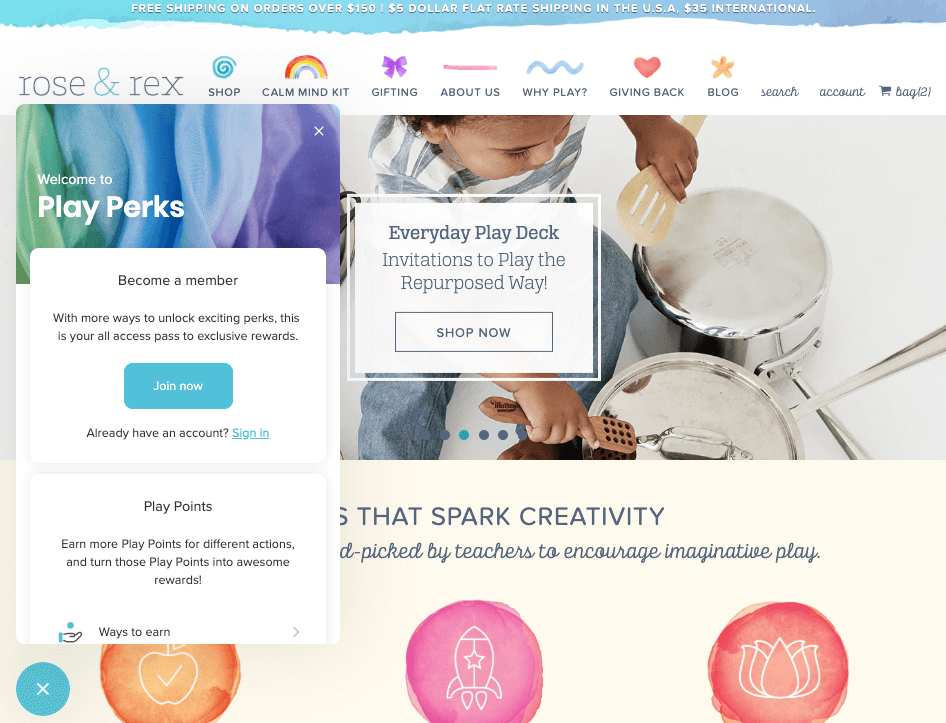 By building a beautiful rewards program you're able to effectively convey your brand's value to your customers. As a holistic part of your overall brand experience, your loyalty program treats loyal shoppers to a more engaging brand experience that leaves them excited for the next time they get to interact with your business.
The customer is always right when it comes to rewards
By anticipating what customers expect from your loyalty program, you can optimize it to fit the needs of your specific target customers. The five loyalty program expectations we outlined are just the starting point for building your own loyalty program or improving your current one.
If you're looking for more advice, go straight to the source! Asking your customers what they want will not only give you valuable insights but will help deepen their emotional relationship with your brand. That way, you're not just meeting customer expectations - you're exceeding them.