The best brand communities in the world use the power of VIP tiers to increase customer loyalty. Tiers are a phenomenal way to get your customers more engaged by gamifying your rewards program and making it exclusive.
Tiered reward programs offer different rewards depending on which tier a customer is in. In order to progress to the next level, customers must pass a pre-determined milestone. This milestone could be anything from how many dollars they've spent in a year or how many purchases they've made over their lifetime.
Your program's milestones determine the type of engagement your customers need to have with your community.
However, regardless of what the milestone is it's always directly related to how engaged a customer has been as a member of the brand community. Setting milestones based on loyalty points earned encourages your customers to interact with every aspect of your program, while moving customers through tiers based on dollars spent increases their lifetime value. Both types of milestones have the added bonus of increasing your reward program's engagement - something every brand community needs.
The benefits of a tiered program
Even though tiered programs are nothing new, they're still one of the best ways to differentiate your brand community. By adding tiers to your existing rewards program, you have more opportunities to customize your community to your customers' needs, adding a number of great benefits to your already stellar customer experience.
1. Gamification makes earning points fun
Gamification is an exciting feature of reward programs that can level up your brand community. By using addictive elements like progress bars and milestones, tiered reward programs become the perfect way to get and  keep customers hooked!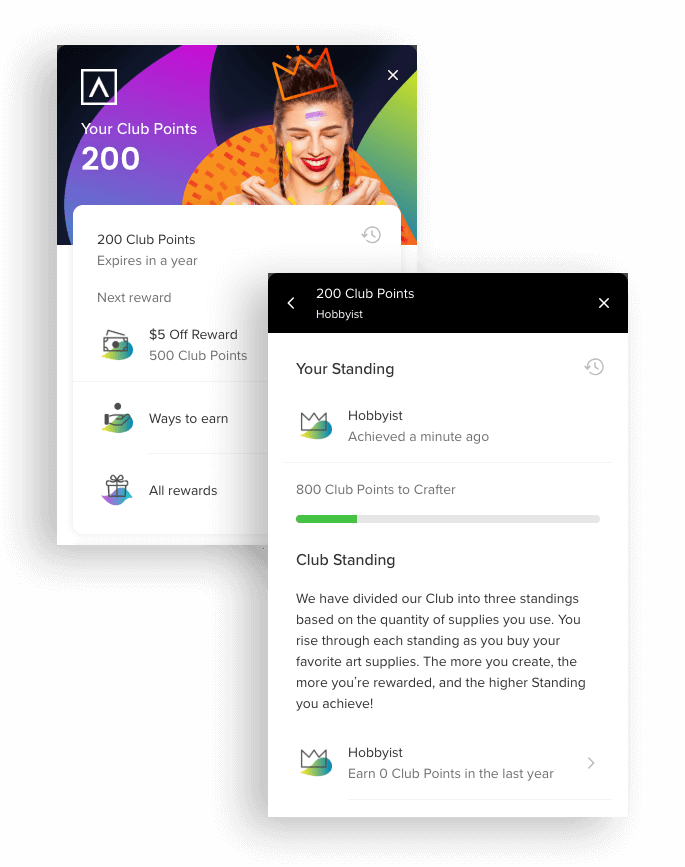 Arteza has done a beautiful job of incorporating these elements into their Arteza Club program. Using visual indicators like a points balance and progress bar makes it easy for customers to understand how their actions get them closer to the next level of the program.
This is only one of many gamification strategies you can use to enhance your program experience and, as a result, member engagement.
2. Tiers make your program more social
Another great benefit of adding tiers to your program is how social it makes your entire brand community. By adding tiers, you are allowing customers to achieve social status by having a higher rank than others.
People like to see where they stand relative to those in a similar situation or group.
This adds another layer of motivation to your program. Not only do they want the additional rewards offered at every level, but they're also chasing that boost in social status. Science has shown that it's natural for humans to want to know where they stand relative to others, and this desire is what fuels our drive to reach new tiers.
We refer to this need to compare ourselves as the Local Ladder Effect, and you can see it at work everywhere. As humans we are constantly comparing ourselves to those around us. That is why we obsess over leaderboards when we play games, want to know what our co-workers make annually relative to us, and why we want to compare ourselves to stated averages.
Show customers what percentage of program members are in each level to make customers feel elite.
A tiered program plays on the idea of the "Local Ladder Effect" because it lets your customers see where they stand in your program relative to everyone else. Just make sure that your top tier is reserved for an exclusive minority to get maximum customer engagement!
3. Exclusivity makes every customer feel valued
One of the best things about a tiered program is how special it makes your most valuable customers feel! By giving better rewards to customers in your upper tiers, you are showing them that you value their business more than a regular one-time shopper's.
Leverage the exclusivity of your upper tiers as a way to increase engagement.
This not only improves their experience with your brand , but also improves the likelihood of them becoming brand advocates. These advocates are passionate members of your community who can't wait to tell everyone else about their experience, making them your most valuable marketing asset.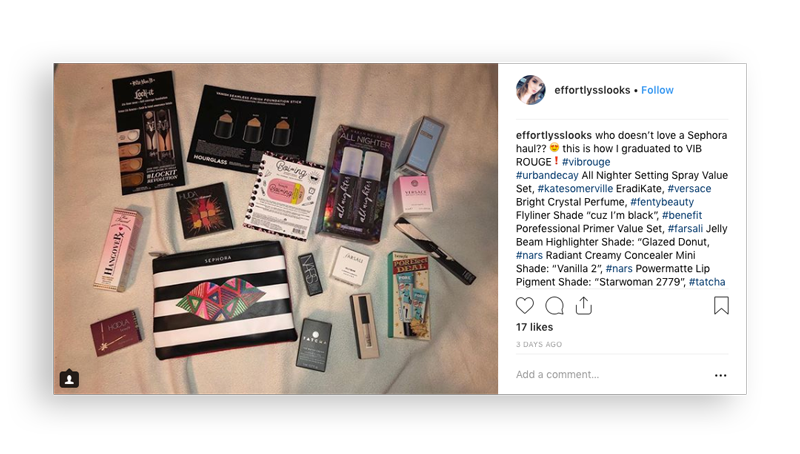 You can see this type of advocacy at work on social media. Brands like Sephora have done a fantastic job of developing exclusivity within their programs, leading to upper tier members continuously telling the world about it. As a result, this elevated social status is the best reward your customers can receive.
4. Only offer the best rewards to those who earn them
Running a tiered program ensures that you are only awarding the best rewards to the members who provide the most value to your brand community in return. This value can be in the form of money spent on your site or sharing actions that are driving new business.
Diversify the rewards for upper levels of your program to increase its appeal.
Whatever metric you decide to use to determine your program's milestones, be sure you know the value each customer in that tier is providing. That way you can reward loyal customers with rewards that reflect the individual value they are providing to your store. These rewards could take any number of forms:
Special events
Early access to sales
Exclusive products
And more!
No matter how you choose to reward your elite members, your top VIPs should know they're the best by the rewards you give them. These perks are what will keep them engaged, happy, and feeling luxurious as members of your tiered program.
Some examples of the best tiered programs
Now that you know the benefits of a tiered program, let's look at some of the best examples of brands putting tiers to good use.
e.l.f.'s Beauty Squad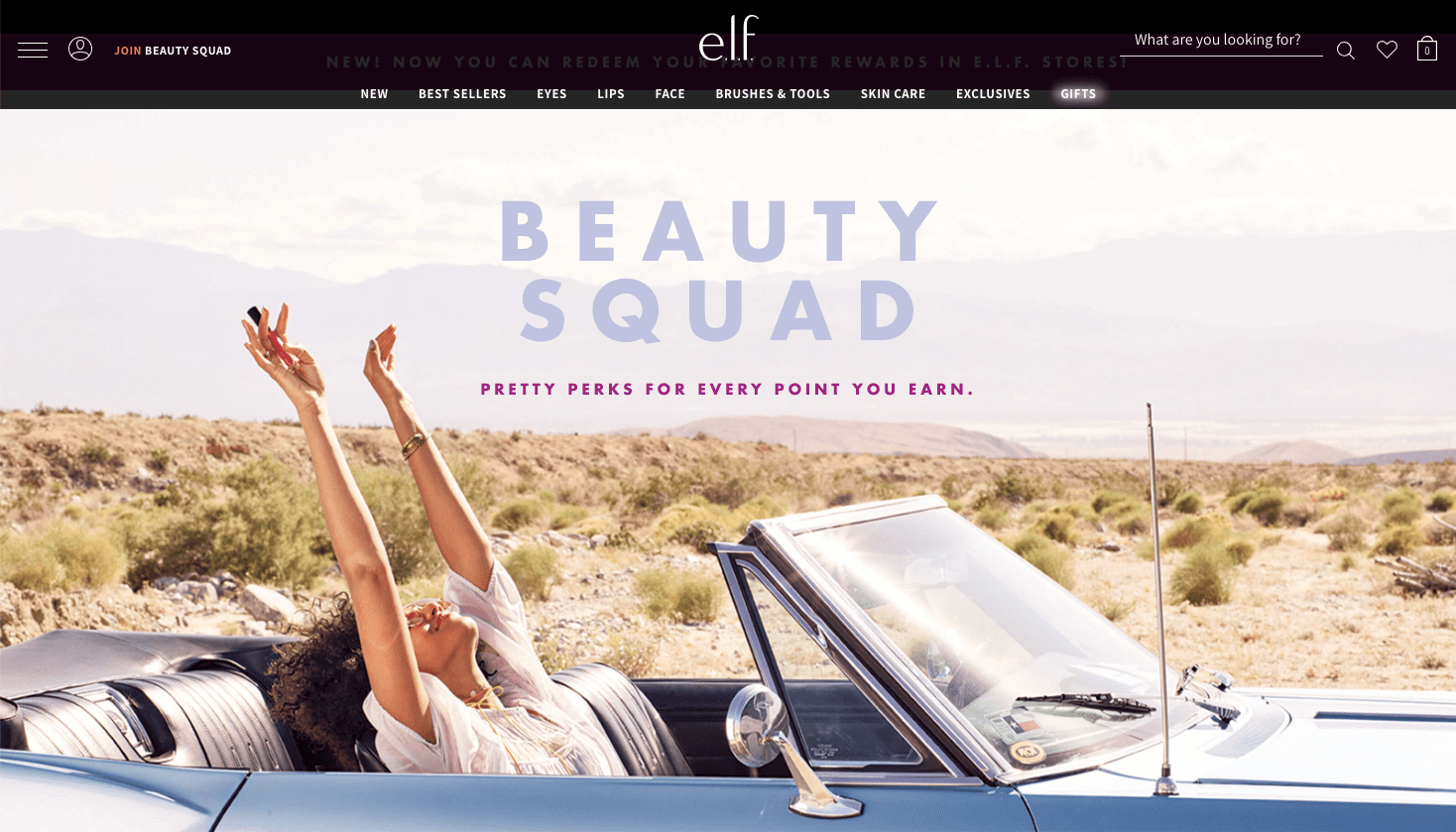 e.l.f.'s' Beauty Squad is one of my favorite VIP programs out there (and it's not just because Smile helped build it!). e.l.f. sets their tier milestones based on the number of loyalty points a customer has earned, and has divided their customers into three groups: glow getters, rising stars, and a-listers.  Customers earn points for every dollar they spend, and achieve a-lister status after earning 400 points within 12 months.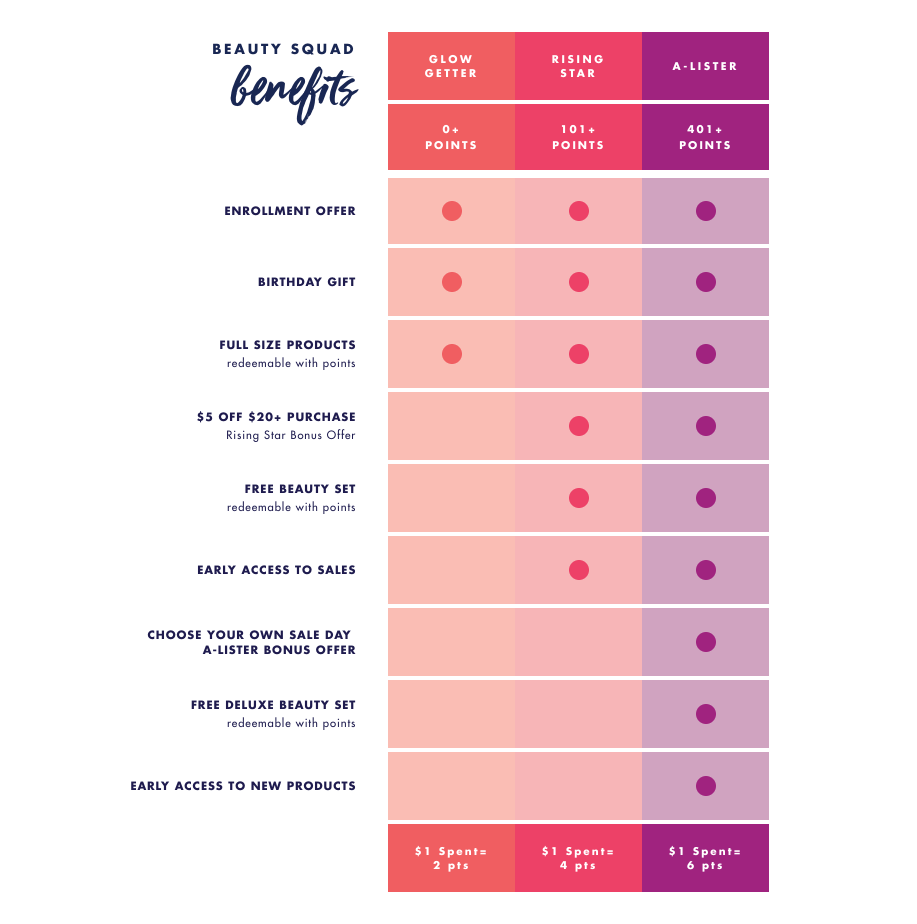 Beauty Squad is an excellent example of how to reward only your best customers.  While customers at any level can receive a birthday gift and dollars-off discount on certain purchases, only the most loyal customers are given access to new products, early access to sales, and additional gifts. These extra incentives make moving up through the tiers more exciting and, most importantly, make their a-list customers feel truly special.
The North Face's VIPeak Rewards
I love The North Face's VIPeak rewards program because it's clever. From their super creative program name for their rewards program to their catchy currency (Peaky Points), they've taken the time to design a program that is perfectly on brand.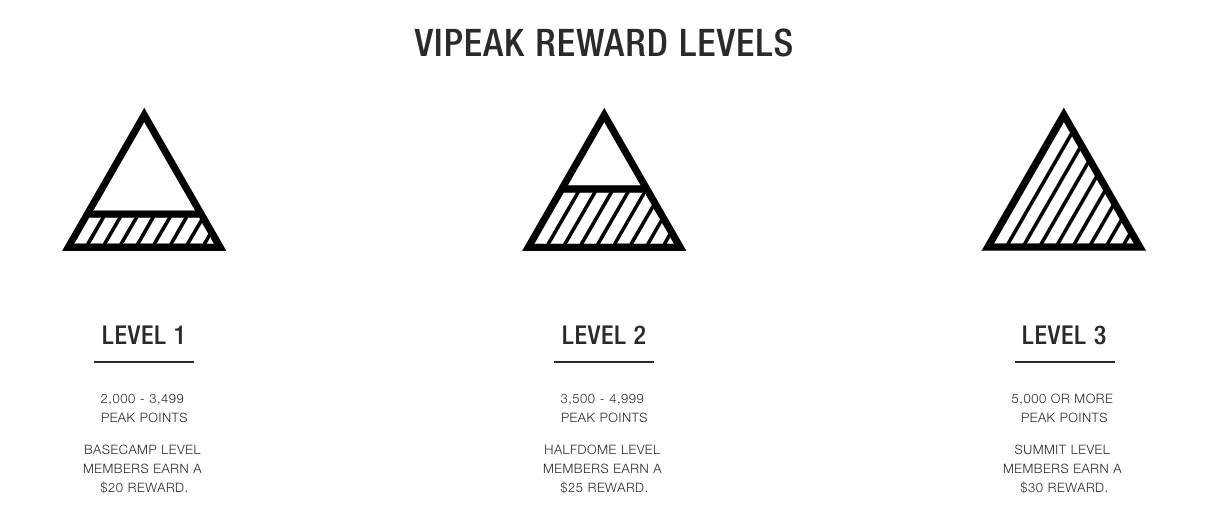 This is most evident in their genius tier names. As customers move from Basecamp to Halfdome and all the way to the Summit, The North Face has perfectly paired each state of their loyal customer journey to their program name. These types of details help tell a cohesive brand story that gets customers excited to join.
They also offer their customers extremely generous rewards, awarding points for purchases at both retail and outlet stores. Although there are a few issues that still need to be resolved before we can call this program perfect, it's still an amazing example of what a tiered VIP program should look like.
SheFit's Sisterhood Rewards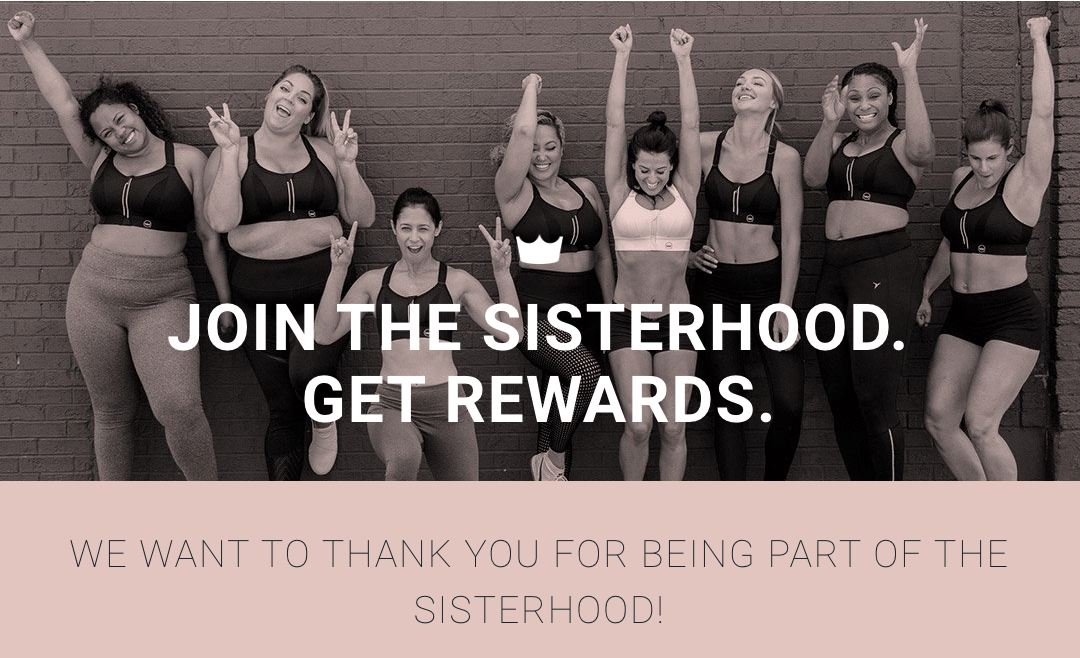 There are few things that can get customers more excited about joining a brand community than a shared vision and rewards. In the case of SheFit, they have both! With a mission to help every woman feel comfortable not only in the sports bra she wears but also the skin she's in, SheFit built their tiered program around the idea that every woman is royalty — no matter what she looks like.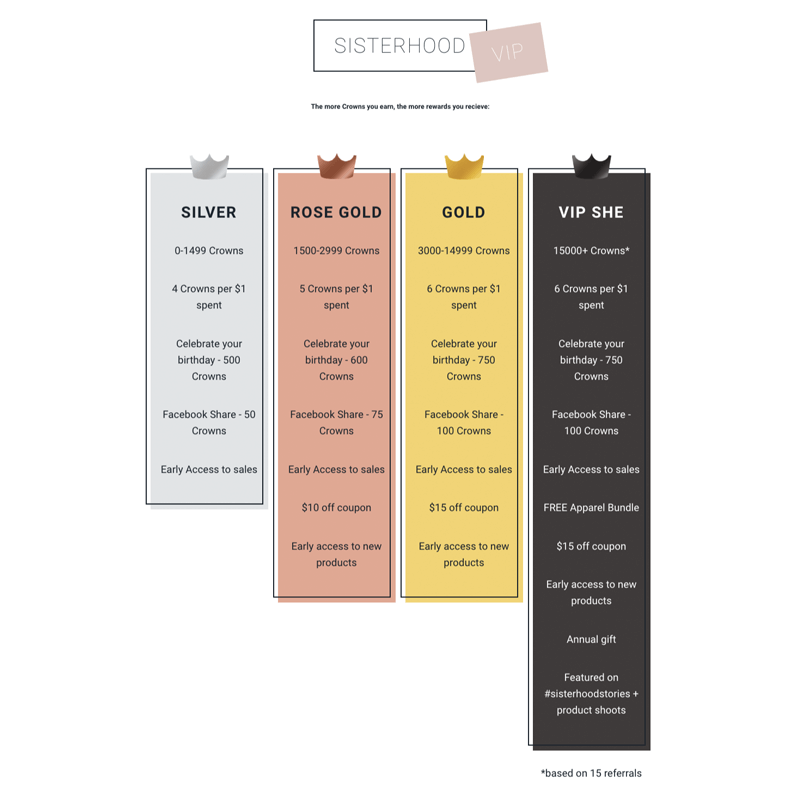 This idea is communicated in a number of ways, including their points currency and each tier name. Earning Crowns for completing a variety of actions, the Sisterhood is then split into tiers: Silver, Rose Gold, Gold, and VIP SHE. Naming their tiers after precious metals helps establish a sense of luxury their program might not have otherwise and makes every member feel elite as soon as they join.
By combining a powerful vision with luxurious program features, SheFit's brand community is vibrant, bold, and inclusive — just like the product they sell.
SweetLegs' SweetLegs Rewards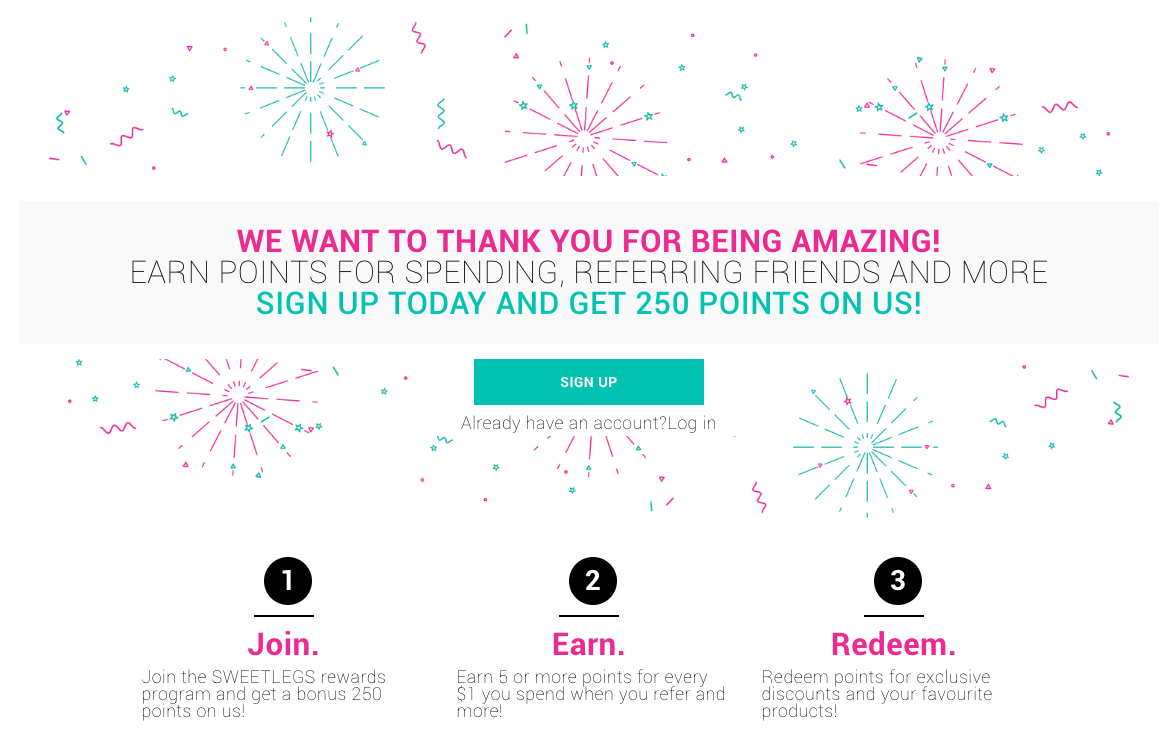 Whether you've heard of SweetLegs before or not, I can guarantee you've never seen a tiered program like this!
With 7 exclusive VIP tiers, the ecom legging giant has designed a rewards experience that allows any customer to feel elite. Whether you're only a casual shopper or one of their regional distributors, SweetLegs gives you the opportunity to earn dollars-off rewards that reflect how much you've invested in their brand.
This is most clearly illustrated through their accelerated earning model. With their SweetElite members earning a whopping 20 points per dollar spent, rewards are easier to earn and redeem, keeping customers engaged in their community more often. Even entry members are earning 5 points per dollar, making it easy for customers of any kind to find and enjoy value with SweetLegs Rewards.
Starbucks' Starbucks Rewards

Last but not certainly not least is Starbucks Rewards. This program is by far one of the most successful and popular tiered programs out there, and is consistently regarded as the leader of in-store loyalty programs.
A huge part of this popularity comes from how easy it is to be a member. Customers can easily enroll in the program by either registering a Starbucks card or downloading the app, and can start collecting "Stars" immediately. This is genius because it not only reduces the amount of transaction fees that Starbucks pays, but also makes every transaction easier for their customers.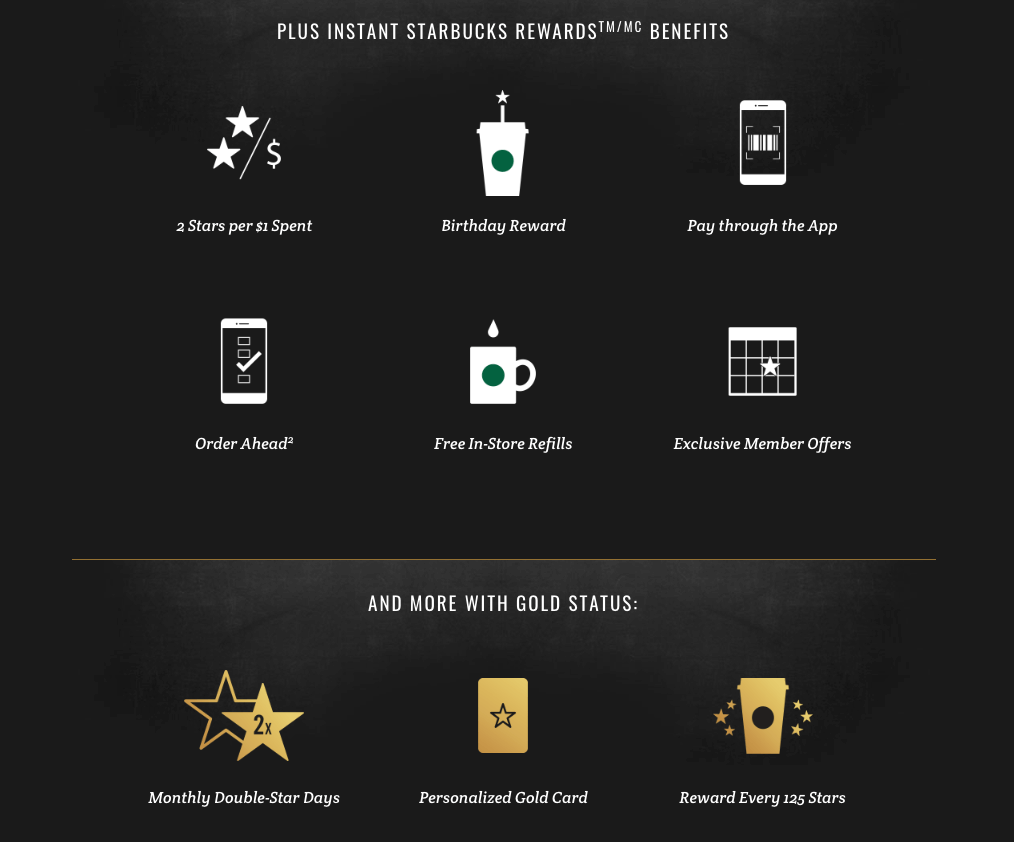 The most unique element of Starbucks Rewards is the number of tiers it has. Unlike most other tiered programs, Starbucks only has two VIP levels: Green and Gold. Customers are automatically added to the Green level when they sign up for Starbucks Rewards and then challenged to earn 300 Stars before moving up to Gold.
While there are many benefits at either level, many customers strive to reach the top simply for the prestigious Gold Card. Costing Starbucks next to nothing to offer, this reward is viewed by many as a prestigious measurement of social status. As a physical token of their status, the card makes a customer feel entitled and special and is a great way for Starbucks to increase program visibility. In these ways, the value of this reward is truly venti-sized.
Take your brand community to the next level with a tiered program
In summary, tiered programs are a great way to differentiate your program and add an element of gamification to your shop. They provide a number of benefits like increasing customer engagement, controlling expenses, and offering targeted rewards.