In Starbucks' latest app release, users will notice an entirely upgraded rewards interface. From the simplified in-app participation triggers to the clarification of program rules, it's clear that this program refresh had one primary objective: to improve the digital experience for rewards program members.
Wondering what'll be different the next time you place your mobile order? Here's what's changed, and why it impacts your Starbucks Rewards program experience!
Home Page Clearly Displays Progress to Next Reward
Part of Starbucks' initiative to improve the Starbucks Rewards digital experience includes a new rewards progress display. While the previous interface displayed a small, circular progress bar at the top of the screen, the revised interface makes each customer's progress a focal point. A bold, linear progress bar now takes up almost half of the main page!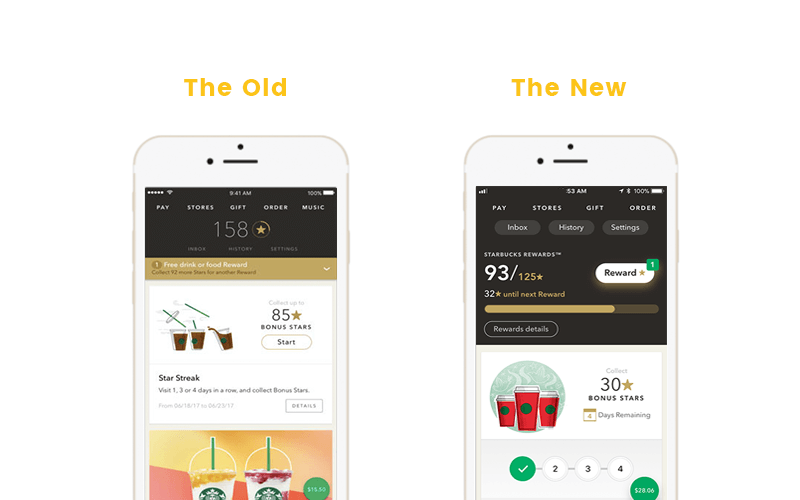 As a program member, I can now easily see how many stars I need to earn to redeem my next reward. For example, knowing that I'm only 7 stars away from a reward, I'm much more likely to splurge and add a cookie to my regular coffee order to achieve my goal. That's not the only new progress visualization, though. A simple click into "Rewards details" now displays my Gold membership status and showcases all of my other achievements, reminding me how far I've come since I've started!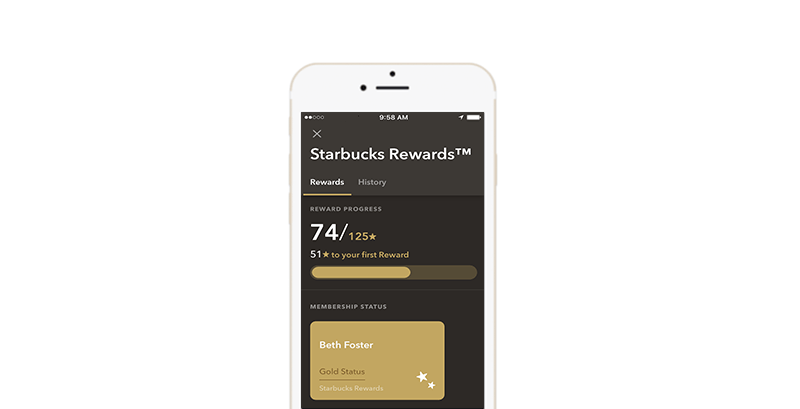 Why is This Valuable?
For Customers: customers can easily see their progress towards their goal, making rewards feel like they're always in reach.
For Starbucks: Starbucks' new progress bar motivates customer participation and increases average order values. Customers are encouraged to spend more per purchase in order to reach the next reward.

Program Instructions Are Clearly Communicated
Just because customers are registered in a rewards program doesn't mean they understand or remember how it works. While Starbucks' previous app interface did not include rewards program instructions, the new app includes a beautiful, 3 step explanation of how the program works with a clear CTA for customers to "make the most of their membership."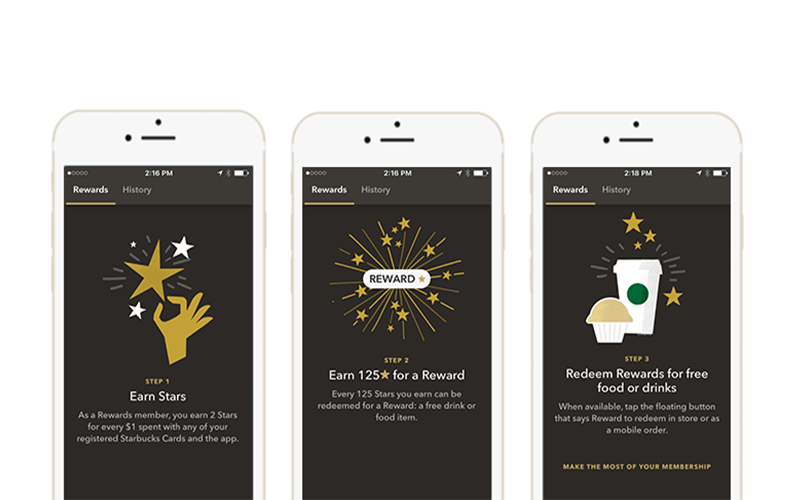 This minor improvement makes a big difference for customers who need clarification of program rules to participate confidently. Now, these customers can refresh their understanding of the program every time they open the app!
Why is This Valuable?
For Customers: by presenting the value of the program up front, there is no question as to why customers should engage.
For Starbucks: when customers have the knowledge and tools they need to participate, they are more likely to see value in a rewards program.

Reward Redemption is Simplified
One of the biggest pain-points for rewards program members is difficulty in redeeming rewards. Starbucks' understanding of this customer frustration has led to a new option for rewards to be easily redeemed from the homepage of the app.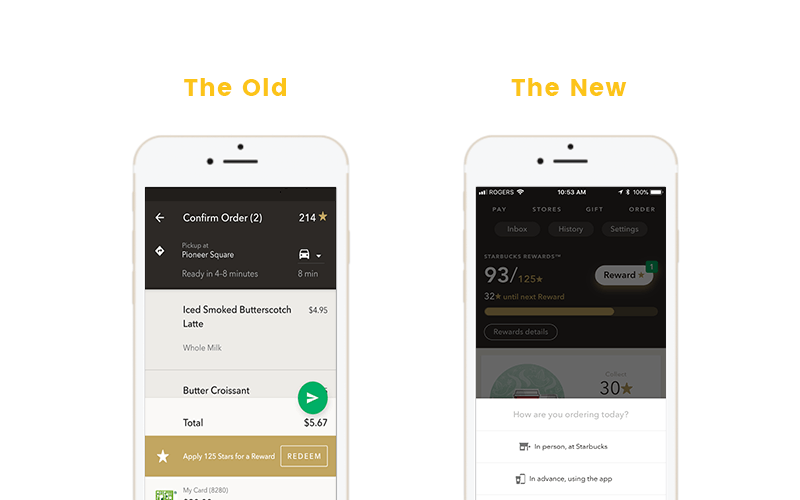 Previously, Starbucks customers were asked to choose whether or not to redeem a reward at checkout. By separating the redemption process from the rest of the program, many customers were confused as to how to redeem the Stars they worked so hard to earn.  Some program members may be unsure as to how to find the option to redeem, and others may expect the option to redeem when even if they haven't earned enough stars.
The revised Starbucks app now allows customers to tap a "reward" button on the home page and apply their reward to their in-store or in-app purchase - all on one page. The best part is this option is only displayed when customers are eligible for a reward, getting rid of any previous confusion.
Why is This Valuable?
For Customers: instead of working to redeem the rewards they've already earned, customers can reap the benefits easily.
For Starbucks: increasing the accessibility of rewards will increase program redemption rates. The easier it is for customers to redeem, the more likely they are to participate as intended.
Easier Navigation In App
While an update to in-app navigation may not be directly tied to the Starbucks Rewards program, it will surely improve the experience for program members! The previous version of the Starbucks app made important sections of the app hard to find, including:
Inbox - where promotions and exclusive deals are sent
History - where records of past purchases and Star earnings are stored
Settings - where personal information and customer service are housed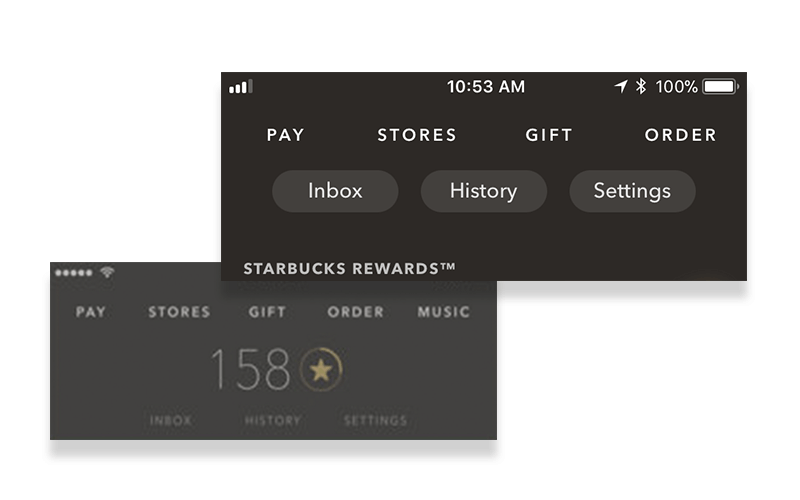 These three valuable functions were not prominently displayed in the past, making them difficult to find. However, knowing that they were frequently used by customers, Starbucks has made them a focal point on their new app home page. This is a simple fix that makes a customer's experience with the app more enjoyable -- now, customers are much less likely to find themselves searching for the information they need.
Why is This Valuable?
For Customers: easy access to important information reduces customer dissatisfaction and creates a more positive experience for rewards program members.
For Starbucks: with easy access to the information they need, customers will spend more time in-store or in-app. This increases their likelihood of making purchases and participating in a rewards program.
Masters of Their Craft
Starbucks' has a clear commitment to excellence in all areas they operate. Their latest application features will make participation in the rewards program more enjoyable for members, and in-app navigation more simple than ever before.
However, these positive changes raise the question: how much is too much before change becomes overwhelming to customers? Having just completely revamped their rewards program last year, time will tell if  Starbucks will give their customers a chance to adjust to their program changes -- or if they're working on their next evolution.