Today we are proud to announce the release of the points redemption at checkout extension for Smile points programs. This feature gives you the ability to encourage your customers to spend their points directly on the checkout page.
💡
For those using Shopify, this feature is only available on
Shopify Plus
.
With points at checkout, your customers can redeem their points in the checkout process without interrupting the shopping experience. As long as customers are signed in they'll be able to see their current balance, see a list of redeeming options and rewards costs, and click a button to apply the reward right on the checkout page. Having rewards available at checkout increases conversions, program exposure, and engagement.
How it works
We've made it as easy as possible to add this feature to your loyalty program. Simply, add the extension in the checkout editor. In Shopify, you can get there via Shopify Admin → Settings → Checkout and Accounts → Go to Checkout Editor (or via the shortcut button in Smile Admin).
To optimize the customer experience, we recommend placing the extension on the left side of the checkout, as the right side is collapsed and hidden on mobile.
How do customers use the extension?
The points checkout extension creates a simplified loyalty experience for your customers. A dropdown displays rewards that your customers can spend their points on. Rewards that the customer has enough points for can be applied from the dropdown.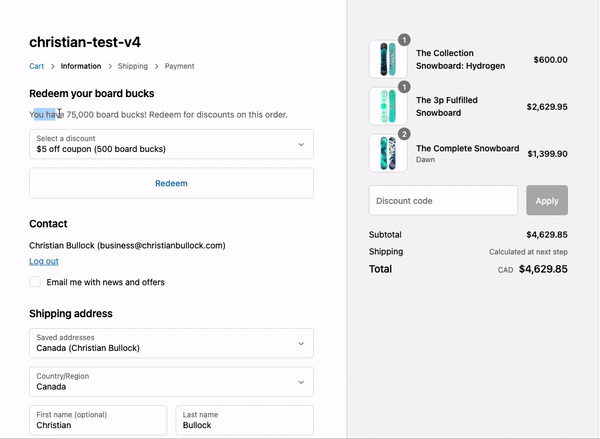 This is a fantastic option for businesses offering transactional reward types, such as dollar-off and percentage-off discounts.
💡
Currently, the checkout extension is only valid for fixed redeeming options and does not support free items, free shipping, or gift card reward types.
Remember–a program member does not understand the true value of your program until they have felt the positive emotion of claiming a reward!
Benefits of point redemption at checkout
1. Increase exposure
A points program is most effective when it is always visible, which is why we always recommend having as many program touchpoints as possible.
Adding an additional prompt to the checkout page gives you one more way to increase program exposure.
2. Increase engagement
Program engagement is generally measured by your redemption rate. This is the rate at which your reward points are being turned into a reward.
By presenting a way for your customers to redeem points when they will see the most value, you are giving them a strong reason to claim a reward. This increases your overall program engagement.
3. Seamless redemption
The checkout page is where a customer uses any reward they have claimed. The points redemption extension allows your customers to seamlessly claim rewards and apply them directly to their order, without ever leaving the checkout page!
💡
The points redemption at checkout extension is available today on the Growth and Plus Smile.io Plans!
Leverage the points redemption checkout extension
Launch a loyalty program of your own