I might not buy a lot of clothes, but when I do it's always from the same high quality brand. That's because male shoppers tend to value quality over price. As a result, men actually spend 34% more than women do on apparel each month. With higher value purchases, you can use a brand community to effectively tap into each customer's high lifetime value.
Male shoppers value quality over price.
This is the primary reason why men's fashion brands (like yours!) need to be running a rewards program. With the ability to motivate more men to take action in your community, rewards make the most of your customers by helping you deliver quality products and brand experiences.
Here are the 3 things every successful men's fashion rewards program needs to do.
Deliver a cohesive brand experience
One of the most important features of any successful apparel program is how well it matches the look and feel of the rest of your brand. Since your program has a significant impact on how valuable your brand community looks to new customers, it needs to match the rest of your brand image.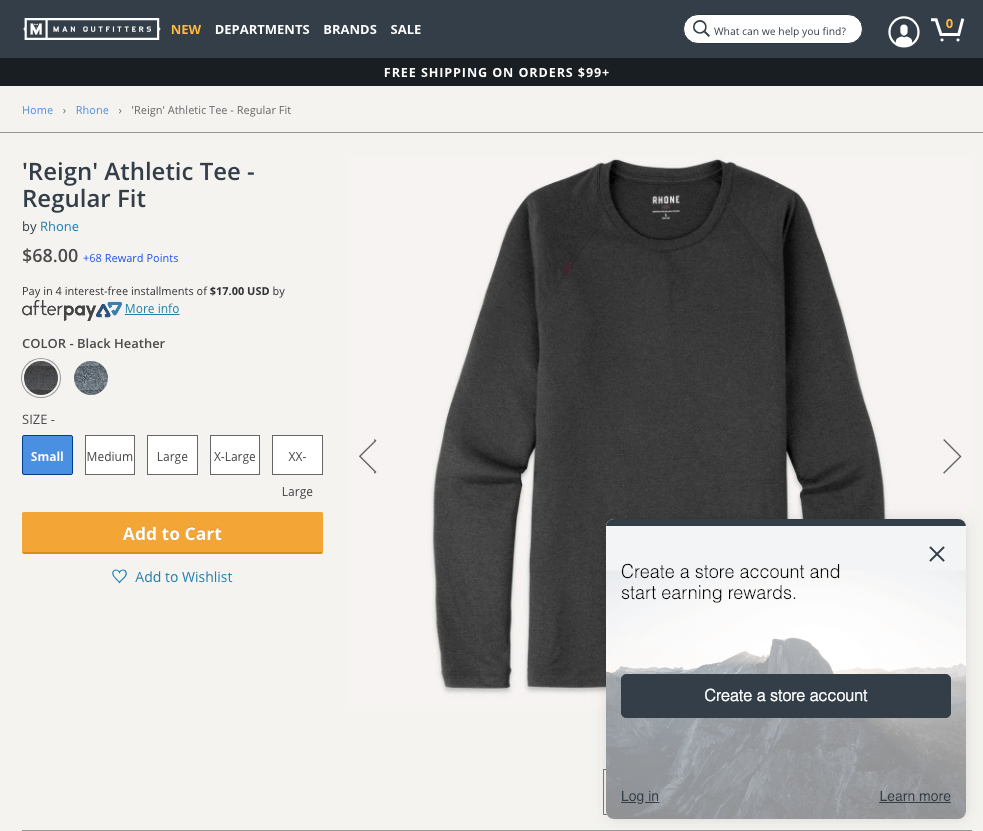 For example, if your brand is all about ruggedness, durability, and the outdoors like Man Outfitters, your rewards program should do more than just echo these values. It should shout it from the mountaintops! Since they're committed to providing the best apparel to help their customers get out there and explore, they've worked these passions into their rewards Panel. With a gorgeous photo of the mighty Half-Dome peak greeting every new and returning customer, members automatically know that joining the community will help them reach the top of whatever mountain they choose to climb.
Whether it's through photography, email messages, or social marketing, matching the values of your brand with your program delivers a clear invitation to every customer to join your community and get involved
Reward for reviews to show off your quality
So you've shown customers the value of joining your community, but how do you get them to engage and build value for your brand at the same time? The answer is product reviews.
Reviews are one of the best ways to show new customers the quality of your products. Some customers are still intimidated by purchasing clothes online because product photos can only say so much. With no indication of the quality of fabrics or brightness of colors, it can be hard to determine which products will actually meet their needs.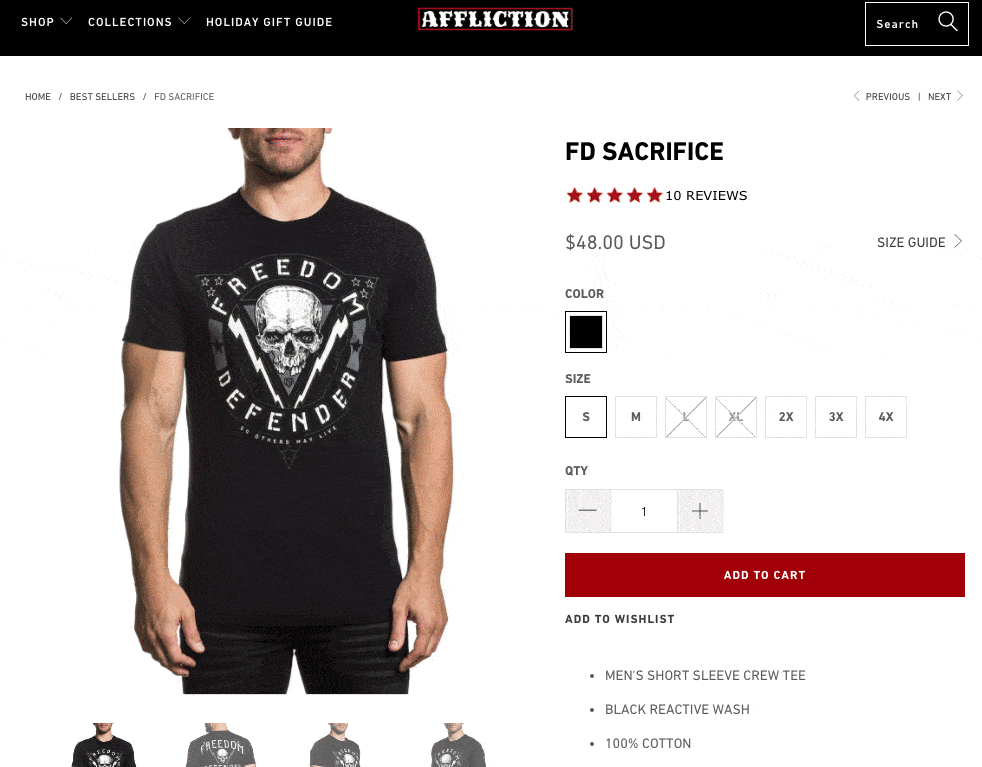 Rewarding your program members for leaving detailed reviews helps close this gap and makes joining the conversation worth their time. This is especially true when you spice the process up a little bit.
Reviews can go above and beyond the simple 3 out of 5 stars and "this is good" that you see on your typical Amazon review. With the right app integration you can get customers to share details like whether products fit true to size, like Affliction Clothing has done. This empowers community members to engage with your brand after a purchase while also being an ambassador for the quality of your products at the same time.
Using reviews as a prompt to engage with your brand and encouraging those reviews with rewards is a surefire way to show off your brand's quality beyond what mere pictures can do.
Close the community building loop with referrals
Men tend to stick to a brand when they find a good one, which means that they're also often hesitant to try a new one out. Referrals from your captivated community members to their friends can lower that barrier to entry, making it easier for new customers to try your products and join your community.
Your thrilled customers know the value of your brand and your products, so why not let them affirm that quality to others for you?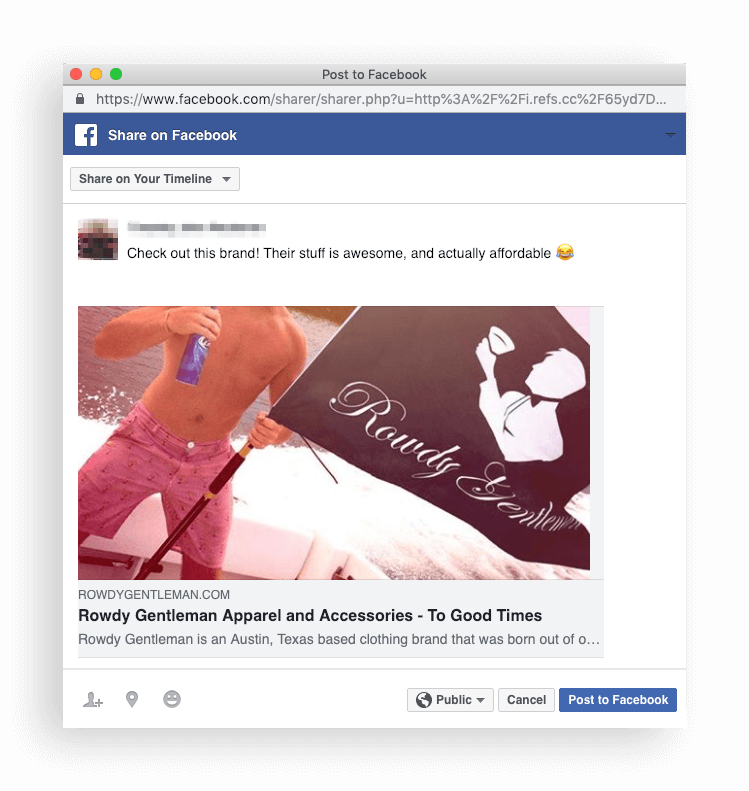 Take Rowdy Gentleman, for instance. They've closed the community building loop by building social media referrals directly into their rewards program. Brand advocates can share custom social images like the one above, and every friend who uses a referral code gets a 20% off coupon. Not only that, but each successful referral earns the advocate another 150 points, which is worth over $5 worth of discounts in rewards!
Making referrals valuable for both sides makes them more valuable for your brand. You get members advocating about your quality and many more brand new members to join in the fun.
Rewards are manly and fashionable
Whether your customers are more interested in being prepared for their next hike or another video game session, a rewards program is the perfect tool to make your brand stand out.
By keeping it on brand, rewarding for reviews, and closing the loop with referrals, your brand community can be primed with rewards for anything - even the next cover of GQ.