When I was younger, my brothers and I were obsessed with a National Geographic VHS tape our Dad had.  While my siblings were fascinated by the animal and nature footage, I found myself drawn to the stories of human adventure.  With my eyes glued to the screen, I watched people dive into deep caves and climb impossibly high mountains and found myself feeling exhilarated as the excitement of their expeditions pumped adrenaline through my veins.
Although I never fulfilled my (somewhat lofty) childhood ambitions of climbing Everest, humanity's thirst for adventure has never wavered and has inspired countless people to chase these dreams across the planet.  While many companies cater to the needs of these fearless people, very few do so with as much integrity, passion, and pride as Patagonia.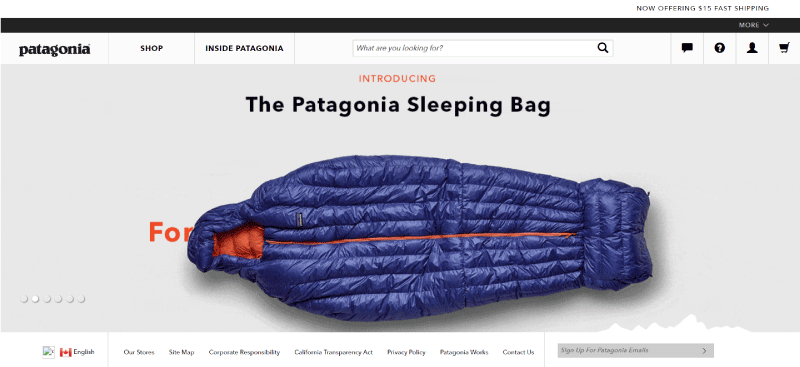 In 1965, a climbing and nature enthusiast named Yvon Chouinard and an aeronautical engineer named Tom Frost started selling climbing gear under the name Chouinard Equipment in California.  Over time the company's focus began to shift, growing to include a broader line of athletic equipment and apparel for other "silent sports" like surfing, running, skiing, snowboarding, and fly fishing.

This expansion period came to a head in the 1970s when the company assumed a new moniker, marking the birth of Patagonia as we know it today.  Pronounceable in any language, "Patagonia" was chosen because it inspires "romantic visions of glaciers tumbling into fjords, jagged windswept peaks, gauchos, and condors."  With retail locations across North America and online customers all over the world, Patagonia seeks to unite adventure-seekers from all corners of the globe.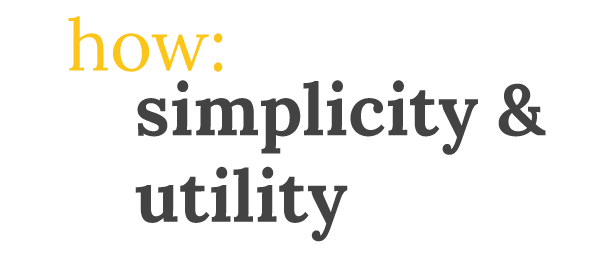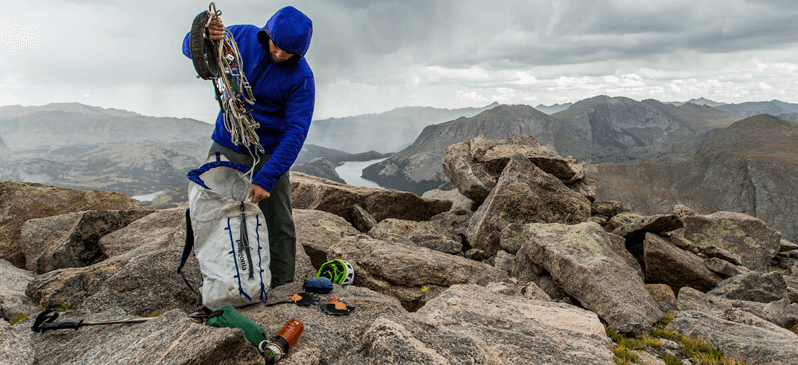 There's a school of thought which dictates that good ideas are born out of necessity.  While hiking in Yosemite in 1957, Chouinard discovered that he could save himself a lot of time and money if he used reusable pitons when he climbed.  Determined to find a solution, he taught himself how to blacksmith and fashioned himself a set of reusable spikes with materials he salvaged from a junkyard.
These humble beginnings have had a significant impact on the brand throughout each stage of its development.  Even though products are no longer being manufactured in a backyard shed with portable tools, the emphasis continues to be on each product's functionality and capacity to enable customers to live each adventure to the fullest.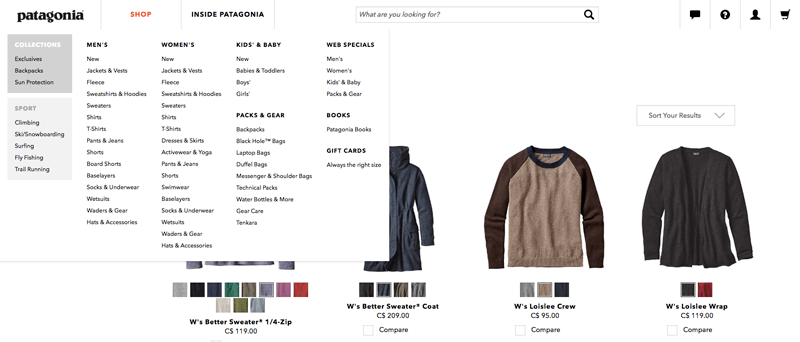 Patagonia's commitment to utility is immediately evident through the brand's consistent use of minimalism.  The store's website is presented on a clean white background, with a simple menu that clearly outlines each category of merchandise.  Merchandise has also been organized into collections and by sport within the larger menu, providing simple means of locating the exact type of products you're looking for.  These considerations provide an exceptional customer experiences that makes shopping easy and accessible for both new and returning customers.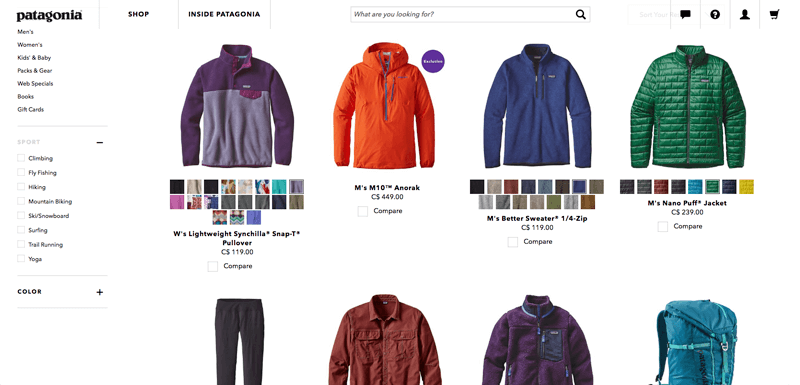 The merchandise itself follows a similar pattern.  With simple designs and a minimal use of prints, Patagonia's clothing is not flashy or visually demanding.  Instead, the emphasis is placed on the clothing's construction and overall quality.

The brand has even gone so far as to place an Ironclad Guarantee on all of its merchandise, promising functionality and longevity.  The Guarantee's logo, which features a strong fist holding a hammer, connects this concept of durability to the company's initial goal of providing functional gear to support sport practices, giving customers a visual promise that fosters trust in the products and services they purchase.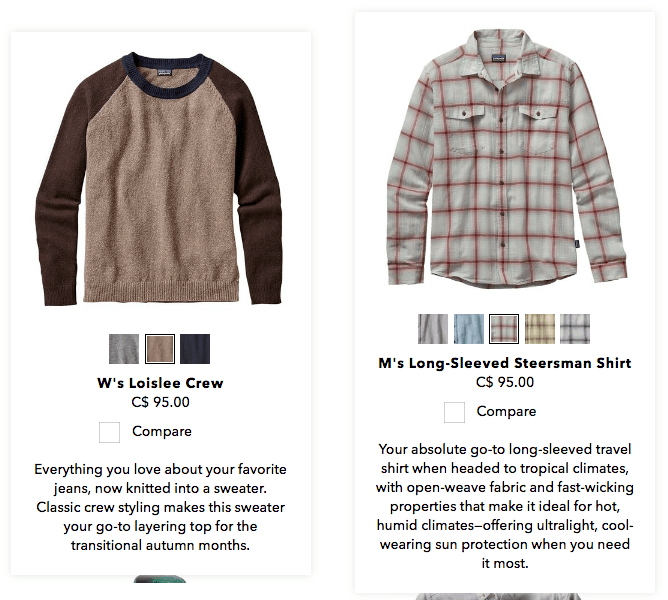 Product descriptions also reinforce Patagonia's commitment to usability, as many of them describe which times of year they were intended for or which environments you might wear them in.  For new customers, this is a monumental service.  With so much to know and learn within the adventure sports communities, it can be very overwhelming to begin purchasing gear without any indication that you are making the appropriate choice.  Placing emphasis on the use of the garment gives each product a clear intention which helps new and old customers alike understand how and where products should be used to maximize their effectiveness.
The focus on simplicity is evident as soon as you enter any of their retail locations, as well.  While arrangement of product may vary from store to store, the exposed brick, wood, and stone elements are staple features.  Together, these elements evoke a rustic, natural vibe that seamlessly integrates with the exploratory, minimalist nature of their products.
These components – combined with shelving and displays that place the products front and center – take the tedious "hunting" experience out of shopping in their stores, highlighting each product's function without jeopardizing the retail environment.
The Cleanest Line
Many adventure sports athletes travel around the world in order to experience as much of their sport as possible.  These types of trips take significant planning and preparation, and could take months to come to fruition.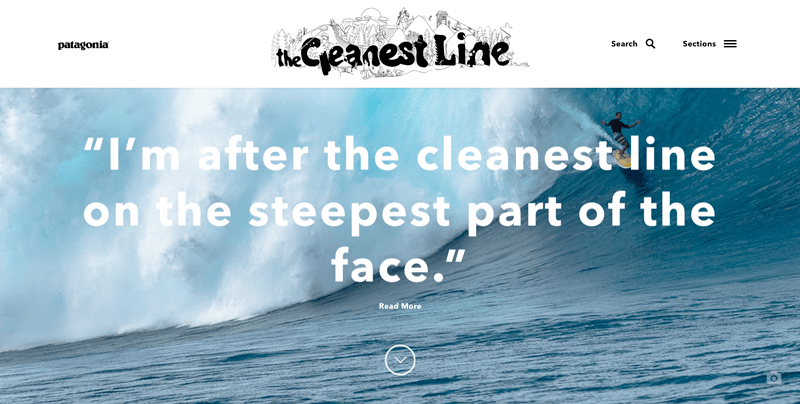 Patagonia extends their customers experience outside of retail strategies by providing their customers with additional materials to educate, inspire, and assist in this planning process.  Celebrating adventure, exploration, and environmental responsibility, The Cleanest Line is a collaborative lifestyle guide for the modern day adventurer that discusses products, sports, and related environmental issues.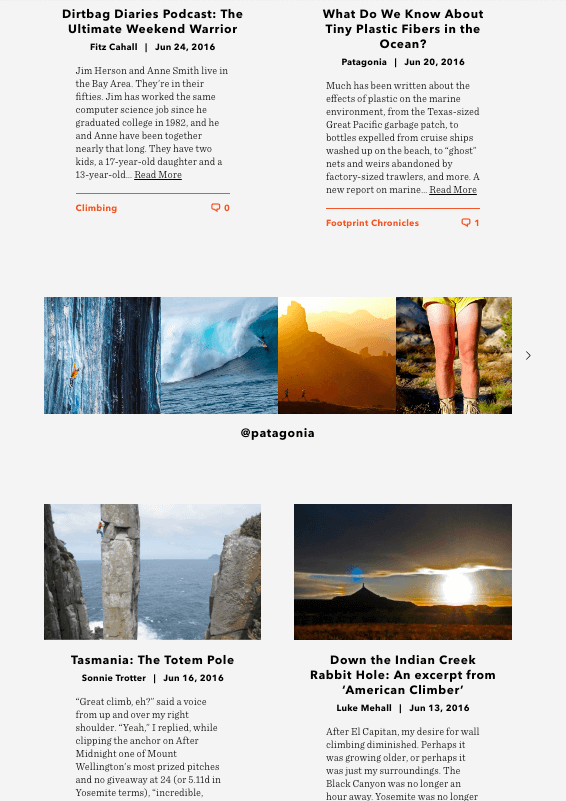 This free product delivers immense value to Patagonia's ideal customer.  With images and text submissions from users all over the world, the blog transports its readers from behind their computer screens to the farthest reaches of the world.  Combining photos and thoroughly researched articles, The Cleanest Line provides customers with resources they can access at home or on the go via mobile, integrating their content into customers' busy, active lifestyles.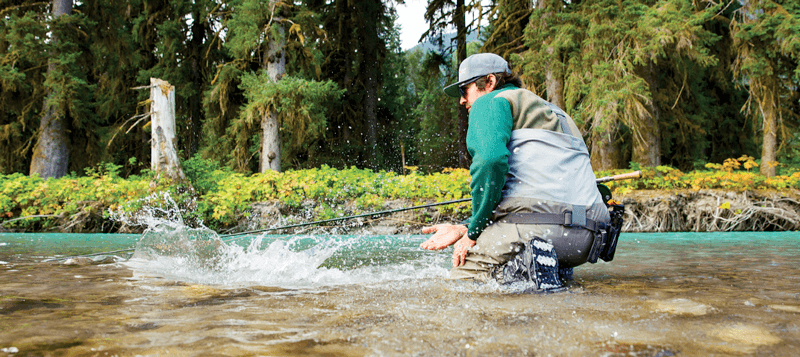 While they're passionate about providing their customers with exceptionally-crafted gear and apparel, Patagonia's first concern has always been social and environmental responsibility.

Within their mission statement, the company expresses a desire to recognize the relationship between humans and nature, choosing to sponsor silent sports as they pose no threat to nature.

This is made abundantly clear through the majority of the brand's business practices.  Where at all possible products are made of recycled materials, with the materials' details included in the product description.  This transparency illustrates a clear dedication to their cause, and reflects the growing concern around sustainable practices within the retail industry.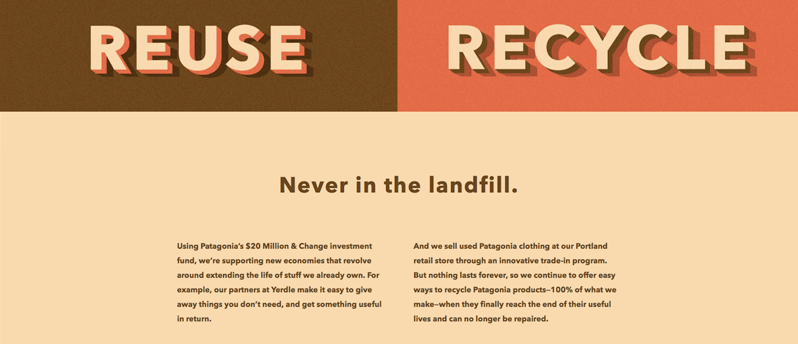 Customers are also invited to recycle their used Patagonia clothing at any brick and mortar store in an effort to reduce waste and benefit less fortunate communities.  Clothing is also accepted via mail, making the service available to both local and international customers.  If the clothing is beyond repair, it is recycled into new garments that will continue to preserve the environment Patagonia's customers love to enjoy.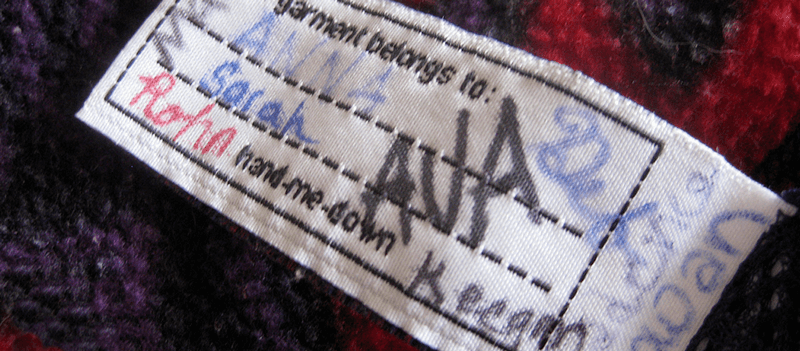 Worn Wear is an extension of the company's recycling campaign, and was developed in response to today's "throwaway culture".  The program provides customers with the opportunity to have their favourite well-worn Patagonia products repaired, giving them an alternative to spending money on new equipment.
Through initiatives like the 2015 Spring Tour, Worn Wear recognizes the power objects have to hold memories, and gives people the opportunity to share their experiences with others.  This initiative has proven to be a genius tool for uniting people and building community around Patagonia's brand and products, empowering customer relationships through connectivity and objects' power to tell and transmit stories.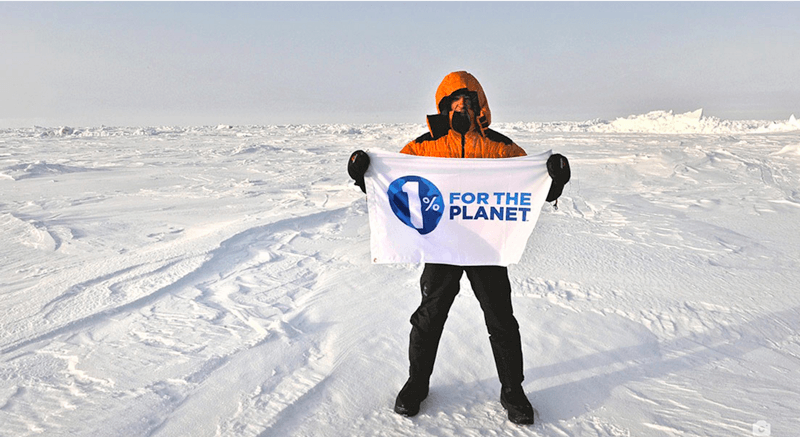 While Worn Wear operates on a one-to-one level, Patagonia is also dedicated to working for positive change on a larger scale.  In 1985, the company started the 1% for the Planet alliance, which works to connect businesses that pledge to donate 1% of their profits to protecting the environment.  Since the foundation's inception, Patagonia has donated over $70 million, making a very clear statement regarding their stance on environmental issues and their role in helping to eradicate them.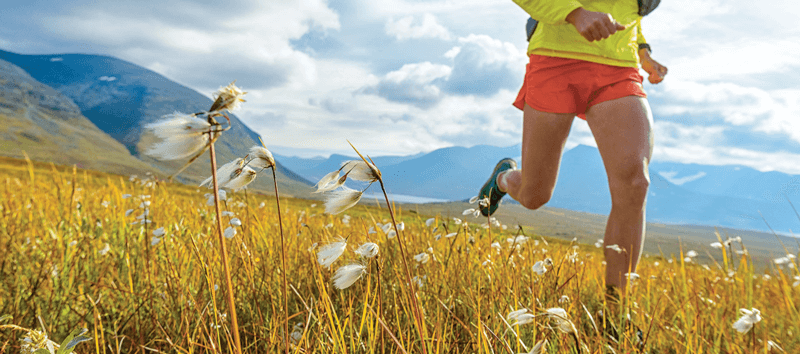 With more and more people becoming actively involved in strategies to protect and preserve ethical business practices, Patagonia's visible push for corporate responsibility puts many consumers at ease.  Through material audits, a commitment to safe working conditions around the world, and corporate partnerships, the company is continually working to improve environmental and conservation practices.  This civil servitude appeals directly to their customers' values, creating a strong relationship between brand and consumer that allows the buyer to feel confident that their retail choices are informed, ethical, and positive.

When they're not out climbing mountains and skiing Alpine slopes, Patagonia's customers are all too willing to share about their experiences with the brand and its impact on their lifestyle.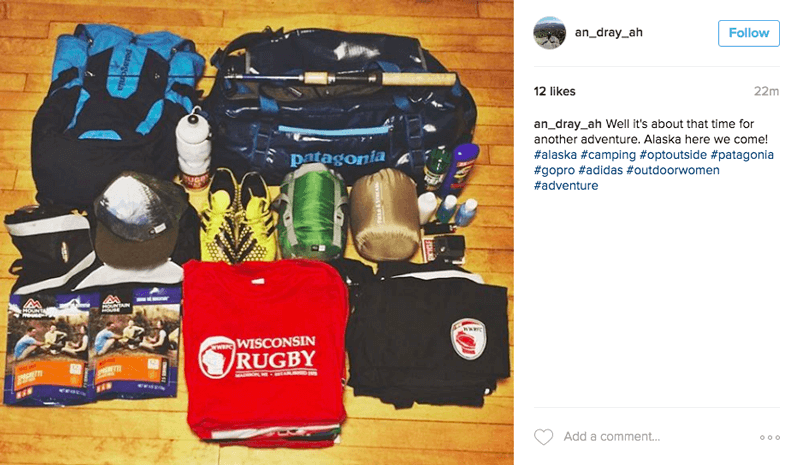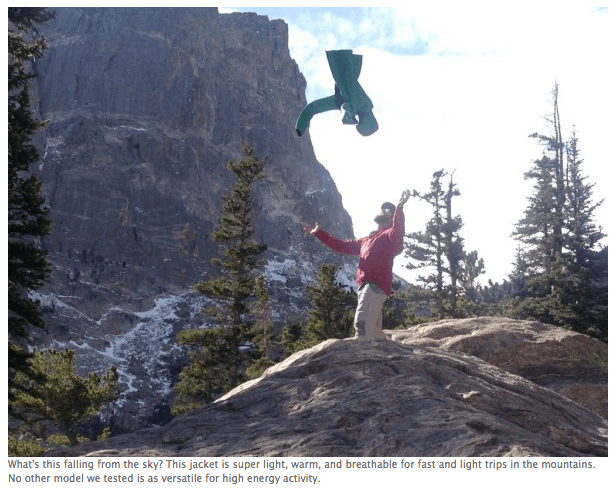 Courtesy of http://www.outdoorgearlab.com/Insulated-Jacket-Reviews/Patagonia-Nano-Air-Hoody

Before writing this customer experience spotlight, I had never heard of Patagonia.  Now, I'm overwhelmed by the many ways in which they've streamlined their customer experience in order to present a united brand across each of their various channels.  This has been achieved by focusing on three separate ideas:
Adventure
Whether you like to run, climb, ski, or fish, Patagonia is devoted to equipping you to grab life by the horns and live it to the fullest.  Every single purchase is driven by their desire to equip each of their customers to take on new challenges and get the most out of each one.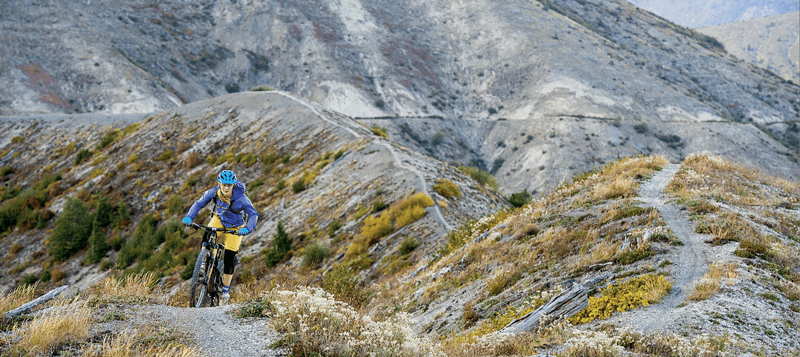 The Cleanest Line is paramount to this success, as its collaborative stories and testimonials complement the store's efforts to enable, prepare, encourage, and support adventurers of all sorts and abilities.
Functionality
Through the simple design of their products, it's clear that Patagonia's priority resides in functionality.  In order to equip their customers to have the best experiences possible, they understand that well-constructed gear is a must and strive to provide it in each of their many product categories.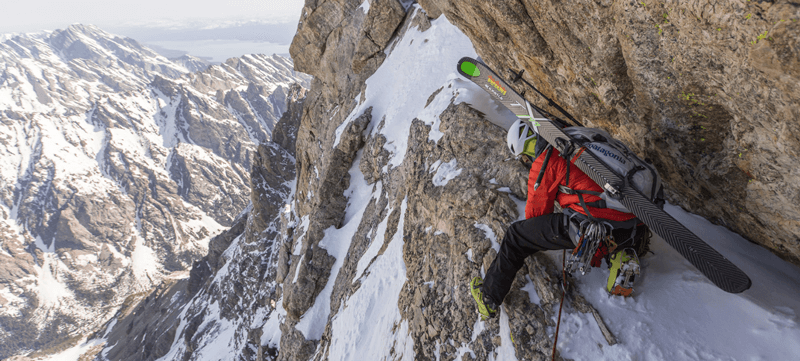 This emphasis on function also ensures that none of their products are frivolous or impractical, making each piece of merchandise a lifestyle aid that improves the customer's experience at every step in their journey.
Responsibility
The company's most important value, however, is their responsibility to the environment and employees.  By placing heavy emphasis on their business practices, Patagonia allows their customers and affiliated brands to hold them accountable for all of their actions.
This behavior is recognized and appreciated by customers who share similar values, and by allowing them to participate through programs like Worn Wear, Patagonia is able to reinforce their customers' belief in the brand and what it represents.
These considerations (among many others) make them a premium partner for anyone looking for a little adventure.