The customers you acquire with ads have a few things in common:
They're likely to check out as a guest
They're looking for a deal
They're not coming back to your store
In fact, a staggering 92% of guest customers never return to make another purchase.
So how do you change that? By giving them a reason to.
Adding value to every interaction your customers have with your brand can help you turn one-time shoppers into valuable program members, and rewards are the best way to do that. With rewards, you create experiences that make every acquired customer more likely to place a repeat purchase. When customers feel like they have just as much to gain from a purchase as you do, they'll be more likely to return to your shop.
It's this reciprocal relationship that makes reward program members critical to the growth of your business. With an average order value almost 12% higher than their non-member counterparts, your members are the key to unlocking your brand's sustainable growth.
Here are 5 ways you can turn one-time shoppers into program members.
Turn site visitors into members with Nudges
Every time a new shopper visits your site is an opportunity for you to add members to your rewards program, but only if they can easily discover it. If members can't find your program they'll never join it, even if you have incredible rewards to offer. That's why keeping your program top of mind for site visitors is critical to growing your community.
Adding a nudge to your site can help you capture the attention of every site visitor. Letting customers know that they could gain access to exclusive rewards simply by joining will help you turn one-time site visitors into program members. It will also help condition them to engage with your program regularly, establishing valuable customer behavior that will keep them involved with your program over time.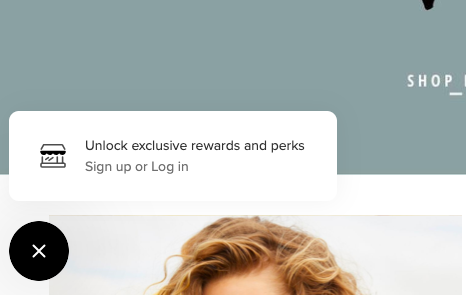 Shine On keeps their program front and center for new visitors by adding a nudge to their site. By making it easier for customers to discover and join their program, the Australian fashion brand adds value to each new site visitor's initial shopping experience. When these first-time visitors see this value early on, they'll be more likely to return to re-engage with their brand in the future.
Give customers a compelling reason to join with creative card text
If nudges are what you can use to capture your visitor's attention, your account creation card is what will hold it. As the first thing your customers see when they open your  Panel, it's a powerful tool to help you convince new visitors to join your program.
A great account creation card will use your brand voice to give customers a taste of what your community is about, as well as a captivating reason to join your community. When it's easy for customers to understand the value they'll gain when they become a program member, they'll have every reason to do so! As a result, using this Card effectively can be the difference between a new member joining or not.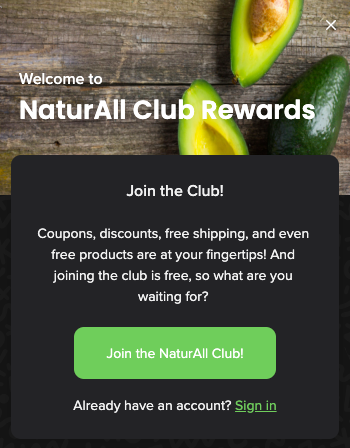 In just a few lines of text, NaturAll has already convinced me to join their program. They have a great account creation card that makes it really easy to understand what I'm going to get when I become a member. Using this space to highlight exclusive discounts, products, and other tangible rewards customers can access makes it easier for me (and every other customer) to visualize what it's like to be a member.
When your customers can visualize the value you're promising, they'll have every reason to join. Using your brand voice to customize your account creation text will help them visualize that value.
Make your signup offer irresistible
There's nothing worse than joining a rewards program only to learn that you have to make several purchases before you get to enjoy any benefits. That's why the most effective programs make it really easy for new members to see value early on.
One of the easiest ways to do this is by making your account creation points offer irresistible. Offering enough signup points that a member can redeem a reward immediately will help you establish value early on in their program experience. This tangible value will satisfy every customers' desire for immediate gratification.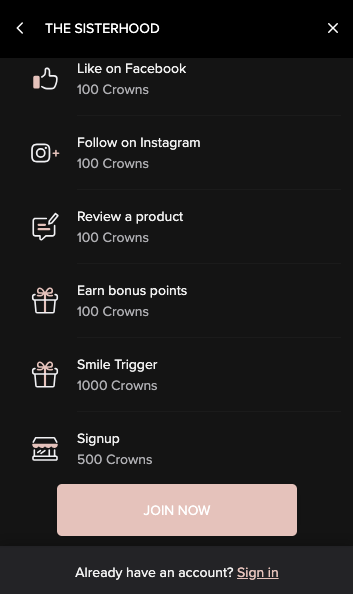 We see that instant gratification at work with SheFit's sisterhood program. Every new member of the Sisterhood immediately earns 500 Crowns when they sign up, which is enough to cash in for $5 off of their first purchase. Simply by joining, each member will see tangible value in their first interaction with their program. It's this value that gives them a reason to join their community and will keep them coming back to re-engage with their program long term.
Create FOMO with tailored emails to non-members
No one ever wants to feel like they are missing out on something. This fear of missing out can be a powerful motivator to encourage one-time shoppers to join your program. If they know others who have placed an order have earned a reward for doing so, they'll want to make sure they get to experience that value, too.
Sending a tailored email to customers who have recently made a purchase but haven't joined your program is a surefire way to add new members to your program. Making it easier for non-members to see the value they're missing out on and letting them know how they could experience that same value for themselves will help you turn these guest shoppers into members.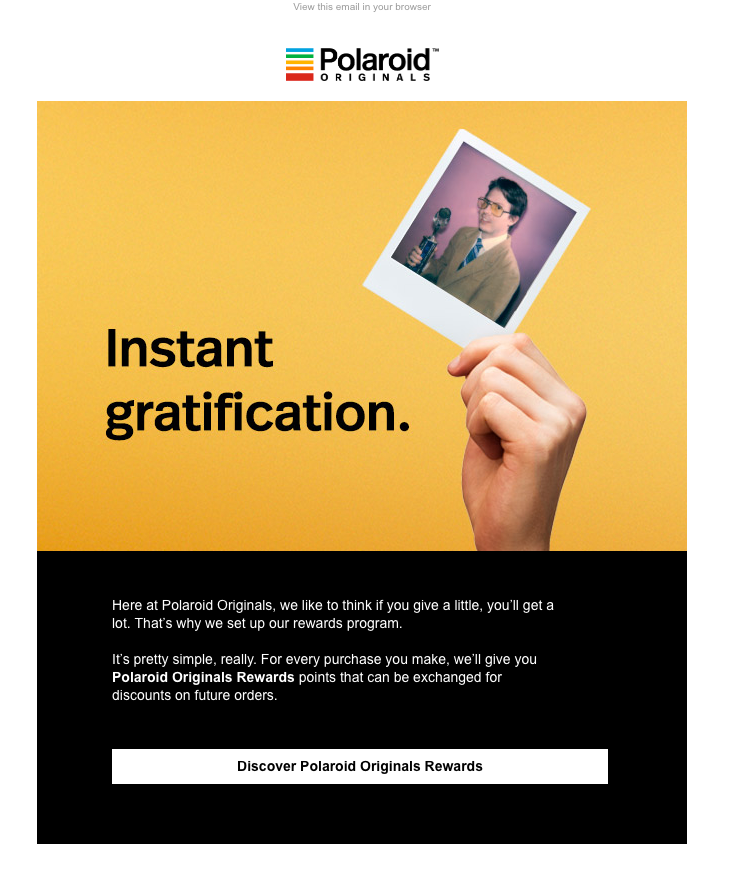 Polaroid Originals does a great job with emails sent to non-members. Their clever content ties the immediate gratification that customers love about their product to their rewards program. Letting customers know it's just as easy to join their program and earn rewards their program as it is to snap a Polaroid photo gives every guest purchaser a compelling reason to join their program.
Make it easier for program members to share your community with a referral nudge
Existing program members that already know, love, and purchase from your brand are your secret weapon when it comes to growing your community. Offering them a reward for referring their friends and family to your site is a great way to get your brand in front of new customers.
Even though these loyal customers love everything about your brand, it can be easy for them to forget about your referral reward in the excitement of placing an order. Adding a referral nudge to your thank you page will keep your referral reward top of mind when they're most excited and likely to share your brand.
Making it easier for your best customers to share your brand with others when they are excited about a purchase will make them more likely to refer their friends. As a result, their excitement will make each of the friends they refer more likely to become program members. After all, excitement is contagious! When you're referred to a store by someone who already loves the brand, you can't help but want to match their enthusiasm.
That's what makes these nudges so powerful, especially when they're supported by fantastic emails, compelling entry rewards, and incredible card copy.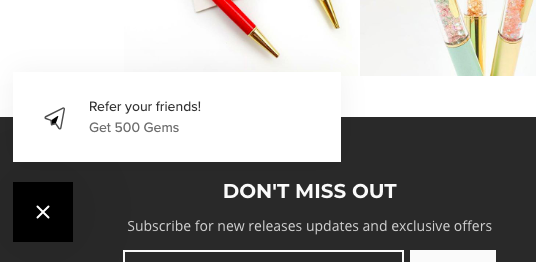 PenGems makes it really easy for their best customers to share their program with others after they've placed a purchase. Adding a referral sharing nudge to their thank you page keeps their referral reward top of mind when their customers are most likely to share their brand. When sharing your brand with others is this easy, customers will have every reason to refer their friends and family to your site.
Grow your community by making it even easier for customers to discover and join your program
The value your community adds to your business can only grow if you're regularly adding new members to your rewards program. Every new member gives you an opportunity to build lasting emotional connection with customers that may have only been a one-time shopper otherwise.
Making it easier for new members to discover and join your program will move you one step closer to building a strong brand community that allows your brand to grow sustainably without depending on ads.
Hopefully this list has inspired you to make new use of tools you already have access to,  like your program panel, email distribution lists, and nudges. So which tool are you going to use first? We can't wait to see what you do!