Welcoming a new member to the family is such an exciting time. New parents feel a range of emotions when going through this life-changing experience. Luckily, there are brands out there like Itzy Ritzy that are there to help them at every stage of their journey.
"Parenthood looks different for literally every person and we get to see all of that," shares Lauren Guttormsen, Director of CRM and Loyalty Marketing at Itzy Ritzy. Lauren shared some secrets behind the Itzy Ritzy community and how they use their Ritzy Rewards program during peak sales seasons.
With BFCM quickly approaching, we asked Itzy Ritzy how its loyalty program, Ritzy Rewards played a role in its holiday sales strategy.
Using a loyalty program before, during, and after BFCM
It's almost here… The Super Bowl of ecommerce—Black Friday Cyber Monday, better known as BFCM. For most ecommerce or DTC brands, weeks, months, or even the entire year are spent preparing for this 4-day shopping extravaganza.
And for good reason. Last year, over 100,000 merchants were rewarding customers with Smile and had a total of over 6.5 million shoppers during BFCM. It's no secret that this is the biggest sales period of the year and it's a key revenue-generating period.
🛒
During the 2022 holiday shopping period, 38.4% of all shoppers at stores running Smile were repeat customers.
BFCM is about building relationships with your customers and sparking customer loyalty. This means that nearly 40% of customers were returning to place at least their second order.
If you didn't believe us before, it's pretty clear now that a loyalty program not only helps you during BFCM. It helps you before, during, and most importantly, after the holiday shopping frenzy.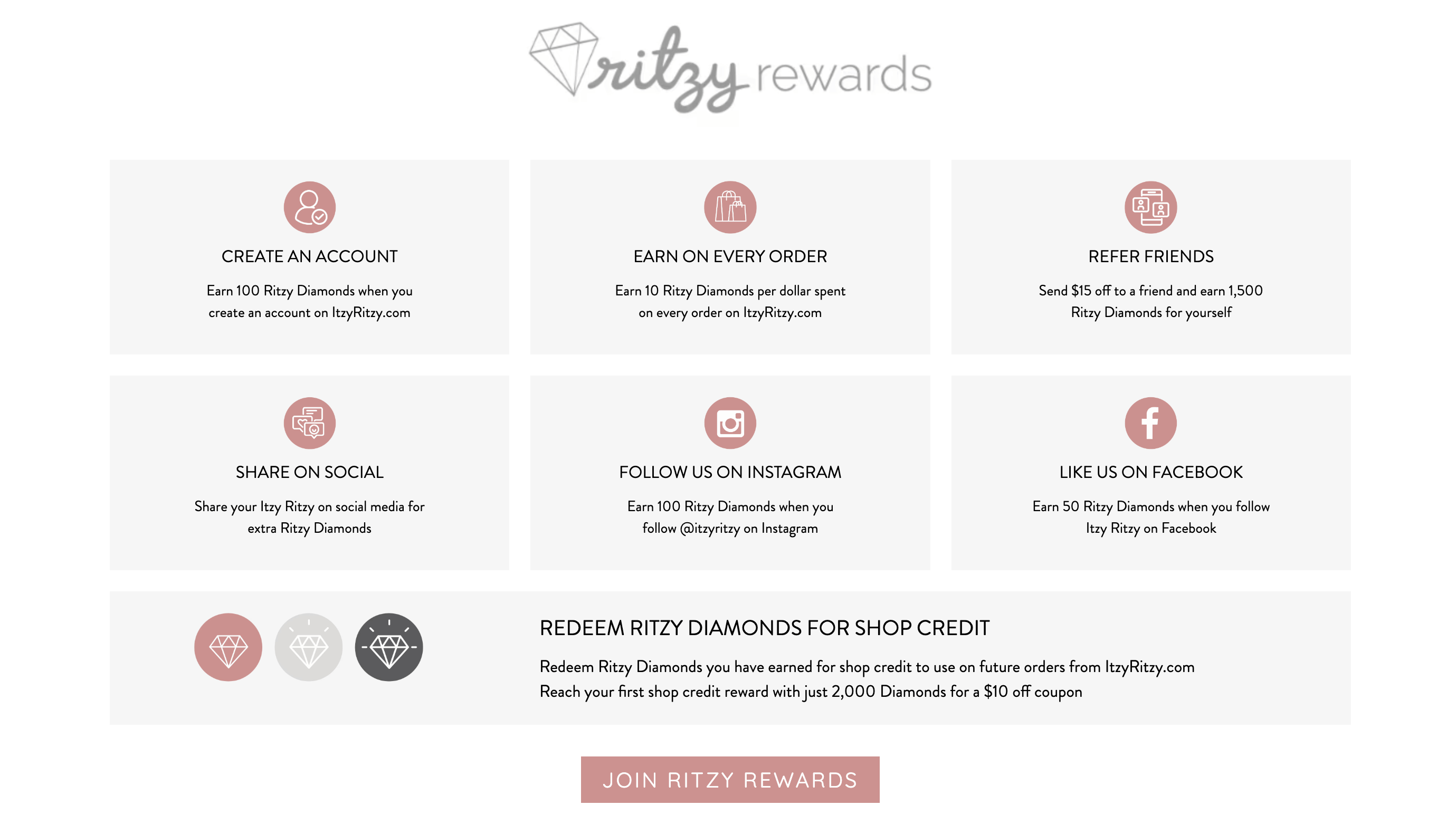 Itzy Ritzy is the perfect example to draw inspiration from. With an average redemption rate of 32% (18% higher than the industry average), the baby goods brand uses Ritzy Rewards to its full potential—no matter what time of year.
Let's find out how Itzy Ritzy uses its loyalty program before, during, and after BFCM to retain customers in 6 steps!
1. Use customer feedback to design your loyalty program
Ensure your loyalty program is designed for customers, by customers. Itzy Ritzy relies on customer feedback to crowdsource ideas for its Ritzy Rewards program from the rewards offered to the ways to earn points. Its Facebook Insiders group is made up of 20,000 of its most loyal super fans.
📣
"We look to that group to inform a lot of the decisions we make because they're so connected to our brand. They are like an advisory council."
- Lauren Guttormsen, Director of CRM and Loyalty Marketing
Itzy Ritzy also connects with its customers on a personal level through weekly Instagram lives, regular social media polls about the program, and conversations in its Facebook group. "Our community really enjoys that sense of buy-in and being listened to and that's really what they keep coming back for," Lauren explains.
When your customers literally help design your loyalty program, you can be sure they'll find it engaging and motivating.
2. Incentivize loyalty program sign-ups ahead of the holidays
To take full advantage of your loyalty program during BFCM, you need to get customers excited well in advance. This is why it's a great idea to run a bonus points event or another time-based loyalty campaign before BFCM.
Itzy Ritzy launched its new Icon backpack diaper bag in October, before BFCM. This re-engaged its existing customers, all while creating a reason for new customers to sign up for the program.
"We allowed our Ritzy Rewards members to use their rewards on that drop. A lot of times when we bring new products in we don't allow any discounting on that for the first 30, 60, or 90 days depending on what we decide on but because that bag was intended as a celebration of our brand and community we did decide our Ritzy Reward members to use their discount codes on that," Lauren shares. Creating this sense of member appreciation right before the biggest shopping event of the year is a great way to stay top-of-mind.
If customers sign up for your program before BFCM, you'll have the first-party data you need, like their name and email address, to promote your sales to them in a personalized way.
3. Offer early VIP access to your BFCM sales
Big sales create a heightened sense of urgency. Will you secure everything in your cart before it sells out? That's why one of the most valuable rewards you can offer through your loyalty program around BFCM isn't $10 off, free shipping, or even an exclusive product—it's early access to shop the sales.
🕑
"Our rewards members get a full weekend of early access a couple of weeks before we get into BFCM. It's really about reinforcing that benefit of belonging to the tiers and working your way up through those tiers."
Ritzy Rewards members get tiered access to all of its sales, with its Diamond members gaining access first, followed by its Platinum, and then Rose Gold members. This strategy not only encourages customers to sign up for the coveted early access, but it gives Itzy Ritzy valuable data and insights to ensure the momentum keeps going during the actual BFCM weekend.
4. Use feedback from early customers to adjust your BFCM promotions.
By strategically offering its sales a couple of weeks before BFCM, Itzy Ritzy has time to leverage the insights from customers' shopping data.
"It gives us a chance to regroup before the whole sale goes live to the general public to say, 'Here are the things we need to add a little more inventory to,' or 'Here are the things we should be featuring in our ads or in our emails that would get people to convert because the rewards members are shopping those highly.' It gives us a sneak peek into the data that we can use in our marketing as we get into the more official sale week."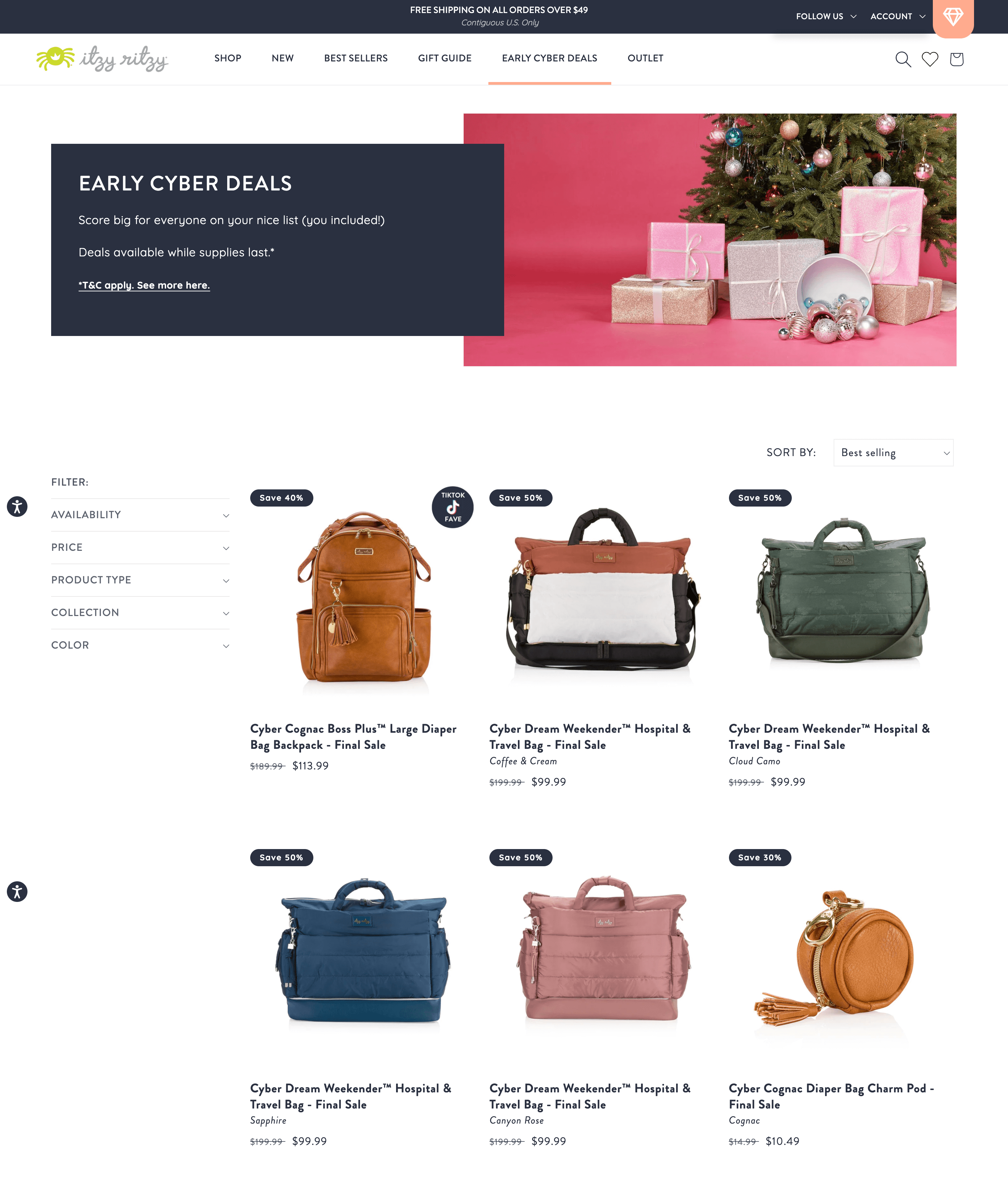 This year, Itzy Ritzy has announced its Early Cyber Deals an entire month before BFCM. It created a dedicated product catalog page on its website for these deals and included a link to it in the main website navigation. Promoting your sales in this way ensures that you get the buy-in you need to gain valuable insights.
Your customers will appreciate the preferential treatment and you get the information you need to maximize your BFCM sale period—truly a win-win.
5. Communicate the value of earning rewards during BFCM
With BFCM most likely being your biggest discounting period of the year, you want to avoid sinking your margins even further with rewards redemptions. That's right—we are recommending not to encourage reward redemption during BFCM.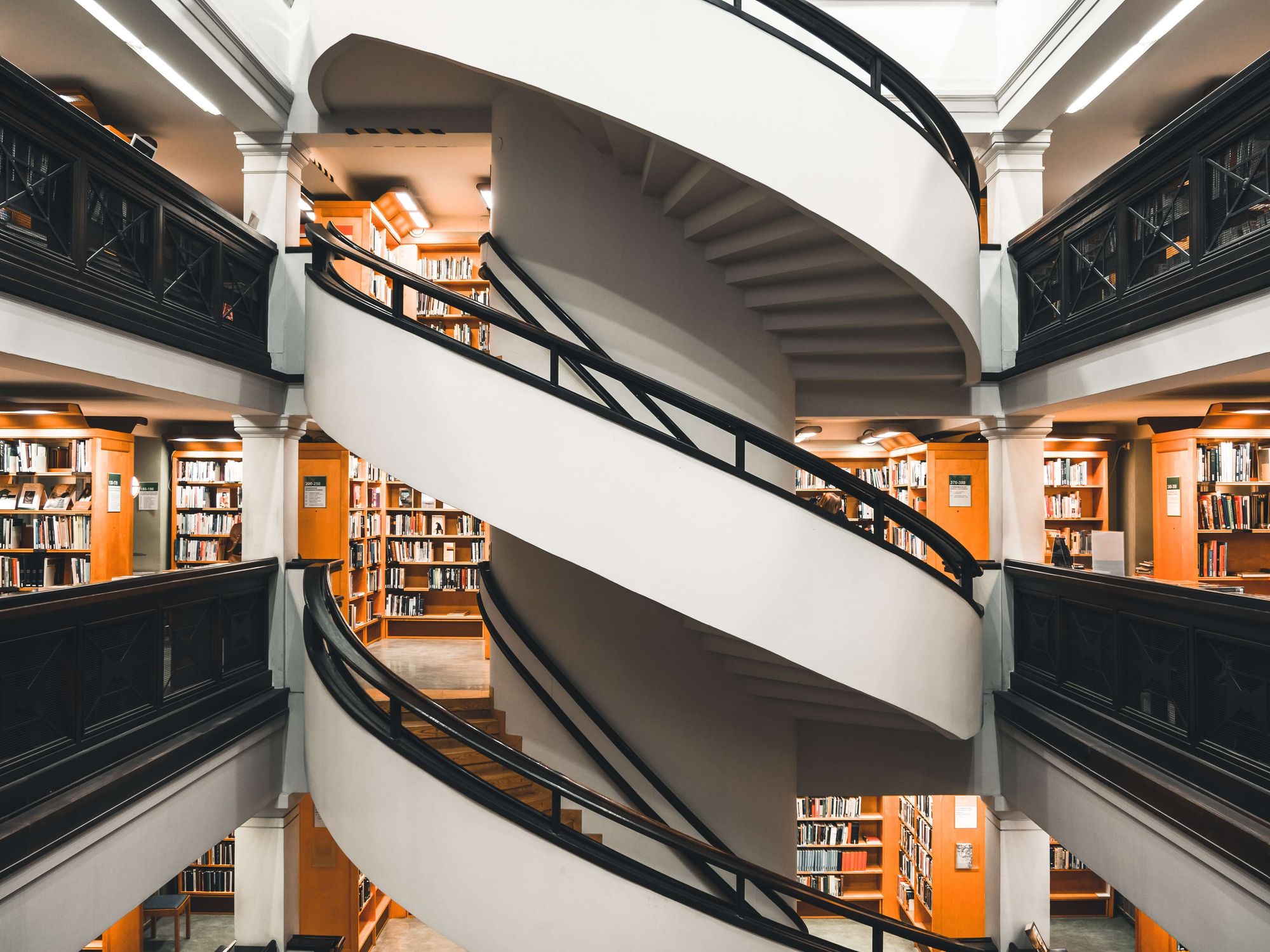 remind people that even if you can't use your rewards, you earn during this time. So you can come back after you've got all the things you want on sale while earning a pretty decent number of points, and come back and get that next thing at a pretty good discount too by redeeming a reward," Lauren tells us.
💳
"We reinforce that benefit that even though you can't use them right there, you're still earning for your next purchase."
This messaging and communication is key to using BFCM for long-term, sustainable retention.
6. Stay in touch with customers after BFCM
After your customers have received their BFCM orders, you can make or break your customer retention marketing. You've acquired a ton of new customers and maybe re-engaged dormant ones, but you can't let them ignore you until your next big sale.
Itzy Ritzy follows up with its rewards program members via email and reminds them how many points they have earned. When customers can see how close they are to their next rewards, they're going to be incentivized to come back and cash in those points, rather than letting them sit unused or expire.
Wrapping up Itzy Ritzy's BFCM strategy
Achieving BFCM success doesn't always mean selling as much of your inventory as possible. Making thousands of sales in one day is great—but what if you don't see those customers again until the next BFCM, or worse, never again at all?
Itzy Ritzy uses its loyalty program, Ritzy Rewards, as a key lever in its BFCM sales strategy. This helps the iconic baby accessory brand achieve customer retention and brand loyalty before, during, and after the holiday sales period.
Here's the TL;DR on Itzy Ritzy's BFCM strategy:
Use customer feedback to design your loyalty program.
Encourage program sign-ups before BFCM.
Offer early access to BFCM sales for your program members.
Use data and insights from early sales to adjust for BFCM.
Emphasize the earning potential during BFCM to encourage repeat purchases.
Communicate with customers after BFCM.
Add a loyalty program to your BFCM toolkit.
Set up a Smile.io loyalty program in minutes.