When it comes to choosing the perfect airline, there's no shortage of options for U.S. travellers. With 18 U.S companies considered "major carriers", competition in the travel industry is fierce.  As a result, customer retention is  more critical to staying in the air than ever before. In an industry this competitive, how do airlines keep customers coming back, flight after flight?
Dallas-based carrier Southwest Airlines seems to have found the answer. Known for their affordable fares and excellent customer service, Southwest is setting the stage for customer loyalty with their Rapid Rewards loyalty program.  Launched in 1987, the program aims to enhance the customer experience for Southwest's frequent flyers, and they seem to know what they're doing!
In 2016, Rapid Rewards took home loyalty "Program of the Year" and "Best Customer Service" at the 28th Annual Freddie Awards, a ceremony that recognizes the most prestigious loyalty programs in the travel industry. It's clear that Southwest knows what their customers want out of a rewards program: a no-fuss experience that makes flying simple and rewarding. However, it's not all a first-class flying experience.  While this program has a number of exceptional features it also has some areas to improve. Let's start by looking at the positive features of Rapid Rewards that keep members flying high.
The Take Off: Why Rapid Rewards Succeeds

When you line them up with their competitors, it's not really surprising that so many customers choose Southwest and their Rapid Rewards program. The incredibly straightforward redemption process, member-friendly program rules, and variety of ways to redeem points are only a few of the reasons why Rapid Rewards is an award winning program.
Rapid Rewards is Easy to Use
Southwest Airlines knows that planning a trip is already complicated enough for travellers. Why further complicate the process with a rewards program that's not easy to navigate?
On the Rapid Rewards website, there are a number of easy-to-spot navigation tabs that will immediately answer all of your questions about the program. These include an "about" section and details on how to earn and redeem points, as well as information about the program's tiers and partners.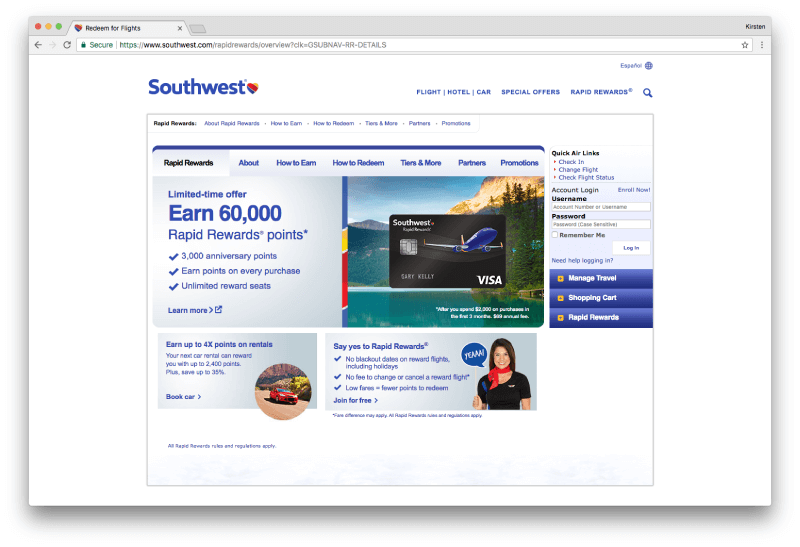 Using a simple checklist, the "about" tab walks customers through a program overview that clearly states the benefits of membership through a combination of easy-to-read text and branded visuals elements.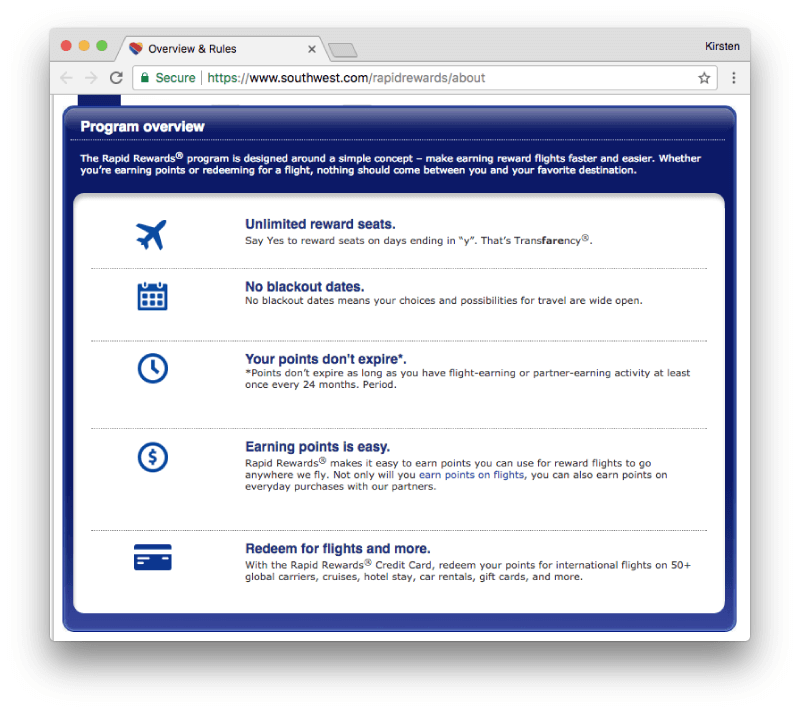 Once you've signed up for a Southwest credit card, flying isn't the only way you'll be earning points. Purchases made directly with the airline, hotels, car rental purchases and ALL other purchases made with your card will take you one step closer to redeeming the reward that's right for you.
They make the redemption process just as easy.  In fact, it's so simple that it can be explained in 2 minutes (quite adorably) by young Juliette, the daughter of a  Rapid Rewards member:
Southwest Airlines doesn't stop there, though.  While others might have been content to contain their program to desktop devices, Southwest makes it clear that their rewards experience is accessible on mobile devices, too. No desktop computer to access the program? No problem - the Southwest Airlines application for iPhone and Android provides a full mobile experience to Rapid Rewards members, allowing the redemption of points through a handheld device.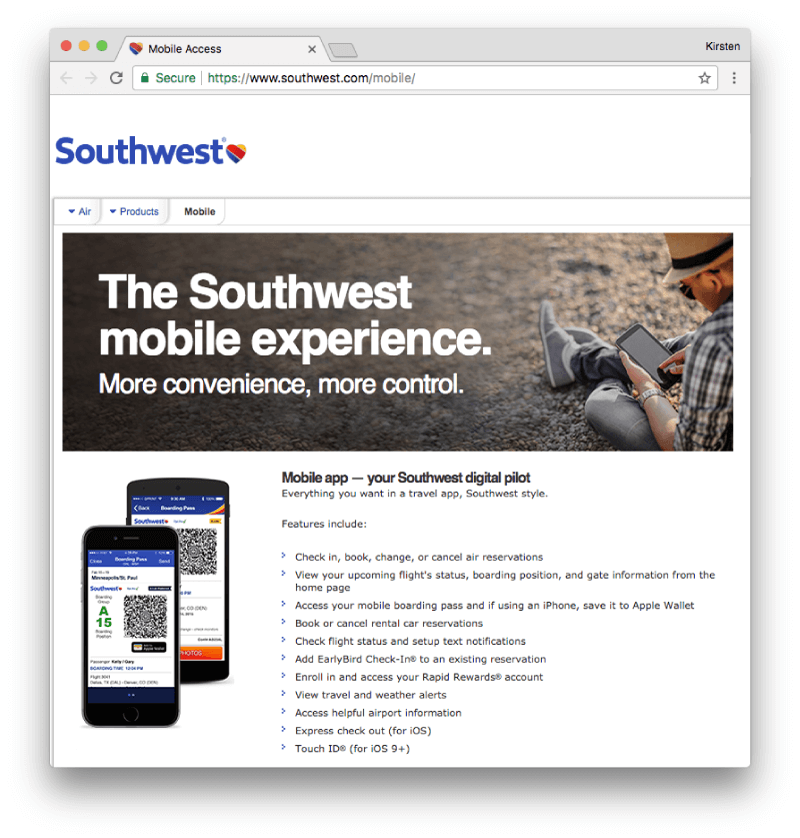 In addition to Rapid Rewards access, the app also allows users to check in to flights, access helpful airport information, and view their flight status - among other features. Clearly this program is prepared for the impact of mobile commerce as users migrate from desktops to devices.
Overall, the ease of use of the Rapid Rewards program helps simplify the flying process for members, providing a positive experience that keeps customers coming back.
Rapid Rewards Has No Blackout Dates or Point Expiration
Two of the biggest selling features of the Rapid Rewards program are the fact that there are no blackout dates for flight redemption and that points accrued do not expire while the card is in use.

Blackout dates - otherwise known as dates in which rewards are not available to be redeemed for travel - are extremely frustrating for reward members. This is largely because blackout periods tend to be during holidays and peak seasons, otherwise known as when everyone wants to travel - best customers included.  Who wants to spend the year collecting points for the perfect holiday getaway, only to find that their annual Maui Christmas vacay falls within a blackout period? Removing blackout dates gives Rapid Rewards members the freedom to choose their rewards on their own terms.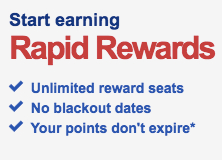 In addition to the removal of blackout dates, the Rapid Rewards program allows members to continue accruing points without expiry, as long as the card remains active within a two year period. This is particularly important following the 2016 Air Miles point expiry scandal, where thousands of members lost their trust in Air Miles and transferred their loyalty to different programs. This scandal reinforced the importance of no-expiration policies on loyalty points -- a program feature that Southwest has boasted since 2011.  This makes it clear that Southwest is not only ahead of the curve, but also determined to keep themselves leading the fleet.
Rapid Rewards Has A Variety of Ways to Redeem
Not everyone values the same rewards, and Southwest understands this. That's why the Rapid Rewards program offers something for everyone! Whether you're a frequent flyer who prefers to save up points for wintertime getaways, or an avid camper who values the perfect fireside lawn chair, there are rewards designed for you.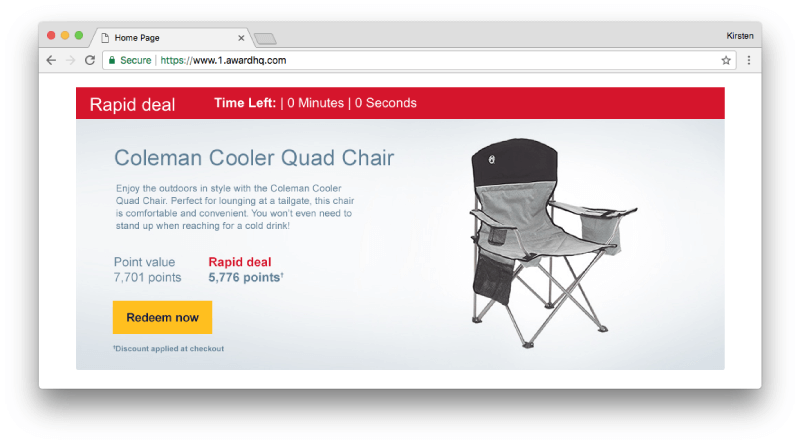 In addition to miles for flights, members have the opportunity to redeem their points balance to book hotels, secure car rentals, purchase gift cards, attend concerts, or browse through thousands of products in their "More Rewards" section. Between Earning points from every flight you book and every credit card purchase you make with Southwest partners, it won't be long until you're redeeming points for your ideal reward!
Offering a number of different rewards to members makes them feel like their desires are considered and appreciated, while also increasing the value of the program itself. It feels great when a company you're loyal to is aware of the rewards you're interested in, and motivates you to work toward them!  For this reason, Southwest Airlines has proven to be an airline that truly understand where their customers are coming from (and traveling to!).


Where There's Turbulence: Features Rapid Rewards Can Improve
While Southwest Airlines might have developed a rewards program that keeps customers coming back, there are areas of Rapid Rewards that could be improved to create a better customer experience.
Rapid Rewards Has High Barriers to Entry
To join the Rapid Rewards program, you are required to apply for a Southwest Airlines VISA credit card. With the option to apply for the Plus Card at $69 per year or the Premier Card at $99 per year, being a Rapid Rewards member is anything but free. This pay-to-join approach is similar to the popular Costco Membership, which also comes with an annual fee.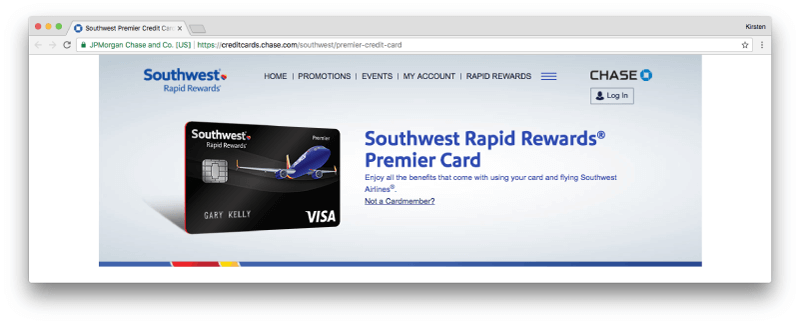 For me, this is the biggest barrier to entry in joining a loyalty program. While many successful rewards programs have an annual fee to join, the cost of adding yet another credit card to my wallet may be higher than the rewards are worth.
An alternative for Southwest Airlines would be the introduction of a free loyalty card that allows frequent flyers to collect points over time but requires more of them to redeem high-ticket items. While this would change the structure of the program drastically, it may result in more loyal Rapid Rewards members. For customers who fly with Southwest because of their low-cost alternatives, a pricey loyalty program may not align with the consumer perception of what the brand stands for.
Rapid Rewards Points Don't Have a Fixed Value
The Rapid Rewards program operates using a fare-based points system. This can be both a blessing and a curse for members. While a discounted flight will require less points  to redeem, it also means that members will have to watch redemption offers closely if they want to get the most value out of their points.
Let's look at an example:
Say you're planning on taking your family to Disney World this summer and have been accumulating points for 6 years to make it happen. You see redemption values of 1.9 cents per point on January 7th, 2018, but you hold off just in case the cost of the flight continues to drop. The next day, the cost of the flight has gone up -- and so has the redemption value. Your hard-earned points are now worth 1.25 cents each, and that trip seems less attainable than ever before.
I know that I wouldn't be very happy in this situation, and I'll bet other rewards members aren't, either.  When customers are left in the dark about the value of their points, they lose all motivation to earn them.  After all, who cares about earning something with no perceived or understood value?
To resolve this issue, it would be helpful for Southwest to provide frequent updates on the value of their rewards to members in order to help them receive the best deal possible for their hard earned points.  This type of communication could be easily included in a members newsletter or email marketing campaign, and could have a significant impact on overall customer satisfaction and program engagement.
Rapid Rewards Has a Confusing Tiered Program
While tiered programs are an extremely effective system for developing customer loyalty, it's important that the qualifications for each level are clear in order to motivate customer participation. The Rapid Rewards program lacks a clear-cut description of how each status is achieved.  Is it through the application for a Premier Southwest credit card, qualifying flights, or points from purchases? How is a qualifying flight defined? Do "points" and "tier bonus points" have a different value?
Turns out, I wasn't the only one who had trouble understanding the tiered program. On Southwest discussion boards, many of the questions from customers were related to the tiered programs and their benefits.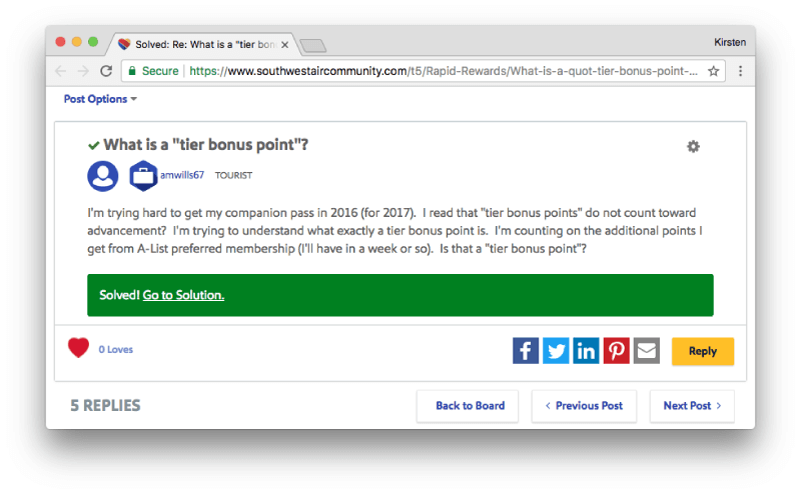 Because there are so many limits on what kinds of points count toward tiered status and the associated benefits, members of the Rapid Rewards program could spend years collecting the wrong points.  As a result, they will likely be confused about why they aren't receiving the rewards they believe they're entitled to when they go to cash in.

If we look at the expectancy theory of customer motivation, it's clear that the instrumentality component is missing here:

If achieving tiered status is the "particular outcome" and spending thousands of dollars to accumulate points isn't considered "successful performance", loyal customers may question their connection to a brand. If Southwest provided a straightforward description of their tiered program and made its qualifications easy to understand, Rapid Rewards could be leveraged more effectively to enhance the experience for all members of the program.
Overall, Rapid Rewards is a First-Class Rewards Program
While the Rapid Rewards rewards program may require a significant investment in terms of your finances and time, membership is sure to pay off. For frequent flyers and thrill-seekers alike, Rapid Rewards provides everything a great retention program should: an easy to use interface, policies created with the member in mind, and a number of ways to redeem.
With a rewards strategy like Rapid Rewards, it's no surprise that Southwest is known for their amazing customer service. Rapid Rewards reinforces the company's commitment to their customers, and with it, Southwest is sure to continue taking members to cloud nine.