Recently, Microsoft made a number of changes to refine their Microsoft Rewards program. As a large fan of all things Microsoft, I'm very happy to see that they finally have a rewards program that is open to Canadian residents.

As one of the largest tech firms in the world, I have high expectations for what Microsoft is able to do with their loyalty marketing strategy. As much as we'd like to believe that we've seen it all, there is always something extra we here at Smile.io can learn from a new rewards program.
Where Does Microsoft Rewards Excel
Microsoft created this rewards program to give users an incentive to use their ecosystem of products, rewarding users for everything from searching on Bing to purchasing a Surface Pro. I've been collecting points to save up for an Xbox Live subscription, and here's what I've learned so far.
Gamification Makes for an Enjoyable Experience
Microsoft must know a thing or two about gaming because their use of gamification within Microsoft Rewards has kept me hooked. Gamification is a recent trend that is done by adding game mechanics like progress tracking and advancing levels to your existing product or service to make it more engaging.

Overall, I find it pretty addictive to collect points and gain levels in this program. For example, Level 2 can be reached by earning 500 points each month, and I've enjoyed earning points through quizzes and challenges to get there. I actually look forward to the Microsoft Rewards emails because they are filled with bonus points! Progress bars are another tool Microsoft uses to help you visualize the distance to your next objective.

By using the same mechanics found in addictive video games, Microsoft has found a great way to keep customers captivated.
The VIP structure of Microsoft Rewards is actually one of my favorite parts. Not only did it motivate me to continue earning points until I reached Level 2, but it also gave me a higher earning potential and exclusive discounts once I reached it. Now that's a game I'll definitely keep playing!
Many Ways for Loyal Customers to Earn Points
Microsoft has done a phenomenal job of allowing you to earn points without spending a dime. With the new and improved Microsoft Rewards, members can now collect points on easy activities like surfing the web and completing interesting quizzes. This means that diehard Microsoft fans who are already searching with Bing, purchasing from the Microsoft Store, and have an Xbox Live subscription are continuously being rewarded.

By remaining loyal to Microsoft, these fans are now receiving discounts and free products as a thank you from the company for continuing to engage with their brand. New Microsoft fans also stand to gain a lot - those switching from Google to Bing are now able to collect rewards for their searches, too!
With so many easy (and free!) ways to earn points, Microsoft makes it easy to encourage new customers to join the program. They've carefully crafted a balance between rewarding loyal customers with sweet prizes while still continuing to attract new ones.
High-Ticket Rewards Are up for Grabs
Not only are points easy to earn with Microsoft Rewards, but the rewards they can be redeemed for are incredibly generous. Each month, Microsoft offers their program members the chance to win a Surface Pro and an Xbox in addition to a long list of other items including Xbox Live subscriptions and the opportunity to donate to charity.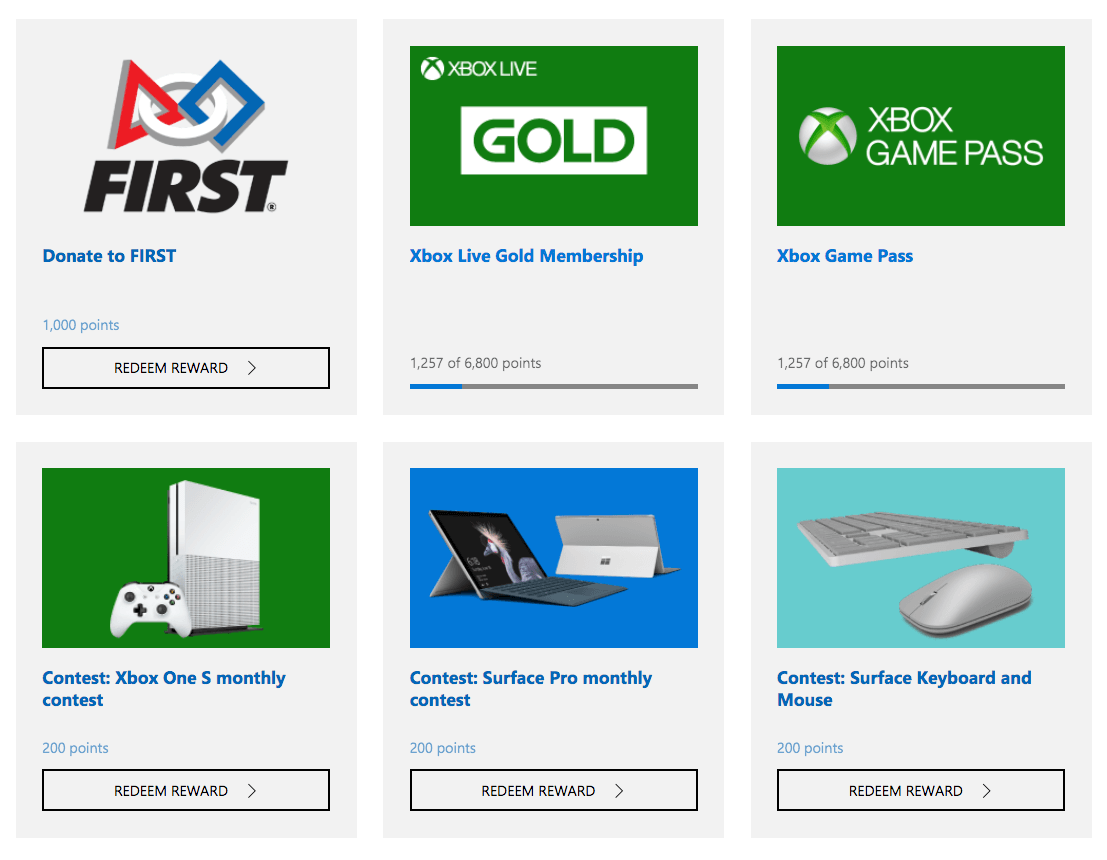 This has a profound effect on the success of the rewards program. Customers are drawn in with the allure of an expensive laptop being up for grabs, but are given the freedom to splurge on lower priced items as well. This ensures that customers aren't saving their points for an eternity without receiving gratification for their efforts.
Areas That Microsoft Needs to Bing It up a Notch
Although my experience has been largely positive so far, Microsoft Rewards still has some areas that need improvement. With a few tweaks, Microsoft could improve the experience for their customers but also improve the results they are seeing from their rewards program.
Tiering System Doesn't Establish Top Tier
My biggest issue with the way Microsoft Rewards is set up is that it only has two levels. I reached Level 2 within my first few days of joining with very little effort, and now feel less motivated to continue participating. Even though your level resets each month to encourage you to work towards Level 2 all over again, my motivation is significantly less since I've already been there, done that.
The most effective VIP programs have an elusive third top tier that motivates customers to keep "climbing". This is largely due to something known as the Local Ladder Effect which plays upon the inherent human desire to compare ourselves to the people around us. This comparison will push them to work their way to the top - a continued motivation that's currently missing in Microsoft Rewards.
Microsoft Fails to Reward Their Users for Referrals
A referral program can take your loyalty marketing strategy from average to excellent. Although Microsoft used to have a standalone referral program, it has since been discontinued. This makes it less desirable for customers to share the rewards program with their friends, which is detrimental for any business.
This is especially true for Microsoft Rewards, which has a significant following that they could be taking advantage of. It already has its own Reddit thread dedicated to discussing the program, and a number of other forums also host similar discussions. These social groups demonstrate that Microsoft enthusiasts have clear interest in learning more and participating. With so many dedicated customers, surely a refer-a-friend incentive would help attract new customers to Microsoft Rewards.

The biggest kicker here is that it's a lose-lose situation. Microsoft Rewards is losing out on potential members and happy customers aren't being ambassadors for the brand since there is a lack of incentive. This is one of those cases where a small investment could go a long way. If Microsoft offered me 1,000 points for every referral, I would definitely share on social media!
Earning Potential Through Free Offers Is Slim
If I was going to be purchasing a lot from the Microsoft Store and continuously searching with Bing, Microsoft Rewards would be quite lucrative for me. Unfortunately, I'm not planning on any large purchases nor am I ready to switch over from Google, simply because I prefer its performance over Bing. That leaves me with only a few ways to earn points, such as doing quizzes and clicking links on the emails from Microsoft Rewards.
With no large Microsoft Store purchase planned, it will be hard for me to redeem the reward I've got my eye on: a 12-month Xbox Live Gold Subscription that costs a whopping 29,000 points to redeem.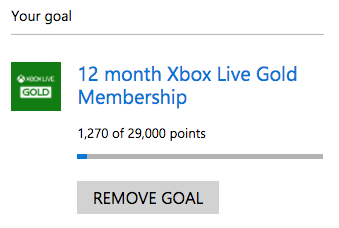 This will be a slow journey and will definitely test my commitment to Microsoft Rewards along the way, since my motivation is sure to drop off without gratification for my efforts. Microsoft needs to capitalize on the other ways I'm loyal to the business such as using Skype or playing my Xbox to keep me collecting points, since I'm not actively purchasing from the Microsoft Store.
Microsoft Rewards: Basic on the Surface, but Very Effective
Even though Microsoft Rewards does have its shortcomings, overall it's an effective program that benefits Microsoft and their loyal customers at the same time. It is an extremely difficult task to integrate their many different lines of business into one rewards program without confusing customers, but they've done a great job of making a program that's simple and effective.
To make their program truly top notch, Microsoft should consider adding a very exclusive top tier to their existing level structure, rewarding their passionate customers for referring their friends, and increasing the earning potential so users don't get discouraged in the long-run.
Microsoft Rewards already provides an amazing customer experience and delivers premium rewards every day, but incorporating our genius advice would give Microsoft's retention marketing strategy the edge over their competition.
As for me, I'll be grinding away to earn the 27,730 more points I need to extend my Xbox Live Subscription.