The entry barriers to creating an ecommerce business today are much lower with access to ecommerce platforms, apps, and products at your fingertips. Anyone can start an ecommerce business, but the challenge becomes scaling and growing your brand.

One of the foundations of growth in ecommerce is repeat customers, which are needed to build brand loyalty and become profitable. Building brand loyalty through a loyalty program on Wix is simple and provides value to your first-time and repeat customers. It's estimated 84% of consumers say they're more apt to stick with a brand that offers a loyalty program.
Does Wix let you offer a loyalty program?
Yes, through free and paid apps in their app store, App Market, Wix offers ecommerce businesses a path to create loyalty programs on their platform. Wix offers a free version of a loyalty program that is limited in its capabilities but is a great start if you're running a small business that just wants to offer points.
Wix's free loyalty program app allows you to give points for signing up, making purchases, and placing orders. You can reward customers with gifts, perks, and discounts and manually manage each member's point balance.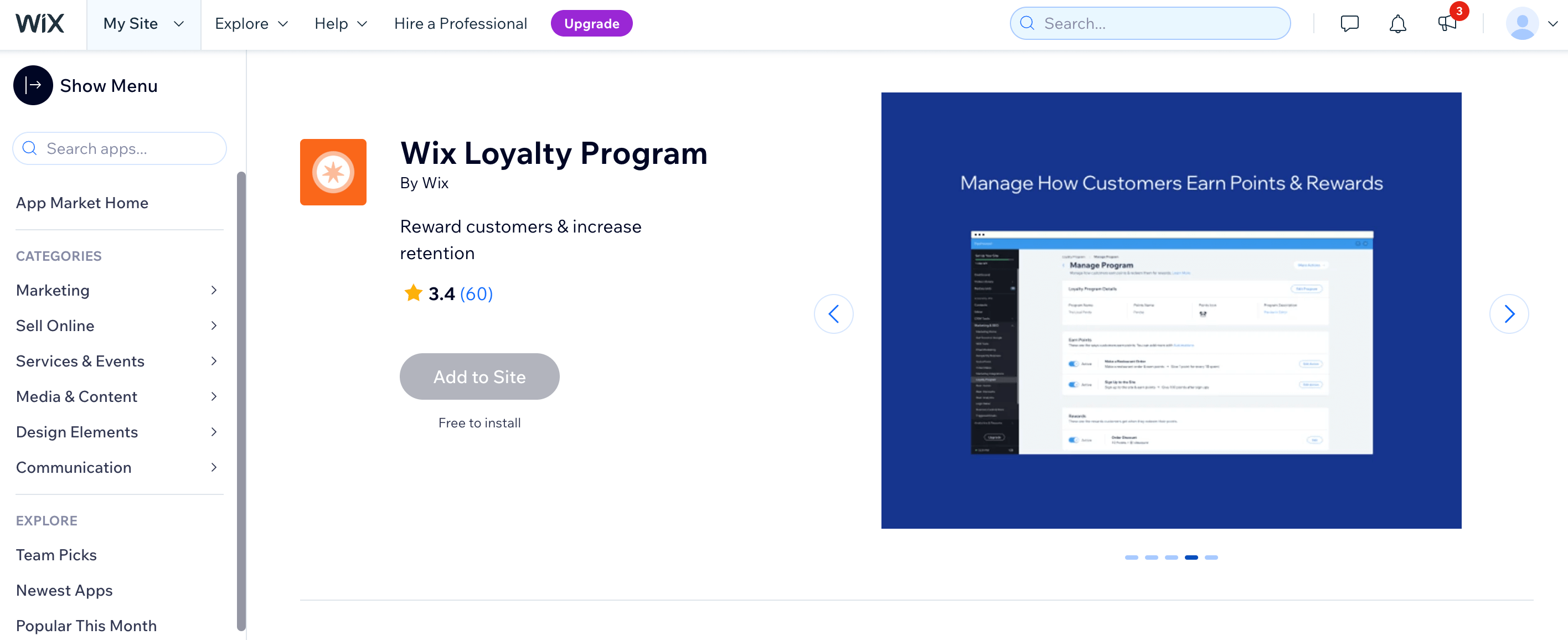 You can also move towards customizing your loyalty program by allowing more ways to earn points and branding your program to fit your business with Smile, which is available on Wix premium plans. Loyalty programs are essential for growth and making customers feel valuable beyond their purchase.
How to create a loyalty program on Wix
Once logged into your Wix dashboard, you can scroll down to find the App Market widget, or on the left-hand side in the sidebar, select Store Products - Ecommerce Apps. Selecting any of these areas will take you to Wix's app store where you can choose a loyalty program app.

Search for loyalty in the app store and you'll find a few loyalty program apps. Select the one that will suit your business and ensure it has all the capabilities you need to create a great loyalty program experience for your customers.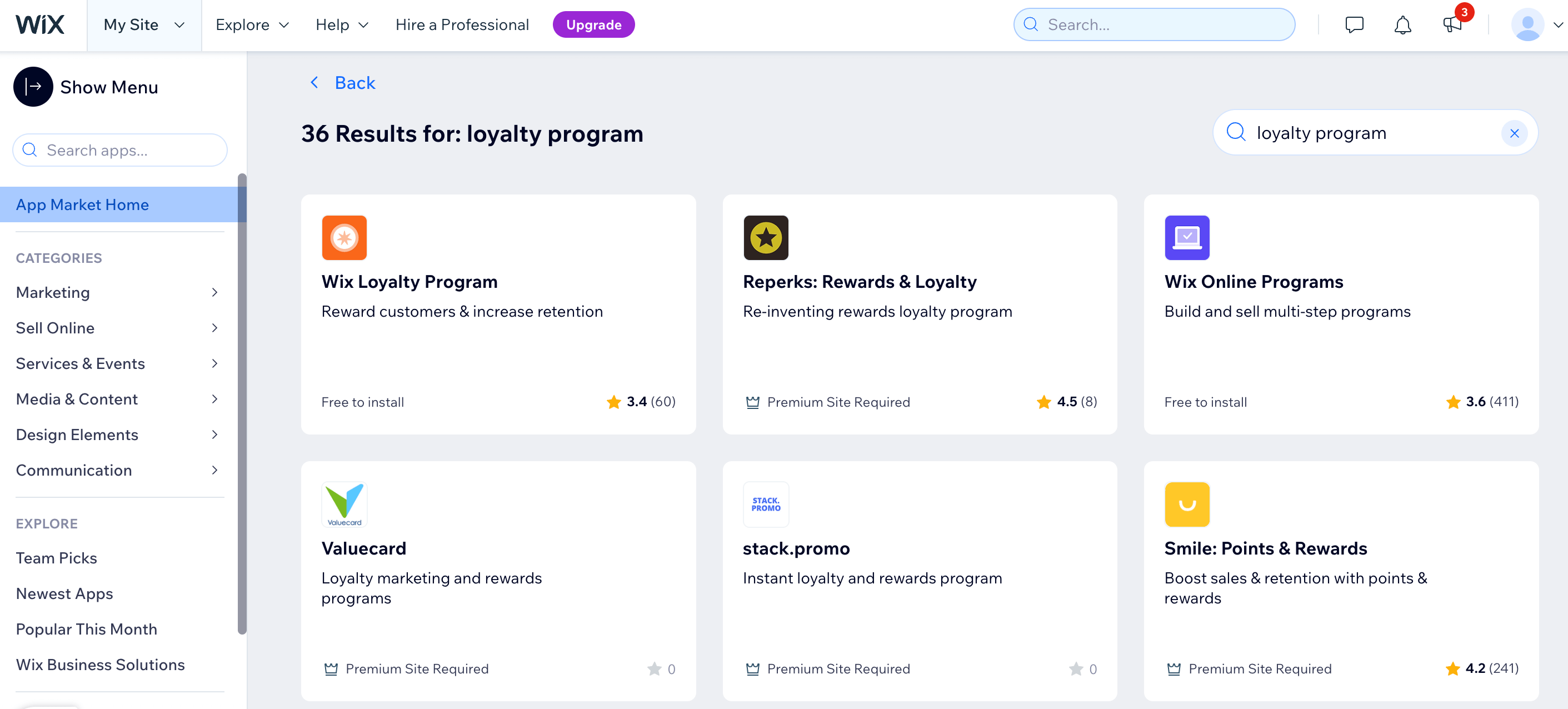 When you implement Smile, the main priority is delivering a seamless customer experience for your loyalty program members.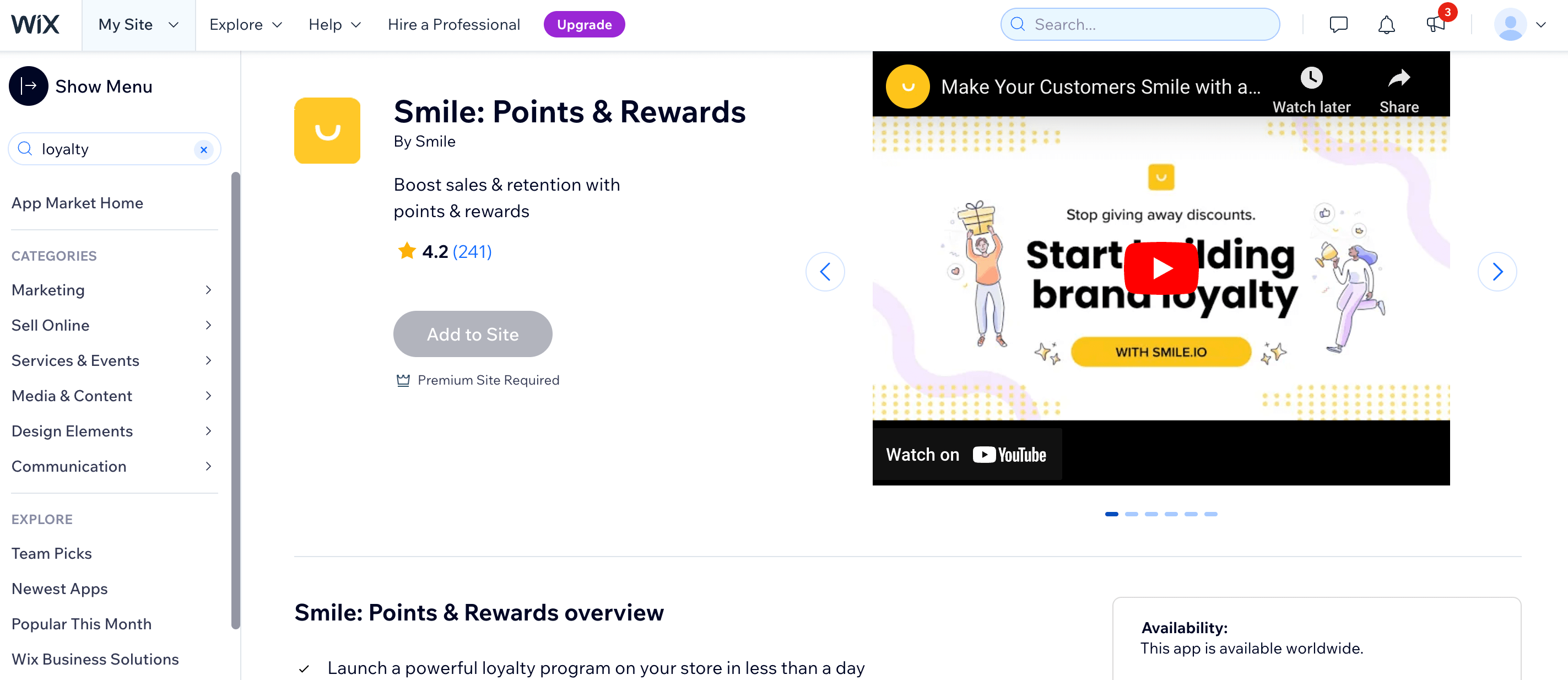 Smile functions as a pop-up that lives in the corner of your screen. We do this to reduce friction and increase access throughout the buying journey. To access this widget, a customer will simply click on it, and the panel will pop open. Most components of the panel itself are customizable, and you can edit the branding to match your needs.
In order to join your rewards program, customers must click on the account page on your Wix store and sign up via the Members Area. Once logged in, the panel will change and display their account information, such as points balance, the ways to earn and redeem points that you have configured (such as the points they earn for placing an order, social media points, and birthday points), as well as their individual referral URL.
When to add a loyalty program
Deciding when to add a loyalty program to your ecommerce business is based on a variety of questions and decisions you have to make as a business owner. Based on your retention strategy, ask yourself:
Are your competitors offering a loyalty program?
What kind of rewards and benefits are competitors offering through their loyalty programs?
Are your customers asking for a rewards and loyalty program?
Are you struggling to earn repeat customers?
Add a loyalty program based on your business goals, your industry, and what you ultimately want to offer your customers. All these questions can help craft a retention strategy and whether or not to add a loyalty program.
🤝
If you can get customers to return for a repeat purchase and increase their average order value (AOV) each time they return, you can lock in customers who will spend with you and pledge their brand loyalty.
The way you build brand loyalty is by offering a great product and building a community by acquiring customers who will offer repeat purchases. Loyalty insights based on our data at Smile.io, reveal that on average, the top 10% of customers spend 2 times more per order than the lower 90%, and the top 1% of customers spend 2.5 times more than the lower 99%.
Wix loyalty program examples
There are numerous types of ecommerce merchants that use Wix and Smile.io together to build authentic brand communities and brand loyalty through loyalty programs. From a candle brand to beauty brands to paper goods companies, every industry can benefit from implementing a loyalty program.
Coal and Canary is a candle company hand-poured in Winnipeg, Canada, with the goal of bringing candles to its customers that are good for the air and spark joy. Coal and Canary began in 2014 between two best friends simply learning a new hobby together.
Coal and Canary is built on Wix and uses Smile to reward customers for purchases, with 5 points earned for every dollar spent redeemable for up to a $30 discount. "Our loyalty program has been a great incentive for customers to shop online, especially from us directly," Marketing Lead Ellyse says. "Users earn points for every dollar they spend, social media follows, as well as a large sum of points on their birthday."
A loyalty and rewards program has contributed to Coal and Canary's business growth. The more the business grows, the more incentives Coal and Canary can give along with more points customers can earn.
Coal and Canary is focused on building a brand community through its loyalty program that brings customers joy and authentic relationships. "We're really focused on pulling back the curtain and having an authentic relationship with our customers and followers," Ellyse says.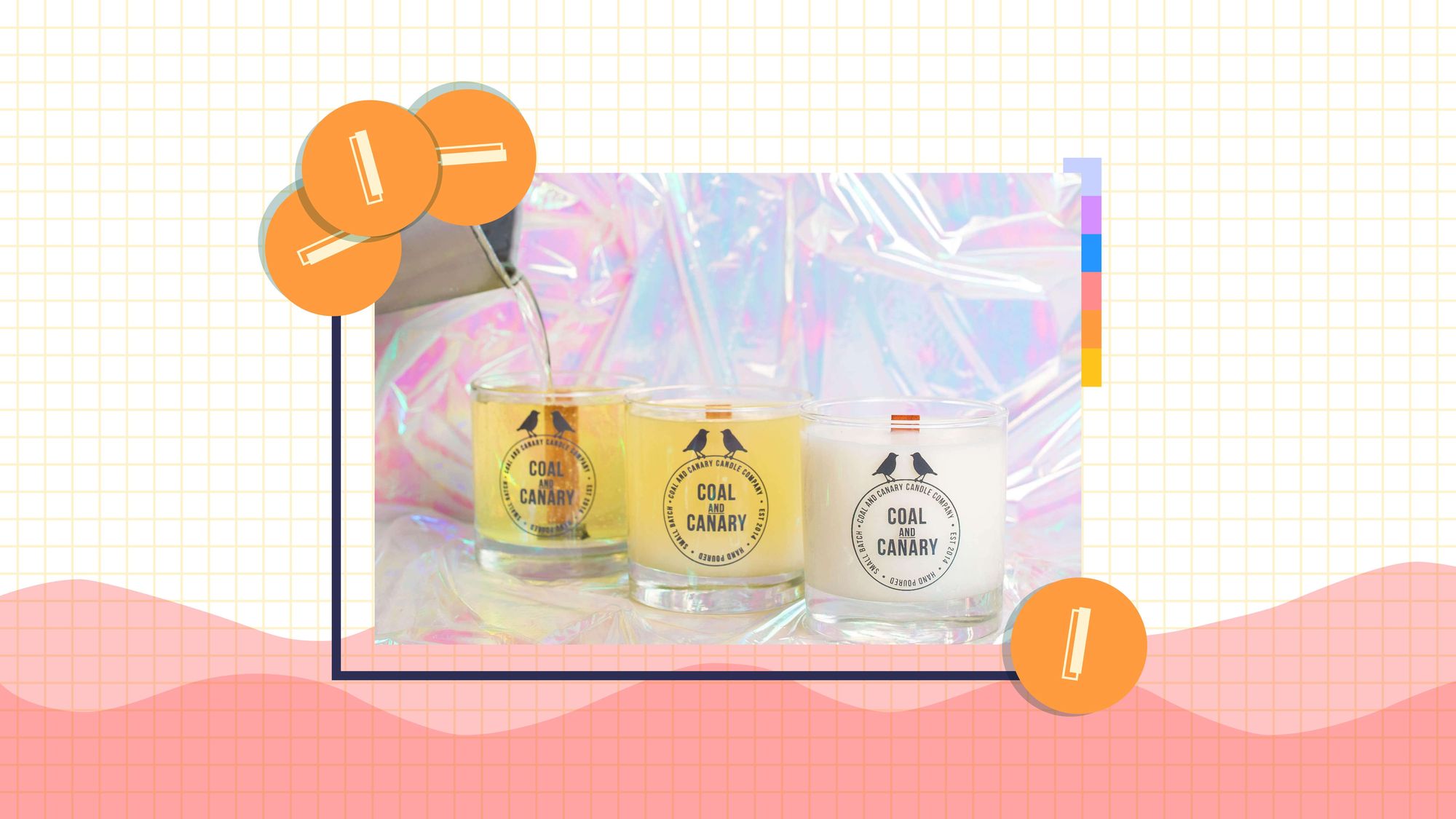 Copper & Brass Paper Goods is a paper goods company featuring incredible illustrations for stickers, notepads, cards and so much more. It was created by Ariel Young, and inspired by her "mother, who was always giving care, detail, and love when creating beautiful packages."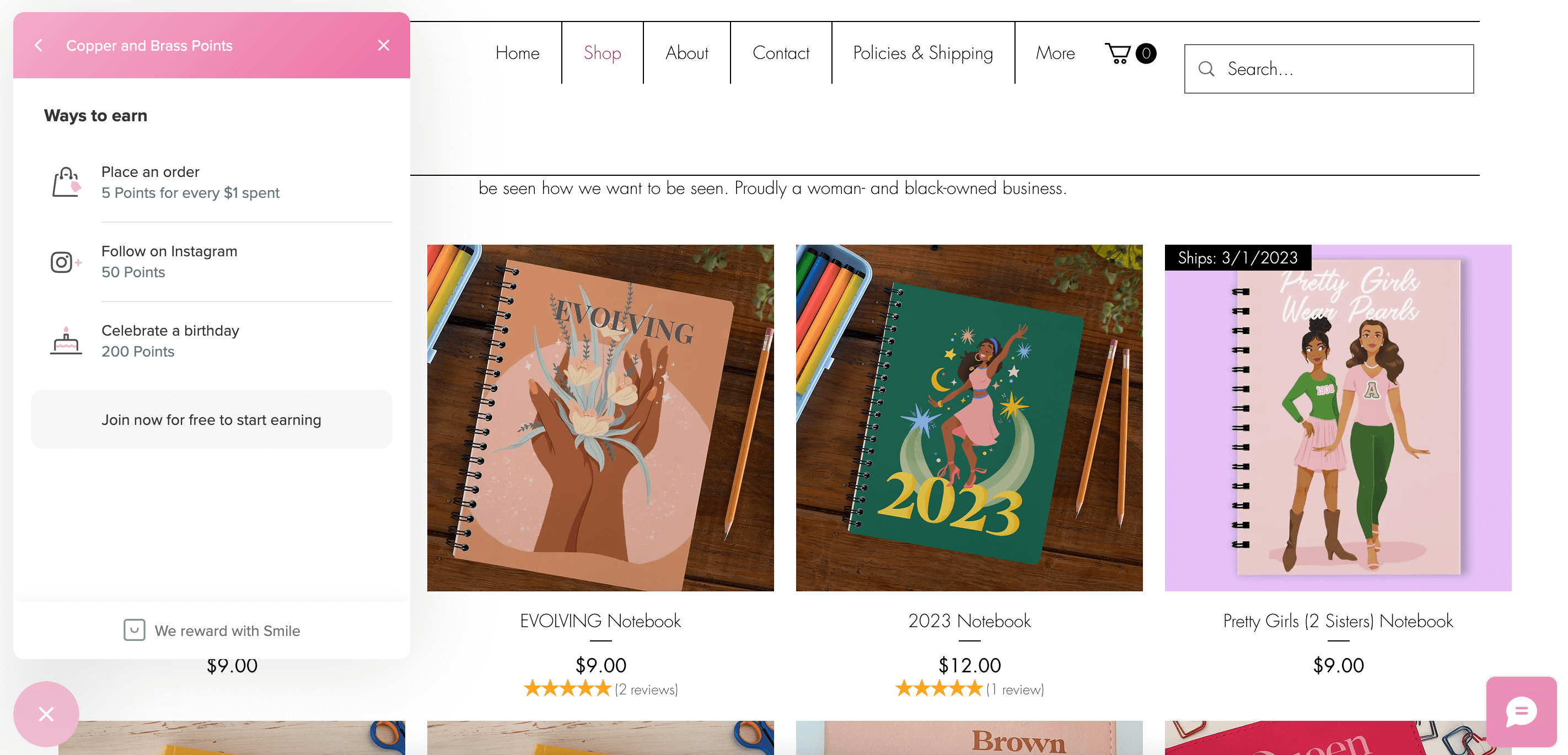 Customers who shop with Copper & Brass Paper Goods can earn Copper and Brass Points, such as 5 points for every $1 spent. Customers can redeem rewards with 100 points turning into $1 off. Copper & Brass has built a strong brand community that gives customers a rewarding incentive to continue to shop for their products. They have been featured on The Today Show, CNN, and numerous other publications.
Unlock your ecommerce potential with a Wix loyalty program
One of the foundations of growth in ecommerce is repeat customers, which come after you have established brand loyalty and a thriving brand community. Building brand loyalty through a rewards program on Wix is simple with the tools and apps available at your fingertips.
Create your branded loyalty program on Wix
Launch a loyalty program in minutes