The eCig and vaporizer industry is quickly on the rise. The electronic alternative to traditional smoking has become a very competitive industry, especially online. Forbes has projected that eCigs will surpass traditional cigarettes in sales volume by as early as 2047.

Can you believe that there's an industry poised to take over the massive and powerful tobacco industry? With these products poised to remain profitable for years to come, it's no wonder that so many people are setting up eCig and vape shops online.  However, this excitement has resulted in more and more merchants try to secure a piece of the $2.85 billion market.
In an effort to fight this growing competition, many online retailers have begun to introduce rewards programs to encourage brand loyalty.   We've taken a look at the eCig and vapes landscape and gathered 6 of the best loyalty program examples into one place.  Let's look at what customer loyalty looks like in this industry.
blu Cigs' blu Nation Rewards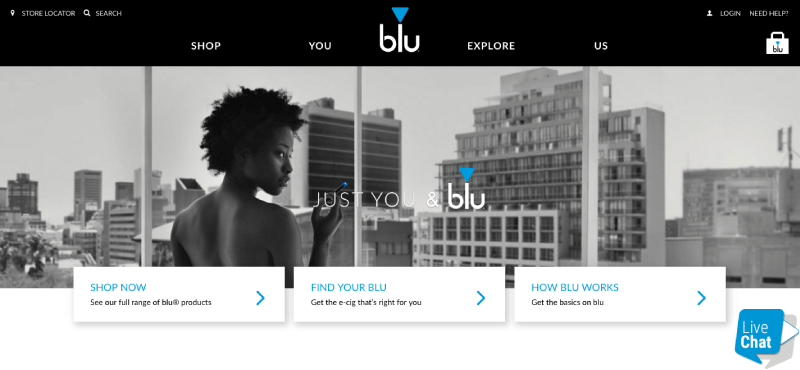 blu Cigs' program is a great loyalty example because they allow their members to earn points in a variety of ways. Customers are able to earn points for completing a purchase, but can be rewarded for completing other profitable actions as well.
For example, the site encourages their customers to expand blu Cigs' marketing reach by rewarding them for sharing their store and products on social media platforms like Facebook and Instagram.  They even reward customers for video and photo views!  These actions help build a customer's familiarity with the brand and take customers one step closer to becoming a brand advocate.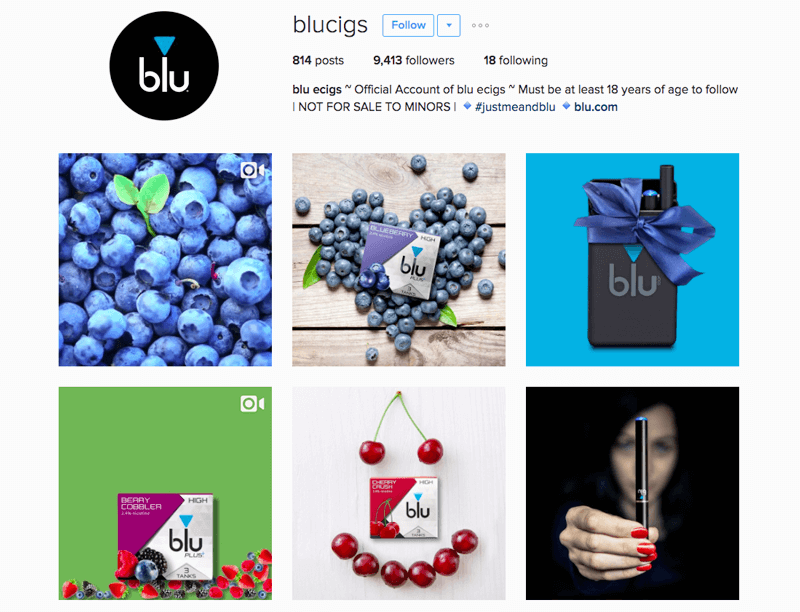 blu is a great example because they reward for both social sharing and site interaction. This allows blu Cigs to reach their customer networks and at the same time get their customers familiar with their brand/site. Familiarity leads to preference, which is needed in the competitive eCig industry.
eCigWizard's Wizpoints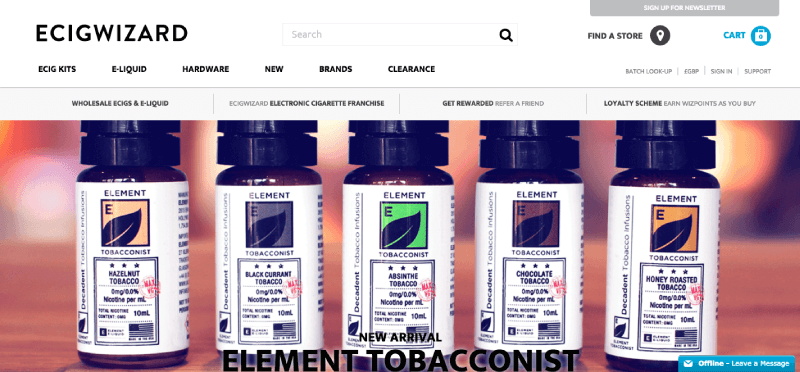 eCigWizard actually has two rewards programs! They have one program that rewards customers for purchases, social sharing, and product reviews, and a second, separate program that handles customer referrals.
The first program focuses on rewarding profitable actions, and is a terrific loyalty program example. Wizpoints rewards customers for every 1 pound spent, and lets customers redeem points at a rate of 100 Wiz points per pound.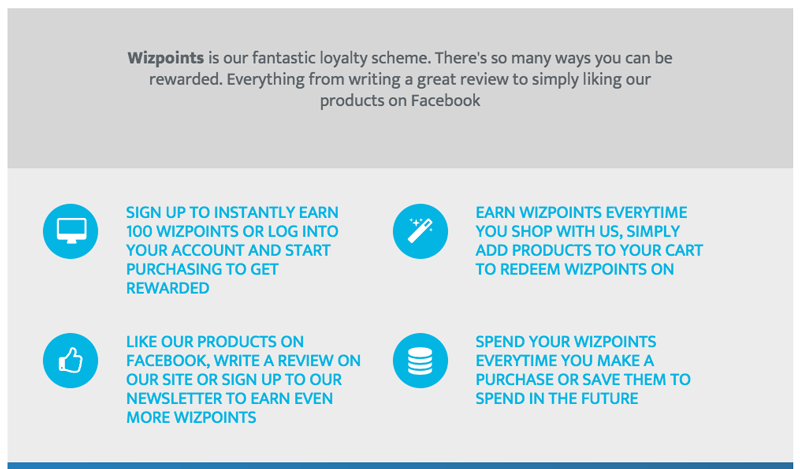 In addition, customers are rewarded for account registrations and Facebook sharing.  These actions ensure that eCigWizard can remarket to customers later with email campaigns and continues to spread their marketing reach.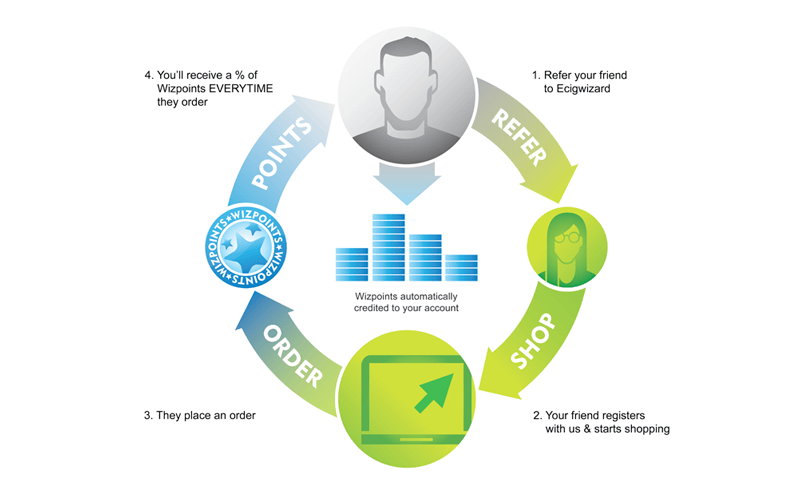 The second program is purely devoted to customer referrals.  This referral system is set up so that existing customers receive Wizpoints every time their referred friends place an order. This is a great example of a loyalty program that delivers two-way value: the customer benefits by earning rewards and the brand benefits from added business.  It's a win-win!
Litejoy's Litejoy Rewards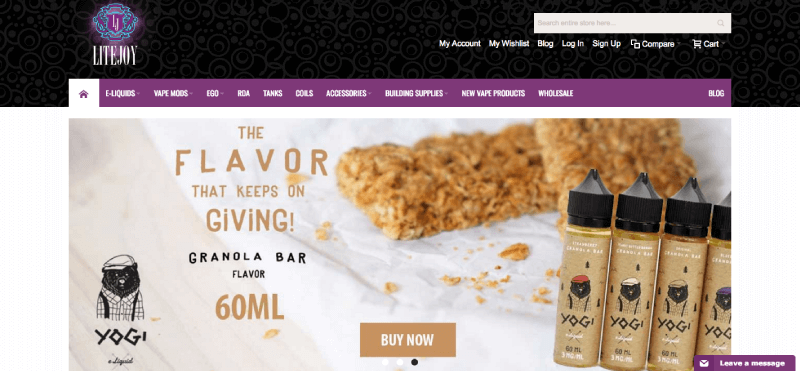 This is an excellent example of a loyalty program that focuses on rewarding for customer reviews. The program offers points for registering an account and signing up for the newsletter, but after these initial contact rewards the main focus is on exploring the customer's experience.
Focusing on reviews is a great strategy because many customers find product reviews just as trustworthy as a personal referral. Therefore, rewarding for product reviews gets your customers performing an action that adds value to every single subsequent site visit – no matter whether the customer's returning or new.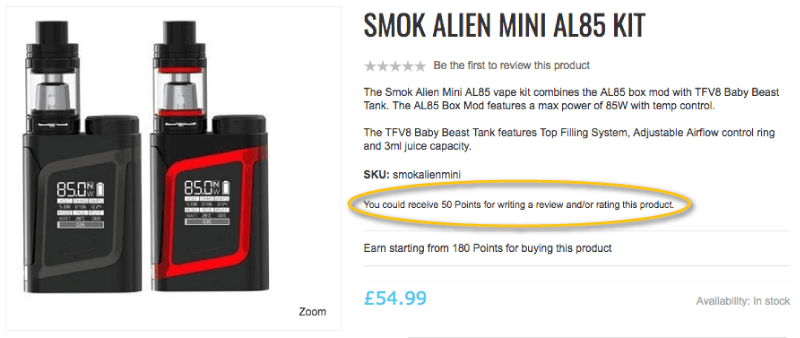 Emphasizing customer reviews is what helps Litejoy's loyalty program stand out.  In such a fragmented industry it is important to show potential customers how much your current customers love your products.
VAPEHAPPY's VAPEHAPPY Rewards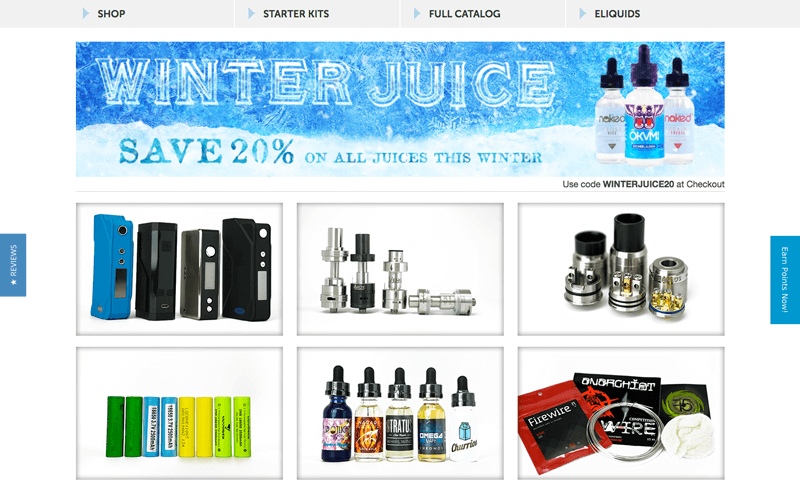 VAPEHAPPY rewards customers for a ton of different actions, including account registrations, product reviews, and social sharing. The program also rewards customers for sharing pages on almost any social media platform, but would you believe that's not even the best part?  Rewarding for referrals is the cherry on top of this well-rounded program.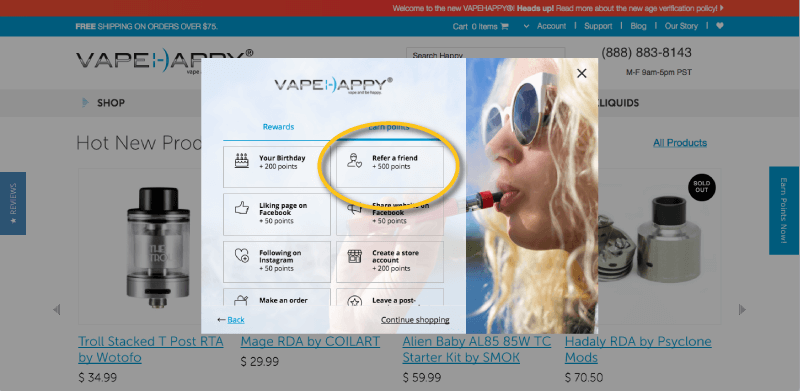 VAPEHAPPY rewards customers 500 points for referring a friend. As you can imagine, this is a huge incentive for existing customers to bring all of their friends to the site.
In an industry that is still establishing itself this type of reward structure allows VAPEHAPPY to leverage their customers for more business in the future, keeping them ahead of the competition.
Smoking Vapor's SV Club Points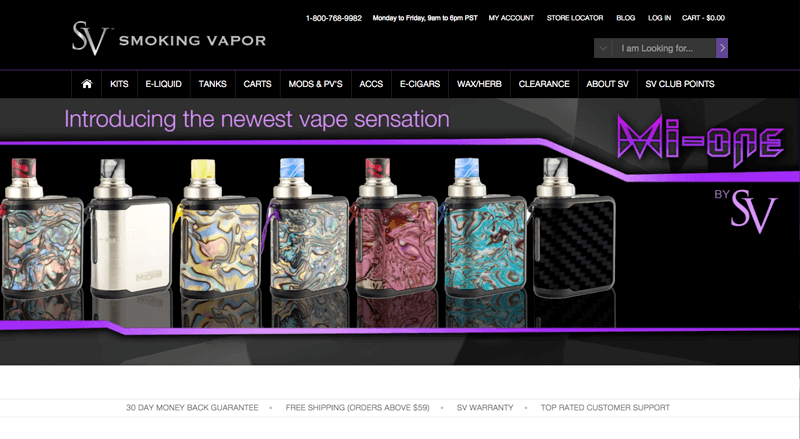 Editor's Note: while this program is no longer running, it still serves as a fantastic example of how to leverage and grow customer loyalty in this fast-paced industry.
Smoking Vapor (SV) is the first loyalty program example in this list to feature a tiered program. While SV rewards customers for a bunch of different actions, I will focus on the tiered aspect of their program.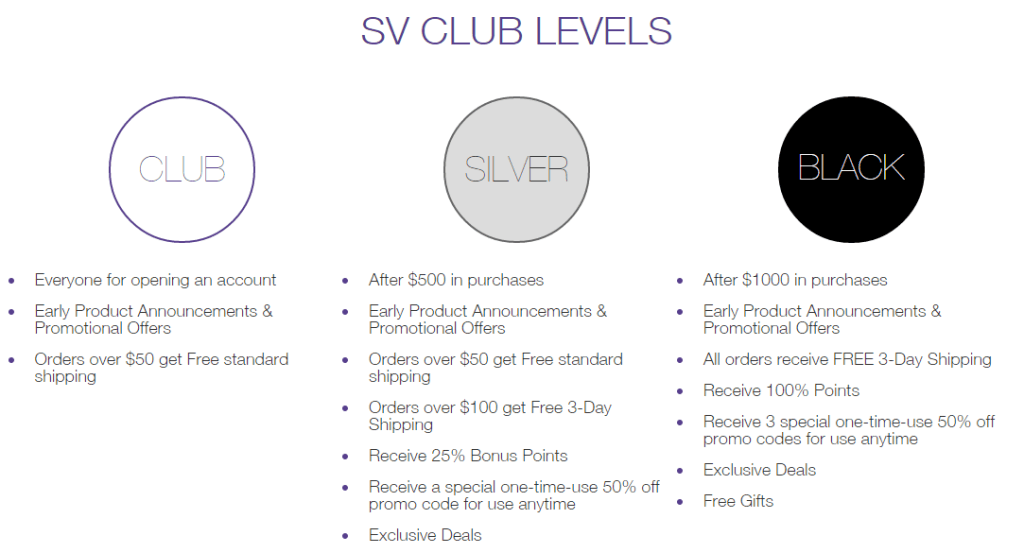 A tiered program is a loyalty program that offers different rewards to different groups of people. You can set a threshold that customers have to pass in order to qualify for the next tier in the program. In SV's case, that threshold is measured in number of dollars spent.
A member moves from the Club level to the Silver level at $500, and moves from the Silver level to Black level at $1,000 in purchases. The perks of moving up through the tiers is shown above. Tiered programs are great because they motivate your customers to perform the actions to move to the next tier. In this case customers want to "spend more" to get to that next tier, and it's this gamification element that increases program engagement.
South Beach Smoke's SOBE Rewards
South Beach Smoke rewards many of the actions that have been discussed in the other examples, but with a couple of differences.
One of the biggest (and coolest) differences is the birthday rewards. Customers enter their birthday to confirm their age, and SOBE uses that information to send them a gift – 20 points – on their special day.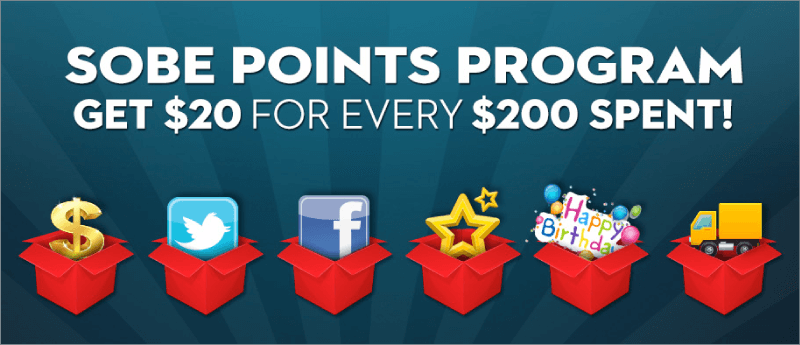 South Beach also rewards points for signing up for the "home delivery service". This services delivers cartridges to customers at a pre-scheduled frequency, such as weekly, monthly, or bimonthly. The customer can change the order frequency whenever they want and continue to reap the benefits of points per purchase.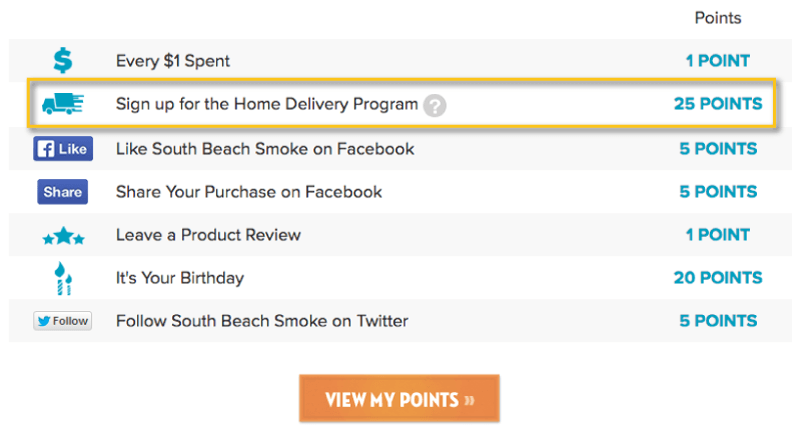 The home delivery service rewards make the South Beach a unique loyalty program example in the eCig industry. In addition, South Beach is also part of a larger group of sites that all offer reward points. You can check out all the sites at international vapor group.
Tips for Loyalty Programs in the eCig and Vapes Industry
The examples above are meant to provide you with loyalty program examples that you can find inspiration from. Even though there are hundreds of examples of loyalty and rewards programs in the industry, most have a few things in common.

Many people are making the switch from traditional tobacco products to electronic variants. These customers are unsure of what makes a product good and are looking for guidance from others.
By rewarding product reviews you can make it easier to transition these customers to your product. If your existing customers love your products, new customers will be more comfortable buying from you.

Customer referrals are a profitable and sustainable way to grow your business. Customers trust referrals more than any other type of advertising. Rewarding points for customer referrals increases the amount of people who are referring your site.
The eCig industry offers more incentive for referrals than other industries because the lifetime value of a customer is larger. Once a customer starts to buy their eLiquid or cartridges from you they will continue to do so in the future. This is a lot of potential dollars from each new acquisition. As such, referrals are extremely effective in this industry and should be considered in all programs.

The eCig and vapes industry gives a higher percentage back to their customers than many other industries. While other industries may be giving back under 5%, it is typical for eCig loyalty programs to give between 5% and 10%.  This is due to the very competitive nature of the industry and the high lifetime value of the customers.

In summary, if you are starting an eCig or vapes program I would be sure to reward for product reviews and customer referrals! To stay competitive I would also aim to be giving your customers around 7% back.