When you refer a friend to your favorite brands, what motivated you to tell them about it? Chances are it was a combination of a great experience and an irresistible referral offer. Referral rewards come in all shapes and sizes, but the trick is offering ones that complement your brand experience and meet your customers' needs.

Since the success of your referral program is dependent on the rewards you offer your best brand advocates, here are 3 of the most effective rewards you can offer customers for making a successful referral.
Reward Both Parties with Dollars Off
One of the best ways to encourage your customers to bring new business to your store is by offering them both discounts. Since everyone loves saving money, this reward makes it very easy for the sender to convince their friends to make a purchase, boosting the number of referrals you receive!
This option is an especially good choice if you're running a standalone referral program.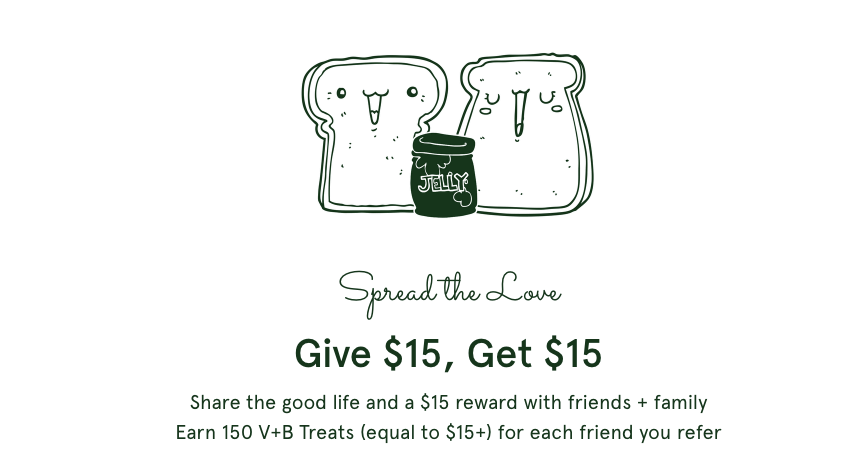 With dollars off rewards, value is very clearly communicated and easy to understand: my friend gets $5 off his first purchase and I get $5 off my next purchase. Vegetable and Butcher's "Give $15, Get $15" referral program gets new customers to try out their meal subscription service at a discounted cost. With that $15 in hand, new customers feel more comfortable trying the brand for the first time, pushing them to make a first purchase that ultimately increases the likelihood they will become a long term customer.
Rewarding referrals with dollars off makes your program
easy to understand, easy to explain, and super effective.
Reward your brand advocates and their friends with dollars off their next order to keep your referral program simple, easy, and successful.
Award Senders with Bonus Points
If you are running a reward points program alongside your referral program, awarding bonus points to senders for successful referrals is a fantastic strategy. Points give your customers the freedom to select from a variety of different rewards while still keeping them engaged with both programs. This type of "reward customization" means you'll have more customers motivated to refer their friends and family.
When a customer sees a reward that interests them, they will try earning enough points to redeem it by getting their friends to make purchases. This gives you the power to motivate many different groups of consumers by offering the right reward that appeals to them.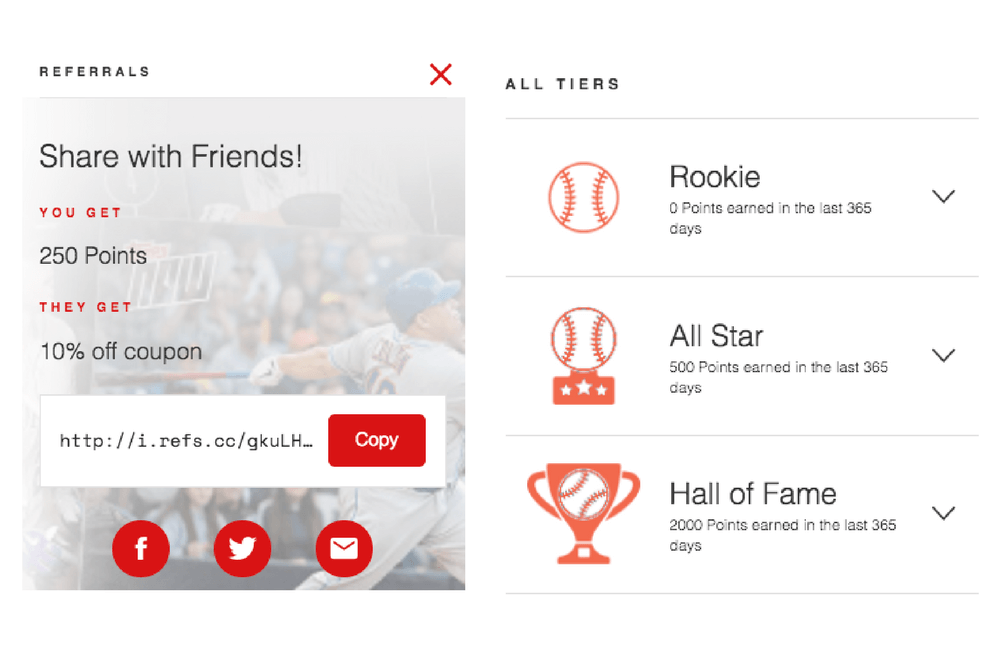 With both a VIP program, points program, and referrals, Topps offers 250 points to the sender and 10% off their order to the receiver. 250 points carries a high value in this particular rewards program because it helps you reach the "All-Star" tier, unlocking exciting new rewards and benefits! These exclusive perks include a free "Topps Now" baseball card of the month - a reward that is perfectly catered to Topps' sports-loving brand loyalists.
Offering senders the ability to earn points for referrals allows for the
highest level of flexibility
in your referral program.
When customers are given the points to redeem whichever reward is most appealing to them, they will see more value in your referral program. This will increase their motivation to spread the word about your brand - after all, they want to earn those rewards!
Get Creative With Exclusive Free Products
Giving away free products for successful referrals is a great way to further differentiate your referral experience from that of your competitors. One of the best strategies is to reward customers with a free product that compliments one of your most popular products.
For example, if you sell supplements and notice protein powder makes up the majority of your sales, offer a free shaker bottle with a design they can't get anywhere else to customers who make a successful referral. This will not only give customers what they need to get even more out of your brand, but will prompt them to explore the other products you have to offer.
Offering products to both parties in a referral program motivates customers to refer their friends
while keeping costs low for you.
Another reason free product rewards are so successful is because they allow you to increase the perceived value of your products without impacting their actual value. Branded merchandise is a perfect example: a t-shirt with your logo is cheap to produce but potentially expensive for your customer to acquire, giving it a high perceived value. As a result, marketing product referral rewards as "exclusive" is the best way to increase the value your reward is perceived to have.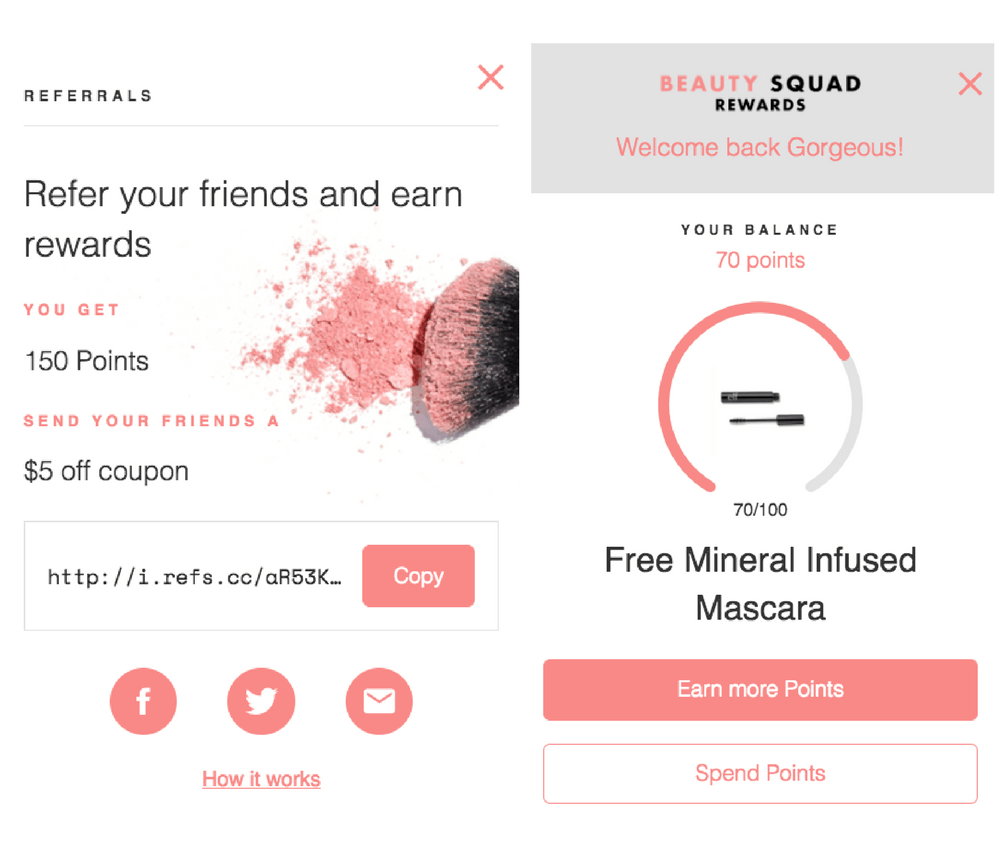 e.l.f. put this strategy to work in their Beauty Squad program. After just one successful referral, I would have enough points to redeem a number of different products, including mineral infused mascara and a contouring brush. Not only are these rewards irresistible to their target audience, but they're also relatively easy to earn, making referrals an even more appealing way to engage with the cosmetics brand.
Start Properly Rewarding Your Customers for Their Referrals
Ensuring you have the right rewards for your referral program will maximize the number of new customers you get to your store. Each new referral represents one customer that you didn't need to spend advertising dollars to acquire, so make sure your referral program is ultra effective by offering the right rewards to your referring customers.