If it isn't on your mind already, customer retention should be at the forefront of your loyalty strategy.
This is because repeat customers are proven to be more profitable: they are your loyal brand advocates that draw other customers in. The three reasons these customers are beneficial is because you can spend less on marketing to these customers, they're proven to spend more on each purchase, and they share your store more with others—it's clear that repeat customers are the way to go!
Customer retention rate = (Number of customers at the end of the year - Number of acquired customers throughout the year) / Number of customers at the beginning of the year
Calculating your customer retention rate is the first step in building your overall retention strategy. Assessing your current performance will give you a good idea of how you're currently performing and give you a goal to work towards. One of the best ways to keep customers coming back is with a loyalty program.
Why customer loyalty programs are the best customer retention tool
Giving your customers an incentive beyond your great products is a great tactic to get them to return. To explain, rewarding your customers with points for their interactions with your brand lets them know that you value them. It also incentivizes them to increase their purchase frequency and the amount they're spending on every interaction to rack up those points faster.
There are a few specific ways to leverage your loyalty program to turn sales into repeat customers and we're going to look at a few brands who are doing just that!
LAC Swim personalizes their customer experience
The entire point of your loyalty program is to make your customers feel special, and there's no better way to do this than by adding a few personal touches. Personalizing your loyalty program makes your customers feel valued and like your brand really cares about them.
The good news is that when your customer creates an account with your store, they're giving you access to the information you need to create a great personalized customer experience. For example, including your customer's name in the subject line or greeting of an email helps your message stand out in their inbox.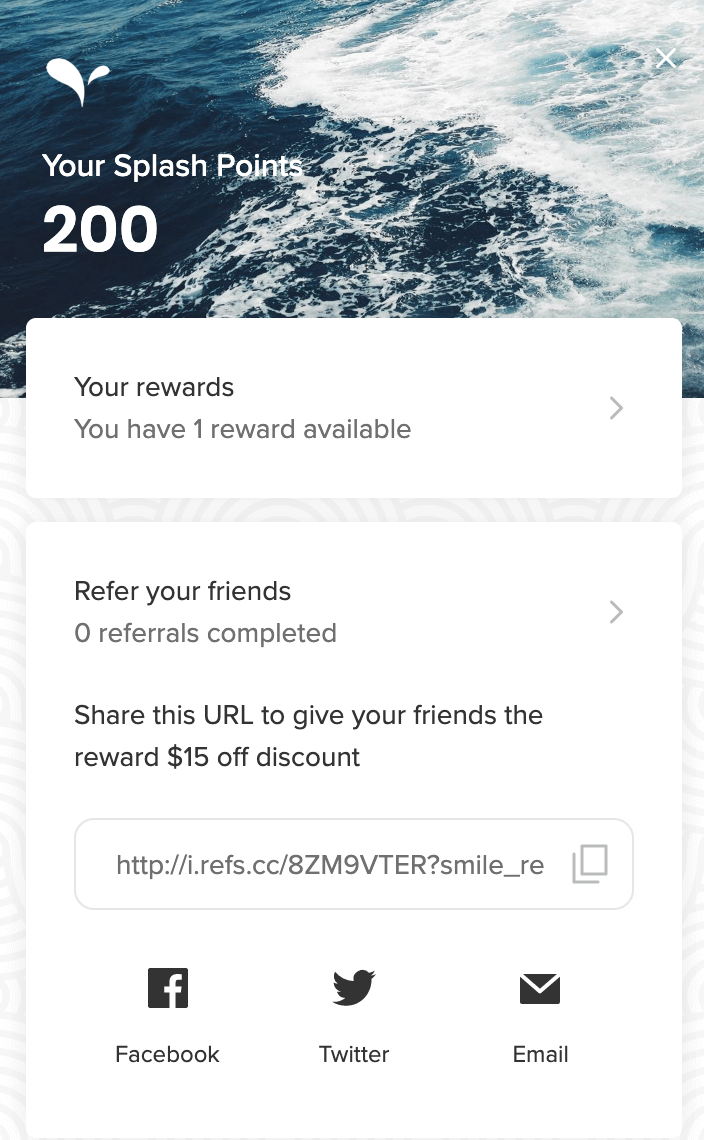 You can also do things like asking for feedback on their purchases or recommend products based on their previous purchases to show how much you value them. Another great way to personalize your customer's loyalty experience is with custom loyalty account pages and panels. Just like LAC Swim, you can show your customers their points balance, eligible rewards, and their previously redeemed rewards on their personalized rewards panel.
In essence, show your customers you care about them to keep them coming back.
Uber drives customer retention up with referrals
A great sign of a repeat customer is through their willingness to share your brand with others; offering a referral program is the perfect way to encourage this. Rewards, like points or discounts, motivate your current customers to share the positive experiences they've had with your brand with their own friends.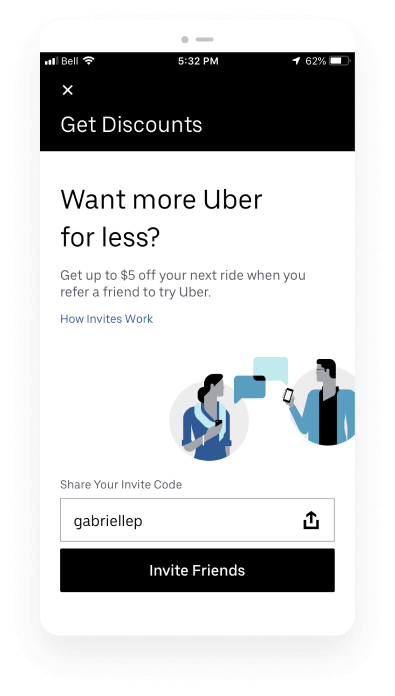 Uber has mastered the art of using referrals to increase their repeat customers by offering their riders $5 off their next ride every time they refer a friend. With this model, customers are incentivized to come back to redeem this reward, as well as motivated to continue and refer new friends. This cycle of referrals and rewards creates a long-term, sustainable retention strategy.
These customers sharing your brand must really believe in you, and the authenticity of a referral is going to create trust in the people they refer your store to.
Algenist creates exclusivity with a tiered-VIP program
Enhancing your rewards program with a tiered-VIP program is another way to engage your customers and keep them returning to make more purchases. VIP programs add a level of the desired exclusivity that customers aim to work towards overtime.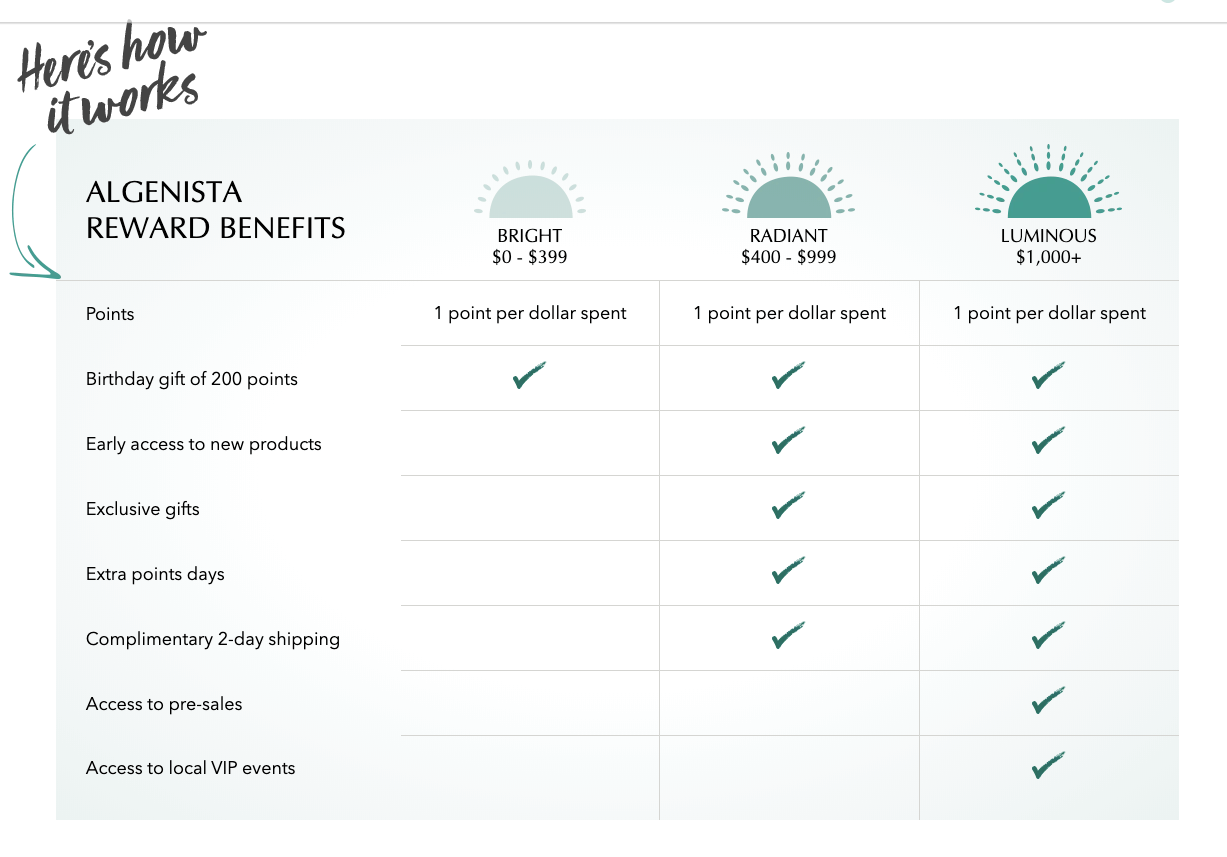 Algenist has added a level of exclusivity to its Algenista rewards program by offering rewards like access to pre-sales and exclusive VIP events for its highest Luminous tier. This motivates their customers to increase their purchase frequency to start working towards those more-exclusive rewards.
VIP programs also add an element of gamification that makes shopping with your brand fun. In this sense, earning points is part of the game your customers are playing to reach that next level, and the rewards you offer act as the prize they're working towards. Sometimes the power of reaching that top tier and achieving the status as one of your best customers is incentive enough to start making those repeat purchases.
When your customers feel like a VIP, they'll keep coming back for more.
SpiritHoods doesn't give up on dormant customers
No matter how much retention marketing you do, sometimes your customers need a reminder to come back to your brand. Your dormant customers (those who haven't made a purchase in a while) still have the potential to be some of your most loyal customers again.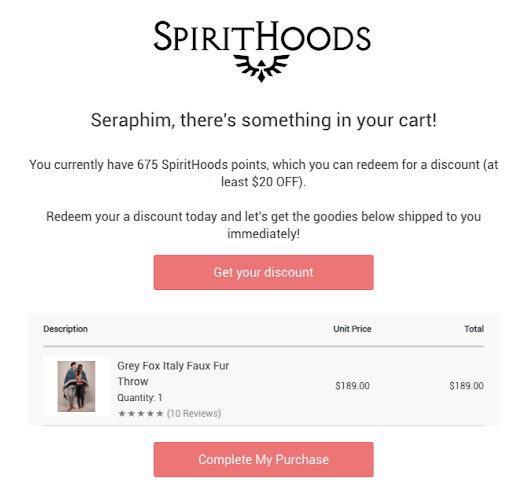 Using re-engagement strategies like win-back email campaigns or abandoned cart reminders are a great way to remind customers of their original purchase with you. You can take notes from SpiritHoods and personalize your win-back campaigns. For example, include your customer's name and their points balance to remind them of their previous interactions with you; it incentivizes them to become a repeat purchaser once again.
Setting up these kinds of re-engagement email campaigns can be done easily with several email marketing platforms, like Klaviyo. This means that even as a small business with few resources, you can show every customer how important they are to you.
Sometimes it's worth it to fight for your customers before saying goodbye for good!
SCENE offers member-only discounts, promotions, and rewards
It's no surprise that the main reason customers join your rewards program is for the actual rewards. Brands incentivize their customers to make repeat purchases by offering things like member-only discounts, promotions, or rewards. For example, member-only bonus points campaigns are a great way to motivate your customers to spend more on a specific day because they're getting more value out of their purchases.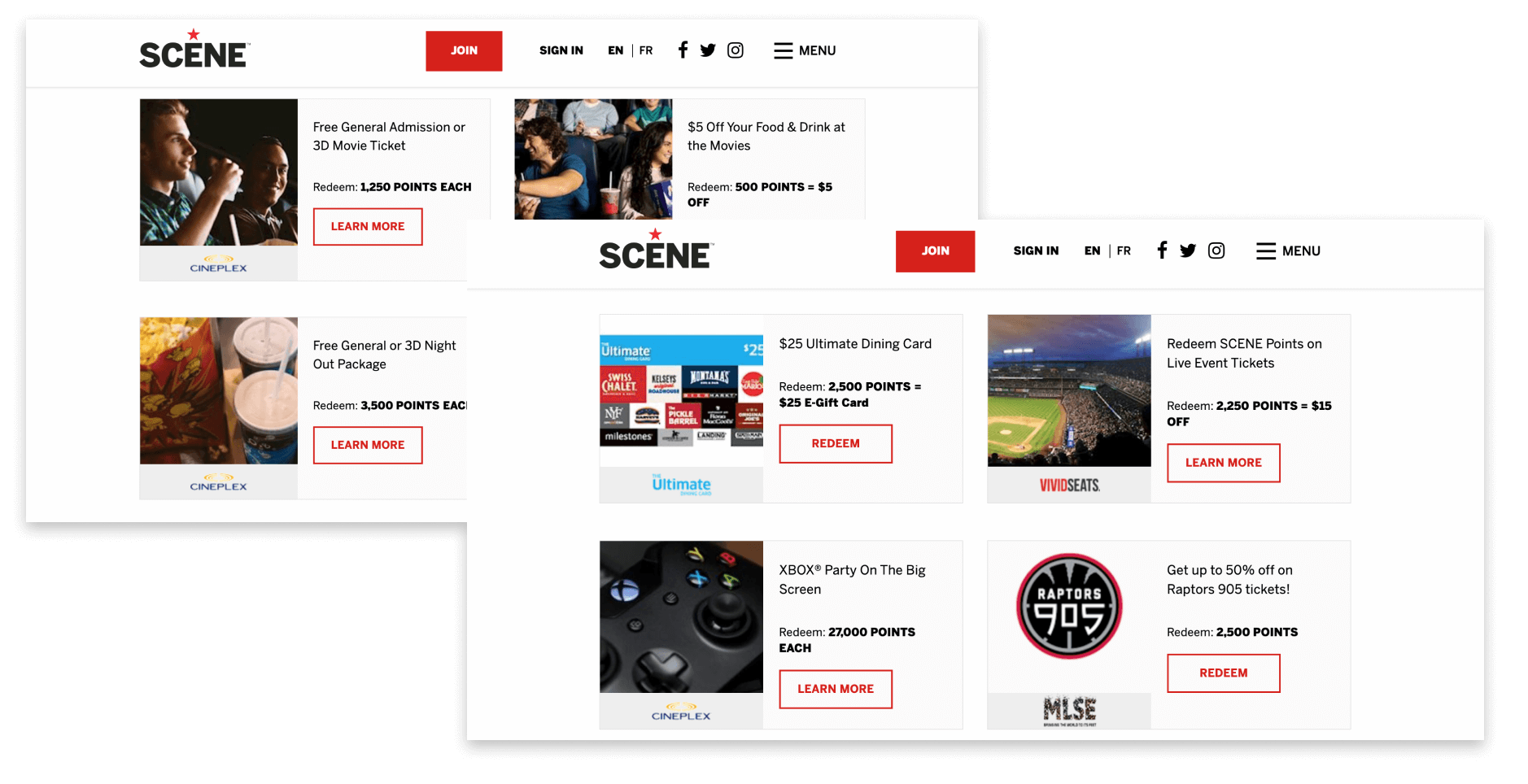 For movie-lovers, there's no doubt that Scotiabank and Cineplex's SCENE points program is one of the best ones out there. With the ability to earn points for everyday purchases through debit and credit cards, members gain access to a variety of exclusive rewards. They can redeem their points for free movies, as well as discounts for various sporting events and at specific restaurants. This diverse range of rewards gives customers an incentive to work towards something that is appealing to them!
Offering unique benefits to your loyal customers gives them a reason to buy from you and take advantage of that sale or promotion. The most important thing to remember is that you have to communicate these rewards to your customers. Sending personalized emails to your program members is an easy way to keep them up-to-date.
Show your program members the value of their loyalty with exclusive discounts, promotions, and rewards, and in return, they'll value you for their lifetime!
Key Takeaways:
Offer a personalized customer experience to keep them coming back.
Referral rewards are a great way to encourage repeat purchases by giving them a tangible reason to make another purchase.
VIP programs give your customers something to work towards with each purchase.
Reach out to your dormant customers to turn them into loyal program members once again.
Exclusive member-only benefits incentivize your loyal customers to keep interacting with you.