With 75% of women identifying themself as the primary shopper in their households, understanding what women want in a loyalty program is essential.  Accountable for 85% of all consumer purchases, women are making choices everyday regarding the brands they purchase and the programs they participate in.
Since they're able to make significant impacts on a brand's annual revenue, it's integral to understand what motivates them to engage with a brand's loyalty program.  So the question remains: what will convince them to become a loyalty member?
Defining Characteristics
There are a lot of astounding facts regarding women and loyalty programs.

For one thing, 61% of women choose to shop with brands simply because they have a loyalty program.  This translates into a whopping 80% of women participating in more than one loyalty program, making them susceptible to the phenomenon known as "wallet bulge".
The following five traits are commonly attributed to women, and begin to reveal the reasons loyalty programs are so attractive.
1. Browsing
In general, women tend to shop more than men.  Since the average American household has more than $100,000 in debt, saving money is a huge priority when choosing which brands and products to buy.
75% of female shoppers say that rewards entice them to try a brand for the first time, making it clear that value and rewards are two things women want in a loyalty program. Women are willing to hunt for savings, comparing prices, products, and services in order to find the best deal.  Many cost-conscious women join rewards programs hoping to receive the best value possible, and are willing to switch brands or try new products to get it.

This is especially true if they're being rewarded with and for things they're actually buying, such as beauty, fashion, and pharmacy products.   Clearly communicating value with a well-designed explainer page, recommending products, and offering complimentary rewards are three ways that brands can make their loyalty program stand out during the extensive browsing process.
2. Emotion-Driven
Women tend to associate the term "loyalty" with ideas of trust, devotion, and commitment.  Where men define loyalty as a "contractual commitment", women's definitions are more emotionally-charged, implying a sense of intimacy lacking in the average man's interpretation.

Storytelling is a great vehicle for emotional engagement, making it something women want in a loyalty program.  Stories allow brands to appeal to each customer personally, situating them within the larger world that their products occupy.  These stories can be told through explainer pages and personalized email marketing that provide customers with information to empower and educate with every interaction.

Customer experience is another crucial component of emotionally-driven marketing, particularly in regards to customer service.  80% of women care about the level of service they receive, and this service can be heightened by a well-structured loyalty program.  Programs with VIP tiers promise heightened social experiences, while birthday rewards allow customers to feel special and valued for their continued business.  These considerations immediately enhance the customer's total experience, fulfilling their emotional needs.
3. Discovery-Oriented
When making decisions, women carefully consider each choice.  Offering a wide range of ways to earn and redeem rewards is an excellent way to empower customers to tailor their rewards experience to their needs and lifestyle.  This is an appealing loyalty feature in a world driven by one-size-fits-all rewards and limited ways to earn.

This desire to discover the perfect solution can be easily tied to women's tendency to browse and hunt for the products and services they want.  Together, these features present a compelling program it'd be hard to ignore.
4. Interdependent
It's human nature to want to be with other people.  Building community is very important to women in particular, prompting them to gravitate towards loyalty programs that give them an opportunity to connect.
As technologies continue to develop, it's becoming easier and easier for people to make these connections online.  Social media has been monumental to this shift in engagement, allowing people to connect with others all over the world by sharing their experiences on platforms like Twitter, Instagram, and Facebook.

This type of engagement is something women want in a loyalty program because it allows them to expand their personal network.  Tiers are another great tool for building community, as like-minded individuals are brought together over common interests and goals.  These social structures are especially impactful as they work to satisfy emotional needs, heightening the social value of the program through authentic relationships.
5. Subjective Decision-Making
This final characteristic is closely tied to women's tendency to research products and services.  When you make a decision, it's always nice to have your choice affirmed by others.  This confirms that you chose correctly, and leaves you feeling confident.

Women are particularly influenced by others' opinions, with 76% indicating that they think customer reviews are helpful and important.  In fact, 55% of mothers who are active on social media have made purchases based on recommendations from personal reviews.  This data clearly indicates that product reviews and conversations are considered to be important features of a loyalty program – especially if they get rewarded for them!
The Reality of What Women Want in a Loyalty Program
The traits described above have been determined by psychologists and behavioural experts based on mountains of data and research, but do they hold up in real life?
As a woman who's subscribed to a number of rewards programs, I'd say I'm qualified to comment on whether these five traits influenced my decision to join them.  Let's take a look at five of my favourite loyalty programs and what convinced me to join.
1. Loblaw's PC Plus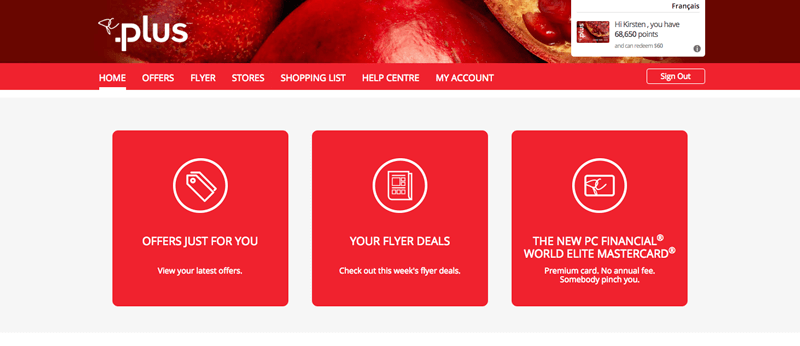 When I started University, I found myself in a position that required me to choose which grocery store I was going to shop at.  Like many other women, I compared prices and fliers between each of the grocery stores in my area in an effort to find the best deals.  Ultimately, my strict budget and the desire to be price-conscious prompted me to begin shopping at Loblaws and subsequently join PC Plus.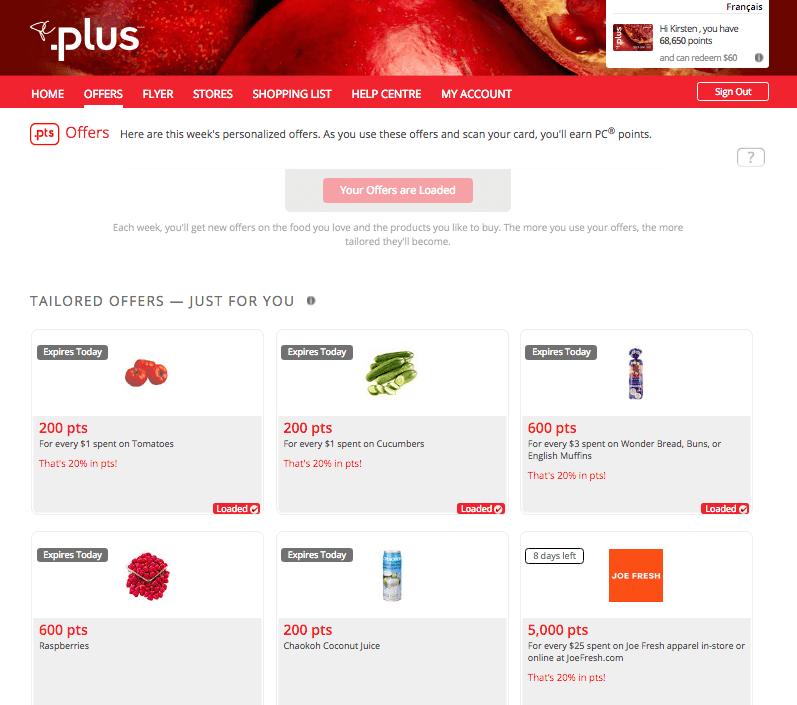 Looking through their website, I could clearly see that 1,000 points would earn me $1.00 off my grocery bill.  This earn-to-reward ratio, combined with the personalized recommendations based on my previous transactions, are what ultimately tipped the scale.  The program allowed me to imagine money going back into my pocket and demonstrated a level of personalization I couldn't get elsewhere, making it the obvious choice.
2. e.l.f.'s Beauty Squad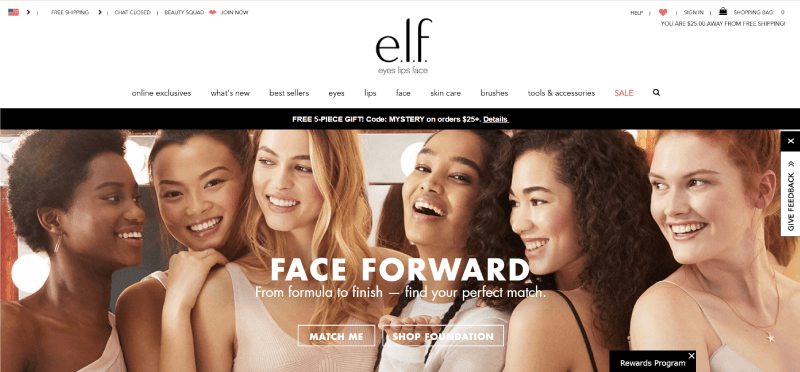 With so many different makeup products available, it's exciting to update your look on a semi-regular basis.  This behaviour ensures a high repeat purchase rate and purchase frequency for the brand lucky enough to secure someone's business.
When I first heard about Beauty Squad, I was absolutely taken in by the program's name.  By using a term like "squad", e.l.f. immediately planted ideas of community and friendship in my mind, making me want to join in order to experience each of those things.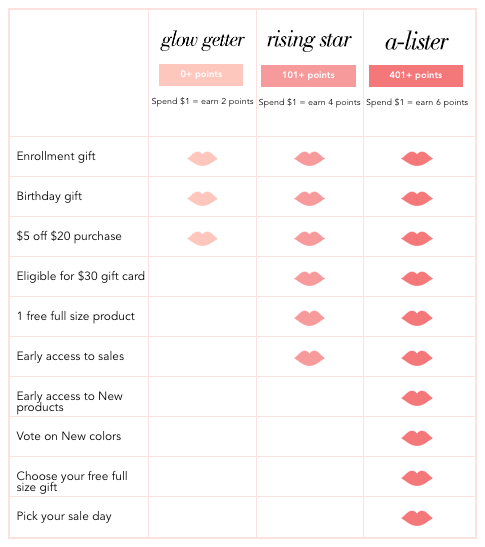 On top of this emotional appeal, I was overwhelmed with the choices.  Beauty Squad is a fantastic example of a tiered program, with different awards available for members at each stage in the program.  As an a-lister, rewards are extensive and diverse, giving me multiple experiential and transactional rewards to choose from including early access to sales and the opportunity to vote on new colours.
With the opportunity to earn both experiential rewards and elevated social status, Beauty Squad presented a 360 degree reward experience.  These are several of the elements that, when combined, created an irresistible rewards experience that I just couldn't say no to.

3. Indigo's Plum Rewards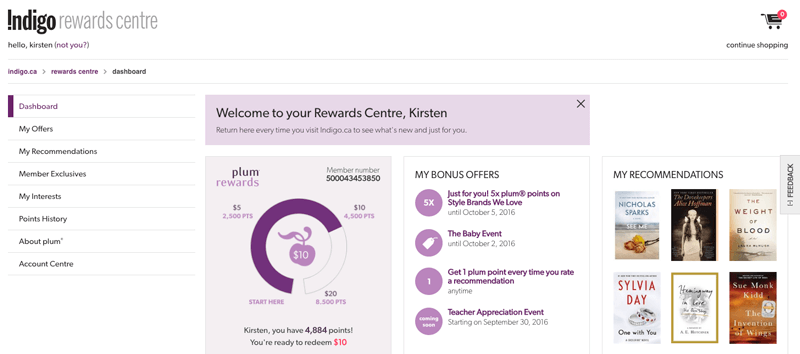 Indigo is fantastic at telling stories.  Through each of their email campaigns, online ads, and print catalogues, they're able to craft narratives around their products that make you see them as lifestyle solutions that are tailored to fit your life.  This type of advertising is refreshing, particularly when 91% of women say that advertisers don't understand them.  I'm genuinely excited to receive their emails, eager to see what new products are available and get ideas on how I could fit them into my routines.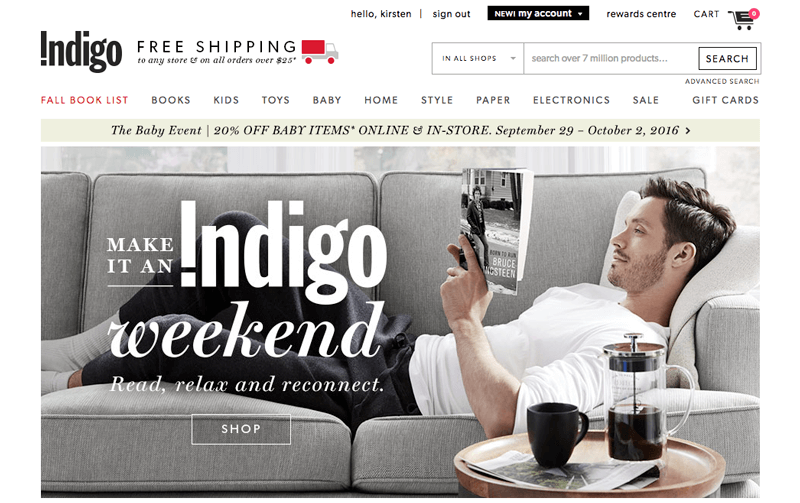 This isn't even the best part of Plum Rewards, though.  Unlike many other loyalty programs, Plum Rewards never expire.  The points I earned five years ago are still sitting in my account, waiting to be redeemed on anything I choose.  This consideration has been monumental to my decision to continue participating in the program, and caters to two features women want in a loyalty program: the ability to browse for products they want or need, and guaranteed value.

4. Davids Tea's Frequent Steeper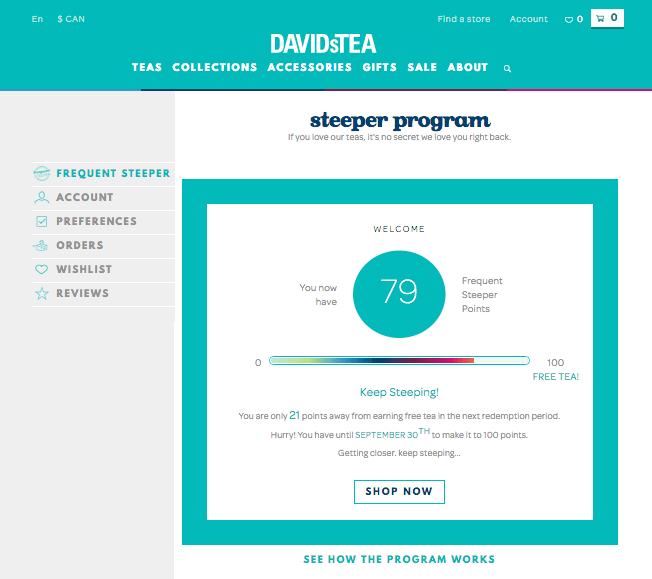 Tea seems to be all the rage these days.  When I started getting serious about my tea collection, I was immediately drawn to Davids Tea because it was trendy.  Like anyone else I want to be part of the in-crowd, and I had seen an increasing number of people with the bright teal "Frequent Steeper" tag on their keychain.
Intrigued, I went into a Davids Tea store and asked about their loyalty program.  The salesgirl informed me that in addition to a free drink on my birthday, for every dollar I spend I'd receive a point.  For every 100 points I earn, I can receive 50 grams of free loose leaf tea and immediately reboot the earning cycle.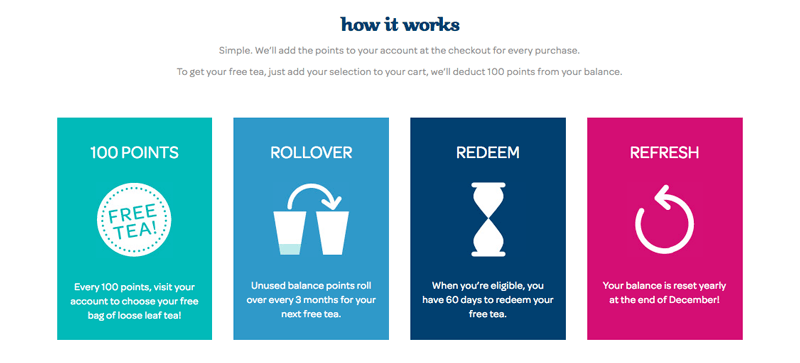 These parameters were enough to get me to sign up.  I was eager to encourage the assumptions people would make about my lifestyle when they saw the tag on my keyring, and was equally excited to talk about my favourite types of tea with my friends.  Since joining, I've been able to sample a wide variety of products and have enjoyed sharing about each of these experiences with my friends on Snapchat and Instagram.  These interactions have firmly rooted the program into my social activities, and made it an extremely valuable addition to my lifestyle.

5. Spireside's Spireside Rewards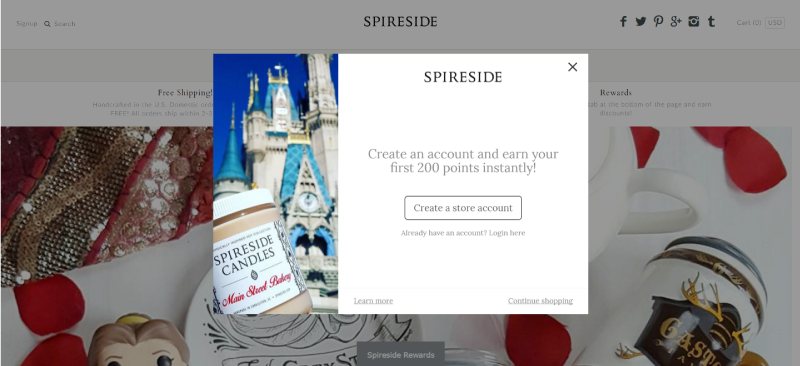 Spireside is a niche boutique that manufactures soy candles designed to smell like Walt Disney World attractions.  As an avid Disney fan, I was intrigued to try them out but was hesitant to buy one without smelling it myself.  I soon discovered that many other customers had already left reviews, indicating whether a candle actually smelled as promised.  Armed with these positive endorsements, I quickly proceeded to complete my purchase.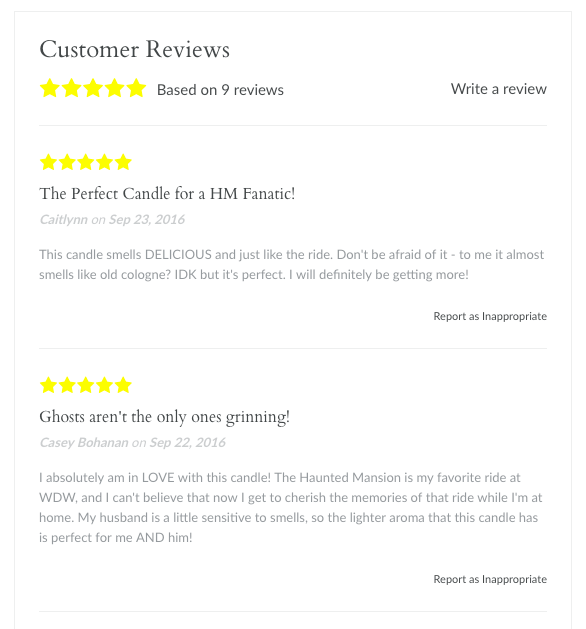 My decision to purchase each product was reaffirmed by others who had been looking for similar things.  With a number of both positive and negative reviews, I was able to assess the risk of purchasing the product without being able to see and smell it for myself.  This transparency felt extremely honest, and helped me trust that the brand wasn't trying to trick me into making a purchase.
I ultimately joined this program in order to contribute to the conversation.  I wanted to be able to assist new customers who might find themselves in my position, while also supporting the brand's community.  This exchange of information was affirming and inclusive, helping me feel that I belonged in this particular group and could contribute in a way that was meaningful and helpful.
Knowing What Women Want in a Loyalty Program
Based on the social research and my own experiences, it's clear that women are primarily influenced by their emotional capacity to engage with the brand and other customers.  Value also plays a large part, as women are often the decision-maker in buying situations.

Finally, women tend to appreciate and look for programs that work to build meaningful relationships that enrich their lives in ways that extend beyond the quality of a product.  Playing to each of these characteristics will ensure that any loyalty program meets women's needs, which leaves me wondering – what are men looking for?