What is a "Dormant" Customer?

For one reason or another this particular customer has not returned to shop even though they have done so in the past. There are many reason for a customer to go dormant. However, the two main causes are a lack of customer engagement and lack of repeatability in your product offerings.
When is a Customer Considered "Dormant"?
The answer to this question is very dependent on the nature of your business. If you are selling coffee what you consider a dormant customer will be drastically different from someone selling home furniture. It is important to look at your business and classify a dormant customer on your terms. A good way to consider a customer dormant is to look at your sites average time between purchases.

Why Does a Customer Go "Dormant"?
There are many reasons a customer may go dormant:
1. There is No Longer a Need for the Product You Are Selling
Example: you sell baby supplies that your customers child has grown out of
2. Your Product Has Long Times Between Repeat Purchases
Example: you sell home furniture which is only purchased every couple of months or even years
3. The Customer Had a Bad Experience With the Product or Service
Example: the customer received an order that was damaged or did not meet their expectations
4. Customer Engagement is Low
Example: you are not providing the customer with reasons to come back and be actively involved with the store
5. No Longer Able to Purchase
Example: Customer has lost their job, moved, or even passed away
The Opportunity
Dormant customers are a problem for all companies. But, they also represent a lot of potential dollars that are still sitting within your reach!

On average losing a customer costs a company $243 globally and is even more costly when looking at the United States alone $289 (These numbers obviously vary for every industry, but lets use these numbers for arguments sake). According to the Houston Chronicle the average American business loses somewhere between 10% to 25% of its customer base each year. Now this doesn't mean every company in America is shrinking. The customers lost are constantly being replaced with new customers. But what if we look at the value of those that are lost.
What is the Value of Amazon and Walmart's Dormant Customers?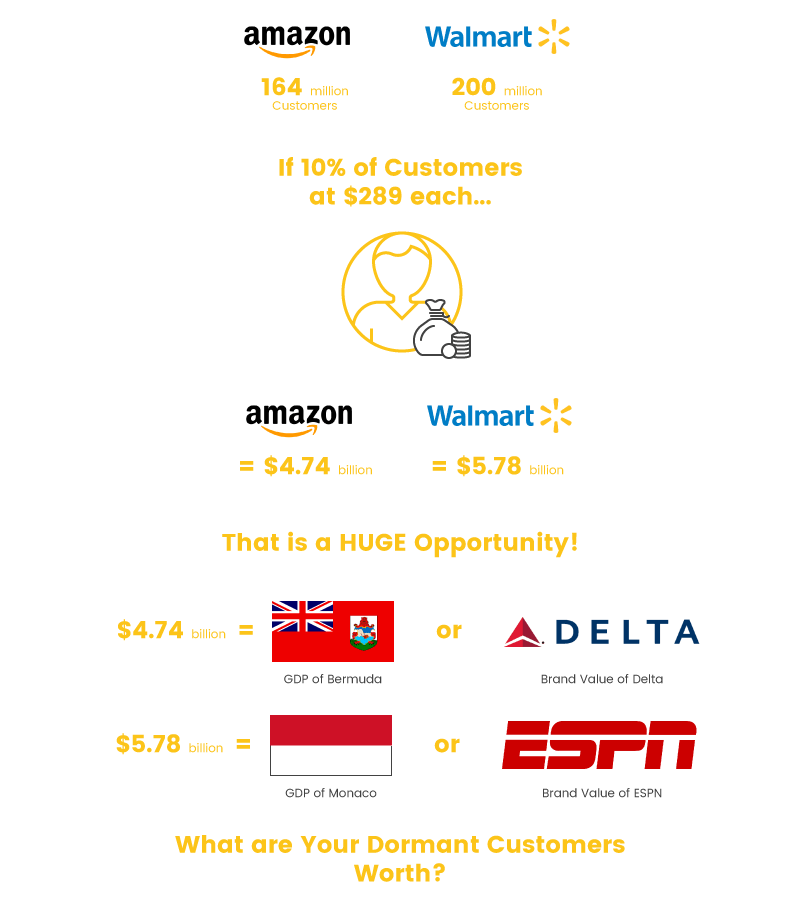 Obviously these numbers are from the largest of companies, but it does illustrate the opportunity you have to reclaim some dollars. Customer engagement and re-engagement is the key to unlocking this golden opportunity.
The Solution
As stated before, there are many reasons why a customer can go dormant. Some of these reasons can not be solved. However, many customers can be brought back through customer engagement or in this case re-engagement. Popular online marketing tactics cannot be used for re-engagement unless they are tailored to fit the needs of a dormant customer. Below are a couple ways to re-engage those dormant customers and re-capture the revenue they represent.
Rewards Programs
Rewards programs are a great way to boost customer engagement in general and can be tailored to dormant customers as well. When customers are given incentive to return they are more likely to become repeat purchasers.

Smile.io customers see 20% increase in repeat purchase rates. Because customers are shopping more often to obtain loyalty points they are less likely to go dormant. However, some loyalty programs can be tailored specifically for dormant customer engagement.
Schedule Points to be Awarded at Inactivity Point
With some loyalty programs you can  schedule points to be given if a customer reaches a predetermined inactivity point. As a store owner you can classify when a customer has gone dormant and automate the rewarding of points with a personal message that encourages them to come and spend the points they have received.
Set Points to Expire
When points expire it creates a sense of urgency to spend them. This can be a very effective way to capture those dormant customers. An email can be sent warning that the points they have accumulated are set to expire due to inactivity.

This is a very strong motivator to return for many customers. They do not want to see the points they have worked to accumulate go to waste. Expiring loyalty points is a tactic that is still very much under debate.
Summary
Loyalty programs are great for preventing customer disengagement. A loyalty program can be seen as a proactive way to deter future dormant customers. The tactics presented above are amazing ways to re-engage if the customer has already accumulated points, thus strengthening the ability of an effective program to proactively decrease dormant customers.
Targeted Email Campaigns
One mistake that many companies make is sending the same email marketing material to active users that they do to inactive ones. In order for email marketing to be effective at recapturing lost customers it must be tailored to the needs of those customers.

Many email marketing platforms will allow you to customize campaigns for this customer segment. It is very important to make communication as personal to the individual customer as possible.
Ask for the Customer's Feedback
This type of email campaign can be effective for a multitude of reasons. First, it reminds the customer about your store and products. Reminding the customer of your existence is the all important first step. This type of campaign also allows you to collect information about why the customer hasn't returned.

The information you obtain from this technique can boost the effectiveness of future campaigns and fuel proactive activities as well. If the customer responds this technique is very effective at turning an unresponsive customer into a returning one. The problem is that they must be intrinsically motivated to do so. The second technique involves extrinsic motivation instead.
Incentivise a Return
Sometimes a customer just needs a push in the right direction to make another purchase. Incentivising a purchase is an effective way to bring a customer back from their inactivity but it must be done right. Simply offering a percentage or dollar value off won't cut it anymore.

The customer wants to be shown something they are interested in, not just be told they can get a percentage off. "Percentage off emails must be emailed to everyone", is what your customer will be thinking. If your customer purchased shoes last time then offer a discount on this seasons shoes to encourage them to re-engage.
Summary
Email marketing campaigns are effective at getting customers that have already become dormant back to your store. The effectiveness however is only as good as the execution. It is very important to tailor your re-engagement emails to the individual level as much as possible. Many email marketing providers will be able to set you up with a solution that allows this level of personalization.
Social Interactions
Social media is an excellent way to keep up to date with what customers are saying on an individual level. With a social media aggregator marketers can respond to individual comments, questions, and concerns. Therefore, social media becomes the ultimate way to keep on top of customer engagement. A customer that feels the company is always listening is less likely to go dormant.
A Social Media Team
In order for social media to be effective it must be constantly monitored. Customers must be addressed quickly if it is to be effective. In order to be responsive, a social media team or position is often needed. Social media tools have reduced the amount of staff required to handle these duties, but it can still be a difficult task for someone who is also responsible for many other duties.
Summary
Social media is a great solution to prevent customers from going dormant but does come with some limitations. Smaller merchants likely do not have the resources to staff a social media position and are often too busy to have someone monitor it. Without being on top of all the interactions with the customer it is not an effective way to encourage customer engagement. In fact if customers are reaching out over social media to no reply it may even be adding to the amount of inactive customers you have.

Social media is also not as relevant in some industries as it is in others. If you are selling piping monitoring social media will not be as effective as another person selling soft drinks.
Customer Engagement / Re-engagement
Through this post I hope you see the value of your dormant customers. Additional revenue can be created in many ways besides just customer acquisition. As the online world becomes increasingly competitive these tactics will become even more necessary in order to compete. Remember an effective dormant customer strategy starts with great customer engagement and uses re-engagement to reclaim those who have not been adequately serviced. Now go reclaim those dollars that are slipping away!